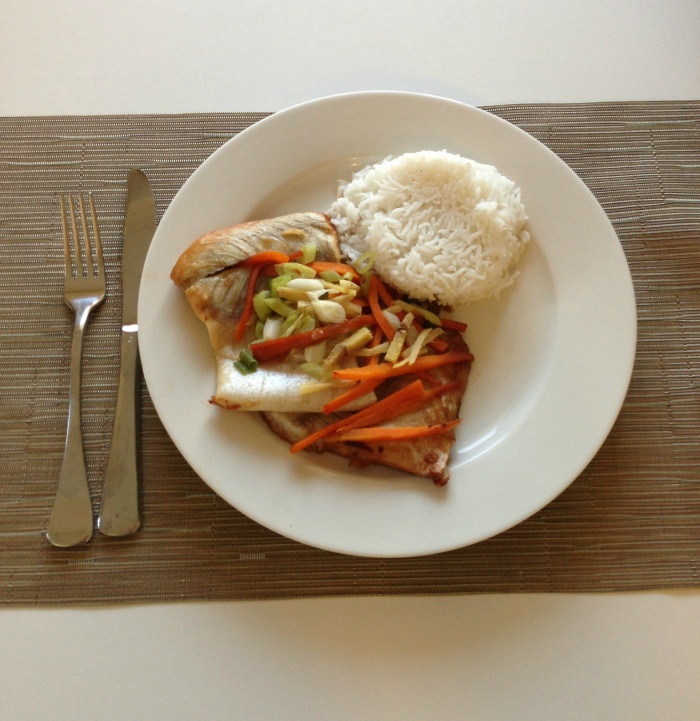 Serves 4
Ingredients
4 x 200g fish fillets
2 tablespoon Japanese soy sauce
4 teaspoons honey
1/2  teaspoon sesame oil
2 small carrots, cut into matchsticks
6 green onions, sliced thinly
6cm fresh piece ginger (30g), cut into matchsticks
4 fresh coriander sprigs, to garnish (optional)
How to
Preheat oven to 200 C/180 C fan forced.
Place each fillet on 20cm squares of baking paper or foil. Combine sauce, honey and oil in small jug; pour mixture over fish. Top with combined carrot, onion and ginger. Gather corners of baking paper/foil together above fish; twist to enclose securely.
Place parcels on oven tray and bake for 15-20 minutes. Stand fish 5 minutes before serving.
 Other info
Prep time and Cooking time: 30 minutes
Tip!  You  can use any firm fish fillets in this recipe.
Serving Suggestion: Serve with steamed jasmine rice, if you like.
Reference:  The Australian Women's Weekly