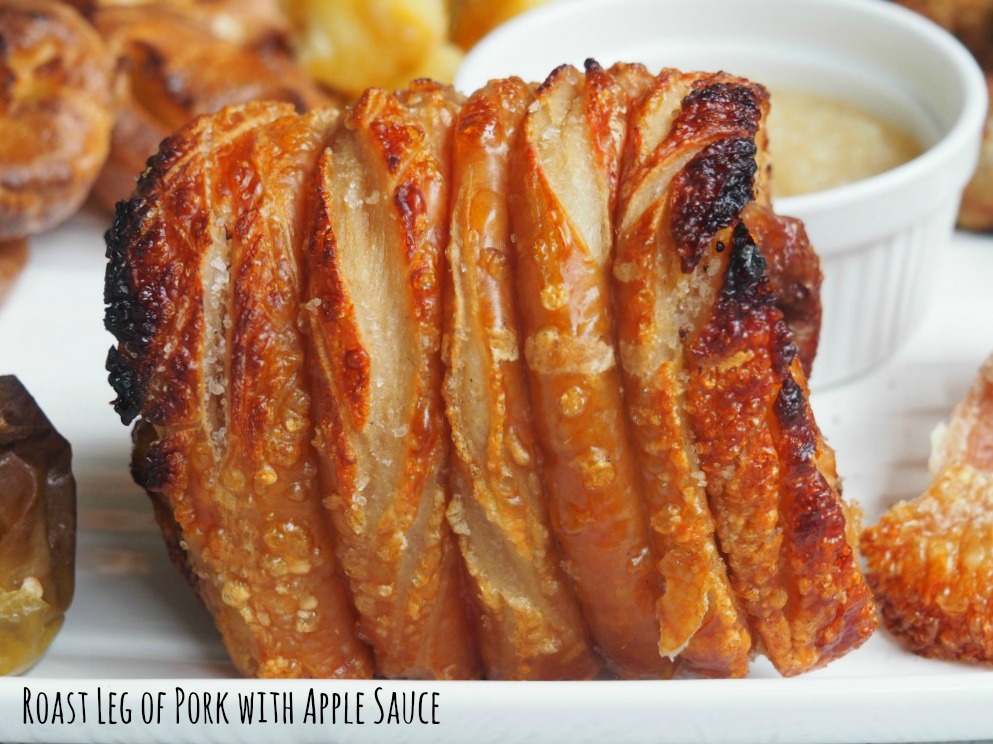 I don't usually cook joints of meat, mainly because they're exxy and I always stress out that I'm going to stuff it up. However, I make an exception at Christmas because that's the one day of the year that David is totally keen to take over in the kitchen.
Growing up in a cold climate, Christmas dinner was always hot and always delicious. No matter how long I live in Australia, a cold Christmas dinner just won't cut it! I'll never forget our first Christmas in Australia when we made a full roast dinner, only it was one of the hottest Christmas days on record, not that we let the temperatures get the better of us, we just ate in front of the air con.
These days more than ever, I love getting some pork on my fork and after some practice and some top tips from my amazing Facebook community, I think I can safely say that this finely tuned recipe guarantees perfect roast pork every time. In fact, this recipe is so good, it's for life, not just for Christmas.
My top tip is getting the meat from the butcher and asking them score it – you know what they say about many hands making light work, it's so true! I should also point out that this recipe needs some prep the night before but it's minimal and totally worth it! Especially if you serve it with some of my Perfect Roast Potatoes.They're the business!
So tell me about your Christmas dinner, is it hot or cold? Do you eat under the aircon too?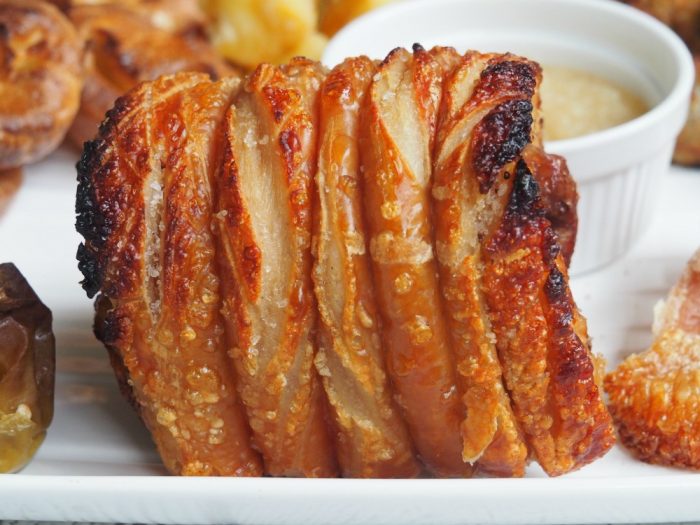 Serves 2-3 (easily doubled)
Ingredients
1 kg boneless pork leg roast, rind on
2 tablespoons olive oil
1 tablespoon sea salt flakes
APPLE SAUCE
3 large (600g) green apples
½ cup (125ml) water
1 teaspoon lemon juice
Pinch ground cinnamon
How to
If the butcher hasn't done so already, score the pork rind with a sharp knife. The night before cooking, pour one kettle full of boiling water over the skin, pat dry and leave in the fridge, uncovered overnight.
Take the joint out of the fridge for an hour or so to bring it to room temperature. Pat the rind with kitchen paper to make sure it is very dry. Oil and salt the rind very generously – use way more salt than you think is healthy.
Place pork in a large shallow baking dish, and roast, uncovered at the oven's highest possible heat for about 30 minutes or until skin is bubbled and blistered.
Leave the oven door open to reduce oven temperature to 180C/160C fan-forced and roast pork, uncovered, for a further 40 minutes (allow 40 minutes per kilo.)
Stand pork, covered loosely with foil, 10 minutes before slicing.
APPLE SAUCE
Peel and core apples; slice thickly. Place apples and the water in a medium saucepan; simmer uncovered, about 10 minutes or until apple is soft. Remove pan from heat; stir in lemon juice and cinnamon.
Serve pork with apple sauce.