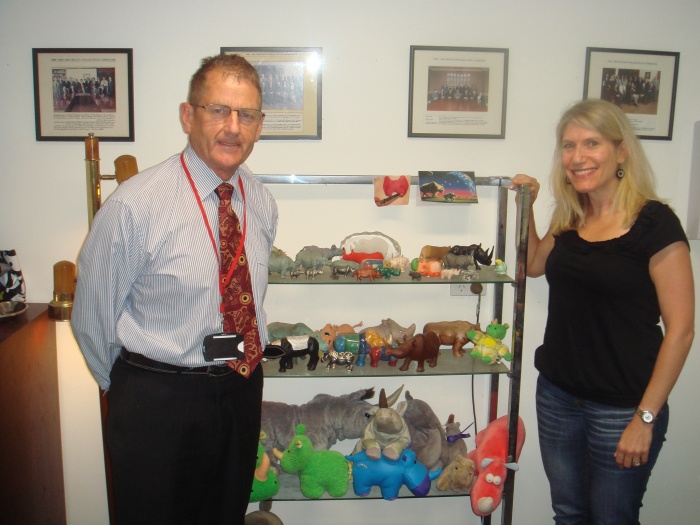 My day gets off to a super start with an hours boxing with Kathy. Granted, my arms feel like they could drop off any minute, but apart from that, I feel tip top. Anyway, I remind myself, that pain is temporary!
I've got a whole list of domestic drudgy stuff to do today and waste no time in getting started.  Top of the list is to attack the bathroom with a bottle of bleach. I hate cleaning but I do love the end result when everything looks shiny and new.
There's more doctor dealings today. I'm off for my "social visit" with the Prof. It's nice to see Geraldine and the girls up front again and I can't possibly rock up empty handed so I take them some of the Chewy Carrot, Oat and Walnut Slice which is gratefully received. I always approach this office with an air of trepidation, I usually only come and get bad news but I'm feeling really relaxed today as I know there's only good stuff on the agenda. The Prof is pleased with the scar and tells me I won't be able to see it within a year! How cool is that? In a perverse way, I've grown quite attached to my scar, it's an important part of me and a good reality check when I look in the mirror. I guess it's kind of a surgical tattoo! I owe a lot to the Prof and his good work and I feel really lucky to be his patient.
There's just time to discuss the Kolling Foundation which is going great guns in the field of Thyroid Cancer Research. I'm thinking of fundraising for the foundation when I run the half marathon in September. I blab about the blog and the Prof puts me onto The Australian Thyroid Foundation, who may be interested in hearing about it. There's just time to take a couple of photos for posterity before we bid farewell. I'm especially excited because we get a shot in front of the really remarkable rhino collection. We make a date for October, a year after the surgery, to say G'day and check on my progress.
It's action stations at home. I've got so much to do! First I set about making  Fruity Crackle Slice. My friend Romey has just had a baby and I want to drop off some yummy things for her tummy. I think this will be ideal because it doesn't need baking and it is perfect for Romey's egg free diet as it  is an eggless recipe.
Today is all about positive and affirmative action so I decide to seize the moment and join the Australian Thyroid Foundation. It's a great cause and will give me access to support and up-to-date information about Thyroid cancer and treatment. I remember that the money raised by the organisation paid for the revamp of the nuclear radiation room and dumb as it sounds, the decor and comfort of the room made my stay more enjoyable than I ever imagined. I really felt like it was a home away from home.
I pop off with the nana trolley to the shops and then come back to create more kitchen chaos. I'm a walking disaster area! First I make Apple and Grape Pops but the apple juice leaks out all over the freezer and onto the floor! Romey's slice is yummy but very dry and crumbles into a million pieces! Undeterred, I start pumpkin wrestling and get blisters chopping up the star ingredient for my Pumpkin Soup. Today I'm feeling so lazy that I leave the skin on the pumpkin. In retrospect, I don't know why I didn't do it before; it adds so much  more taste and colour.
I'm quite distressed at the disintegration of  Romey's slice so I decide to go back to my favourite recipes in A Generous Helping. These recipes are positively Sam-proof. I make some of the Egg Nut and Dairy Free Cupcakes and they look almost edible. Phew! A big sigh of relief! However, I created the cardinal sin of trying to cram too much cake mix into the cup case and the tops have more cracks than an old lady's heel. They are in desperate need of icing but I can't use buttercream as it will make the cakes soggy and a nightmare to transport. I resort to glace icing which solves one problem and creates another, now my baked goods now look like they've been attacked by toddlers. I hope they taste better than they look!
It's all go and I'm feeling terribly tired and I still have a whole heap of things to get through on my To-Do list. With regret I realise that I'm not going to accomplish all my objectives today. If only there were a few more hours in the day! Honestly, I don't know how I find the time to go to work!  I don't know if I'm tired because of my Thyroxin or simply because I'm overdoing it but whatever the reason, I'm totally running on empty.
Still, there's no time to rest on my laurels, I've got a dinner date with some of my workmates and I've been looking forward to it for ages. It's been raining wombats and wallabies all day and tonight the rain is doing no favours to my hair which is totally bouffant by the time I arrive.  It looks like I've stuck my fingers in a plug socket but really, I'm too tired and hungry to care! It's fun to catch up with friends but I still have to schlep  home so it's another night tardy to bed.