I have one of those really weird and wacky night sleeps where you sleep like a baby but feel like you're awake the whole night. I start the day feeling like I should be just getting into bed, not out of it! Anyway, my inability to sleep means I'm up a tad earlier than usual so I get a whole heap of stuff done which makes for a most productive start to the day! It's all about positive action!
I order some running sunnies from the UK, clean up the kitchen, put the washing away and pack my lunch… and that's all before breakfast!
Work is busy but fun and I'm out the door, with a hop, skip and a jump as I have absolutely nothing to do when I get home. I am almost tempted to do a bit of baking but I can't bear the thought of another kitchen armageddon so I decide to catch up on some other outstanding domestic duties instead.
As David is the Grill King, he's going to make the Thai Chicken Burgers tonight and I'm going to throw together some salads with fresh asian flavours on the side. I buy a pre-packed coleslaw salad and throw over some Soy Dressing and add  Carrot and Sugar Snap Salad to the table. I love both of these because they're full of flavour and fat-free. The burgers are truly delicious. Chilli jam is becoming my all-time favourite ingredient!
I'm pretty stoked as my complete collection of zoo cookie cutters has arrived!  How cool are they? I can't wait to go crazy with these little cutters! Too cute!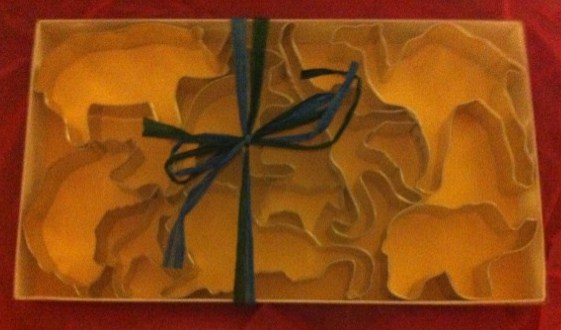 Tracey has an Ebay experience from hell, and I am to bed too late, so we decide to give our early morning run a miss and try and make it to the Wednesday Nike Running Club instead. This gives me an enormous sense of well being not to mention, value for money, as there's only so much She Runs the Night training I can cram in before I head off on holidays!