I'm in the grip of post-race euphoria all day and enjoying a bit of cafe culture on my Birthday Eve. It's action stations!
First off, we take the train across the city, to a suburb with probably the prettiest name in the world, Summer Hill, home to Anton's cafe, Goblin. I've been itching to visit, not only to support Anton and his brother Elliot in their new and exciting venture, but because I've been dying to try the fabulous food. I've seen the pictures and they looked good enough to eat!
I check out the cafe on Instagram and Facebook and already know what I'm having. The Big Breakfast (notice the capital B!) served in it's own skillet! I haven't eaten anything but a banana and I am so hungry, I could probably eat myself. I am sure I taste rather delicious, if I say so myself, but not nearly as good as the Goblin Big Breakfast! The guys at Goblin makes a mean coffee too. My only complaint is that there isn't a satellite Goblin in my neighbourhood!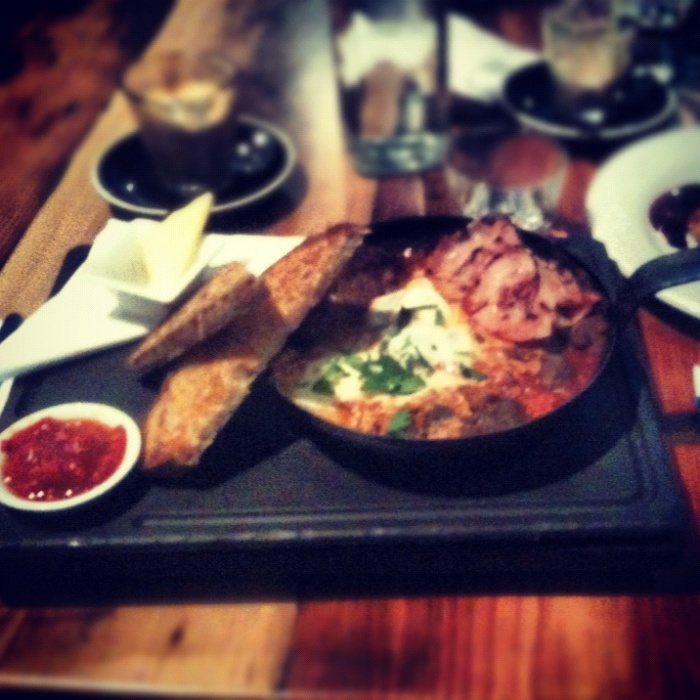 I'm devestated when I realise I have left all my sweet treats in the fridge. There are alarm bells ringing for my waistline but I guess that just means more morsels for my wonderful workmates. When it comes to cakes and slices, it's definitely a case of the more, the merrier! No Biscuit Fudge Slice for Anton. I'll just have to bring twice as much to make up for it next time!
Full of beans (both the coffee and the baked variety,) I then indulge in a little more cafe culture when I hook up with my friend Romey in Newtown. This is a real treat because we don't get to see each other that often and it's great to catch up.
Back home, I go crazy in the kitchen in my mission to use up a massive carton of buttermilk. I can't go past Nigella's Buttermilk Birthday Cake  and while I'm at it throw together some of Nigella's Blueberry Muffins  which look as soft and fluffy as blueberry clouds. Delicious!
I have coerced David into making Heather's Mars Bar Slice for my birthday cake! It's no bake and easy to make. He does it all on his lonesome with some Sammie supervision. It's bowl lickingly good. It's going to be slice-a-licious tomorrow at work! I might not be able to wait until I get to work, and may have to indulge in some mars morsels at breakfast!
By nightfall, time is tight and energy levels are low so, it's Thermomix Apricot Chicken Risotto made in minutes in the Thermie. No mess, no fuss and no maintenance! It's oh so simple and cooked to perfection. I'm not really into risottos as a rule, but what's not to like, when they taste this good?