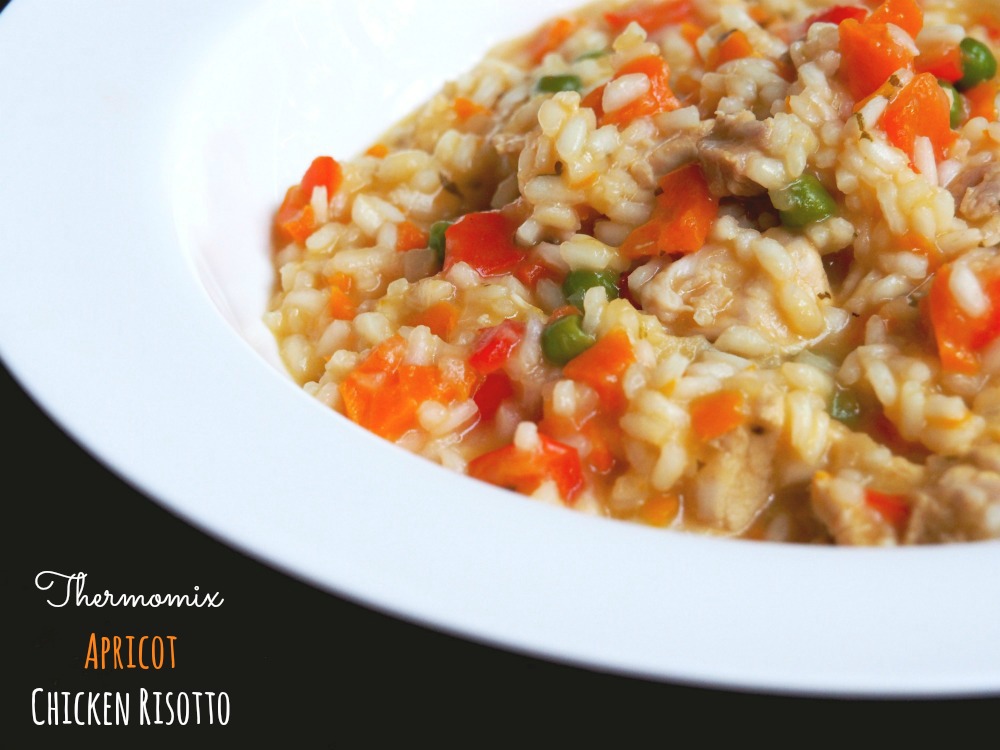 Everyone will love this Apricot Chicken Risotto – it's a classic Italian dish with a traditional Aussie twist!
Do you know I had never even heard of Apricot Chicken, let alone eaten it before I came to Australia? And now here I am loving on my Thermomix with this Aussie-Italian fusion dish.
In fairness, I had never made a risotto before I came to Australia either although that all changed when I got my Thermomix. Even I can risotto like a boss, and this dish and my Thermomix Beef Risotto, my Thermomix Mushroom and Pea Risotto and my Thermomix Spinach and Pumpkin Risotto are testament to that.
Although in recent years David has become more fruit friendly, he still draws the line at stone fruit, especially apricots. Neither does he care for risotto which he calls "hot, wet rice" but between you, me and the interwebs he is seriously missing out on this dish!
Anyhoo, I've been wanting to revamp this recipe for ages with a few tasty tweaks and some new pics so one night when David was out at a work function, I invited my neighbour Luce (she of the famous pumpkin dip fame,) to come and be my official taste tester because who better to taste this Italian-Aussie fusion food than a real life Australian Italian. Or should that be Italian Australian?
Anyway, I could tell Luce was a bit dubious when I told her this was an apricot chicken risotto. I mean apricot chicken and risotto, it sounds so wrong, right? I am pleased to report that it might sound so wrong but Luce says it tastes so right. It has to be tasted to be believed. It's crazy good!
There are a few things to bear in mind with this dish – your Thermomix will be chock-a-block and full to the brim, at least if you have a T31. Don't overfill the jug and keep an eye on it. The risotto will be very wet at the end of cooking but the rice will continue to cook in the thermoserver. Don't let the rice absorb all the juices, Luce says that the liquid is lush and you want the rice to have a bit of bite, if it absorbs all the liquid it's just going to be a soggy, sticky mess.
This dish looks super colourful and really tastes as good as it looks. Bet you can't help but go back for seconds!
Have you ever made a risotto? Are you a fan of fusion dishes?
Serves 4
Ingredients
Handful fresh parsely, chopped
1 onion, quartered
2 cloves garlic, peeled
40g oil
200g carrot, roughly chopped
125g red capsicum, roughly chopped
400g-500g apricot nectar
400g-500g chicken thigh fillets, cubed
300g water
1 tablespoon Thermomix veggie stock
300g Arborio Rice
Salt and pepper to taste
70g frozen peas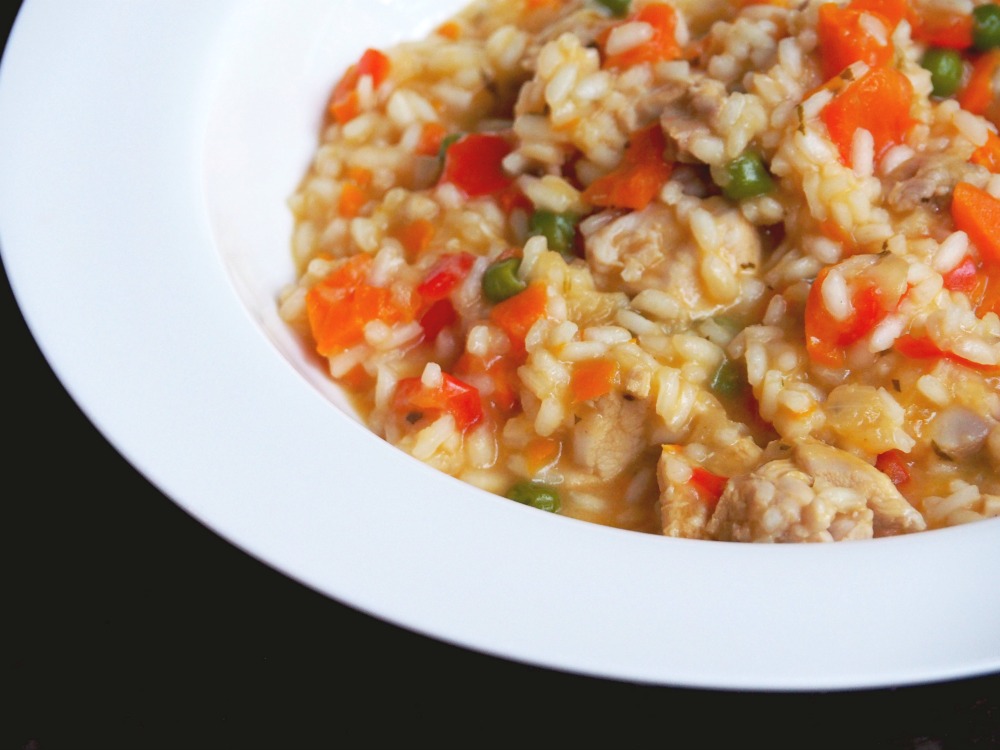 How to
Place  fresh herbs, garlic and onion into TM bowl. Chop for 5-7 seconds on speed 7.
Add oil and sauté for 5 minutes  at Varoma temperature on speed 1.
Add carrots and capsicum. Chop for 3 seconds  on speed 5.
Insert Butterfly. Add chicken and 50g nectar. Cook for 2 minutes at 100C on Reverse + speed soft.
Add remaining nectar, water, stock, rice, salt and pepper . Cook for 20 minutes at 100C on Reverse + speed soft.
Add peas and cook for a further 2 minutes at 100C on Reverse + speed soft.
Pour into Thermoserver or insultated serving bowl and allow to rest for  a minimum of 10 minutes for the continued absorption of the rice.
Other info
Prep time: 5 minutes   Cooking time: 27 minutes
TIP! Don't use more chicken or vegetables than suggested as the machine is already working to it's full capacity. Don't overload your Thermie!