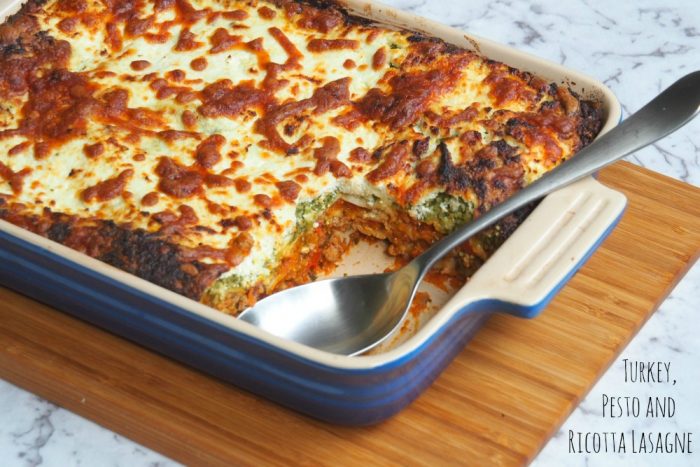 I have to confess, I really love lasagne but I'm usually way too lazy to make it. I just can't get enthusiastic about all that becahmel business, because sauce making, who has time for that? Not me, anyway!
We're having a second food honeymoon with this dish. I love that there's no sauce to make which I prefer because it's so much easier to assemble and David prefers because the older he gets, the fussier he becomes. If you can, do use homemade pesto and tomato sauce, because it takes the flavours to the next level! Using turkey mince instead of regular beef, balances the richness of the cheeses and the full flavours of the homemade sauces, but I bet chicken mince would work wonderfully too.
The thing I love most about this is the sauce free element. Just scatter and/or blob your cheese and go. I've tried this with both a ricotta and low fat quark, and they both work beautifully.
David doesn't really care for eating the same meal two days in a row, but this is one dish, he'll always put his hand up for an eat, repeat performance. In fact, it's so delicious, I think he'd eat it every day if I let him. And the best bit is, it's equally delicious warm or cold?
Have you got time to make sauces? Do you like eating to eat and repeat your favourite meals? Talking of favourite meals, what's yours?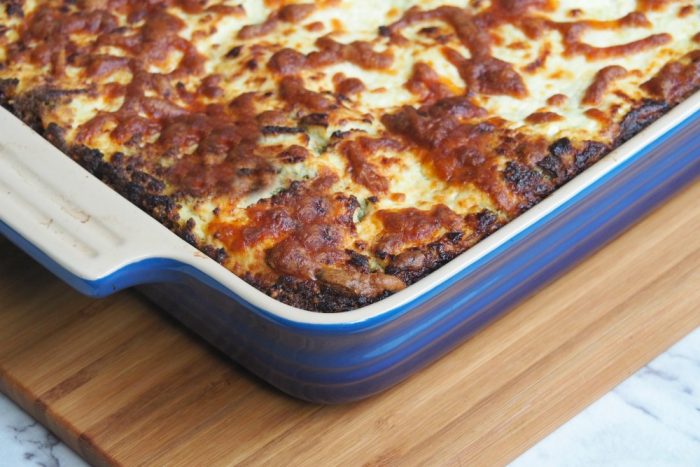 Ingredients
1 tablespoon oil
1 medium brown onion (150g), chopped finely
2 cloves garlic, crushed
750g turkey mince
1 batch of homemade tomato pasta sauce or 750g passata
400g ricotta cheese (or low fat quark)
1/2 cup (40g) finely grated parmesan cheese
1/2 x 375g packet fresh lasagne (about 5 sheets)
1 1/2 cups coarsely grated mozzarella cheese
190g kale and basil pesto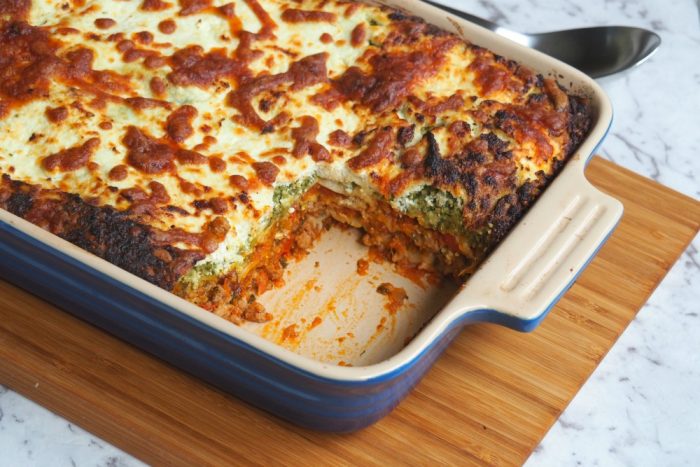 How to
Preheat oven to 200C/180C fan-forced.
Heat oil in large saucepan, add onion, garlic and turkey. Cook, stirring, until browned. Stir in the sauce and simmer, uncovered, for about 10 minutes or until thickened slightly. Season to taste.
Combine ricotta and parmesan in small bowl and set aside.
Spread 1/2 of turkey sauce over base of large ovenproof dish. Top with one lasagne sheet, trimmed to fit.
Top with half of the remaining turkey mixture. Sprinkle over 1/3 of the mozzarella. Repeat the layering with the pasta, sauce and mozzarella, finishing with a final layer of pasta.
Carefully spread the pesto over the top layer of pasta, and then spread over the ricotta/parmesan mixture. Sprinkle with the final third of mozzarella.
Bake in oven about 45 minutes or until pasta is tender. Stand 10 minutes before serving.
Other info
Prep and cooking time: 1 hour 20 minutes