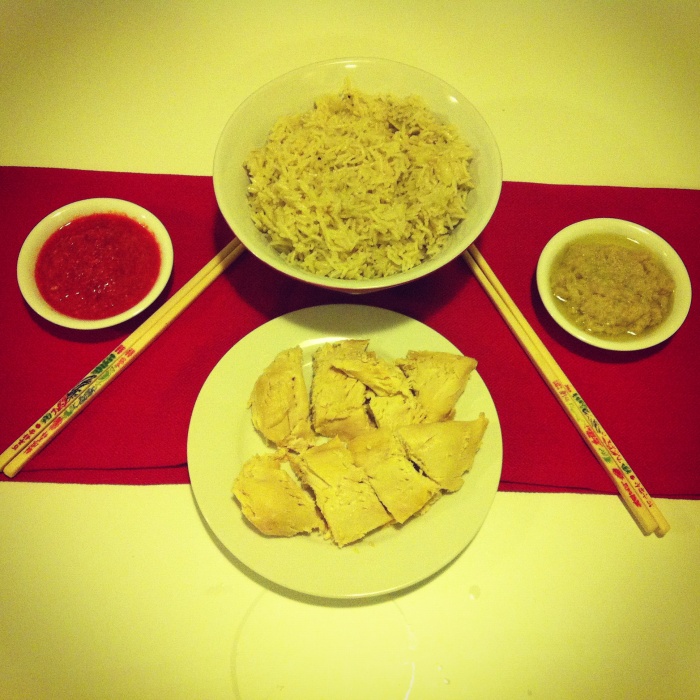 Serves 4
I first saw this recipe over at www.ironchefshellie.com on a "Thermomix Thursday." I thought cooking a whole chicken in the thermie sounded just too good (and for that matter, too tasty) to be true, so I had to give it a go myself!
Ingredients
Chinese wine, salt, white pepper and sesame oil for rubbing
1 whole chicken (about 1.5–1.7 kg)
4 cloves garlic
1 spring onion/shallot, chopped in half
4 slices ginger, peeled
2 eschalots, peeled
1 tablespoon oil
400g rice
Salt to taste
1-1.5 L chicken stock
1-2 pandan leaves (optional)
How to
Mix 1-2 teaspoons Chinese wine, a little salt and pepper to taste and 1 teaspoon sesame oil in a small bowl. Rub this all over chicken and inside the cavity. Stuff 2 cloves of garlic, spring onion/shallot and 2 slices of the ginger inside chicken's cavity and place into Varoma dish on top of a pair of chopsticks to help steam circulation. Set aside.
Place remaining garlic, ginger, eschalots and oil into TM mixing bowl. Chop on speed 8 for 8 seconds sauté for 2 minutes, Varoma, Reverse, speed 2.
Add rice and sauté for 2 minutes at 100C on Reverse speed 2.
Add about a teaspoon of salt or to taste. Remove and set aside in basket.
Place 1L of chicken stock into TM mixing bowl. Set Varoma into position and steam for 25-45 minutes on Varoma speed 3 (depending upon size of chicken used).
Top up chicken stock to 1L. Insert basket of rice with pandan leaves , if you are using them.  Return Varoma dish to position and cook for 15 minutes Varoma  on speed 5. (You can add some veggies in the last 5-10 minutes of steaming the chicken if you like.)
Chop up chicken and serve with rice and Chilli Sauce, Ginger Dip and thick black soy sauce.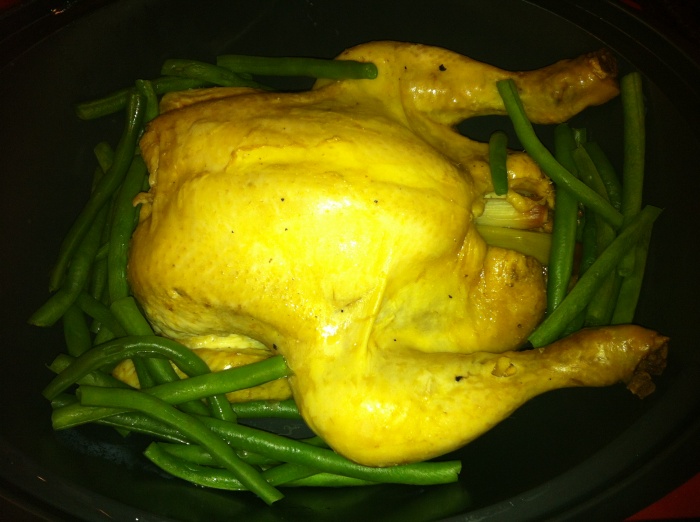 Other info
Prep time: 10 minutes   Cooking time: 1 hour
TIP!  ATo make a quick sauce to pour over chopped chicken, mix 3 tsp soy sauce with 2 tablespoons hot water, ½ teaspoon sesame oil and ¼ teaspoon sugar and mix well.
Reference: A Taste of Asia Cookbook Thermomix