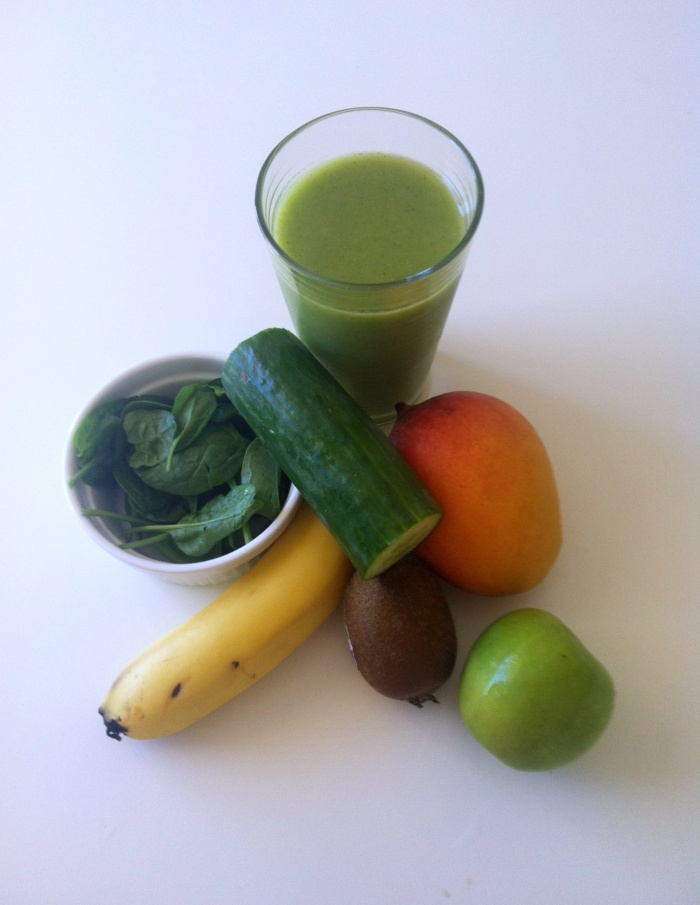 Serves 3 – 4
This is seriously similar to the Fruity Green Juice  and The Sara Green Juice – it's just as gorgeous but it gives a bit more green with a totally tropical taste!   Forget 5-a-day, this little baby will give you six serves of fresh fruit and veggies!
Ingredients
Flesh of 1 mango
1 banana, roughly chopped
1 green apple, cored and quartered
1/4 cucumber, roughly chopped
A handful of baby spinach leaves
1 or 2 kiwi fruit, peeled and quartered
1 tray ice cubes (10-12)
200g – 500g cold water
How to
Place everything except the water into TM bowl and chop for 30 seconds on speed 8 .
Add water and mix for 2 minutes on speed 8.
Other info
Prep time: 2  minutes   Cooking time: 3 minutes
TIP! The amount of ice and water you use depends on your taste. Remember less water, thicker consistency, more water, thinner consistency. I like it thick but runny all at the same time, so I use about 350g water. Use frozen chopped banana to achieve a smoothie like consistency.