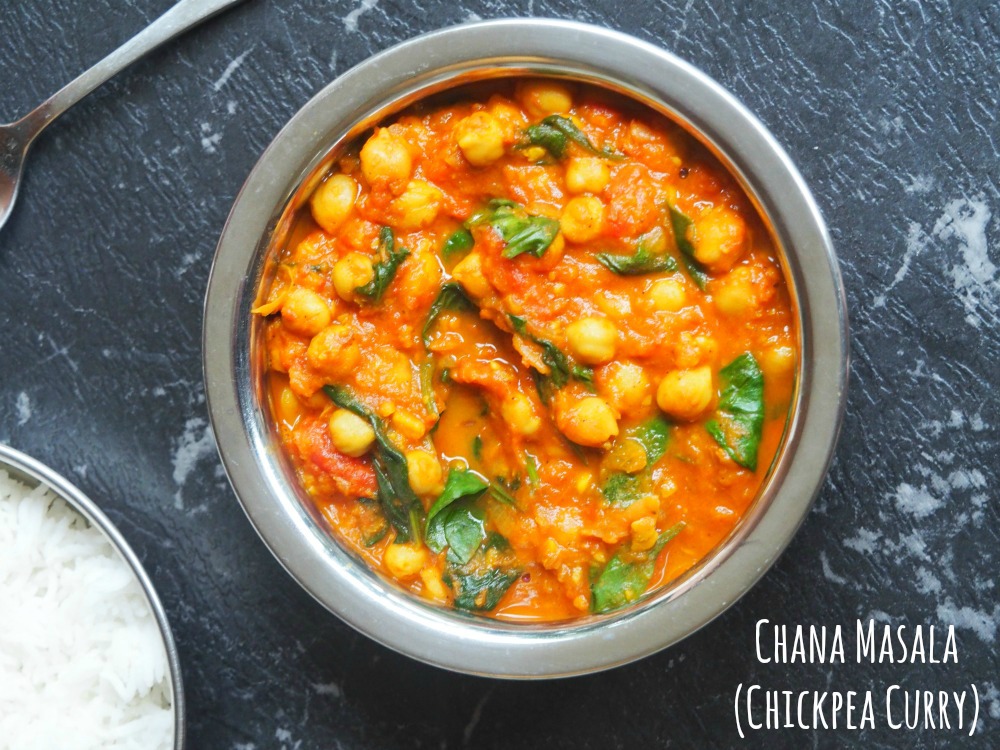 Serves 2 (but can be easily doubled)
This Chana Masala is a simple but hearty vegan curry made with spinach and chickpeas. It's quick, easy, budget friendly and full of flavour.
We recently watched The Game Changers documentary on Netflix and it's inspired us to eat more meat free meals so this plant based curry has been on high rotation and has been given a whole new lease of life.
I love that it's really easy to make whether you're preparing it on the stove or in the Thermomix and it needs just a handful of spices and pantry staples.
The other great thing about this curry is that the flavours get better as the curry cools, so for a fuller flavour, make a day ahead or earlier in the day and reheat prior to serving and if you like to be prepared, you'll be pleased to know that this curry is freezer friendly too!
This is a recipe that I converted from the Asian BBC Good Food Magazine that I picked up once when I was in transit in Singapore. If the Thermomix Chickpea Curry and the Spinach and Chickpea Curry had a curry baby, this would be it!
This curry is super versatile as it's a main meal on it's own but also makes a spectacular side served along with some other curries.
This curry is quite saucy so I like to hedge my bets and serve it with some steamed rice and of course some roti bread to mop up the juices!
It's super simple, really healthy and really delicious. Even better, I've included the Thermomix conversion and the regular recipe, so there's no need for anyone not to get their curry on!
Have you got a favourite food magazine? How often do you enjoy a meatless meal?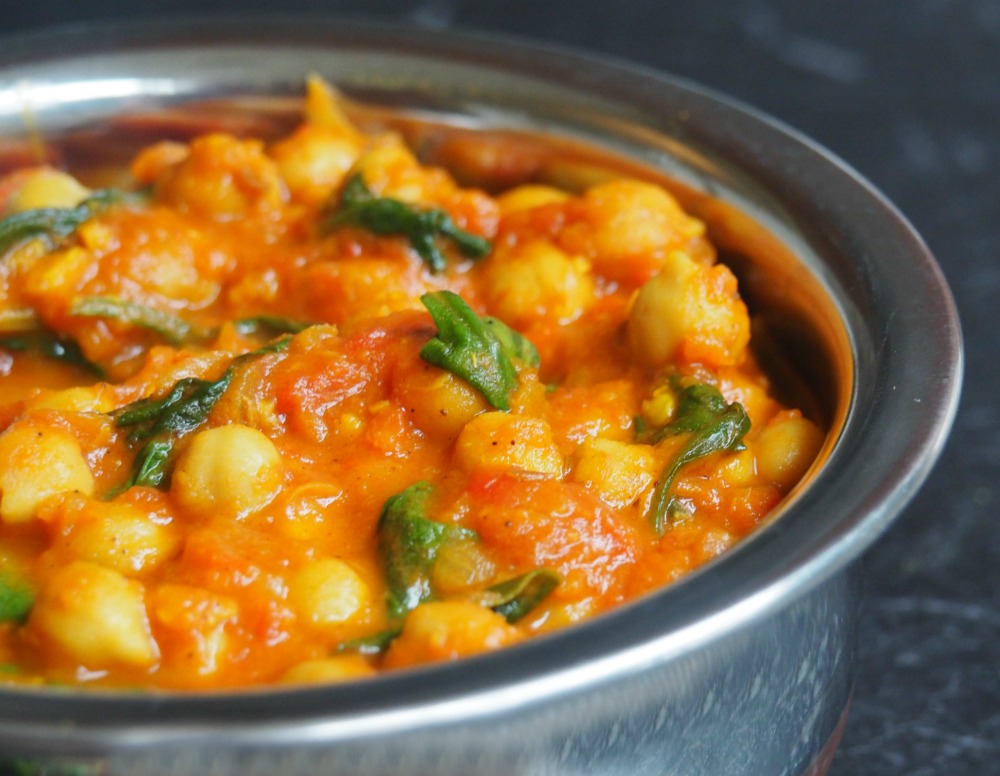 Ingredients
1 x 400g tin chickpeas
1 medium onion, peeled and quartered
2 cloves garlic, peeled
1/2 red chilli
1 cm piece of fresh ginger, cut into 2 chunks
20g oil
1 teaspoon cumin seeds
1 teaspoon turmeric
1 teaspoon paprika
1 teaspoon garam masala
1 tin plum tomatoes
juice 1/2 lemon
150g baby spinach leaves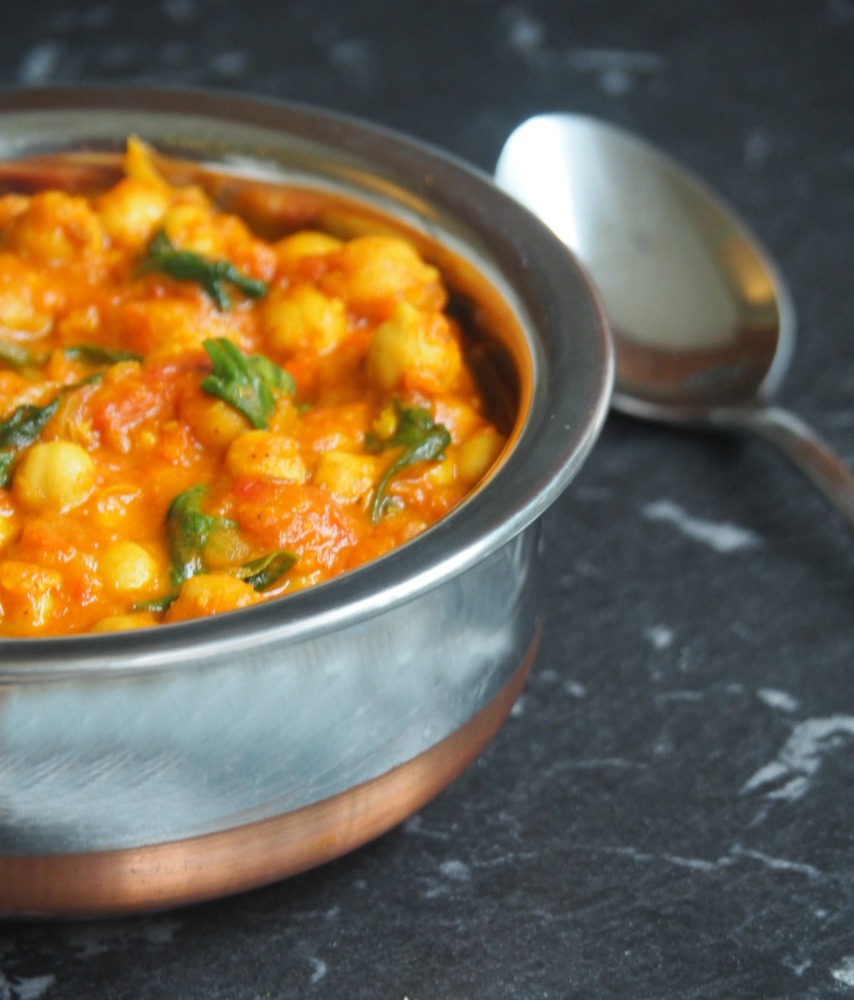 How to: Thermomix
Rinse and drain the chickpeas.
Chop the onions, garlic, ginger and chilli for 3 seconds on speed 7. Scrape down the sides of the bowl with the spatula. Add the oil and cumin seeds, and saute for 8 minutes at 100C on speed 2.
Add the turmeric, paprika, garam masala and tomatoes. Cook for 8 minutes at 100C on speed 2.
Add the chickpeas and cook for 8 minutes at 100C on speed soft on Reverse Speed.
Add the lemon juice and half the spinach leaves to TM bowl and cook on reverse speed 1 for 3 minutes. Put the remainder of the spinach leaves in thermoserver.
Place curry into thermoserver.
Serve with rice or rotis.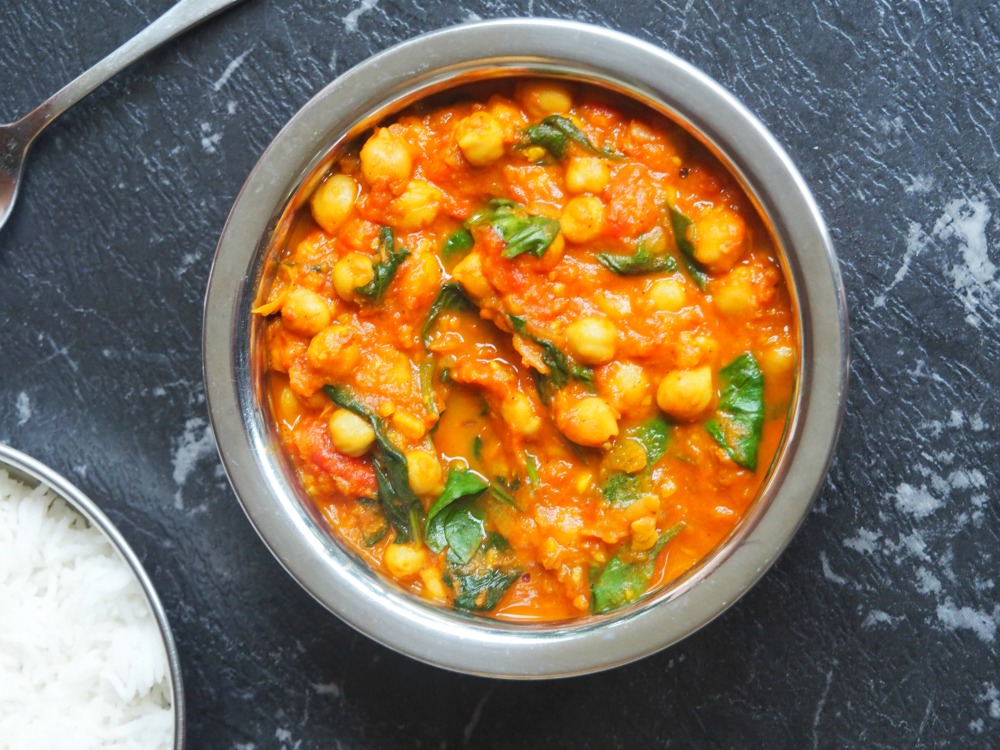 How to: On the Stove
Rinse and drain the chickpeas. Finely chop the onions, garlic, ginger and chilli.
Dry fry the cumin seeds for 1 minute, stirring often, while they pop. Set aside.
Heat the oil in the same pan, and add the onion, ginger, garlic and chilli and saute on a medium heat for about 3 minutes. Reduce the heat, add the spices and cook for 2 minutes more. Add the tomatoes and keep stirring to break them up into bite size chunks. Add the chickpeas and 200ml water.
Bring to the boil, simmer for 10 minutes and then stir in the lemon juice and spinach. Let the spinach wilt and then r>remove from the pan and the heat.
Serve with rice or rotis.
Other info
Prep and cooking time: 25 minutes
If doubling the quantities in the Thermomix, just increase all the cooking times by 2 minutes.