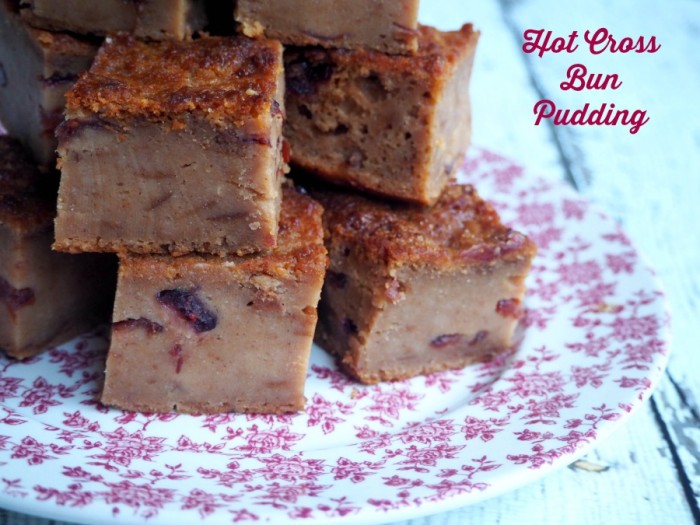 Cuts into 16 generous squares
Before I made my own Hot Cross Buns, I bought some fruit free ones from the supermarket. To say we were less than impressed would be an understatement so I upcycled them into this delicious pud, which doubles up nicely served either cold as  a teatime treat or warm as a decadent dessert. This pud is super versatile and lends itself to all types of flavour combos (see tips below.) If  you're out of Hot Cross Buns, you might want to check out my Nana's Best Ever Bread Pudding which is a delicious year round alternative!
Ingredients
600g Hot Cross Buns (the staler the better)
50- 100g chocolate chips  (depending on what variety of buns you are using)
1 teaspoon mixed spice
600ml milk
2 large eggs, beaten
80g brown sugar
100g butter , melted
 How to
 Tear the hot cross buns into a large mixing bowl and add the  mixed spice. Pour in the milk, then stir or scrunch through your fingers to mix everything well and completely break up the buns. Add eggs and brown sugar. Stir well, then set aside for 15 minutes to soak.
 Heat oven to 180C/160C fan-forced. Butter and line the base of a 20cm non-stick square cake tin (not one with a loose base). Stir the melted butter and the chocolate chips (if using) into the pudding mixture and tip into the tin. Bake for about 1 hour or until firm and golden, covering with foil if it starts to brown too much. Turn out of the tin and strip off the paper. Allow to cool slightly before cutting into squares and serve warm with custard or ice cream, or at room temperature with a cuppa for a delicious tea time treat!
Other info
Prep time: 10 minutes   Cooking time: 1 hour  plus 15 minutes soaking
TIP!
I used cranberry and white chocolate buns in the pudding in the picture above, and just added a few extra choc chips – for fun.
If you're using regular fruit Hot Cross Buns, you can also add 1 finely chopped apple, instead of chocolate chips.
If you're using plain fruit free buns and prefer a double dose of chocolate, replace the cinnamon and mixed spice with 1 1/2 tablespoons cocoa.