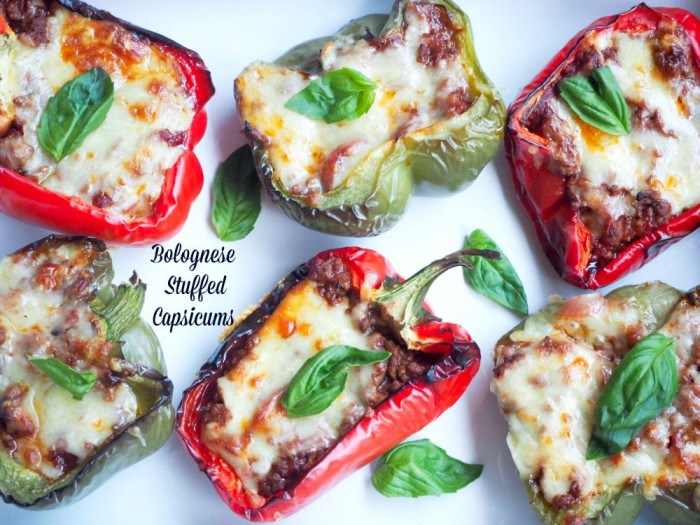 Serves 4
If you're looking for new ways with bolognese, these stuffed capsicums are super easy, colourful, low carb and full of flavour!
Bolognese is a weeknight (and even sometimes a weekend) staple at our house and because we eat it so often, I'm always thinking of different ways to serve it. This recipe ticks all the boxes. I've included my favourite bolognese recipe, if you're looking for a low iodine version you can find it here, but you can use your ragu of choice, just make sure your mince is thicker rather than wetter. If you're pushed for time, cook the bolognese in bulk, freeze in portions and then just prepare your capsicums for a delicious dinner any day of the week.
Ingredients
1 tablespoon olive oil
1 large brown onion (200g) chopped finely
2 garlic cloves, crushed
500g minced beef
2 x 400g tins chopped tomatoes
3 tablespoons tomato paste
2 tablespoons balsamic vinegar
1 beef stock cube
4 large capsicums, (it's nice to have a colour combination)
100g pizza or cheddar cheese (or a combination of both)
Fresh basil leaves, to serve (optional)
How to
Preheat oven to 200C / 180C fan-forced.
Heat the oil in a large saucepan and cook the onion and garlic, stirring, until it starts to soften. Add mince; cook, stirring, until browned..
Add undrained tomatoes, paste, vinegar and stock cubes, and bring to the boil. Turn the heat down and simmer, covered, stirring occasionally, for about 20 minutes. Then remove the lid and simmer uncovered, for a further 10 minutes or until most of the liquid has evaporated.
Meanwhile, halve the capsicums and scoop out the seeds and white membrane. Place the capsicums cut side up in a large baking dish, season and bake for about 25-30 minutes.
When the bolognese is ready, divide it between the capsicums, sprinkle with cheese and return the dish to the oven for another 10-15 minutes until the cheese is melted and golden brown.
Scatter with basil leaves just before serving.
Other info
Prep time: 10 minutes
Cooking time: 45 minutes
TIP!
You can freeze the meat sauce in small portions, ready to defrost, heat and serve at a moment's notice. The sauce can be frozen for up to two months.
To add to the flavour, just before serving stir a tablespoon of finely chopped fresh basil or oregano into the sauce.