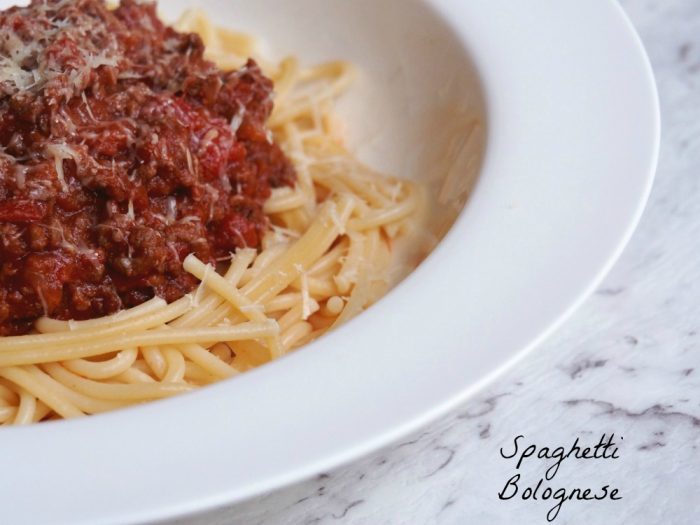 I've loved bolognese since I was a kid. My mum used to make the best bolognese (and still does) and this is about as close as I can get to mum's special! This version is so flavoursome and one of my all time favourite meals on the low iodine diet, because even though it contains no salt, it's full of flavour… Thanks to the generous serve of wine. Even after all these years, it's my go to spag bol recipe and it never disappoints.
My bolognese obsession knows no bounds and I always like to keep a stash of sauce in the freezer. I also like to upcycle my bolognese sauce in different ways, for days when you want something more special than spaghetti. If you're looking for new ways with bolognese, check out these Pancakes Bolognese  and these delicious Bolognese Stuffed Capsicums. So much yum!
I must say that not only has my love for spaghetti bolognese not changed since I was a kid, neither has my aptitude at eating it. I am still as messy as ever, so much so that when I went to Italy, I even got a bolognese bib! True story!
Is spag bol a staple at your place too? Do you need a bib when you eat spaghetti?
Serves 4 (low iodine without cheese)
Ingredients
1 tablespoon olive oil
1 large brown onion, chopped finely
1 clove garlic, crushed
500g minced beef
2 x 400g tins chopped tomatoes (no added salt)
1/3 cup tomato paste (no added salt)
1 ½  teaspoons sugar
1 cup of good red wine (250 ml)
grated parmesan, to serve (optional, not for low iodine diet)
How to
Heat the oil in large saucepan and cook onion and garlic, stirring, until the onion softens.
Add the mince and cook, stirring,  over a medium heat until meat is cooked through.
Add  tomatoes, paste, sugar and wine and bring to the boil. Simmer, uncovered, stirring occasionally, for about 25 minutes or until most of the liquid has evaporated.
When the sauce is almost ready, cook the spaghetti according to packet instructions. Drain the spaghetti and serve with the sauce and if you're not on the low iodine diet, grate parmesan with wild abandon!
Other info
Prep  time:  15 minutes
Cooking time:  40 minutes
Tip!  Use a white or a red onion if you don't have a brown one!
You can freeze the meat sauce in small portions, ready to defrost, heat and serve at a  moment's notice. The sauce can be frozen for up to two months.
To add to the flavour, just before serving stir a tablespoon of finely chopped fresh basil or oregano into the sauce.