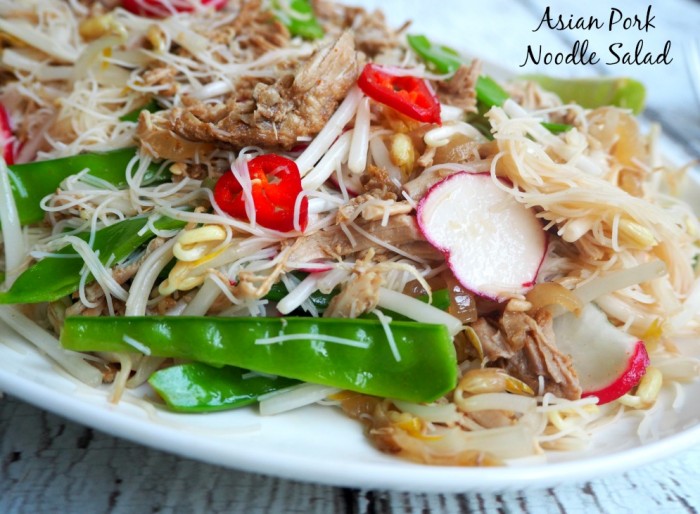 Serves 3 – 4
It's no secret that we're big fans of pulled pork but I married someone who doesn't care to eat the same meal twice in a row. We always have a pulled pork surplus after we slow cook our shoulder, so I freeze it in portions and dream up new ways to serve the pork on our fork.
We don't do much entertaining these days, but my hairdresser Heather comes for dinner as often as I get my hair cut. It's a great way to get quality time together. Anyway, last time when Heather came for dinner, it was summer and it was seriously hot. Cooking, let alone eating a hot meal was out of the question so I came up with this salad instead.
I'm not a massive fan of salad, per se, but this is one salad I can learn to love because it has pulled pork AND carbs. Don't worry though, it's packed with veggies too! This is our new favourite way to upcycle pulled pork, although this salad is so versatile, it would work just as well with chicken, duck or just veggies for a meat free option.  The dressing is the business too, with the chilli and the lime,  it's all kinds of fresh and flavoursome.
It's the perfect midweek dinner because it's quick, easy and jam packed full of flavour… My kind of salad! Do you love salad? What do you like in yours?
Ingredients
200g snow peas
150g vermicelli rice noodles
250g bag beansprouts
1 bunch radishes, sliced thinly
handful of mint leaves
1 long red chilli, deseeded and thinly sliced
500g cooked pulled pork, shredded
1 lime, cut into wedges
FOR THE DRESSING
1 small red chilli, deseeded and finely chopped
juice of 1 lime
1 1/2 tablespoons soy sauce
1 1/2 tablespoons fish sauce
1 1/2 tablespoons sesame oil
How to
Bring a large pan of water to the boil. Add the snow peas and boil for 30 seconds. Using a slotted spoon, scoop out the snow peas (but don't throw away the water,) then transfer to a sieve and run under the cold tap until cool.
Bring the water to the boil and cook the rice noodles as per the packet instructions.
Meanwhile slice the snow peas diagnonally and heat the pulled pork, if desired.
When the noodles are cooked, drain well and put in a large bowl. Add the rest of the ingredients and toss to combine.
To make the dressing, combine all the ingredients together in a small bowl.
Pour dressing over salad and mix well. Serve on a platter with lime wedges to garnish.
Other info
Prep  and Cooking time: 20 minutes