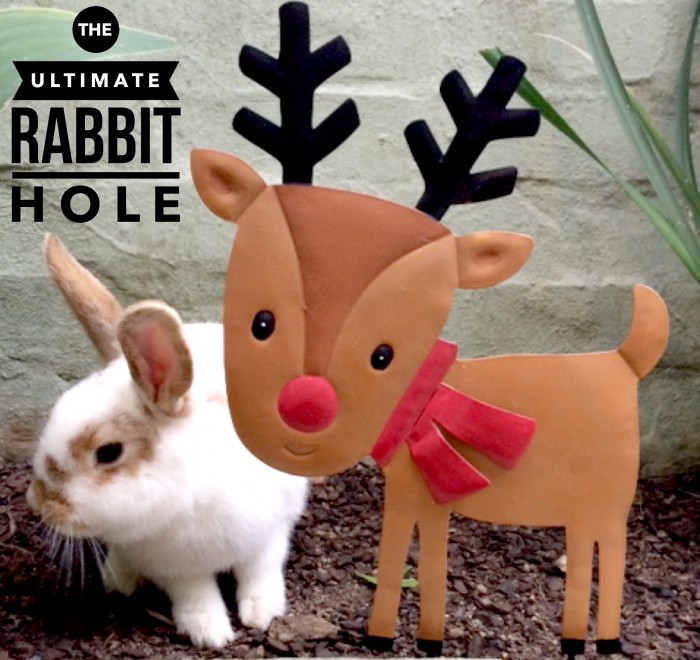 Howdee bunny holers! How was your week? It's been so hot and sticky in Sydney, I almost melted, but not quite. We're looking forward to chilling out (in every sense of the word) this weekend. How about you?
I have just 10 days until my 101 things to do in 1001 days challenge comes to a close and this week it's all about the last chance saloon and seeing how many things I can tick off the list. Last night, me and my girlfriends had a make-a-gingerbread-house night. So that's another thing to tick of my list although I don't think I should give up my day job for a career in construction. Just sayin'!
Clearly me and my friends are ahead of our time because National Gingerbread House Day is on Monday! The possibilities of baking and then building with gingerbread are positively endless! If you're thinking of making your own, these 25 clever do-able-ish gingerbread house ideas and tips  will come in super handy and if you prefer to look rather than labour, check out these 40+ gingerbread houses you'll want to move into. For realz.
Still on the subject of Christmas (in case you hadn't guessed, I just can't get enough) let's talk wreaths. As it happens, we don't have a wreath because a) we live in an apartment and b) I'm scared someone will nick it. Every year in London, my mum's wreath would get nicked. You could bet your last five pound note on it. Anyhoo, I can look even if I can't hang, and there's plenty of wreath-spiration  in this post. If that doesn't get the creative juices flowing, then check out this paint chip and plastic animal wreath or how about this DIY Easy Light Wreath? It is sure to light up your life! And last but not least, a wreath you can eat! This Antipasto Wreath is right up my eat street – my love of antipasto knows no bounds!
If you loved Amanda's antipasto wreath, you're going to love her brand spanking new cookbook The 12 Days of Christmas. The ebook is  jam packed with delicious recipes from some of her bloggy buddies (including me!) and best of all it's free! So don't delay, download it today!
If you're hosting a holiday party, these tips for effortless entertaining will see you right. Of course, partying is thirsty work so be sure to check out my ultimate holiday drink guide featuring the most festive cocktails and mocktails and you could win yourself one of two SodaStream Power machines while you're at it! If you want your party with a side of tunes and Christmas tunes at that, you'll love this playlist with the best Christmas carols that you will ever hear. 
It's important to remember that the holidays are not a sack full of fun for everyone and that for many Christmas brings anything but good cheer. If you're burning your Christmas candle at both ends, Jess has six ways to avoid burnout over the holidays.
Another thing on my 101 things to do in 1001 days list is to master an up do in my hair. Sometimes I wonder if eternity would be long enough for me to manage anything other than a ponytail, so it's like these easy holiday hair tutorials were made just for me. Wearing a bikini was also on my list and that is not going to happen anytime soon. I need to take some leaves out of Beth's and Jenny's books – I'm loving Jen's tips on how to be a body confident beach babe.
After my 101 things challenge wraps up and before the new year and a new list of 101 things begins, I'm going to try and do these 10 things before the end of 2016. I think they're good for the soul.
It's been way too hot to even think about wearing our Christmas jumpers, so I've been living vicariously, looking at these pictures of 26 cats and dogs in their Christmas sweaters. BEST!
So tell me, are you making a gingerbread house this year? Do you have a wreath on your door? Are you good with your hair? What's your favourite festive drink? Do you have a favourite Christmas song? Have you got a Christmas sweater? I'll show you mine if you show me yours!
Every Saturday morning, we will open up the rabbit hole link up for bloggers to add their link list posts or even just their favourite post (if you are not of the link list kind) for the week. Please link only one post. This makes it fair for everyone and allows more posts to be read. Talking of reading, do try and pop along to say howdee to some of  the other lovely linkers. Link up here, over at Calm to Conniption or The Geeky Shopaholic. It doesn't matter where you add your link because it will appear on all three blogs, as if by magic!  The link up will stay open until midnight the following Monday.
Loading InLinkz ...