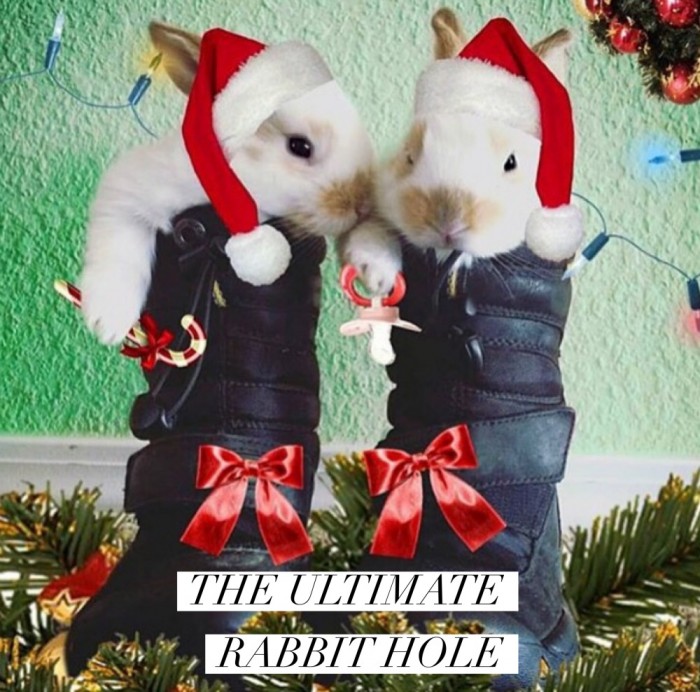 Hello friends! 'Tis the weekend before Christmas and the our last rabbit hole adventure for the year, so let's make it a good one shall we?!
First things first, today is National Maple Syrup Day! Truth be told, I haven't been able to get enough of the sweet stuff since I was in Canada. If you want to start your day right (and with maple syrup) these Maple, Brown Sugar and Cinnamon Overnight Oats might be just the ticket. For something sweet but savoury, you might want to try my Maple Glazed Chicken  and if you'd like a side with that, check out these Maple Roasted Brussel Sprouts with Bacon. Yum! Those are my kind of sprouts! For dessert this  Maple Self Saucing Pudding has my name all over it!
I love Mr and Mrs Romances' "he said, she said" posts where they discuss the important issues in life. This real vs fake Christmas tree debate is one of my all time faves. I've had a Christmas tree for as long as I can remember and it's always been fabulous and fake! I've had gold trees, green trees and now we have a white tree but I've never had a real tree. Are you on Team Real Tree or is a fake tree your friend?
It's so easy to get caught up in the Christmas crazy. Christmas isn't about being busy, it's about surrounding yourself with people you love and doing things you love to do. It's about being grateful and being kind. I loved these 11 important things to remember about Christmas and there are some free printables too! It's the season of giving after all!
If you're feeling frazzled and finished before the holidays have even started, check out these tips on how to stress less this festive season. 
There are some cracking Christmas food guides around this year, I love Love Swah's 20 Festive Christmas Desserts, Lucy has The Very Best Ice Cream Cakes and to balance things out Jayne has the best Salad Christmas Menu. Sorted!
If like me, you're partial to a glass of bubbles, you'll need to check out this definitive ranking of the best ways to drink champagne so you will always drink to bubbles, not troubles!
Doing a yoga class is one of the things still left to do on my 101 things to do in 1001 days. With just 3 days left, it's unlikely I'm going to cross it off the list. Sigh. In the meantime, I'm going to take a leaf out of Marisa's book and adopt the yoga approach to life.
1,500 people give all the relationship advice that you'll ever need. It's pure gold. I love love as much as I love Christmas!
If you're already making secret tricks and cunning plans for 2017 you'll want someplace to remember them, check out these best free 2017 printable calendars  plus I'd love to add this awesome family organiser (a snip at $7.99)  to the list.
Now, a rabbit hole adventure is not a rabbit hole adventure without some puppy love, so check out these cute canines in their finest Christmas couture. Don't miss the puppies in the stockings, whatever you do!
This is the last rabbit hole adventure for 2017. Me and my trusty co-pilots are taking a break from the Rabbit Hole over the holi-yays but we'll see you back here bright eyed and fluffy tailed on January 7th, 'kay? Thanks to everyone who has put on their party pants and linked up this year and made the rabbit hole such a fun place to be! Have yourself very merry everything!
But before you go, tell me what's on your festive agenda? Tell me about your tree, is it a real deal or a fantastic fake? What's the best relationship advice you've ever given or indeed, received? And if you have a pet, will they be dressing up this Christmas?
Every Saturday morning, we will open up the rabbit hole link up for bloggers to add their link list posts or even just their favourite post (if you are not of the link list kind) for the week. Please link only one post. This makes it fair for everyone and allows more posts to be read. Talking of reading, do try and pop along to say howdee to some of  the other lovely linkers. Link up here, over at Calm to Conniption or The Geeky Shopaholic. It doesn't matter where you add your link because it will appear on all three blogs, as if by magic!  The link up will stay open until midnight the following Monday.
Loading InLinkz ...