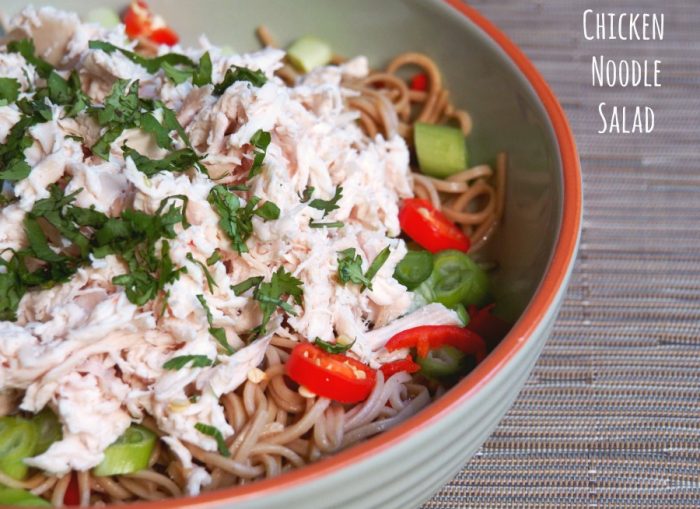 This is one salad I could really learn to love! With shredded chicken, noodles and a delicious Asian dressing, it's a winner, winner chicken dinner. It also makes a lovely lunch!
Lately I've been a bit obsessed with cooking whole butterflied chickens, like this Roasted Chicken with Chilli and Lime  and this Lemon and Garlic Quick Roasted Chicken. I love a roast chook as much as the next person, but the real fun comes when we get to upcycle the left overs. Inevitably, we're always left with the legs because David doesn't care for them and his pick of the poultry will always be the breast.
This salad is perfect then, because whatever part of the chicken you use in this recipe, the salad will be totally delicious, and of course, you don't have to roast a whole chook for this salad, any left over chicken will do. I like to let the noodles sit in the dressing for 30 minutes or so to really absorb the flavours in the dressing, but if you're pushed for time, you can just dress it and go and it will still taste amazing.
One of my pet peeves with salads is that more often than not, it's a plate full of healthy stuff covered in a dressing full of fat. That's not the case with this salad, it's relatively low in fat but full of yum!
Do you love a roast chicken too? What's your favourite bit of the bird?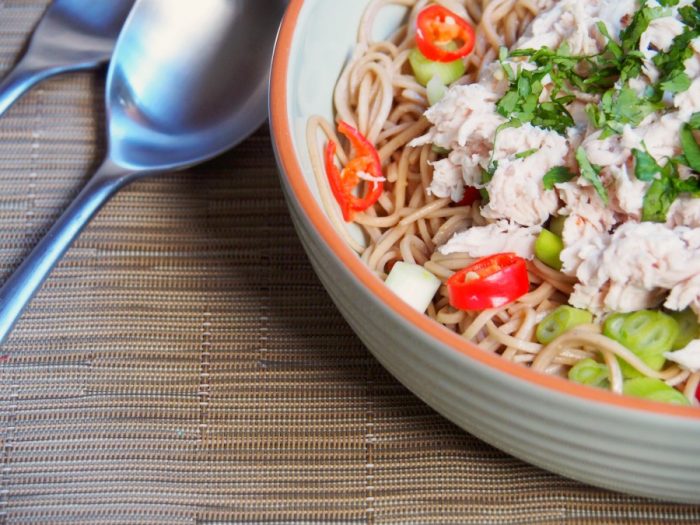 Serves 2 (easily doubled)
Ingredients
2 leftover cooked chicken legs
200g soba noodles
1 thumb sized piece of ginger, grated
1 tablespoon soy sauce or tamari, for gluten free
1 tablespoon rice vinegar
1/4 teaspoon wasabi
2 teaspoons sesame oil
1 red chilli, finely chopped
2 spring onions, sliced
1 tablespoon coriander leaves, chopped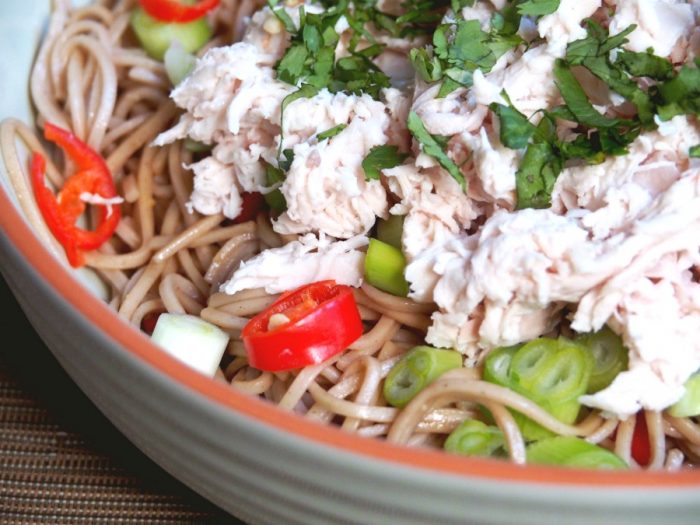 How to 
Shred the meat from the chicken legs.
Bring a pan of water to the boil and cook the noodles following the packet instructions. Drain the noodles and cool with running water.
In a small cup or jar, mix the ginger, soy sauce, vinegar, wasabi and sesame oil.
Toss the cooled noodles with the dressing and leave for 15-30 minutes to let the flavours develop.
Arrange the dressed noodles in a serving bowl and top with chicken, chilli, spring onions and coriander.
Toss through everything just before serving and enjoy!