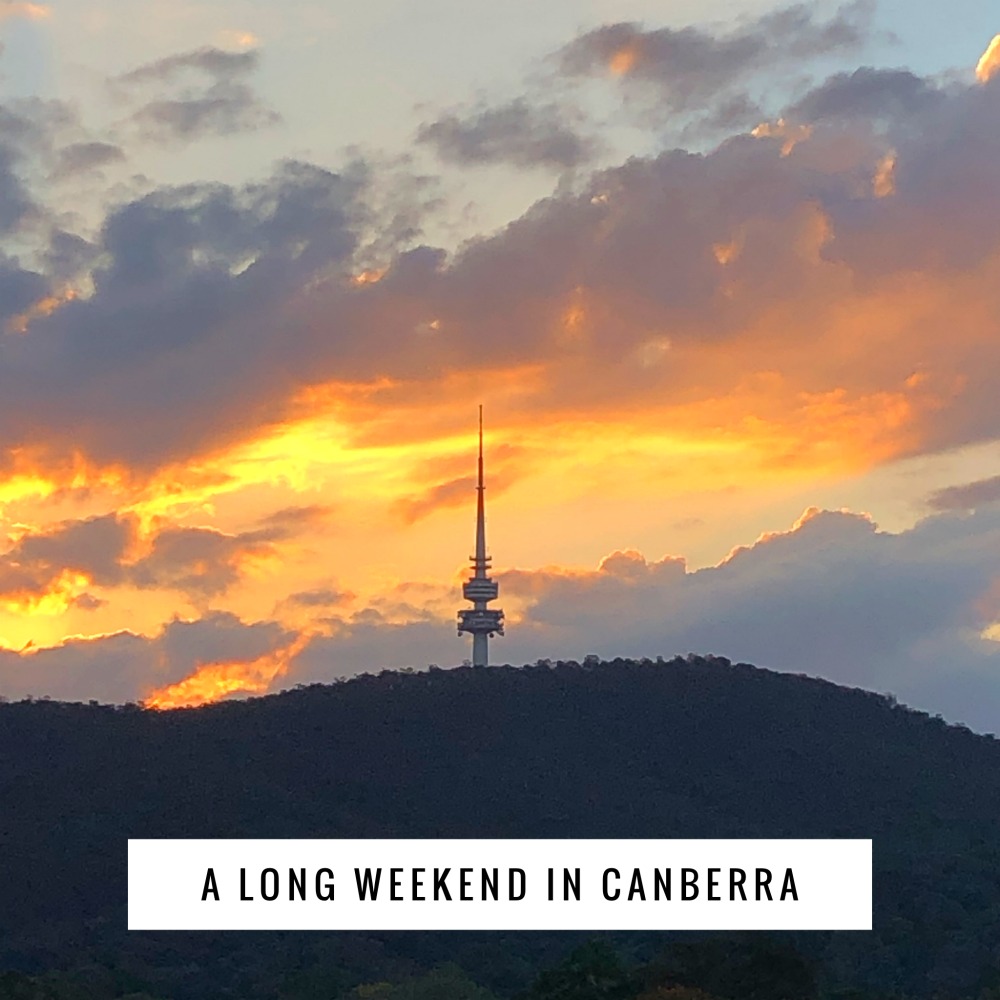 Find out how to spend a wonderful weekend in Canberra and what to see, eat and do!
Just between you, me and the rest of the interwebs, I think Canberra is one of Australia's best kept secrets. It's the most wonderful capital city with so many things to see, eat and do – if you're lucky you'll just about scratch the surface in a weekend.
In fact, I love Canberra so much that I've been paying an annual visit almost every year since 2012 and amazingly, even though I know how to pack a schedule, I'm always discovering new things to see eat and do. This long weekend was originally a runcation as we planned to take part in the Australian Running Festival 10K but sickness had us sidelined. We needn't have worried about not running though, Canberra had more than enough to keep us out of mischief!
Where we pit stopped
It's a 3.5-4 hour drive from Sydney to Canberra and we like to refuel (ourselves not the car,) en route. On the way to Canberra, we stop at The Shaggy Cow in Mittagong based purely on the assumption that with a name that good, the cafe must be good too. We aren't disappointed. The coffee is good, the food is delicious and the service is top notch. These Corn and Halloumi Fritters ticked all our brunch boxes! We'll definitely be back next time we're in the hood.
112 Main Street, Mittagong, NSW 2575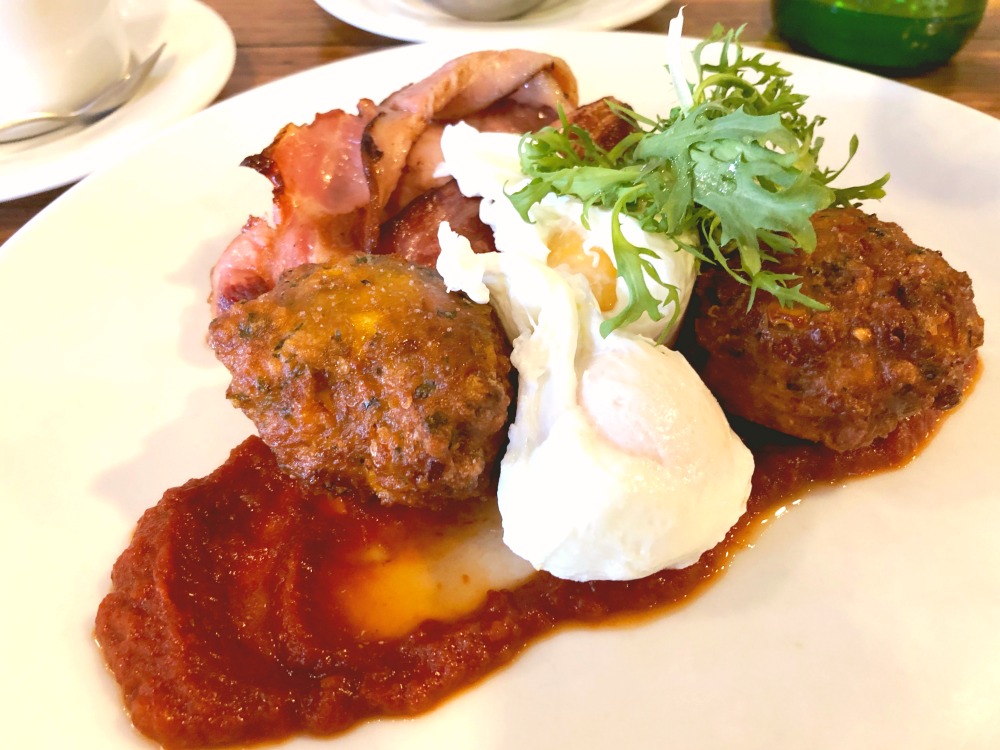 On the way back, we stop in the country town of Yass mainly because I want to follow in the footsteps of the fab five from Queer Eye who visited the town last year. We pop into the Yass Valley Information Centre where I get a picture with my five favourites – let's face it, this is the closest I'll probably ever get to the fab five!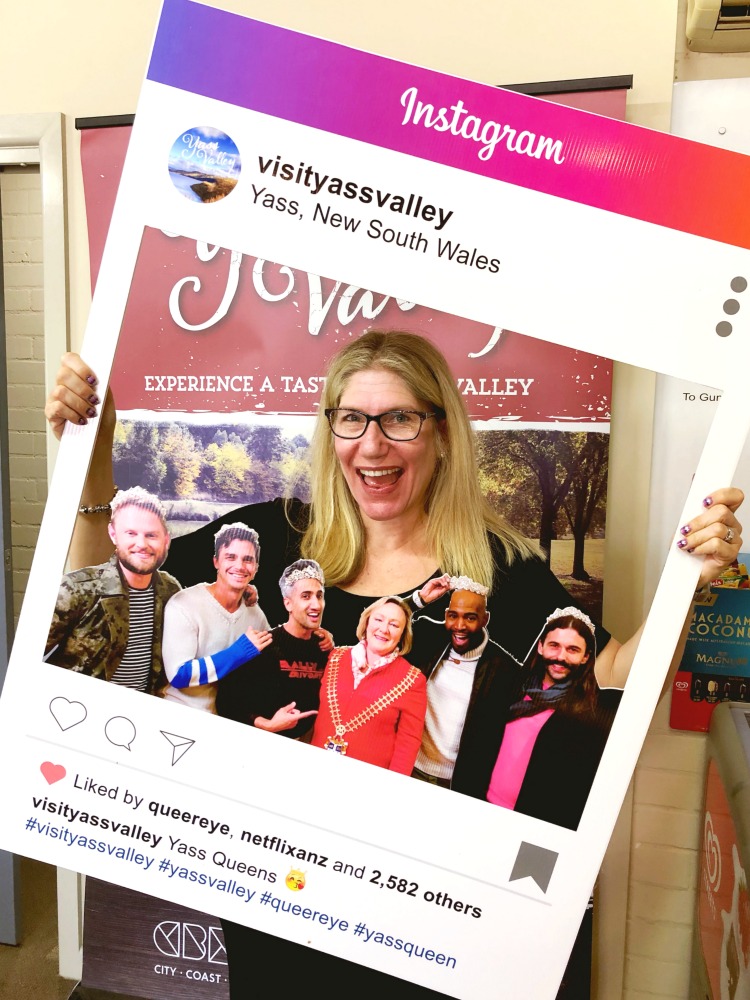 We grab a solid country breakfast at Kaffeine. It's pretty standard cafe fare with seating inside and out, prompt service and decent coffee. I can highly recommend the egg and bacon roll.
1/175 Comur Street, Yass, NSW 2582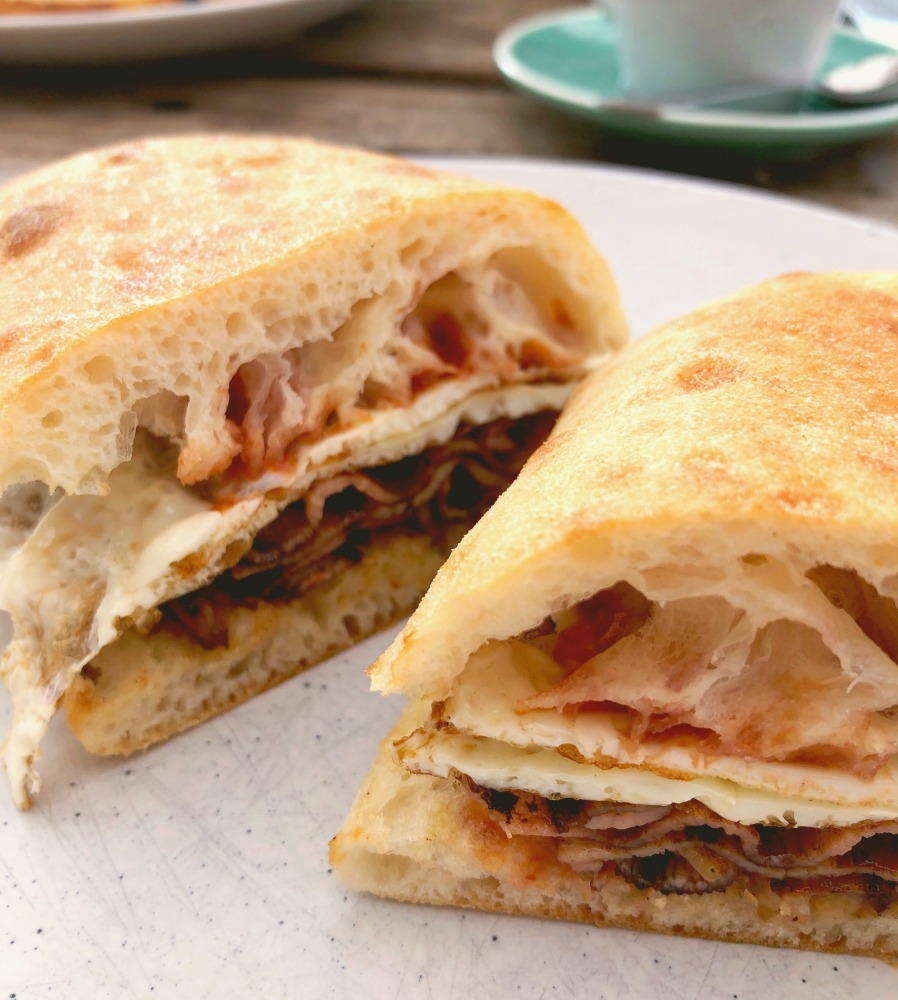 Where we stayed
1 London Circuit, Canberra, ACT 2601
We usually stay at the QT because it's so easy to get to the start line at the Australian Running Festival. As we're not running, we have our pick of the Canberra hotels but we still choose to stay at the QT! This is our Canberra hotel of choice because it's quirky, fun, well located and quite frankly I'm obsessed with these dog cushions. You can score great discounts and special deals if you join their free Priority Guest Rewards Programme plus you also get shouted two free drinks in the hotel bar too (not sponsored just a fan girl.)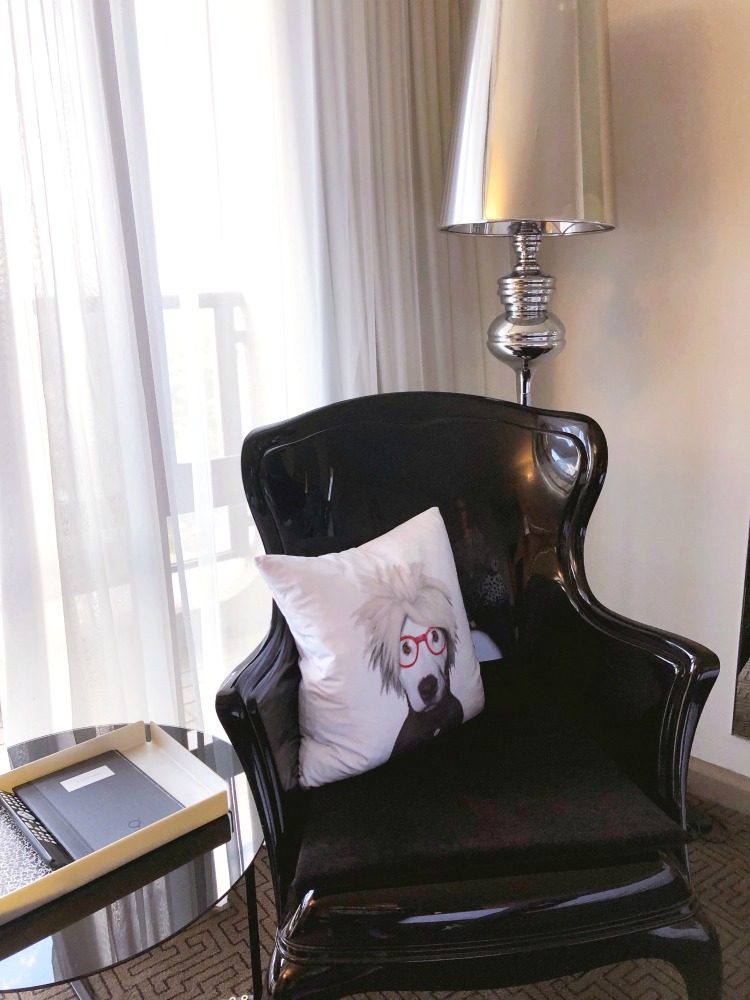 Where we ate and drank
48/38 Mort Street, Braddon, ACT 2612
A visit to Canberra isn't a visit to Canberra without a visit to Bentspoke Brew Pub. This place is always popular and always busy – there's top notch beer, cheer and a fun, relaxed vibe. We've never eaten a full meal here but true to form, we enjoy an enormo-plate of hop salt potatoes with a side of the beerily spicy Braddon Bitter BBQ sauce. They're so good!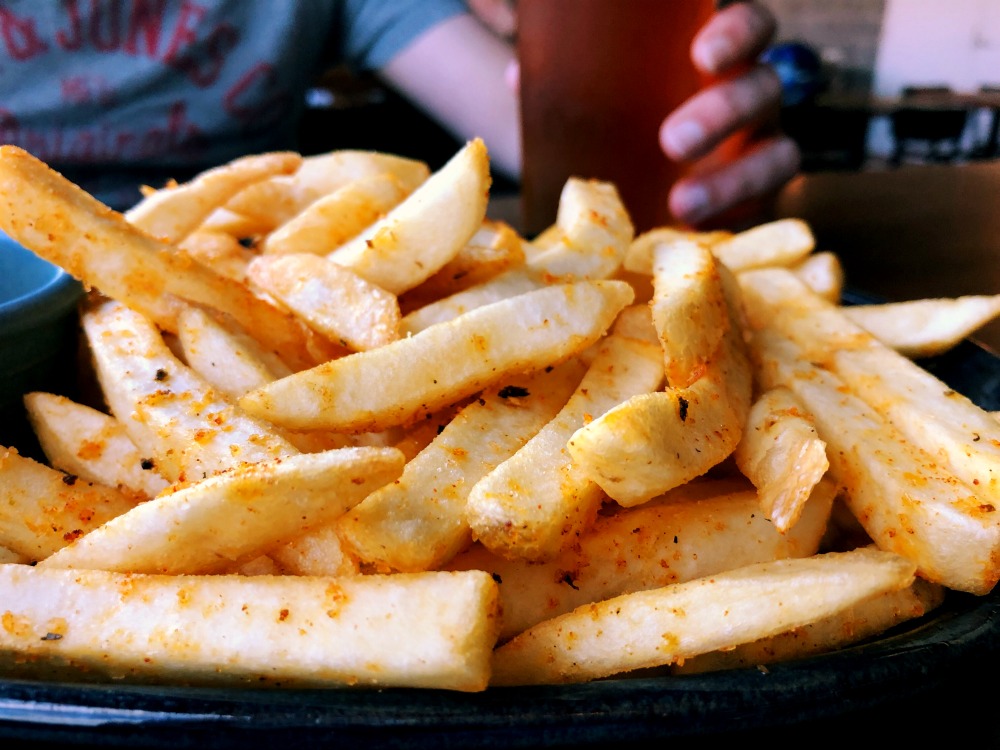 2/5 Lonsdale Street, Braddon, ACT 2612
Another one of our Canberra favourites – this place is a gin lover's delight. The weather gods look favourably upon us and we enjoy a most pleasant gin paddle in the garden (although inside is lovely too). The range of gin on offer is mind bogglingly good although of course, if gin isn't your jam there's a great selection of other drinks too. The gin paddles are a complete experience – first you taste your gin, then you add some botanicals to enhance the flavour, next chuck in some ice, mix it all up, taste and adjust to your tastebuds and then kick, back, relax and enjoy. It's just a gin-tastic experience! We love it so much we make a return visit later in the weekend.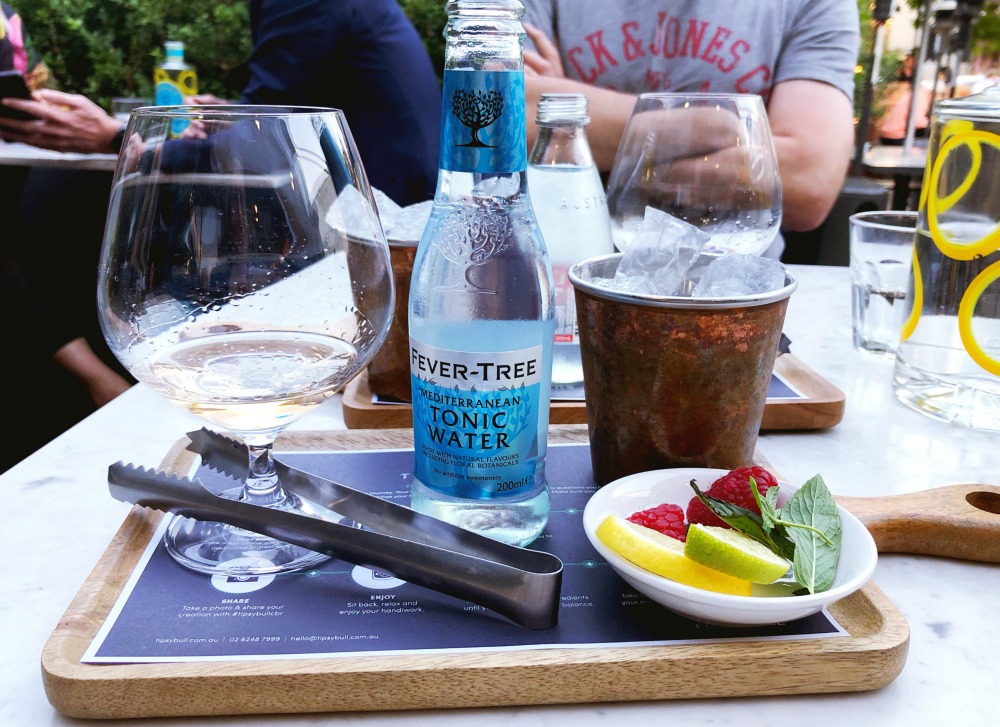 1/9 Lonsdale Street, Braddon, ACT 2612
Lazy Su has long been on my 'Places To Eat' List (yes, that's totally a thing – haven't you got one?!) and not just because they serve Wagyu Cheesesteak Spring Rolls, which in case you are wondering are every bit as good as I imagined. The menu here is Japanese-Korean-American fusion and my only regret is that I don't have the stomach space to enjoy more of it.
We do however find the stomach space for the chicken gyoza, pork belly bao and buttermilk chicken ramen although we save the best til last, because the Golden Gaytime Bao is next level delicious!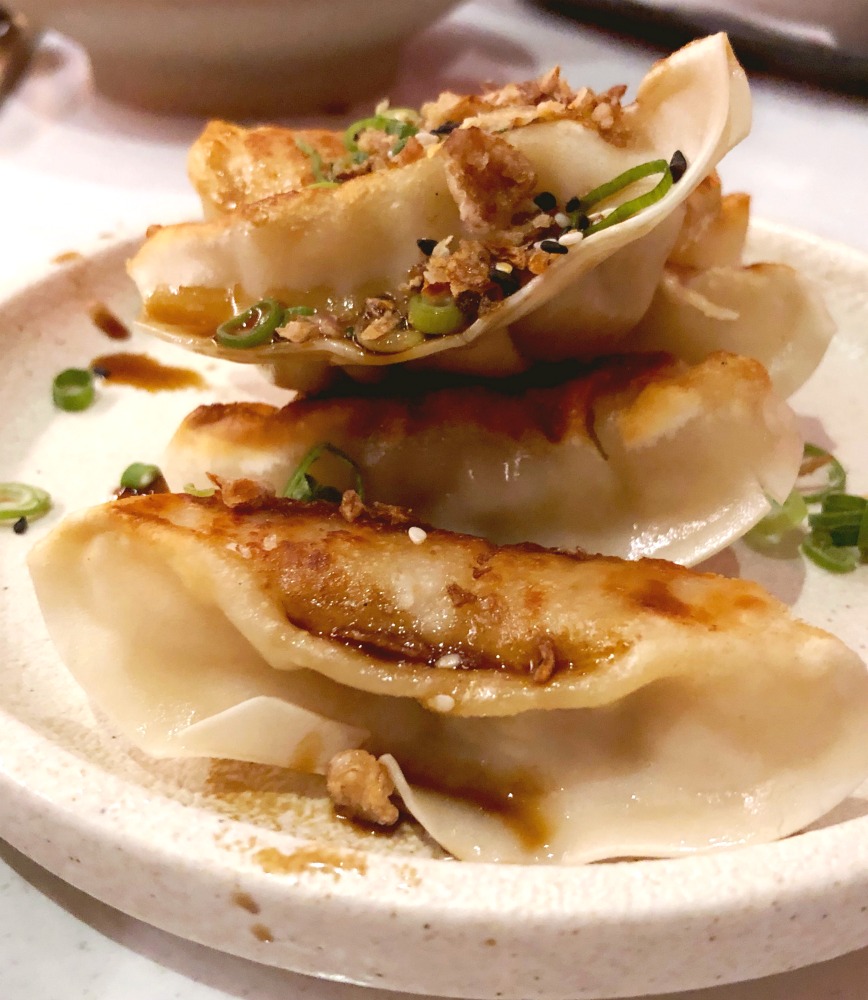 Even the cocktail list is fizzed up with a bit of fusion- there's Yuzu liqueur in my Aperol Spritz with a Japanese Twist and David's Nakano Negroni with Four Pillars Gin, Umeshu and Campari totally hits the spot. We like to eat early and the place is packed by 6.30 on a Saturday night, although if you're a bit of a night owl, you'll love that Lazy Su is open late. Whatever time you choose to eat, it's definitely worth booking ahead to avoid disappointment (and a serious case of food envy!)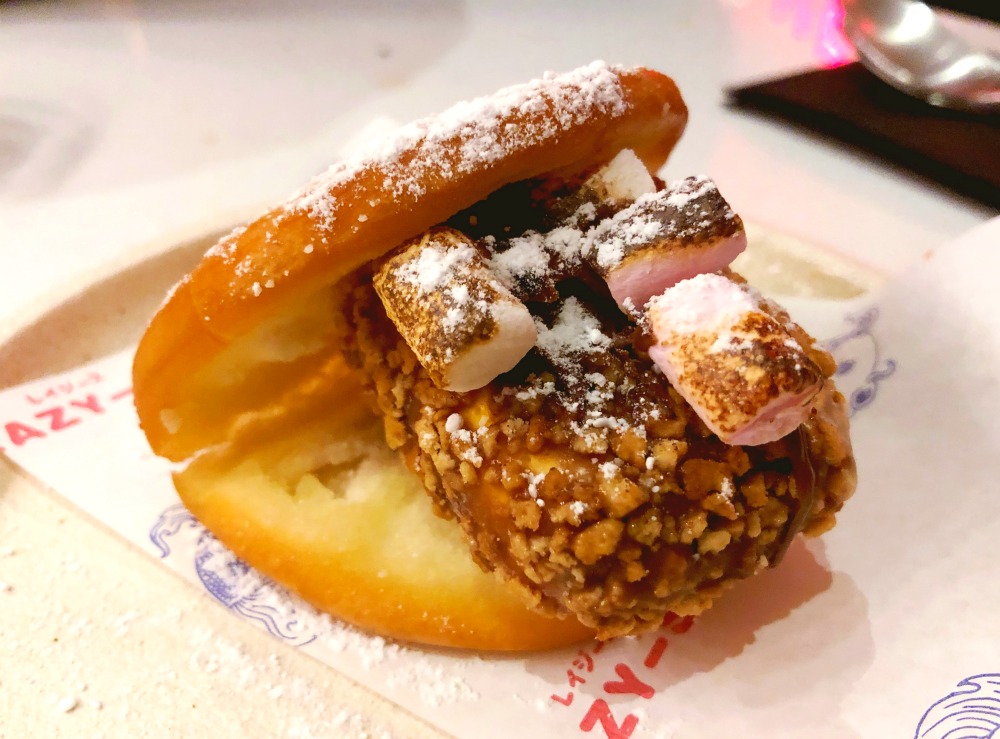 2/4 Victoria Street, Hall, ACT 2618
The trip to the pretty historical village of Hall is totally worth it, if only to visit  the delightful cafe where Geoff Whittall AKA The Doughnut King is cooking up a storm. Geoff might not be selling his famous bombolini doughnuts at the Canberra markets anymore but he is serving up a delicious menu, great coffee and a mouth watering selection of baked goods (including of course, my beloved Bombolini) at Kynefin. The menu here has a strong British influence and tastes like home. Talking of home, almost everything is homemade/made in house from chutneys to chai and bread to bombolinis and in case you're wondering, you can totally taste the difference!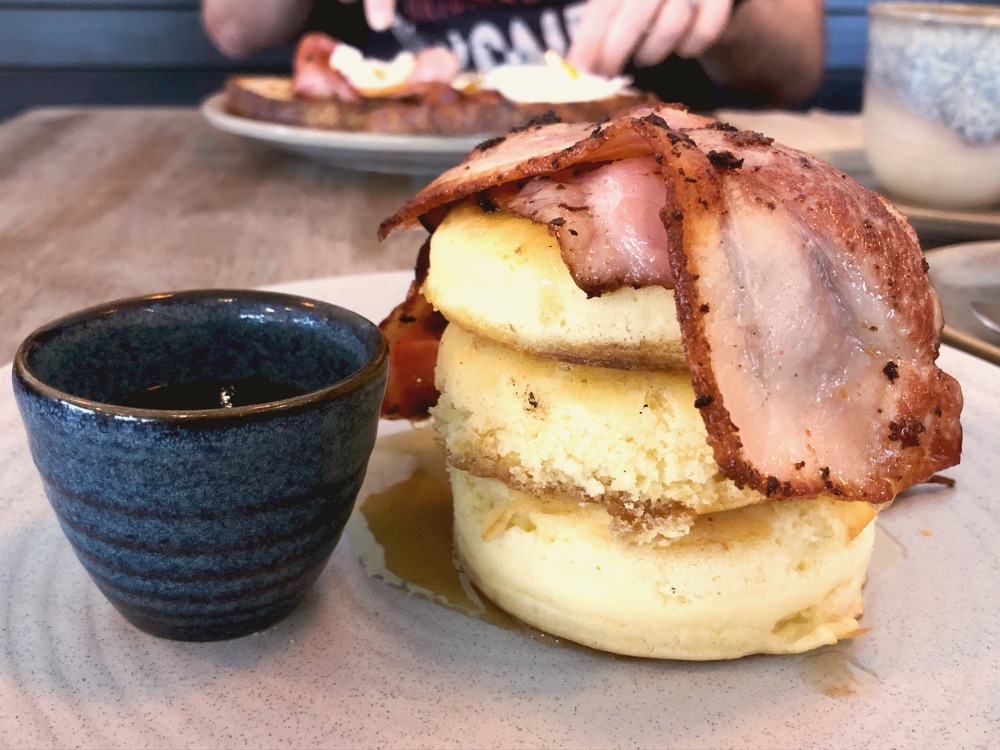 I pop my crempog (fluffy welsh pancake) cherry. These pancakes are so light, so fluffy and so darn tasty topped with bacon and maple syrup (although if you have sweet teeth, you might prefer strawberries and marscapone instead.) . Even though I'm full of crempog from breakfast, I still grab a bombolini to go. I've been dreaming about these doughnuts since my last visit to Canberra and this caramel creme does not disappoint. This is a most delicious addition to our Canberra itinerary!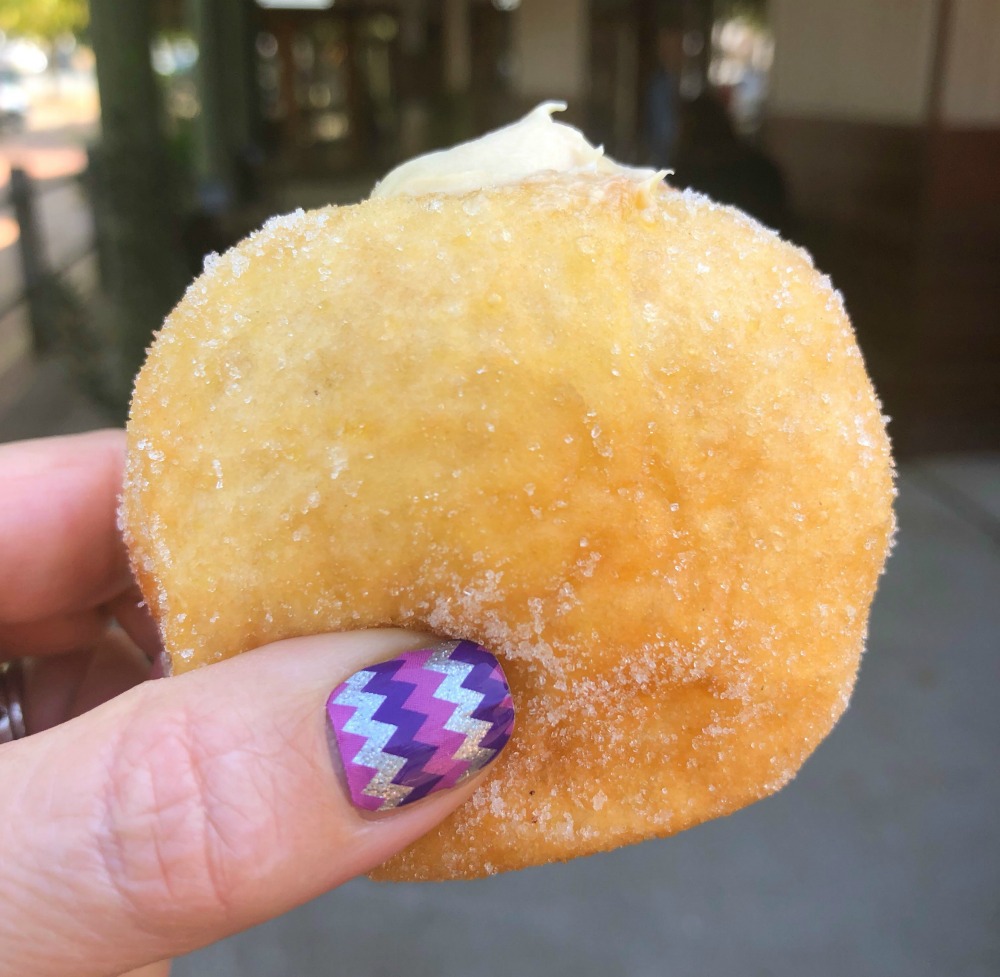 1/1-13 University Avenue, Canberra, ACT 2601
This is another one of our Canberra favourites not least because it serves some of the best coffee in Canberra. We've enjoyed some fabulous food on previous visits and although we don't dine in this trip, we do grab some coffee to take away and of course, it does not disappoint. What's not to love about a coffee blend called "Easter Egg"?!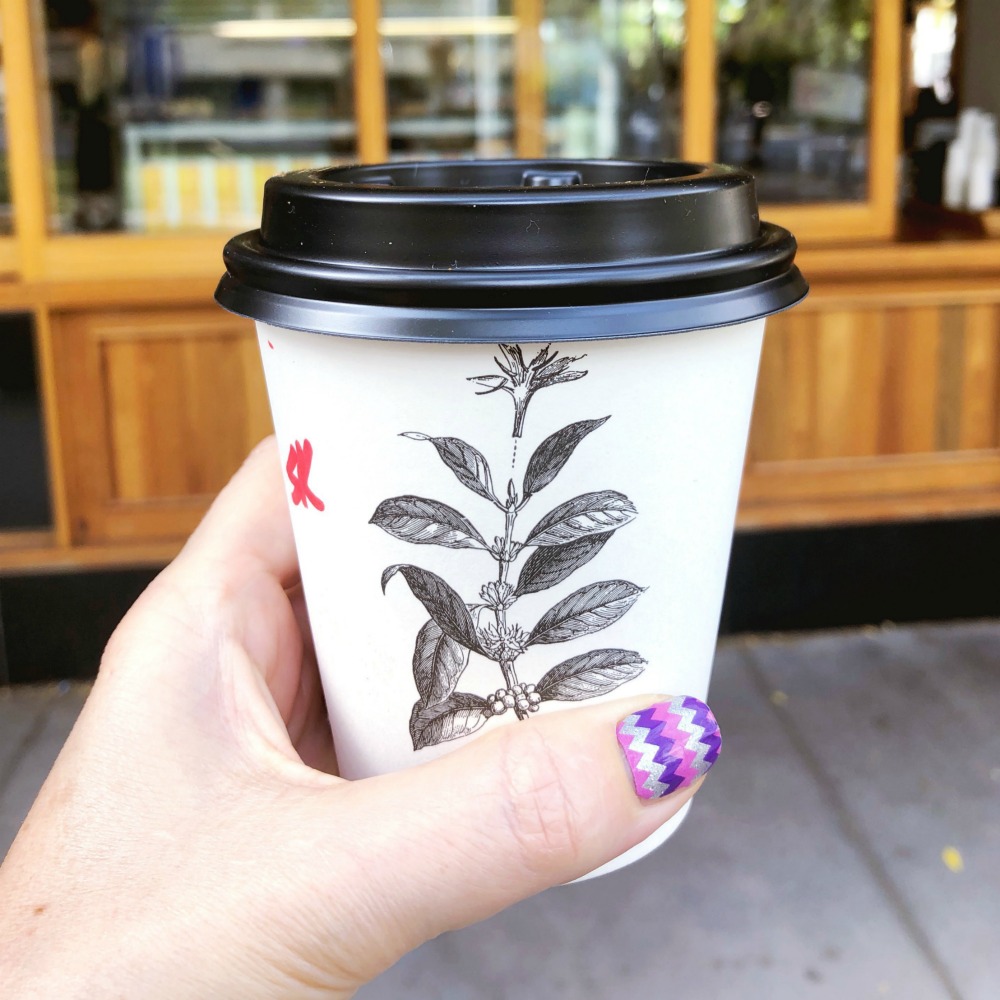 4/25 Lathlain Street, Belconnen, ACT 2617
I must be honest, I find targeted Instagram ads a bit of a turnoff but when I saw an ad for Goodberry's Frozen Custard, I was all over it. If you've never had frozen custard, it's like ice cream but smoothier and creamier because it's made from all fresh and natural ingredients – whole milk, eggs, fresh cream, pure cane sugar, honey and vanilla beans. This place is a sundae lovers dream. Every seven days there's a Flavour of the Week and the frozen treats planets align because it's Creme Egg flavour the weekend we are in town. The trip across town is totally worth it for this soft servy goodness. However, if soft serve isn't your thing, you can choose a coffee, shake or juice instead.
The vast array of dessert adornments is so vast, it's almost overwhelming but I settle on a sprinkling of Daim bars on top (you can choose to have them stirred through too.) This small serve ($5.90) easily serves 2 and is way better than the Creme egg ice cream we  bought from the supermarket. The shop bought version was a massive let down with just chocolate and vanilla and a smidge of the creme. this is perfectly blended with scrumptious chunks of creme egg. It's totally cracking!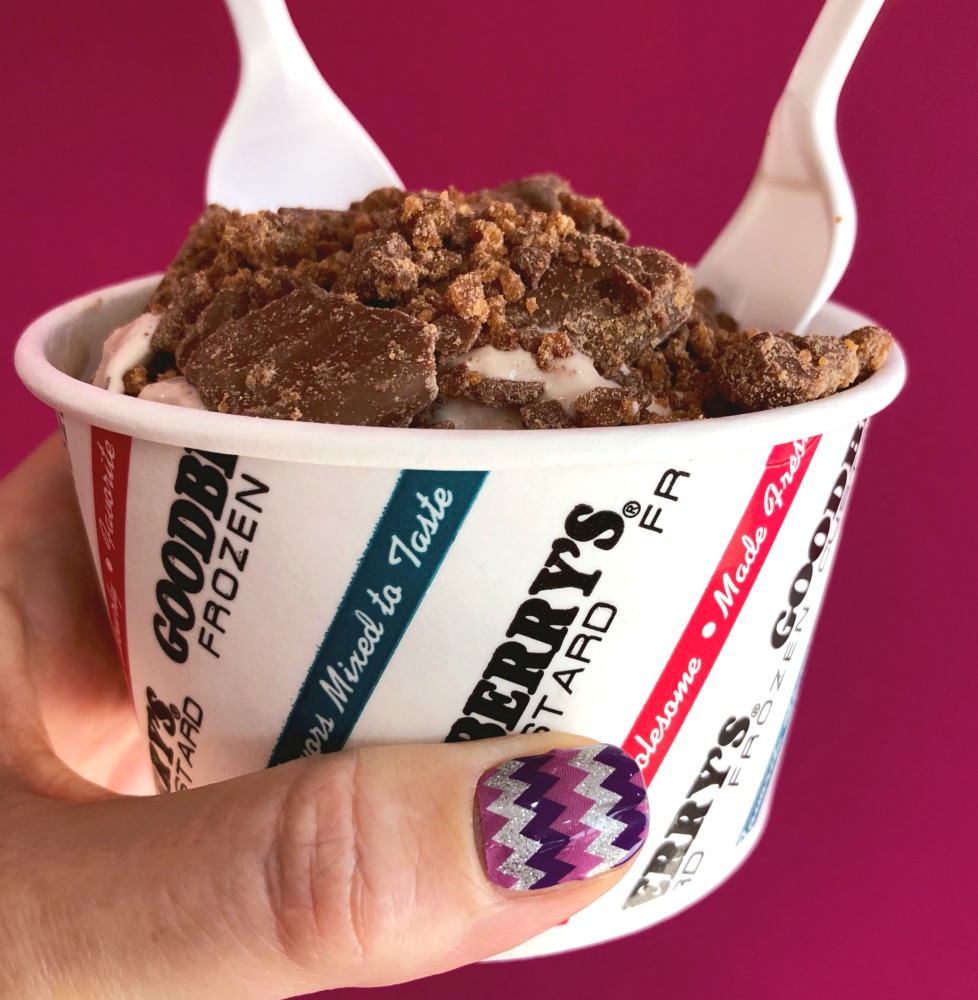 Wooden Door, Odgers Lane, Canberra, ACT 2601
This prohibition style speakeasy is a little bit tricky to find but well worth seeking out. Tip: If you enter Odgers Lane from London Circuit (by Big and Tall Menswear) you'll find the doorway to Molly on your right. Take the stairs to the top where you'll find the wooden door behind which liquid refreshment awaits!
Classy and intimate with over 500 bottles of whisky, this is the place to come for great service and killer cocktails. We tried both the house and the barrel aged cocktails and they were all pretty fabulous. The fact that this is one of the few bars open on Sunday (and the free pretzels) is also a bonus!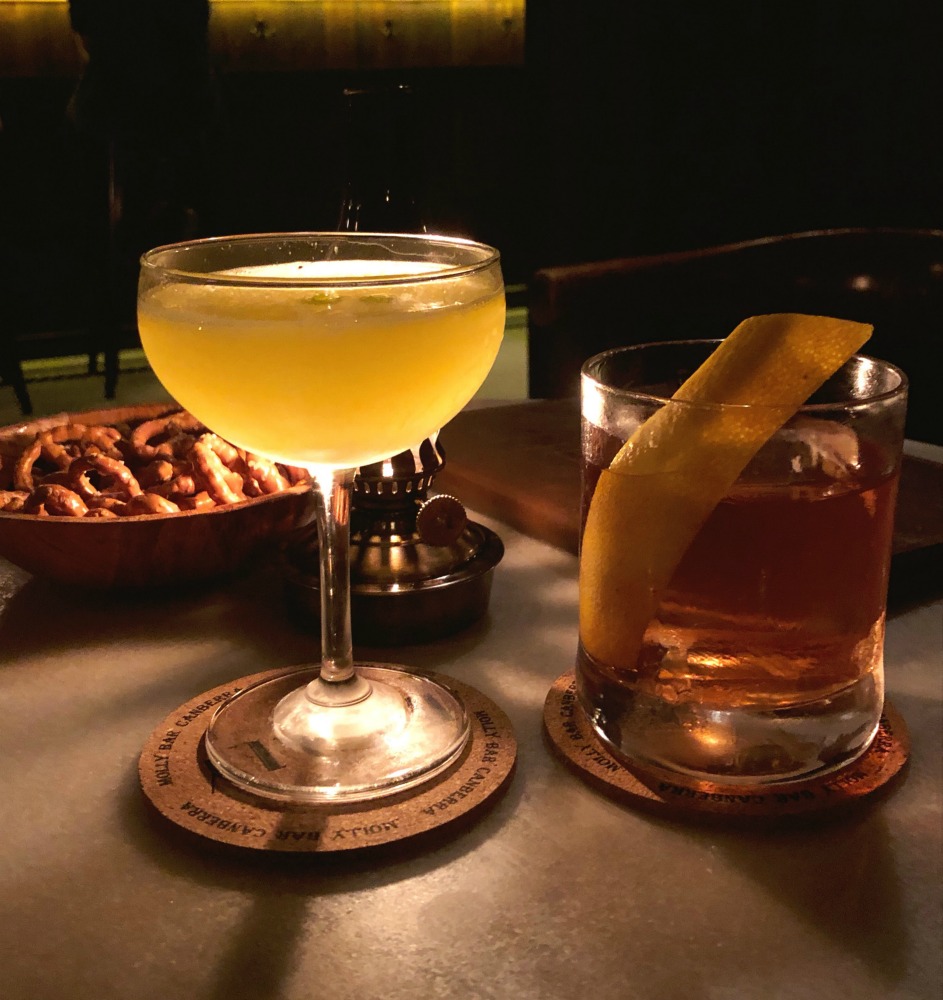 18/19 Eastlake Parade, Kingston, ACT 2604
We push the boat out on Saturday night and have an early dinner at Mork's. Located in the heart of Kingston's waterfront, this modern, funky and now hatted restaurant serves ridiculously tasty Thai food. It's super busy even early on Saturday night and when we taste the food, we see why. The dishes have a great balance of flavours and we have to agree to disagree on our favourite dishes. David says it's the Beef Short Rib but my vote goes to the Lamb Mussaman with the super flaky roti. My only regret is not having room to fit in the Monkey Magic – the Mork's Fried Ice Cream. Nom nom!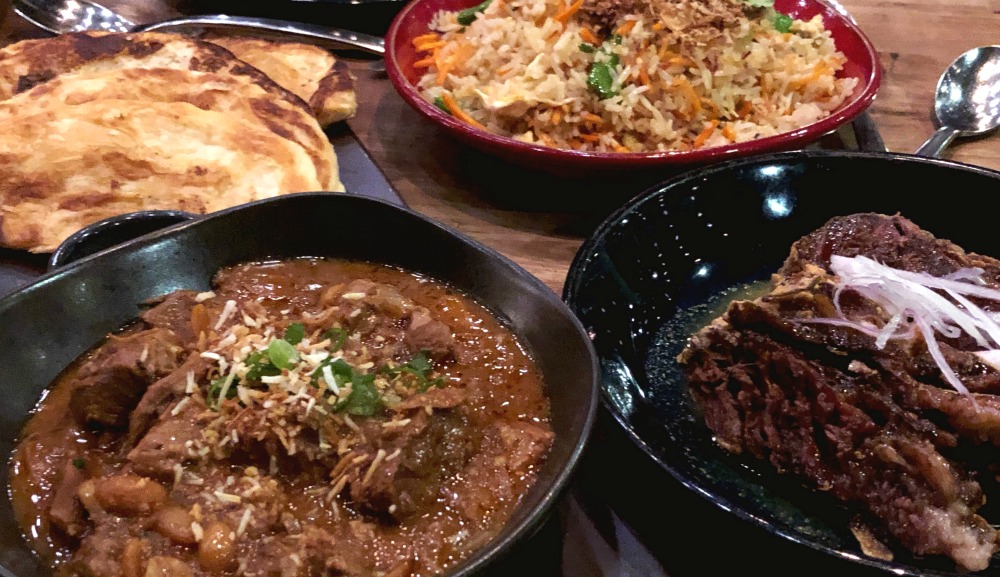 Shop 5 88/96 Bunda Street, Canberra, ACT 2601
This place has the look, feel and menu of a quintessential American deli with sandwiches, bagels, hot dogs and shakes. When I discover they have a brunch menu on Sunday mornings  I can't get there quick enough. There are a range of breakfast/brunch options and David plays it safe with a breakfast bagel loaded with bacon and egg and then adds a hashbrown on the side for good measure.
Did you know fries for brunch are a thing? Well, they are at Selli's anyway. I think secretly David was a bit jealous of my hot, crunchy fries mixed with chunks of bacon, and topped with a fried egg and hollandaise sauce. I washed it  all washed down with a Bloody Mary because brunch is a serious business. If I lived in Canberra, I'd totally be eating my way through their menu!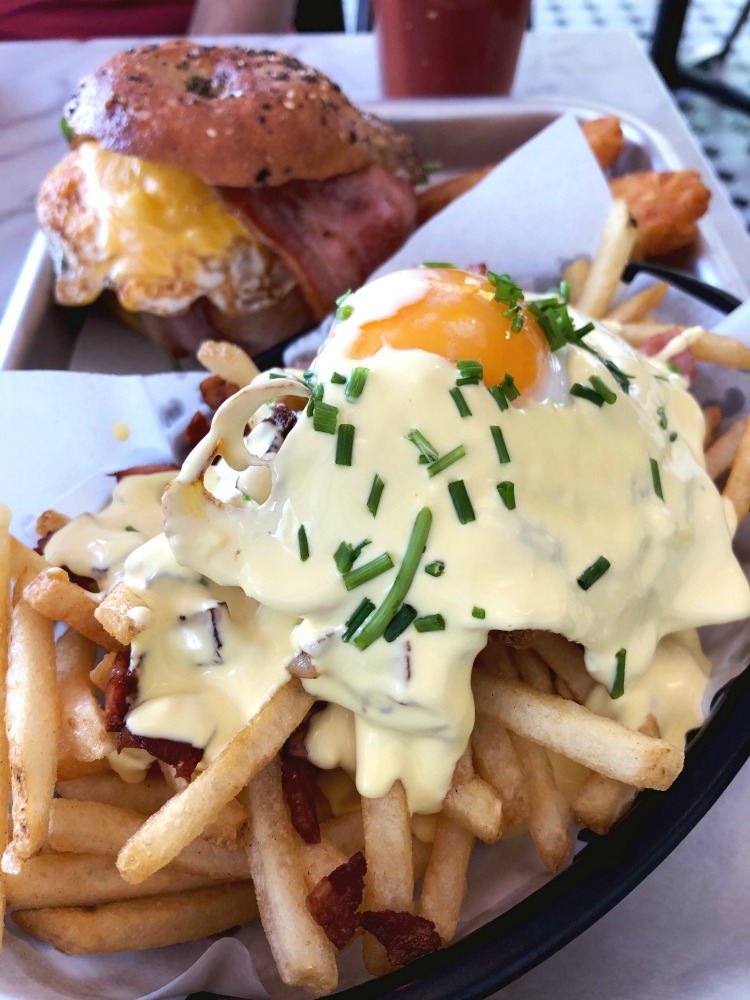 Building 3/1, Dairy Road, Fyshwick, ACT 2609
We love this vast industrial brew pub and we're not the only ones – it's super popular when we visit on Sunday afternoon. Located in Fyshwick, it's a short drive from the centre of Canberra and that means there's plenty of space for everyone. There's indoor tables, a big grassy area outside with umbrellas and picnic tables (or BYO picnic rug) and it's family and dog friendly too. Apart from the obvious – a lot of quality beer – you'll also find the famous Brodburger caravan here because burgers and beer were made to go together. If we'd been a bit better organised, we'd have loved to have booked on one of the brewery tours (weekends only , $25) but there's always next time. Because there will be a next time!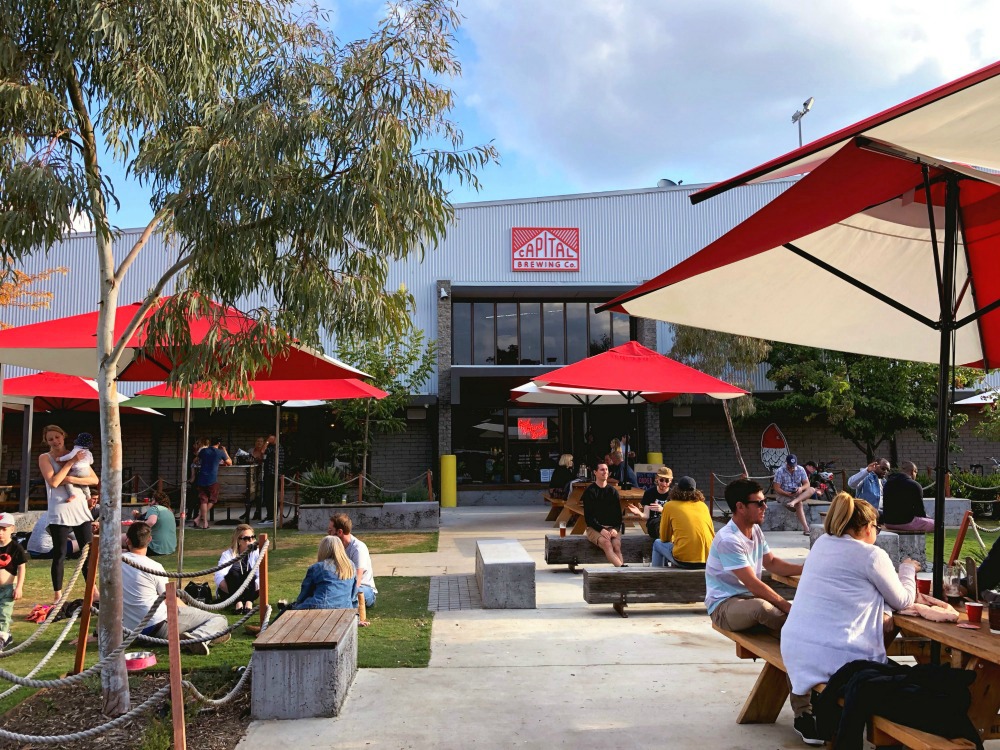 1 Genge Street, Canberra, ACT 2601
Kokomo's bring South Pacific vibes to the heart of Canberra City – it's a lot of fun. This place looks super popular for eats and drinks, especially at weekends and the after work crowd but  things are  much more mellow when we visit early on Sunday evening. Staff are friendly, there's a relaxed island vibe and the cocktails are totally on point!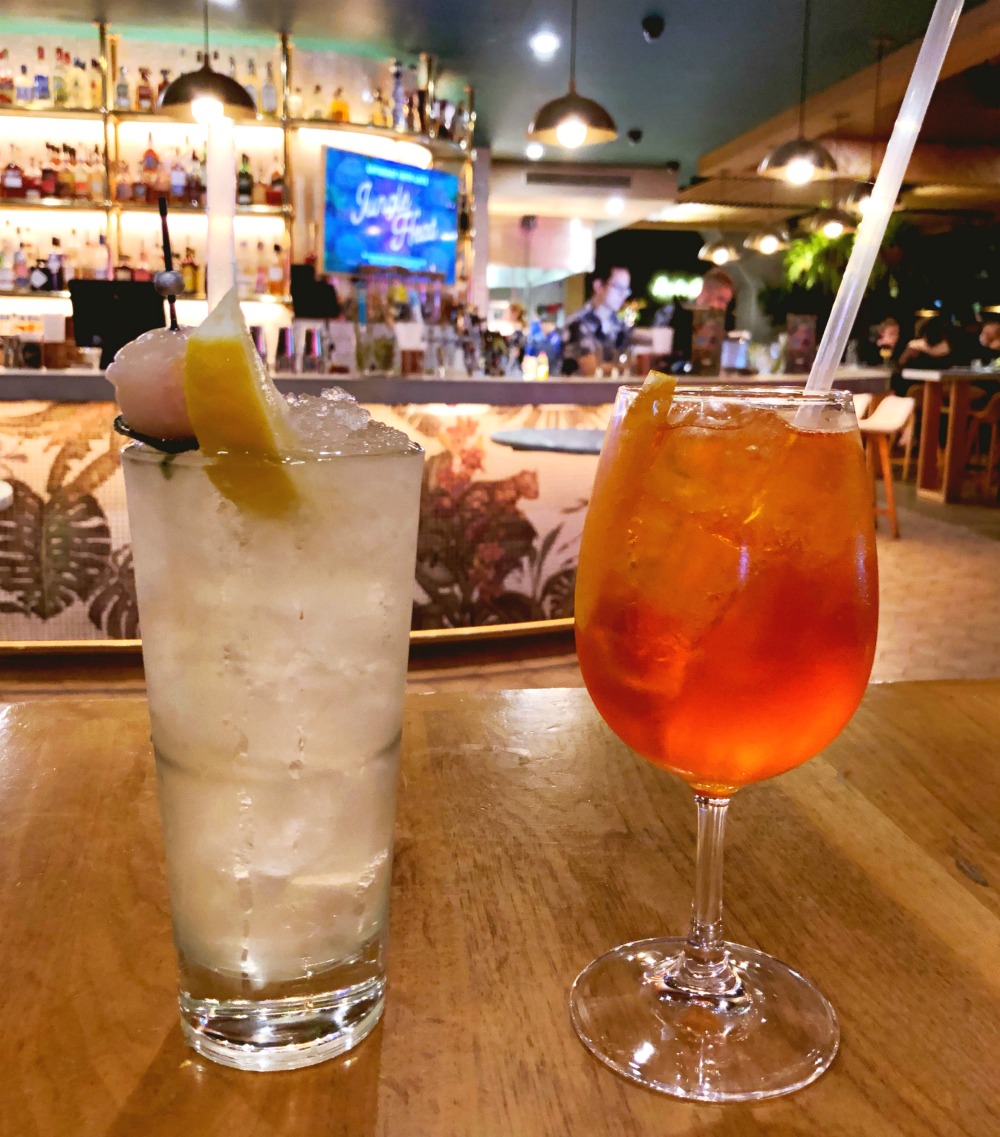 19 Lonsdale Street, Braddon, ACT 2612
Eating out options can be limited on a Sunday night in downtown Canberra – there aren't that many eateries open and there aren't that many people about but maybe that's because everyone has come to Grease Monkey. The place is packed!There's plenty of seating inside and a huge outdoor area too which is dog friendly and perfect for large groups.
The menu has a range of delicious  and reasonably priced range of burgers plus shakes, sodas and booze and on Sundays there are $10 cocktails. Winning! The burgers are super tasty and  the jalapeno poppers pop by name, pop by nature! It's all very burgerlicious!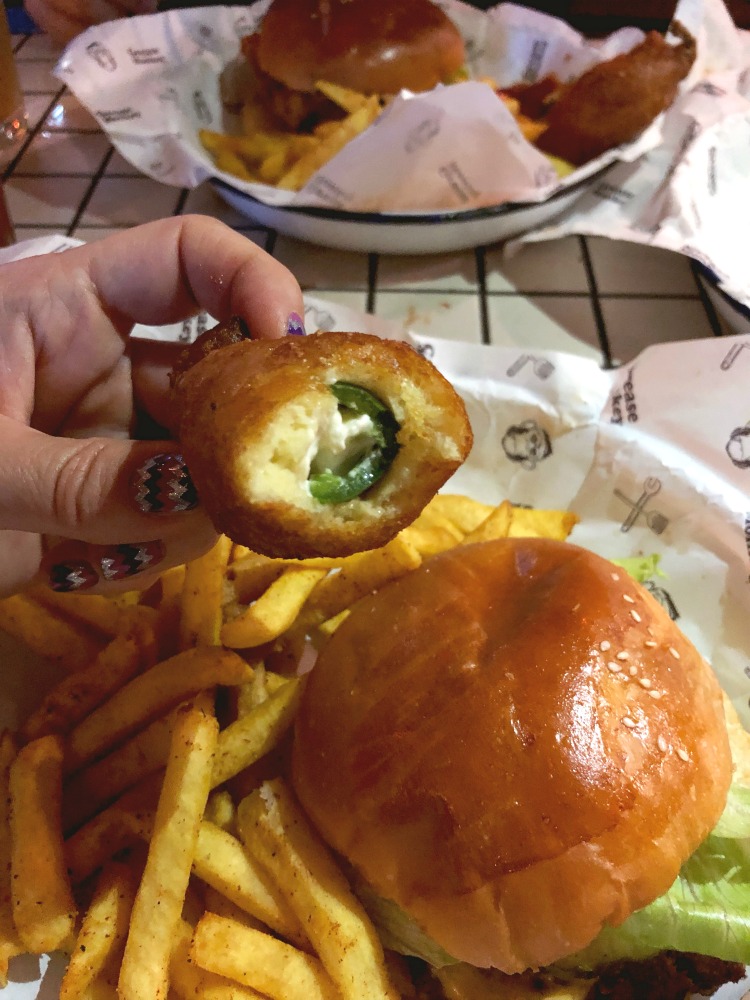 Things we did
20A Beltana Road, Pialligo ACT 2609
After our recent visit to the Blue Mountains, fruit picking is now my new favourite thing! Tanbella is the only self pick orchard in Canberra and it's about as much fun as you can have for free. There's no charge here to pick fruit so you just pay for what you pick. There are over 58 varieties of fruit here and there's a flat price of $6 a kilo so you can put all your fruit in one basket. Unfortunately, the orchard is all out of peaches and pears but there are plenty of varieties of apples to pick. The Golden Delicious are my pick of the bunch!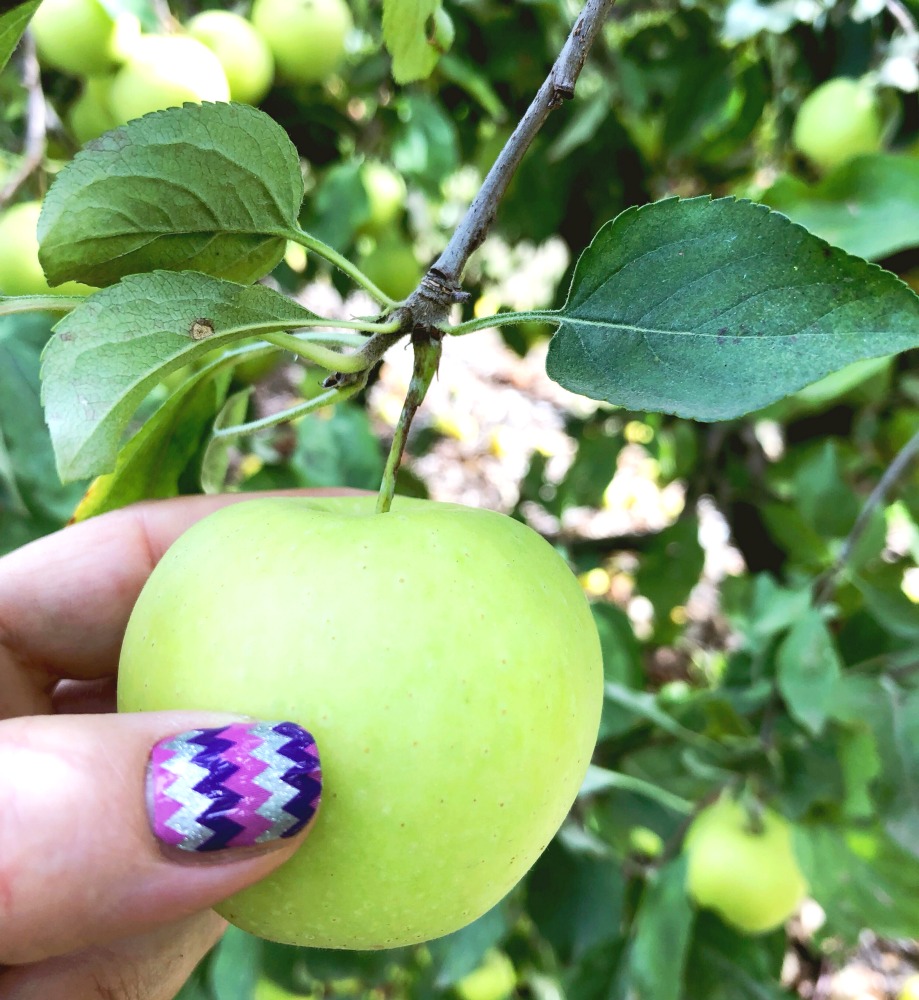 The orchard is clearly labelled and with our trusty map, it's easy to find and pick our apples of choice. The map shows where the different varieties of apples are located and if they're all ready to pick, some are ready to pick or whether they're all finished. The orchard shop also sells fresh garlic, fresh eggs and apple cider vinegar. And that's not all, there's a cute little cafe van that sells ice cream, coffee and cake and there's a pretty little picnic lawn too.  Just bring your own picnic blanket and picnic food and away you go!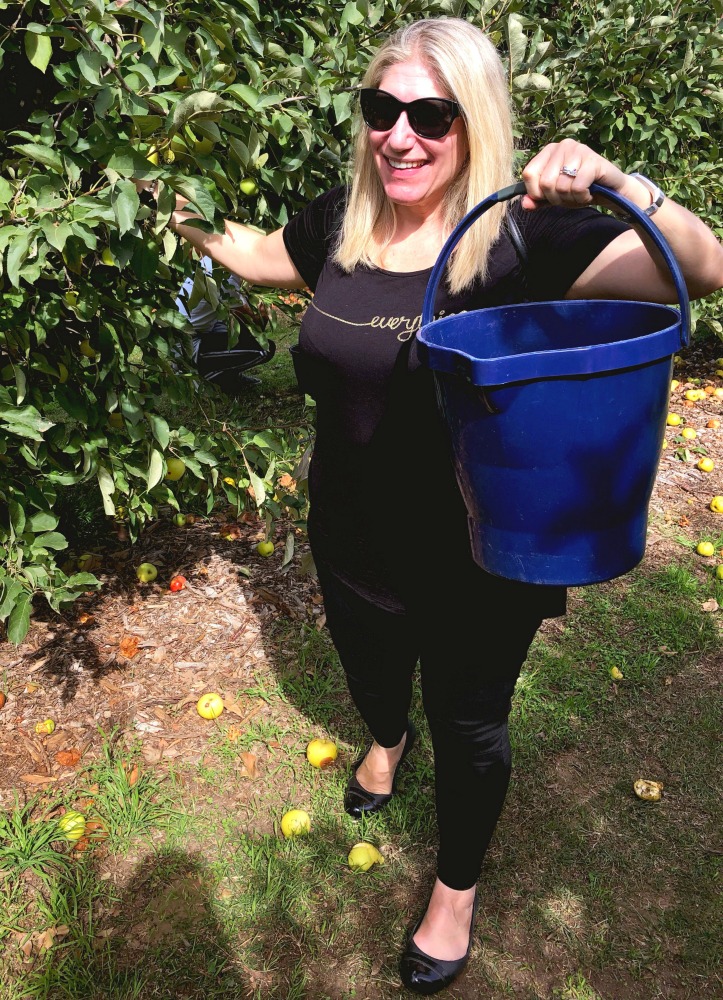 11 Gold Creek Road, Nicholls, ACT 2913
Cockington Green is a Canberra institution – opened in 1979, this delightful collection of miniatures is family owned and operated incorporating four generations. The gardens here are immaculate and  and the attention to detail is clear, both in the care that has been taken with both the models and the blooms.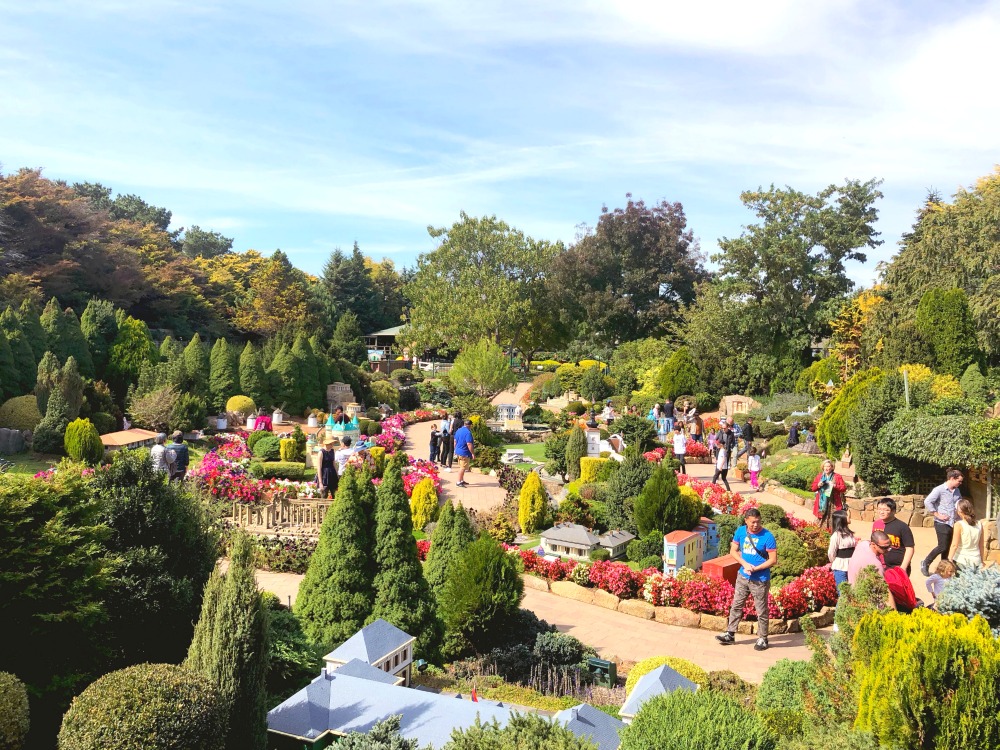 The display is divided into two parts, first is the original section with models from the motherland. The models are replicas of actual buildings and each have an explanation about the building, area and scale on which they are based. The models are mostly handmade and have been created with plenty of humour in mind – the football pitch is one of our favourites, complete with a streaker! Fun fact – the streaker was based on Michael O'Brien who in 1979 was the first person to streak in the UK at Twickenham Stadium. What a claim to fame!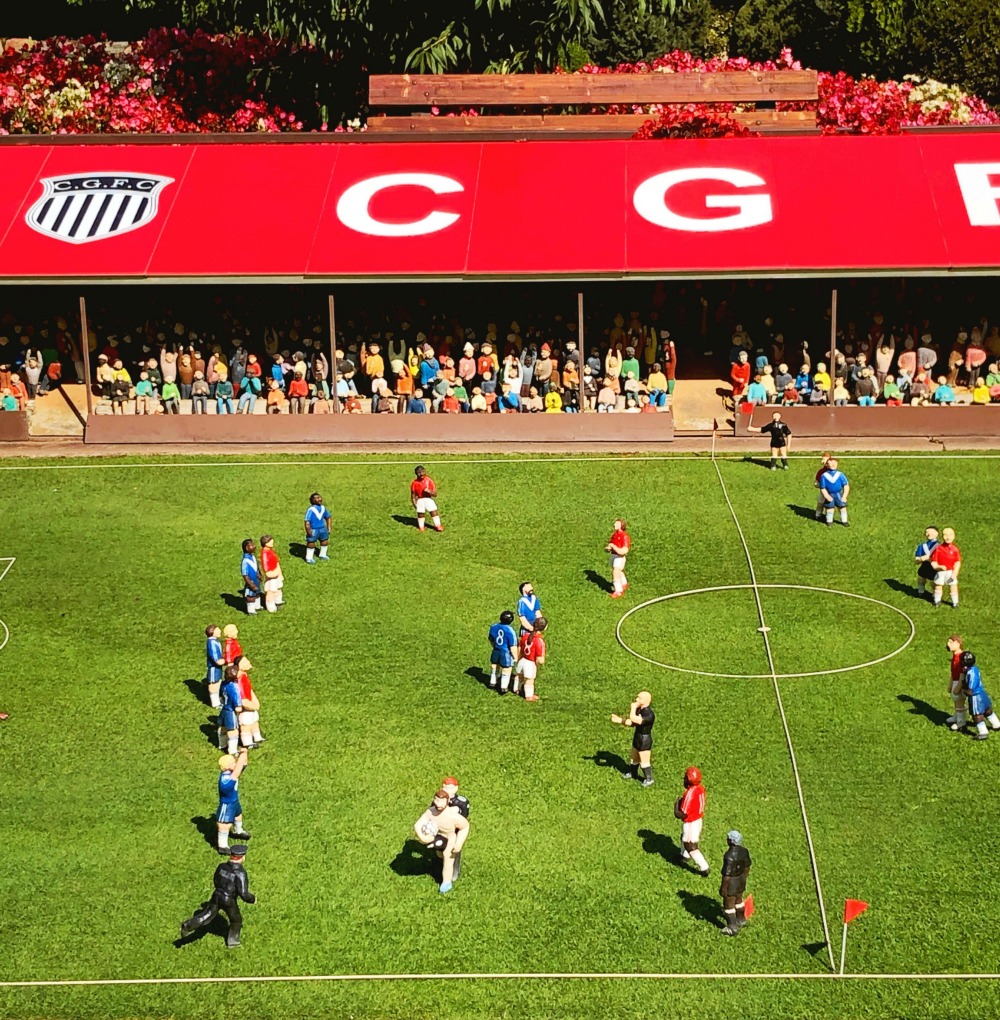 The other half of the gardens houses the international and Australian  exhibits featuring houses and monuments from other 30 different countries, from the pink city of Petra in Jordan to Maccu Piccu in Peru. It's mesmerising and just goes to show that it's a small world after all. The Chateau of Bojnice in Slovakia is one of my favourites and it took a whopping 2500 hours to complete!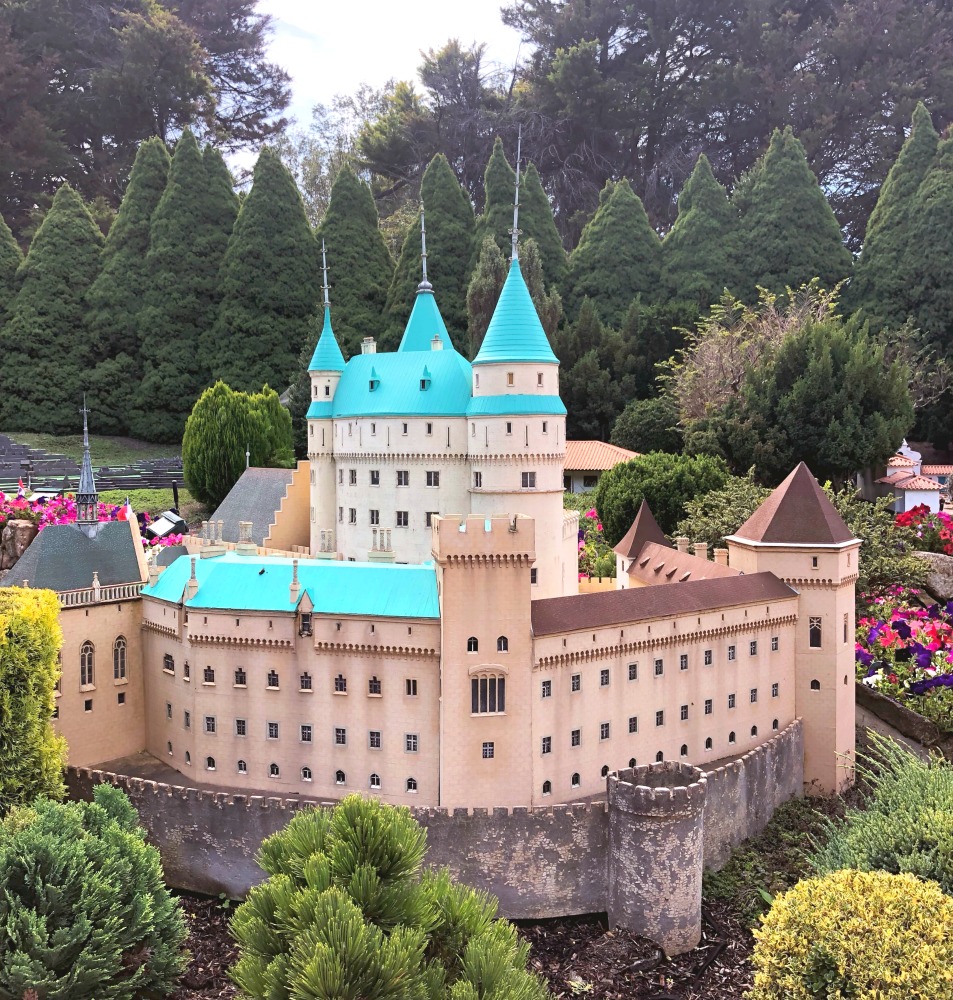 I'm keen to get all aboard the miniature train but I'm not that keen on the long queue or the $3 per person cost. Taking a hard pass on the train works to our advantage because when the train is running, the gardens are a little bit quieter. There's also a cafe, a souvenir shop, a picnic area and a playground. Don't miss the Rose Room where you can see the exquisite 'Waverly' 34 room doll house! The gardens are still as popular as ever so our tip is to arrive early to avoid the crowds.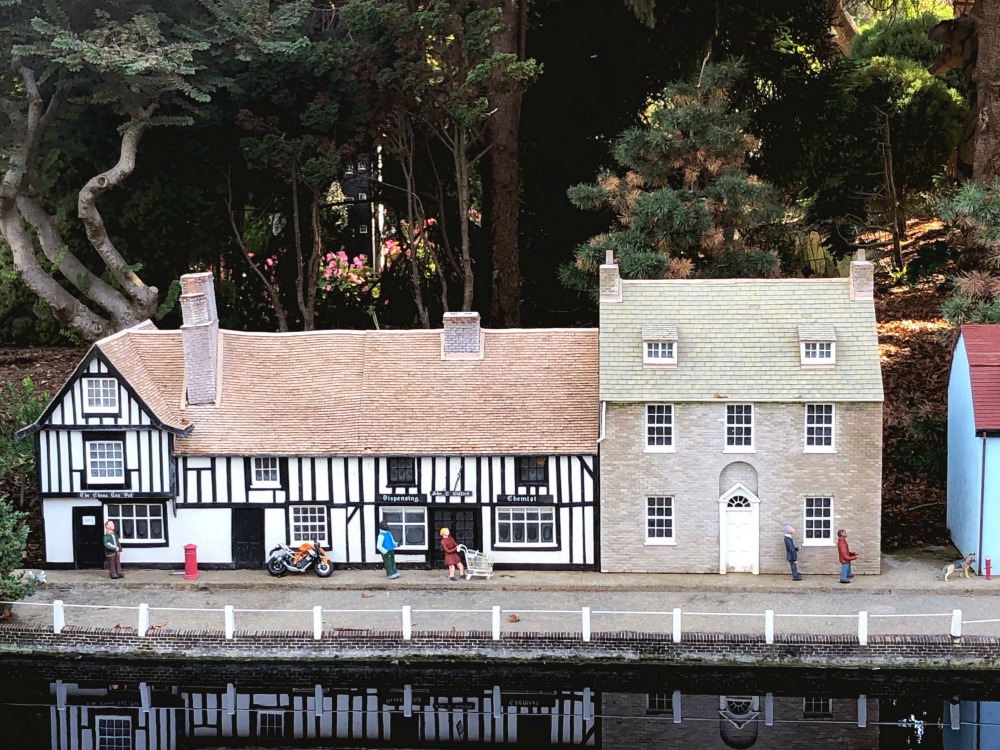 337 Canberra Avenue, Fyshwick, ACT 2609
Shopping isn't my favourite thing to do on a weekend away but it seemed rude not to swing by as we were passing. We've been here a few times and it always seems so quiet and civilised, at least compared to the Sydney outlets. There's a great range of shops here and it's impossible not to come away with a bargain or two. David scores a couple of pairs of shoes but I'm more excited about the purchase of Toffypops, my biscuits of choice since 1978. The IGA Grocer in the centre has a mouth watering array of foods from around the globe plus all the regular supermarket staples.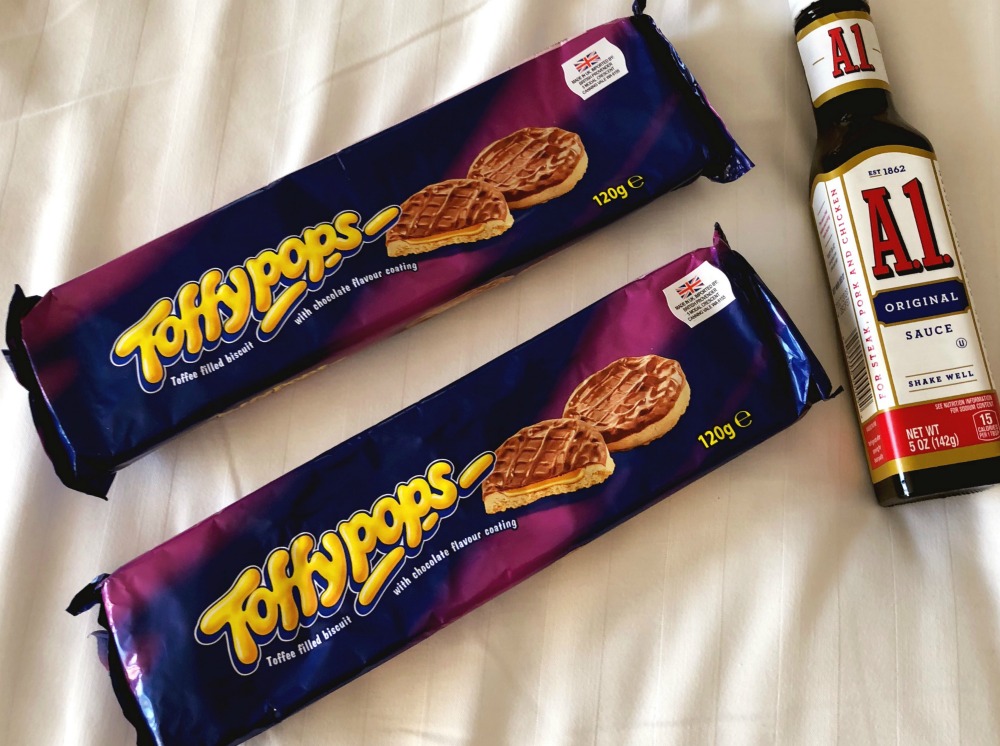 King Edward Terrace, Parkes, ACT 2600
Our visit is perfectly timed as the gallery is closing on 23 April (until August 2019) for a bit of a facelift. I love this vibrant, creative gallery not just because it's free but because it contains over 3500 works representing people who have influenced or contributed to the shaping of Australia both as a nation and as a society. A visit here is always engaging and always fascinating. Note to self, I mustn't leave it so long between visits.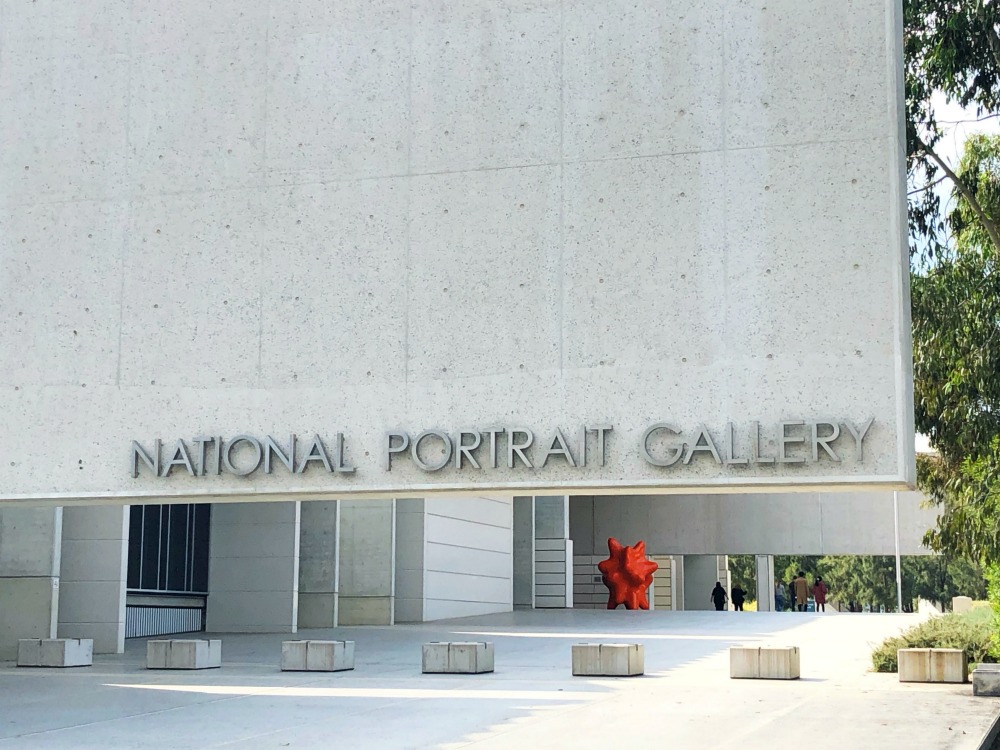 Parkes Place East, Parkes, ACT 2600
Visiting the NGA exhibition is becoming one of our most loved and most cultural Canberra traditions.  The NGA has the best exhibitions and Love and Desire – Pre-Raphealite Masterpieces from the Tate is no exception. We're not culture vultures by any stretch of the imagination but we've never been to a NGA exhibition that we didn't like. We fall in love with these masterpieces from the Tate – it really is a most beautiful and romantic exhibition. We are mesmerised by the colour and detail in the paintings, many of which are inspired by great love stories of history and literature. Fun fact, it's the first time John William Waterhouse's The Lady of Shallot (pictured) and John Everett Millais' Ophelia have left the Tate together. Again, our visit is perfectly timed because the exhibition closes on 28 April, although I'm confident that the incoming exhibition Monet: Impression Sunrise will be just as wonderful. Exhibition entry varies (Love and Desire is $25) but general admission to the NGA is free!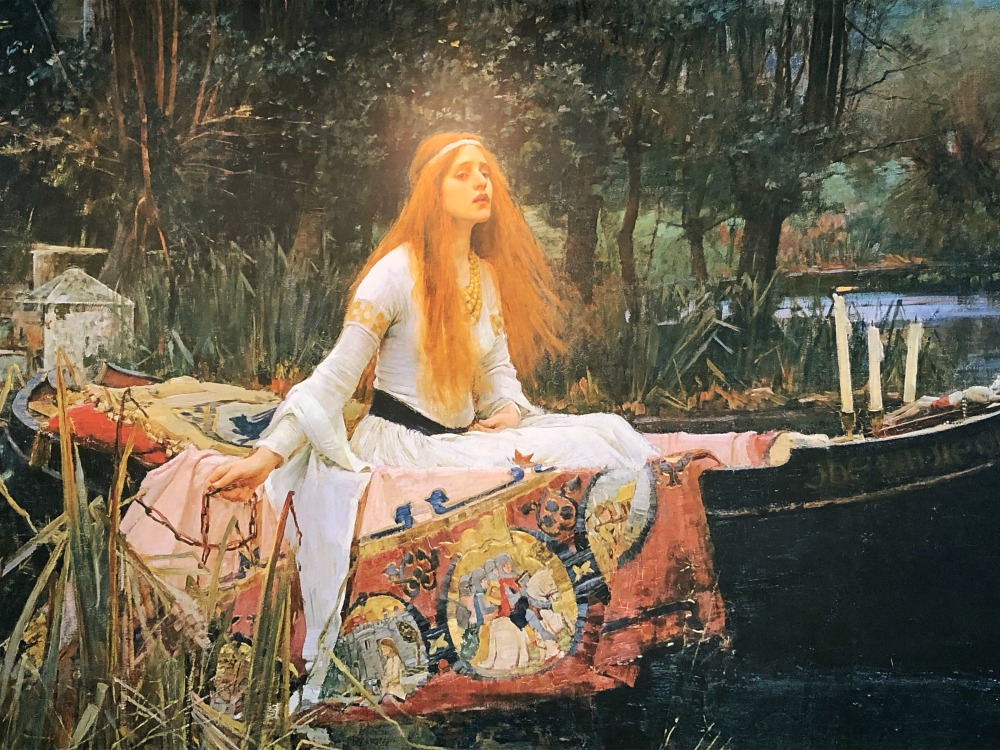 Have you ever been to Canberra? Are you a culture vulture? Is there a place that you will never get bored of?
All accommodation, entry fees, food and drinks were thoroughly enjoyed and independently paid for. As usual, all opinions are of course, honest and my own.
Linking up with Denyse for Life This Week