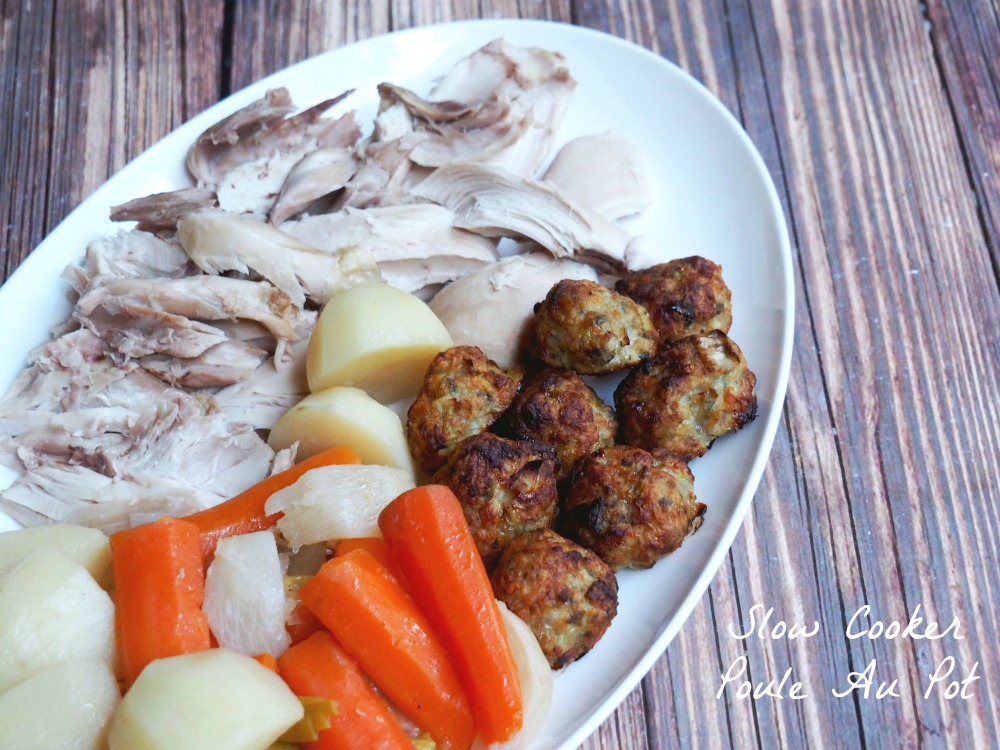 This slow cooker Poule au Pot is an all-in-one winner, winner chicken dinner and don't get me started on those stuffing balls, they're amazeballs!
As you might have guessed Poule au Pot is actually a French dish and translated, it means 'poached chicken.' It's simple, delicious and nutritious and makes a great Sunday lunch or hearty evening meal for the whole family.
I've mentioned before how I'm not very good at cooking joints of meat with the exception of roast pork and the odd flat roasted chicken. The appeal of this dish is it's simplicity, you just pop the things in the slow cooker and let it work it's magic. When the cooking time is complete, you're left with a full dinner, with potatoes, veggies and a perfectly cooked chicken!
Obviously as the chicken is poached, there is no crispy skin but there is an abundance of perfectly cooked potatoes and veggies and when the juices are reduced, you have a rich, delicious gravy too!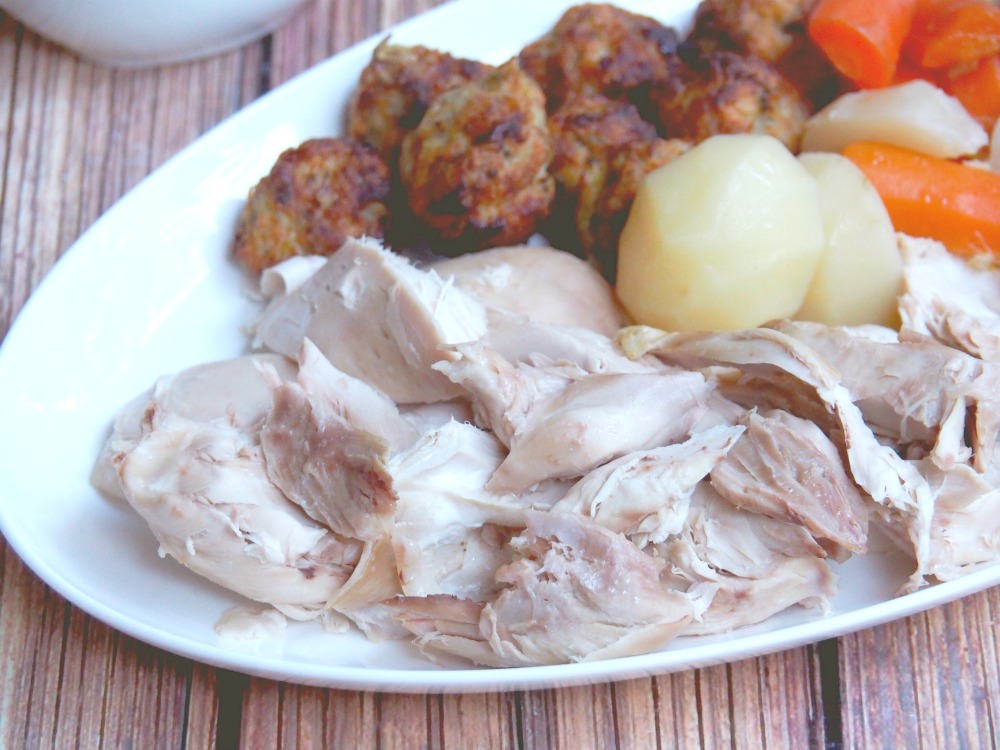 I've been meaning to post this stuffing recipe for like forever. It's seriously easy and so ridiculously scrumptious that I always have a stash of these stuffing balls in the freezer so I just pop them in the oven while the slow cooker is doing it's thing although if you're making them from scratch, it doesn't take much longer!
The recipe calls for sausagemeat, if you want to you can squeeze the meat out of a pile of sausages or save yourself the elbow grease and ask your butcher for sausagemeat instead. It's so much easier!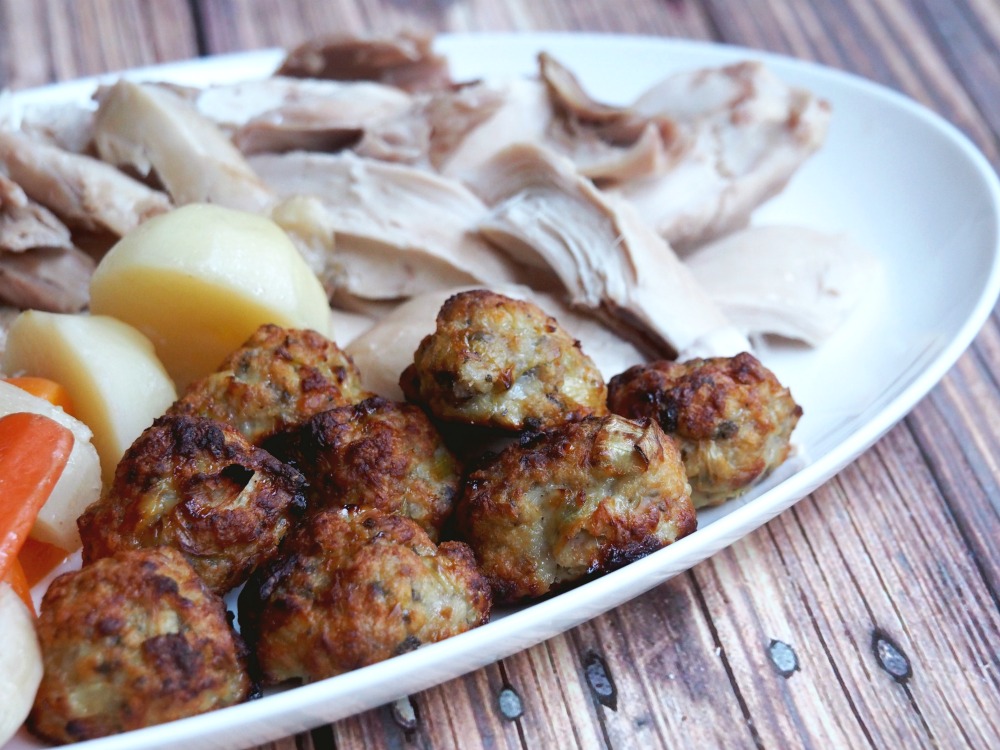 This is definitely our new favourite slow cooker recipe – Sunday dinners have never been so easy!
What's your favourite slow cooker recipe? Are you a fan of French cooking?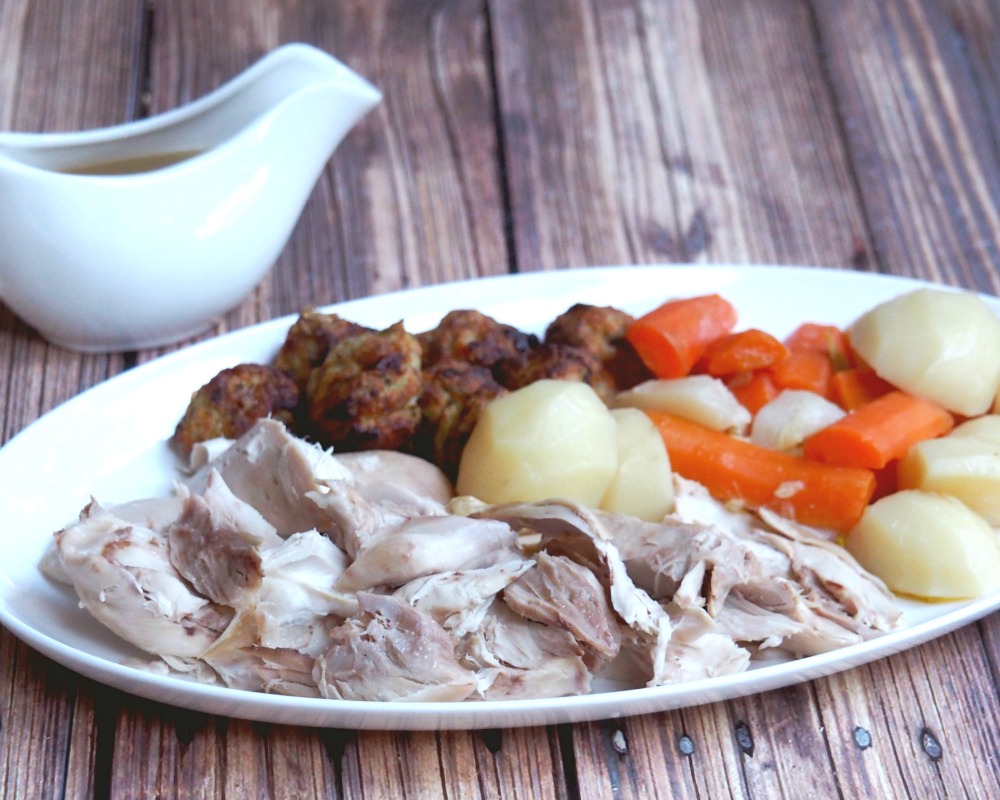 Serves 4-6
Ingredients
FOR THE POULE AU POT
1.5kg organic whole chicken
12 small potatoes, peeled
300ml white wine
600ml chicken stock
1 onion, peeled, left whole
1 bouquet garni
6 garlic cloves, unpeeled
4 large carrots, cut into 5cm lengths
2 turnips, cut into wedges
2 leeks, cut into 5cm lengths
stuffing balls, to serve
FOR THE STUFFING
4 tablespoons olive oil
2 onions, finely chopped
2 leeks, finely sliced into rings
450g good quality sausagemeat
20g sage leaves, finely chopped
140g fresh breadcrumbs
1 large egg, lightly beaten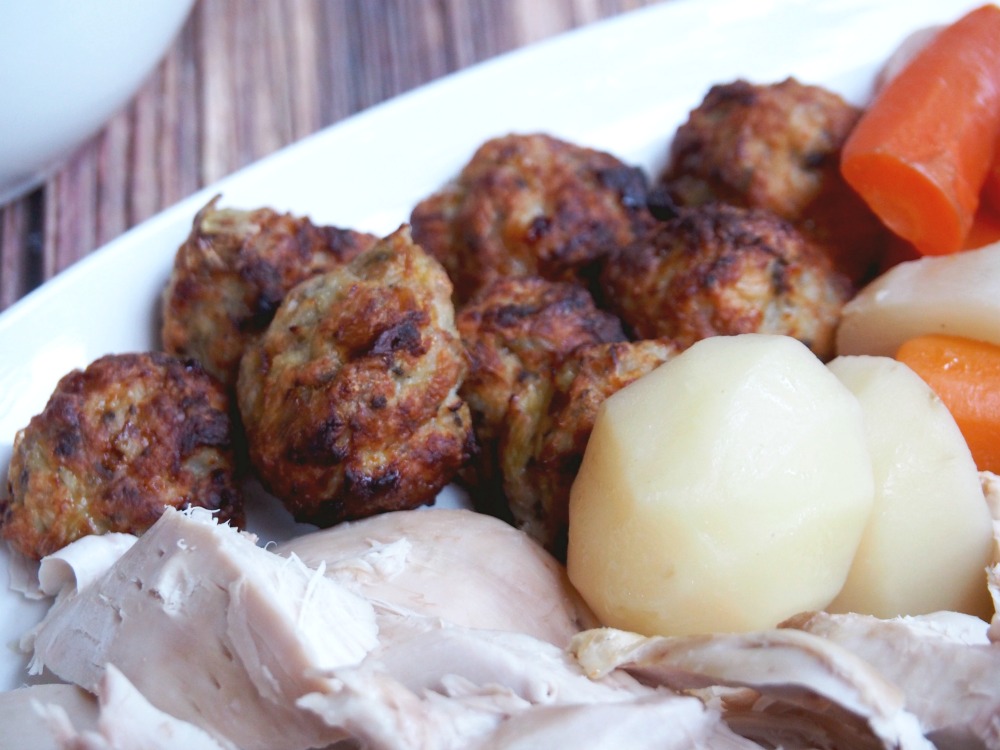 How to – Poule Au Pot
Heat the slow cooker if necessary. Put in the chicken, potatoes, stock, wine, onion, bouquet garni and garlic and season well. Cook on HIGH for 3 hours.
After 3 hours, add the carrots and the turnips, turn the chicken over and then re-cover and cook on HIGH for another 2 hours. Meanwhile start to make the stuffing balls.
After 2 hours, add the leeks and cover and cook on HIGH for further 1 hour by which time, the chicken should be done.
Lift out the chicken and veggies and reserve 1 ladle of stock. Pour the rest into a pan and bring to the boil. Bring the heat down to medium and let the gravy reduce until it's half it's original volume. This should take about 10-15 minutes.
Remove the chicken skin and tear the flesh into chunks. Put on a warm platter with the veggies and stuffing balls. Add the reserved stock and the parsley and serve with the gravy.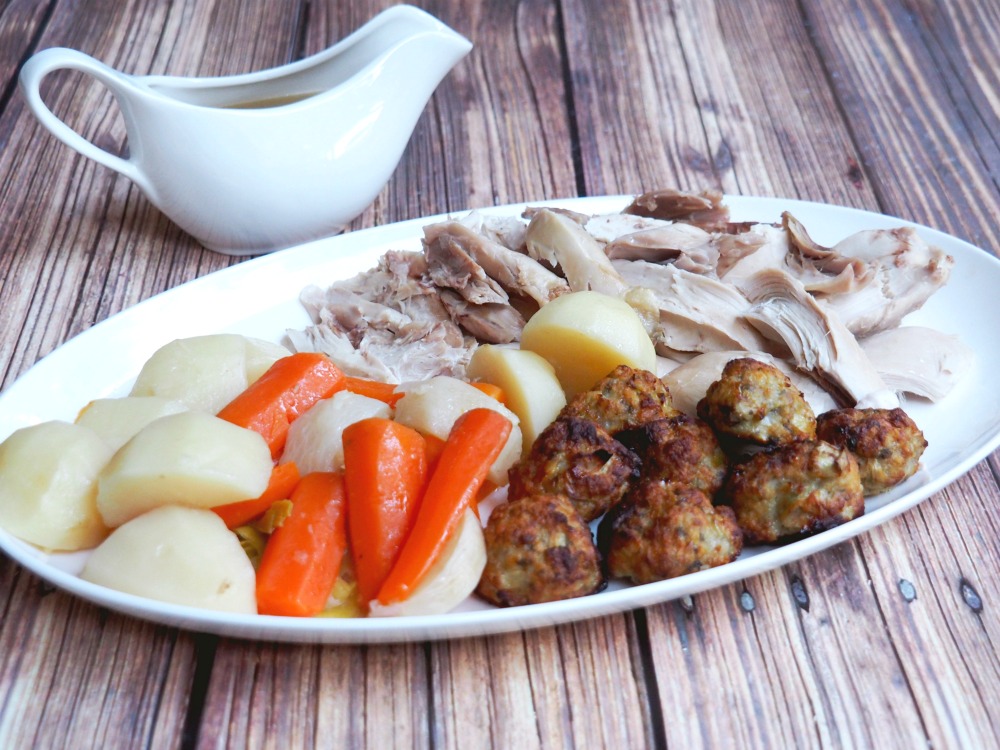 How to – Sage, Leek and Onion Stuffing Balls
Preheat oven to 190C.
Heat the oil in a large frying pan and cook the onions and leeks for 15 minutes with the pan covered.
When the onion mixture is cool enough to handle, tip into a bowl with the sausagemeat, sage, breadcrumbs, egg and seasoning and using hands, mix really well.
Roll the mixture into balls and place on a non-stick baking tray. Cover with foil and cook for 15 minutes. Uncover and then bake for a further 30 minutes or until browned.
Serve with the chicken and veggies.
Other info
Preparation Time: 20 minutes Cooking Time: 6 hours (including 1 hour for the stuffing balls)