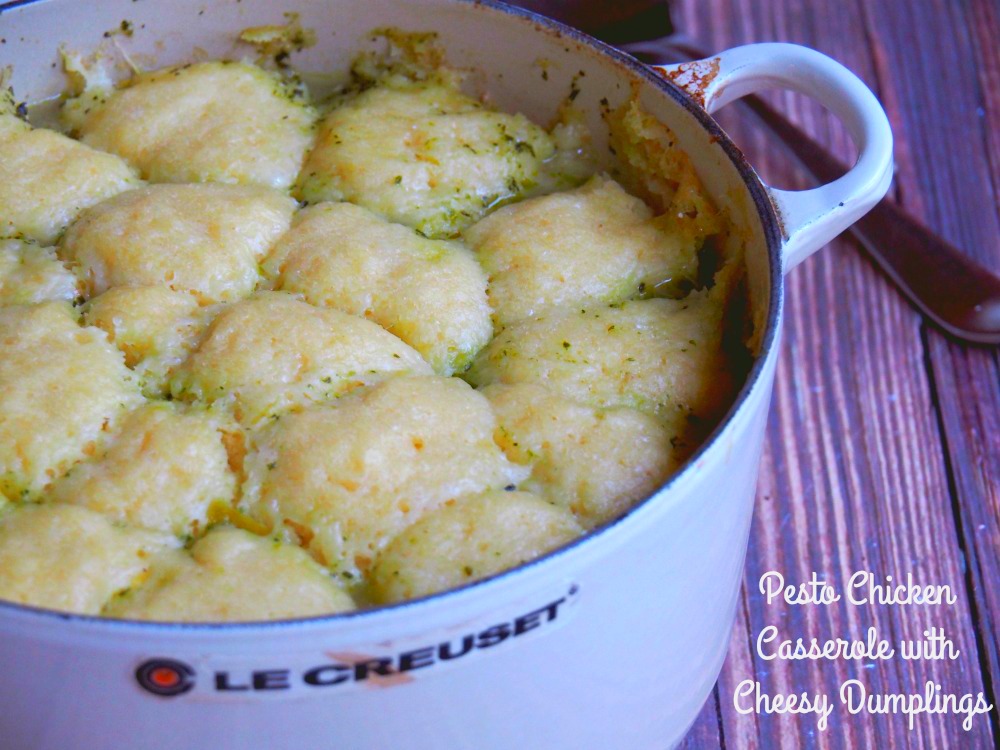 This one pot wonder is the ultimate comfort food – a delicious, herby chicken casserole topped with tasty, cheesy dumplings.
It's no secret that I'm obsessed with dumplings. If I had to choose my last supper, it would definitely be dumplings. I think they're the ultimate comfort food, whatever cuisine you're cooking. When it comes to dumplings I definitely do not discriminate, I love everything from Chinese Xiao Long Bao to Polish Pierogi!
I'm also a huge fan of pesto and once I started making this Kale and Basil Pesto, I simply could not stop. This Pesto and Cheddar Loaf is one of the most popular pesto recipes in our house although this Crispy Crumbed Pesto Chicken and this Pesto, Ricotta and Rocket Pizza are also winner, winner pesto dinners! That said, I'm always looking for new recipes and thinking out of the box, or should I say out of the pesto jar?
This casserole really is a one pot wonder – super easy and totally delicious. Although it's got a few stages and is not the best looking dish on the block, it's really simple and for the most part, you can just leave it on the stove (and later in the oven) and go. Best of all, everything you need for a delicious dinner is right there in the pot but of course, if you want to add a side of veggies, knock yourself out.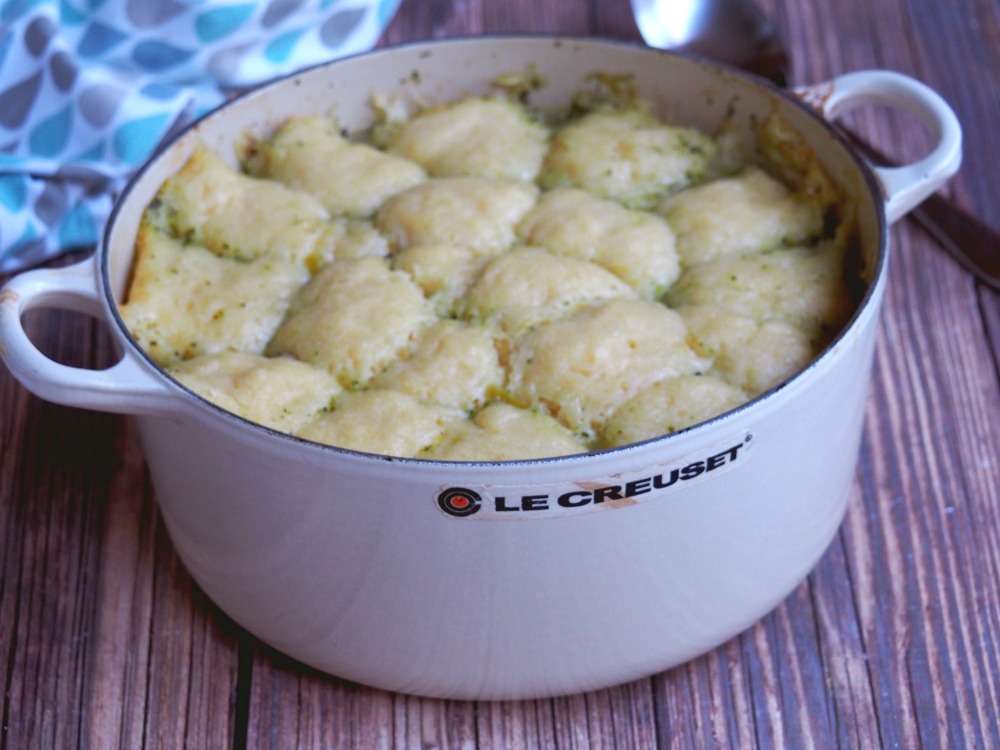 Truth be told, since Teddy Roosevelt the Cavoodle took up residence, I really have not had the time or energy to cook because I've been too busy fawning over the new addition to the family. Mostly, we have been living off cheese plates although this dish is the exception. I have made it again and again and again. At first, it would appear on our meal plan because I was on a mission to get a good photo but it soon became apparent, that I made it so much because it was just so darn delicious!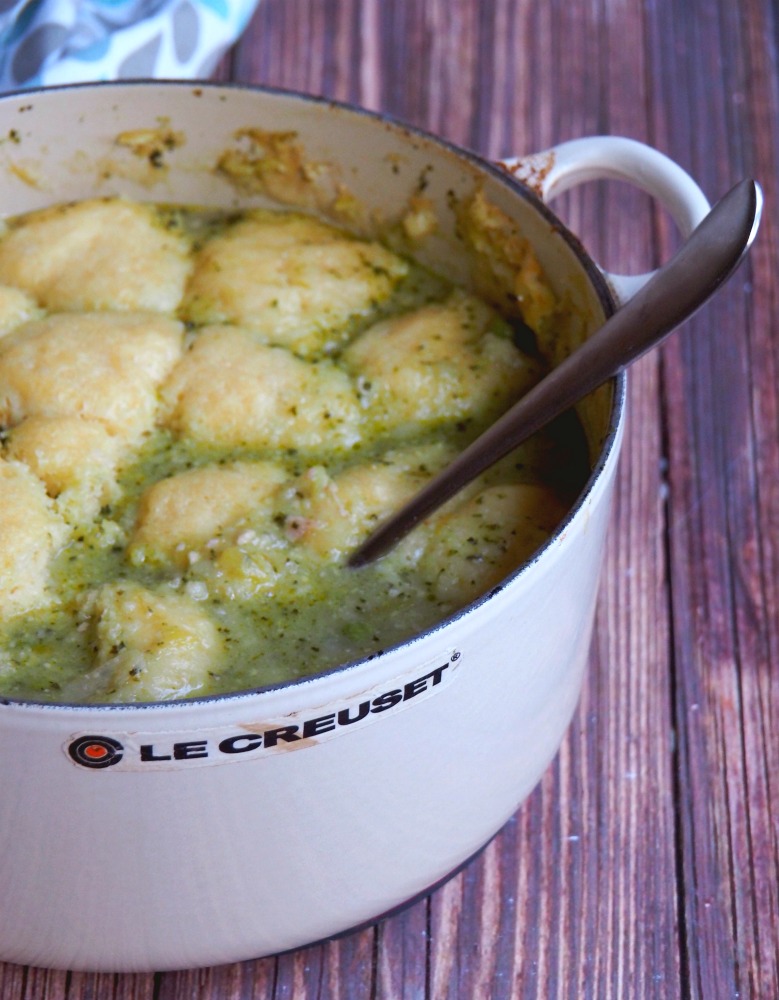 It's so flavoursome, comforting and best of all, it's green but not mean. After all, the pesto has kale in it making one part of this dish basically a health food. I think that balances out the cheesy dumplings really rather nicely because after all life is all about balance, don't you agree?
Are you a dumpling fan too? What would you choose for your last supper?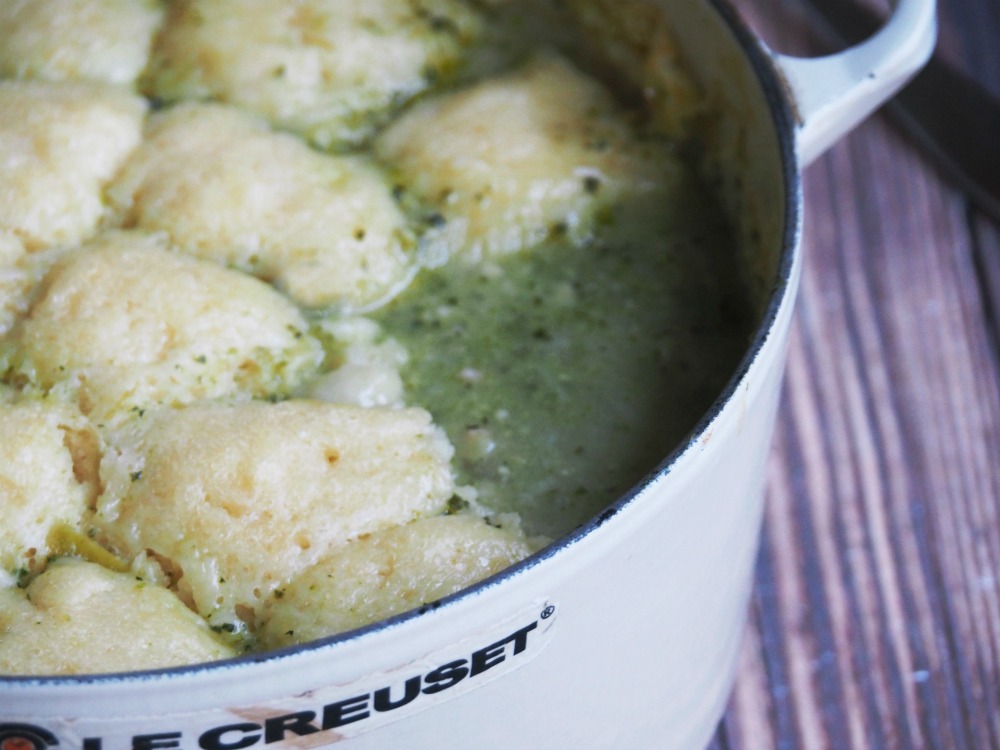 Ingredients
2 tablespoons olive oil
900g chicken breasts, cut diagnoally
200g shortcut bacon, roughly chopped
1 onion, finely chopped
2 leeks, sliced finely
4 tablespoons plain flour
200ml white wine
1 litre chicken stock
2 bay leaves
200g frozen peas
100g kale and basil pesto
small bunch basil, chopped
FOR THE CHEESY DUMPLINGS
140g cold butter, diced
250g self-raising flour
50g parmesan cheese, grated
50g vintage cheddar, grated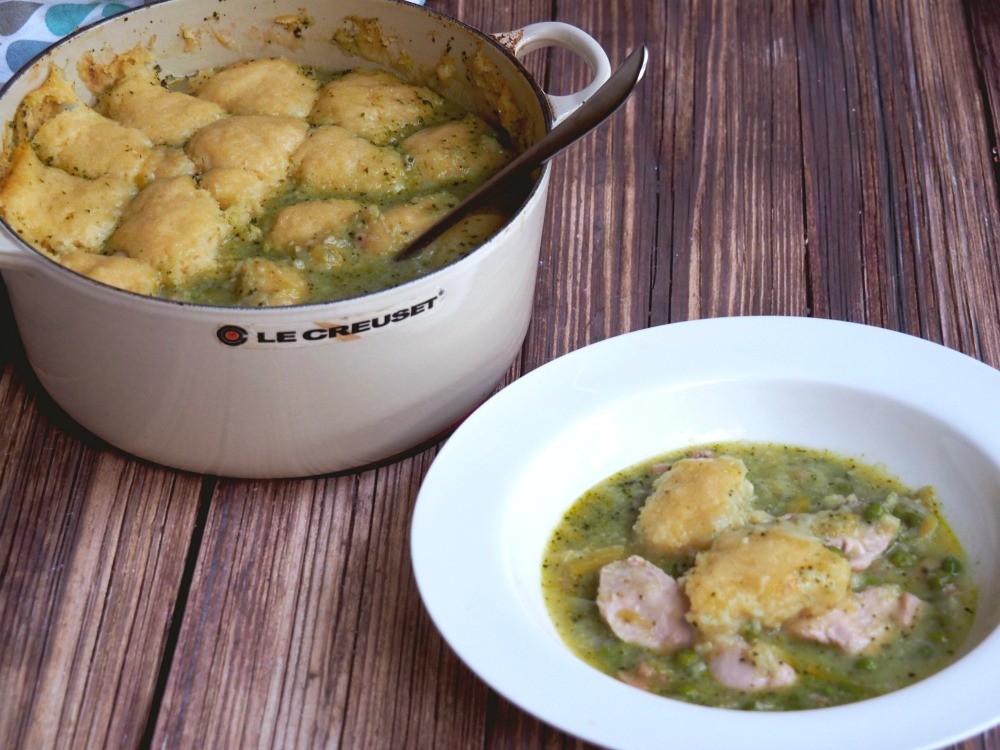 How to
Heat the oil in a large ovenproof casserole dish. Brown the chicken in batches and set aside.
Add the bacon to the pan, let it sizzle and then add the onions and leeks. Cook for 8-10 minutes until softened.
Add the flour and cook, stirring for 2 minutes.
Gradually add the wine to the pan, when the wine starts to bubble, stir in the stock.
Return the chicken to the pan, add the bay leaves. Cover with a lid, reduce the heat and simmer for 10 minutes.
Preheat the oven to 200C and put the casserole in the oven for 15 minutes.
Meanwhile, make the dumplings.

To make the dumplings in the Thermomix, place the butter and flour in TM bowl and mix for 5 secondson speed 6. Add the cheese and 150ml water and mix on interval speed for 25-30 seconds until you have a soft sticky dough.
To make the dumplings by hand, rub the butter into the flour until it resembles fine breadcrumxbs. Mix in the cheese and add 150ml water, mixing with a cutlery knife to bring the crumbs together to form a light and sticky dough.

Add the peas and pesto to the casserole and stir through.
With slightly wet hands, roll tablespoons of dough into balls and place on top of the stew.
Return to the oven for 25 minutes until the dumplings are golden and cooked through. Serve with steamed veggies, if desired.