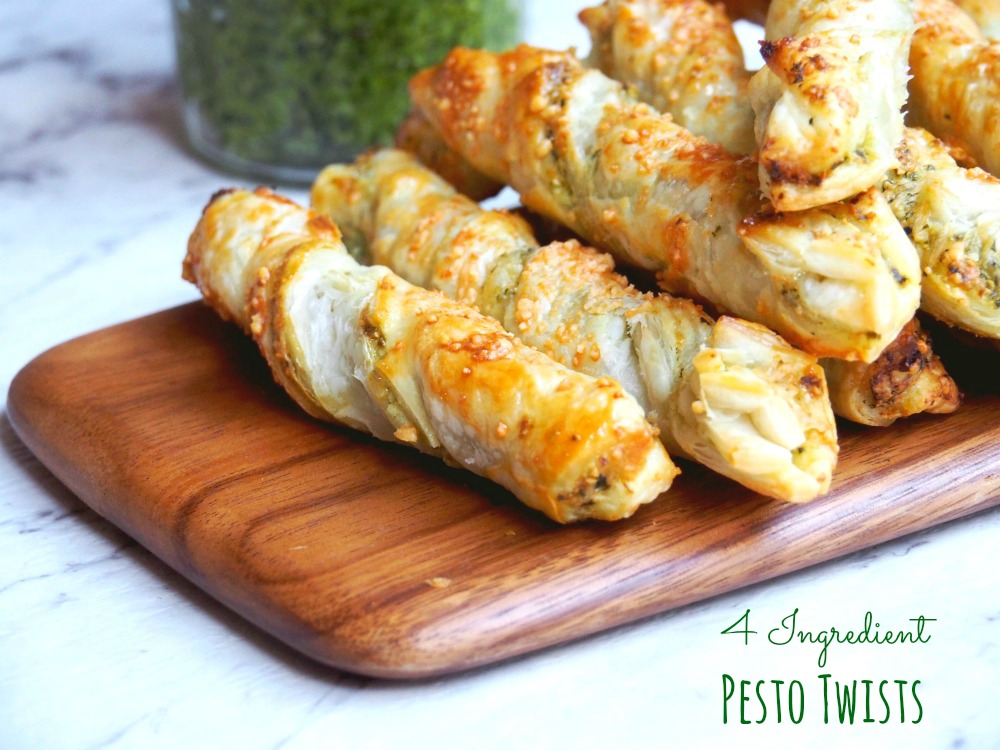 These 4 ingredient pesto and cheese puff pastry twists make the most delicious snack or party appetizer.
As you know I'm obsessed with pesto so these little babies are right up my eat street. Plus I definitely subscribe to the theory that everything tastes better wrapped in puff pastry even pesto! For more pesto goodness, you should totally check out my Pesto and Cheddar Loaf, my Spinach and Pesto Savoury Muffins and my amazeballs Pesto Chicken Meatballs.
I was inspired to make this recipe from one of those cooking videos on Facebook. I often drool over those cooking videos but rarely follow through and make the recipe but seeing as I had a jar of my homemade pesto in the fridge and I always have a stash of puff pastry in the freezer, it seemed rude not to give it a shot!
You might be surprised to know that technically these twists are not vegetarian, because did you know most pesto contains parmesan which is not vegetarian? Strange but true! However, if you want a strictly vegetarian or even vegan pesto, my homemade kale and basil pesto will tick all your boxes by simply swapping the parmesan for nutritional yeast flakes. You really won't be able to taste the difference! I always make my own pesto because it's just so quick, easy and yummy but if you have the time nor the inclination to make your own, of course shop bought will do (although, if you're looking for a vegetarian pesto, be sure to check the list of ingredients.)
The most difficult thing with these 4 ingredient twists is that it's impossible to stop at one, I must tell you friends, that these are really quite addictive! They taste delicious warm and in the unlikely event they last that long, they're also tasty cold.
I can see these being on high rotation at all our Christmas gatherings because they're simple, quick and delicious. Plus they match the colour scheme!
Do you subscribe to the theory that everything is better in pastry? What's your favourite party snack?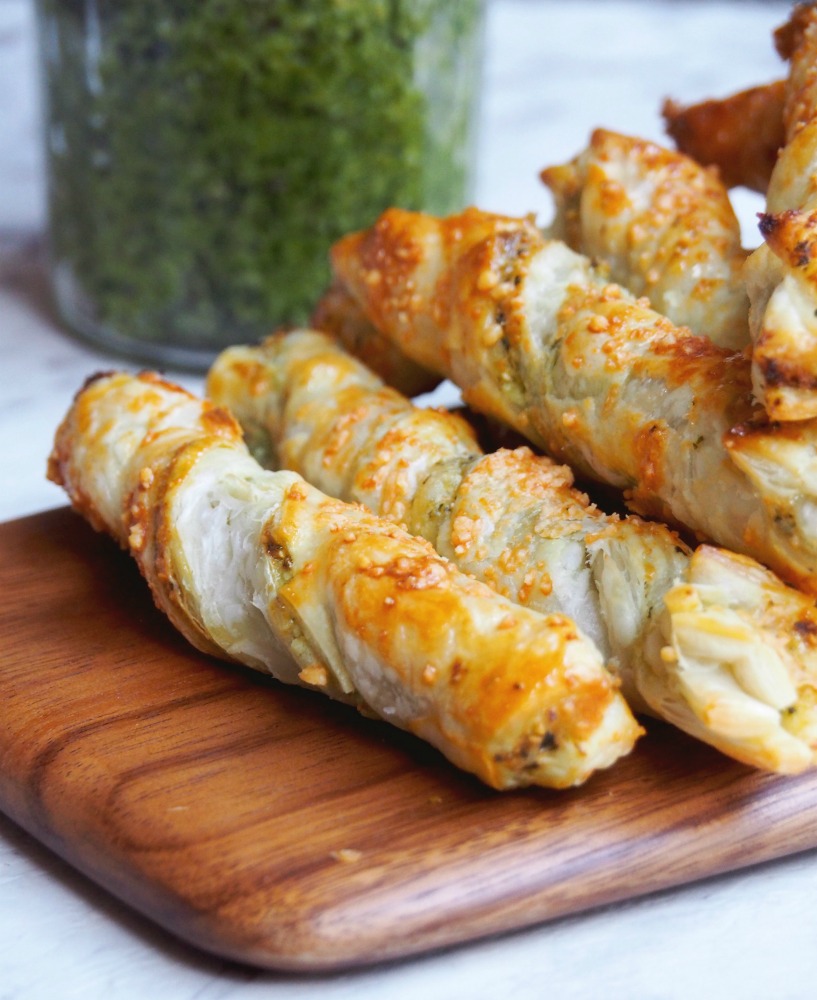 Makes 12
Ingredients
2 sheets frozen puff pastry, defrosted
6-8 tablespoons pesto
30g parmesan cheese, finely grated
1 egg, lightly beaten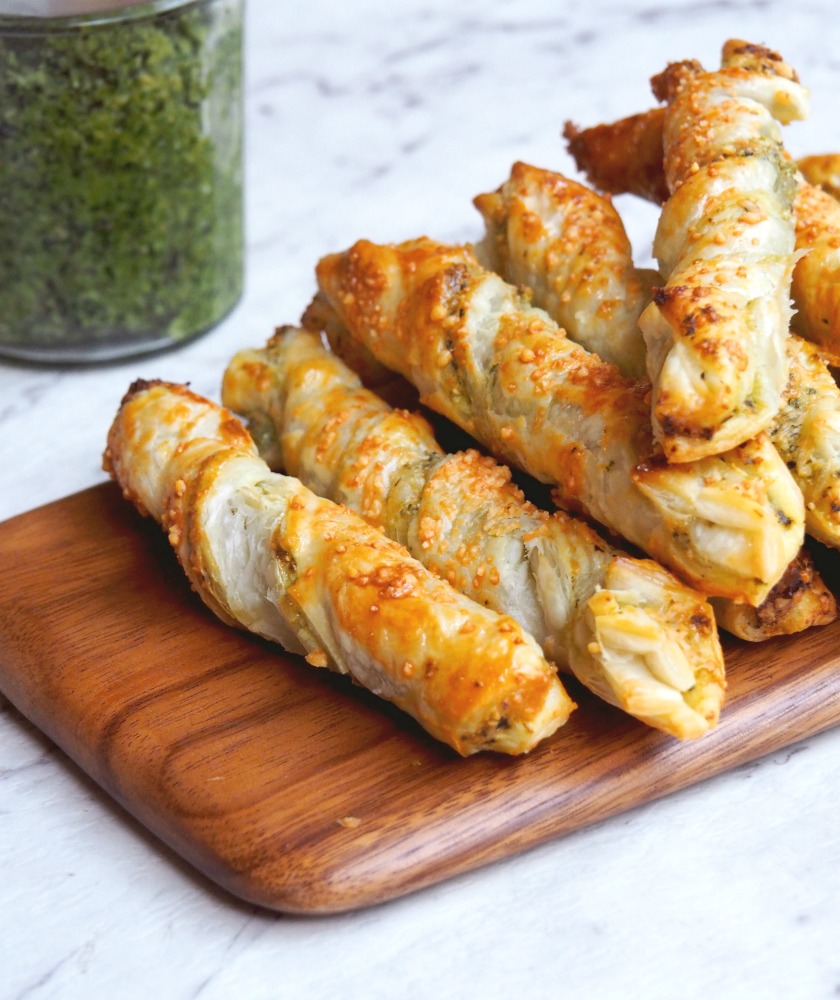 How to
Preheat pastry to 200C and line a baking tray with baking paper.
Cut a sheet of puff pastry in half so that you have two rectangles.
Cover one half of the pastry with 2 or 3 tablespoons of pesto. Sprinkle over some parmesan cheese.
Place the other half of the pastry on top and press down to seal. If necessary, gently stretch the pastry to the edges. Cut the pesto pastry into 3 x 4cm strips and each strip in half so that you have 6 short strips.
Place the strips on a baking tray, twisting them at the top, the bottom and in the middle. Repeat with the other piece of pastry.
Brush all the pastry twists with beaten egg and sprinkle over the remaining parmesan cheese.
Bake for about 20-25 minutes until golden.