There's so much to see and do on New South Wales' stunning Sapphire Coast and so much of it is pet friendly too!
We like to think in the (almost) 8 months we've had Teddy Roosevelt, we've become quite the pet friendly adventure veterans with trips to Port Stephens, the Hunter Valley and now we can add Merimbula to the list!
In the time between taking this trip and writing about our trip to Merimbula, bushfires have ravaged parts of the Sapphire Coast causing loss of homes, businesses and wildlife. However, we Aussies are hardy creatures and Merimbula and the surrounding towns are open for business!
In fact, there has never been a better time to visit Merimbula because the places to stay and play need your tourist dollars more than ever. Visiting towns like Merimbula and supporting local businesses means your money is going exactly to where it's needed most and remember, even a small contribution can make a big difference.
If you're travelling to Merimbula from Sydney, the road trip is more than a journey, it's a multitude of destinations and whether you choose to travel over 1 or 2 days, you'll find plenty of pet friendly options to keep you fed, watered and entertained along the way.
If you're travelling to Merimbula with your pooch, you'll find plenty of things to see and do while you're in town – here's where we stayed and played and note that each and every one of these comes with Teddy Roosevelt's paw of approval!
Where to Stay
Central Merimbula Apartment Airbnb
Location, location, location. We love Jess' lovely two bedroom apartment in the heart of Merimbula, just a few minutes walk from the centre of town and a few minutes drive from beaches and other attractions. There's a spacious living and dining area and a kitchen with the basics.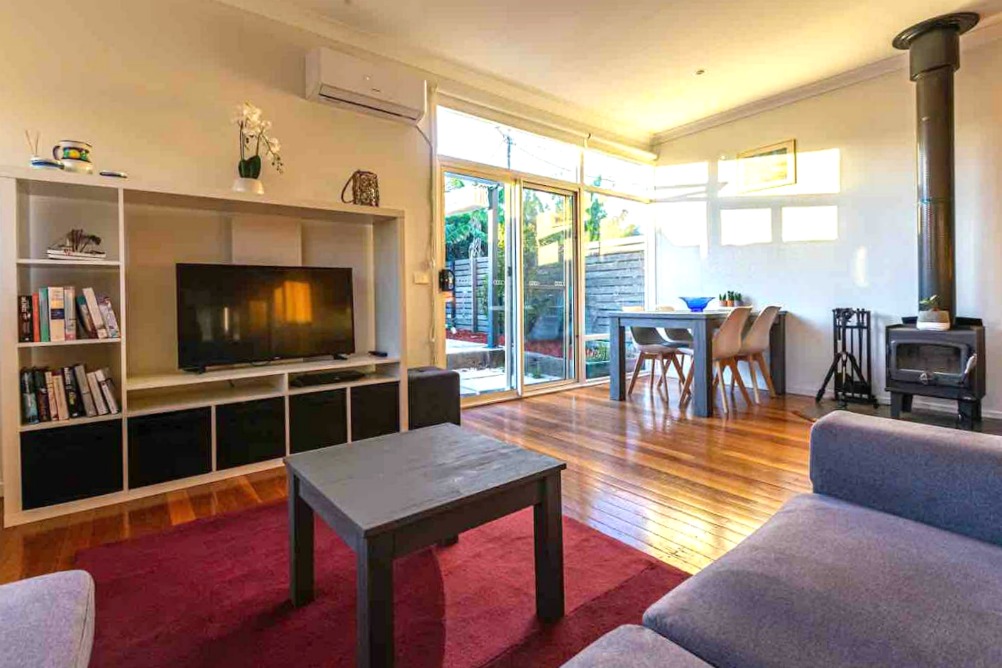 There are two bedrooms, one with a spacious queen bed and the other with bunk beds. The apartment is spacious and spotlessly clean and although it's so close to the heart of the action, it's lovely and quiet.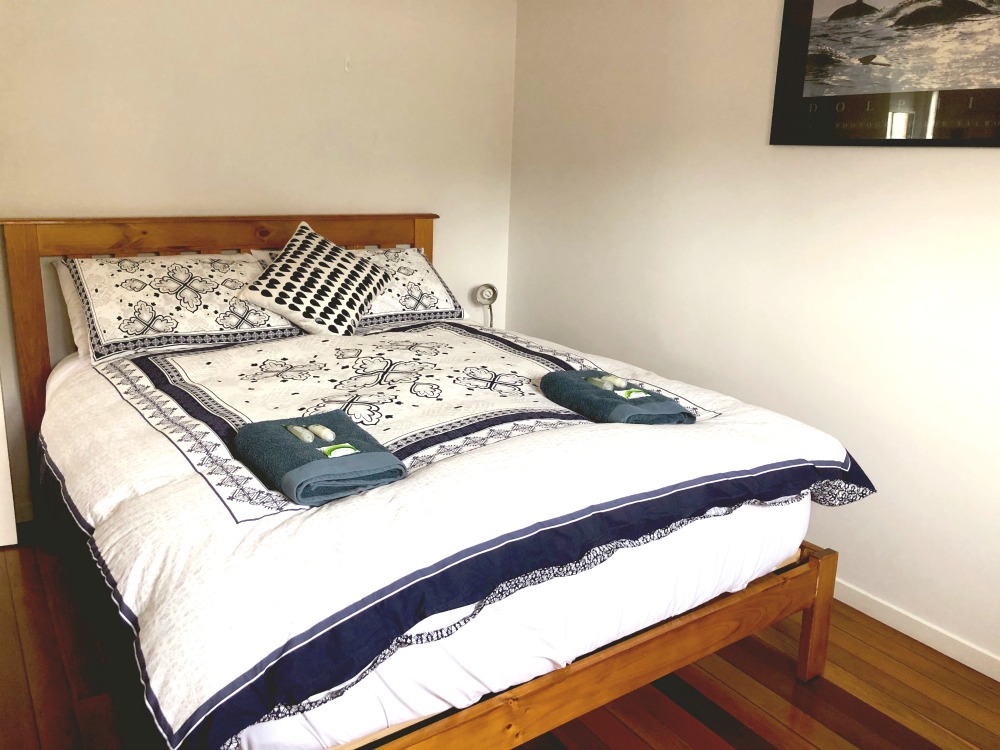 The piece de la resistance is the backyard. We don't have garden weather during our stay but Teddy isn't put off, he's in his element!
If you're new to Airbnb check out my top tips for picking the perfect Airbnb and click my referral link here if you want to score $76 credit off your first stay!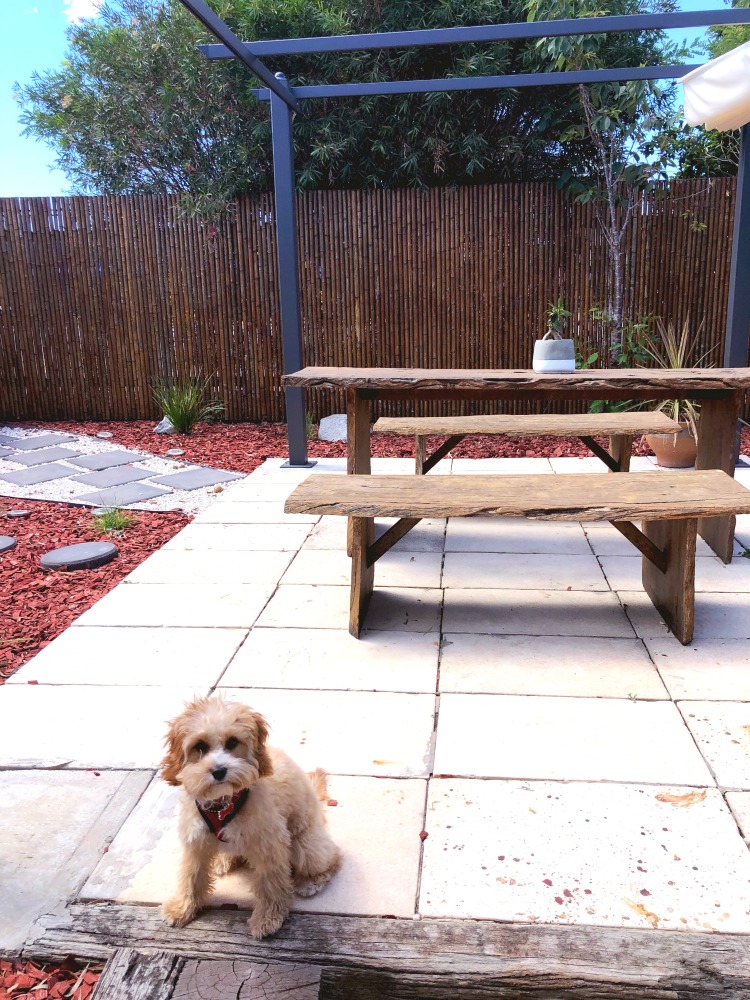 Where to play
Beach Life
You can live your best beach life at one of the many beaches in and around Merimbula – you'll be pawsitively spoilt for choice.
Main Beach, Merimbula
This stunning beach just out of town has a patrolled beach to the north and a lovely off leash area to the south. It's a great place to check out the view and catch the breeze!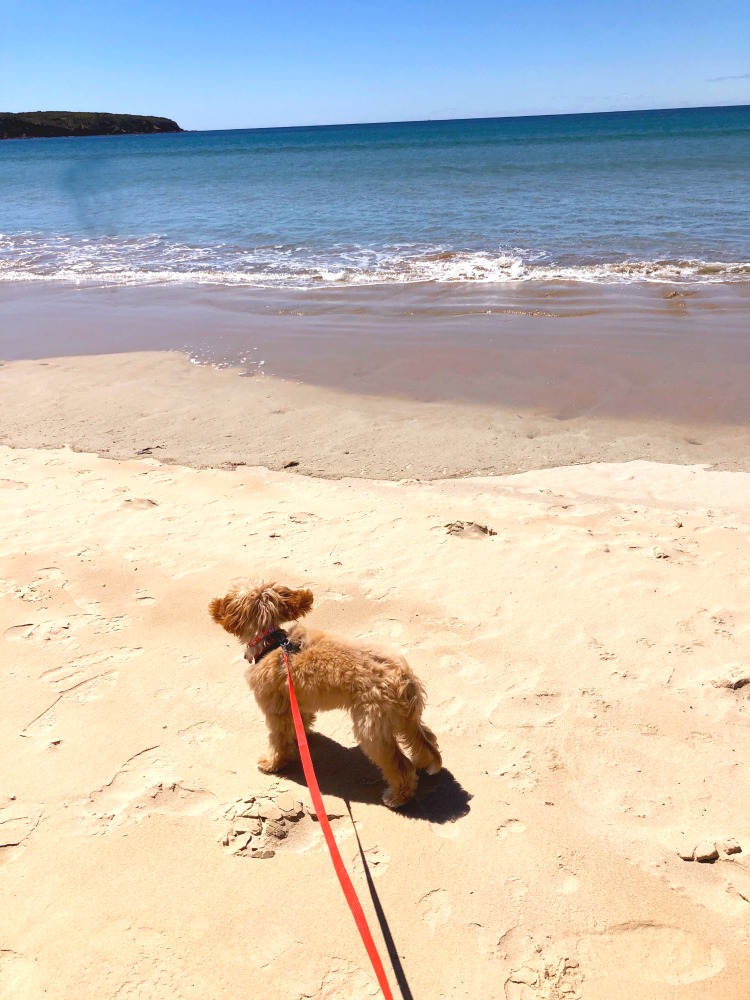 Lion Beach, Pamubla
This cute little beach just south of Pambula Beach is always off leash. The weather is not playing nice when we stop by so we have the beach all to ourselves but in summer this place is popular so be prepared to park up on Coraki Drive and walk down though Lion Park. The park has barbecue and picnic facilities, toilets and beach showers.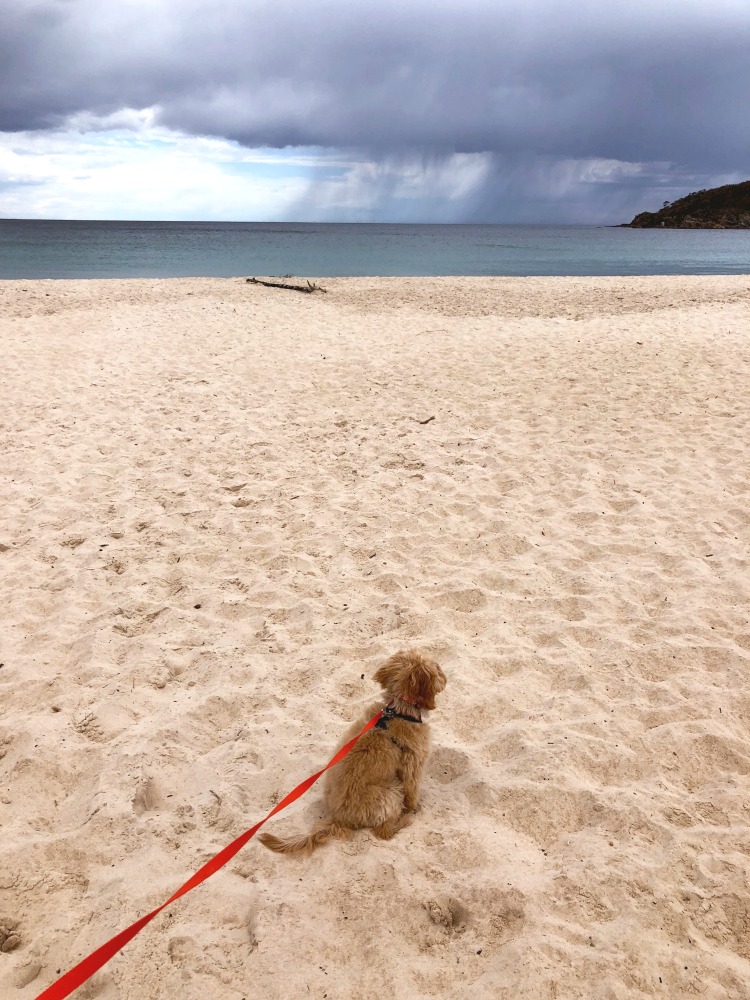 Tura Beach, Tura Beach
With it's clear white sand and sapphire blue sea, Tura Beach is a favourite with both the humans and the hounds. It's not patrolled but some parts of the beach are off leash. The access from the end of Tura Beach Drive is the easiest access.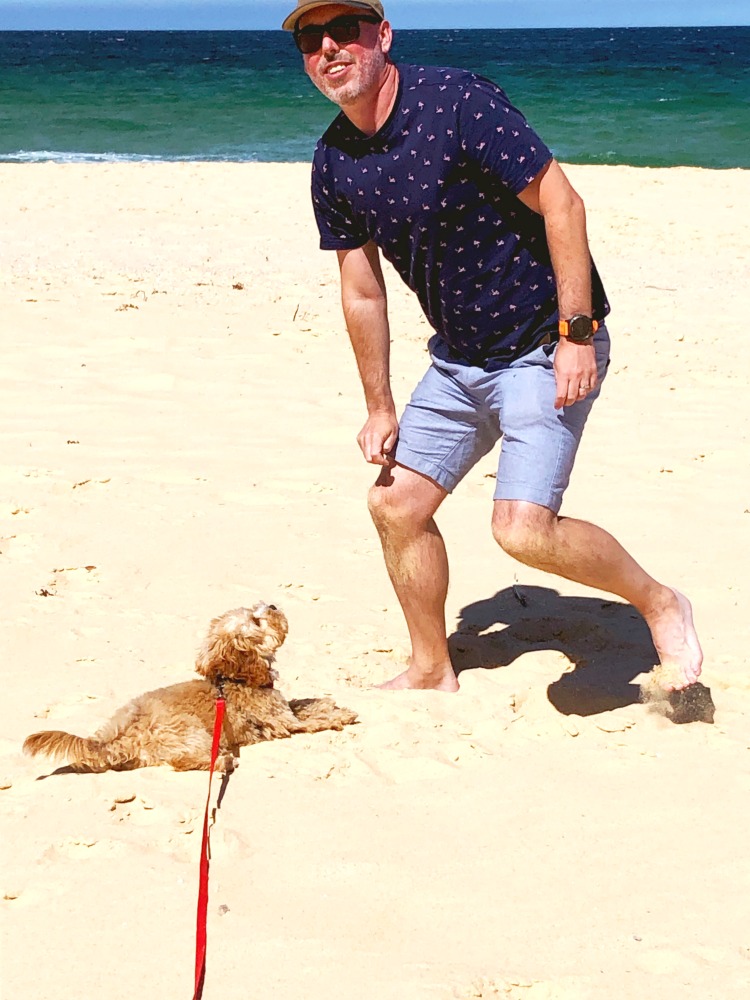 Shop Til You Drop
Shop 12/16 18 Market Street, Merimbula NSW 2548
Most stores don't allow dogs but Barb at Seaside Trader doesn't just allow them in her store, she welcomes them with open arms… Literally! She absolutely loves dogs and you'll often see furry visitors to her store featured on the Seaside Trader Facebook page.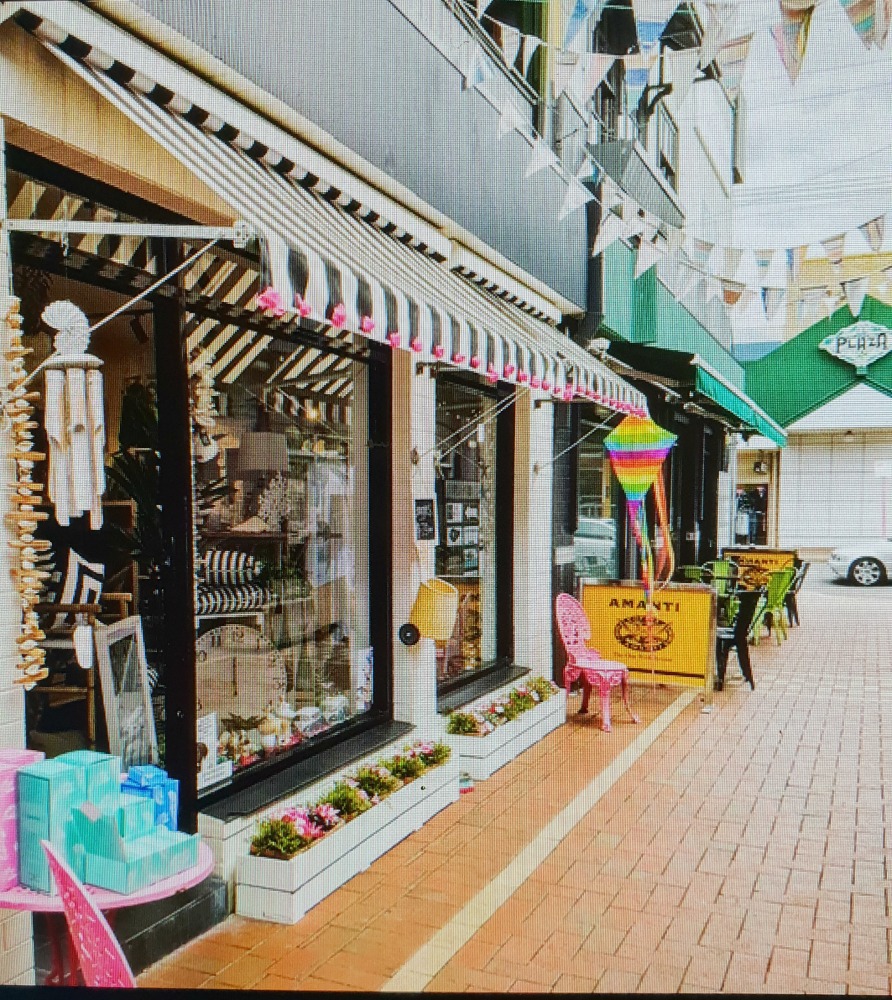 Inside Seaside Trader you'll find a carefully and colourfully curated collection of clothes, gifts, homewares, jewellery and kids stuff all with a bit of a beachy vibe. Seaside Trader really does have something for everyone!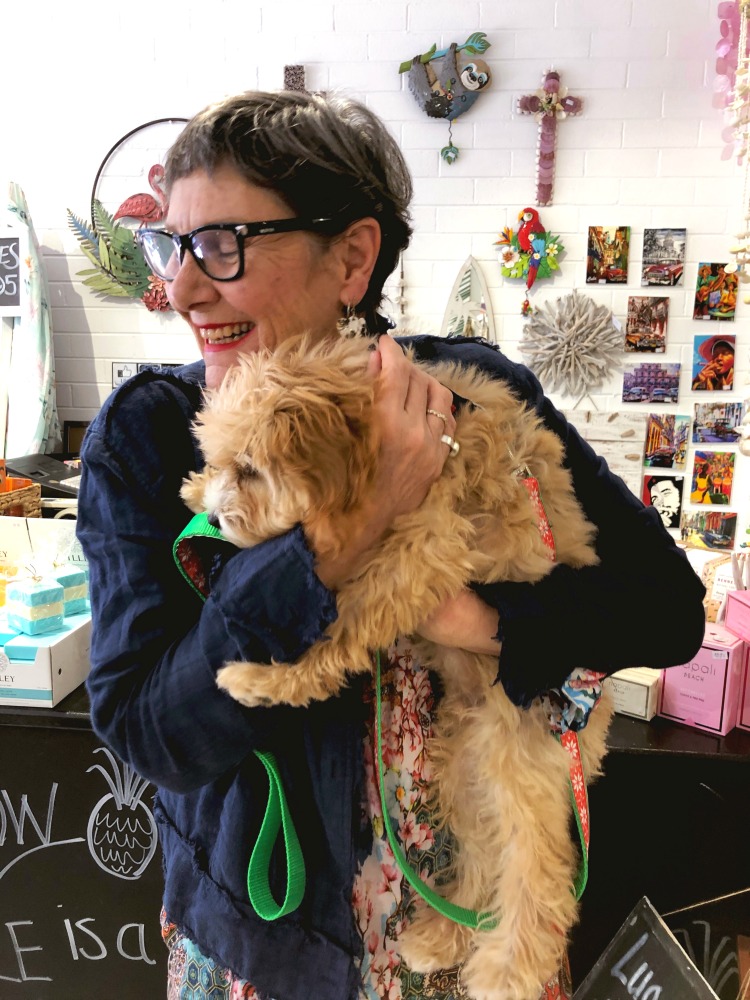 Walk the Walk on Merimbula Boardwalk
Meandering around the lake, through mangrove forests and under eucalyptus trees the 3.4km Merimbula Boardwalk is a great way to stretch your legs and enjoy the serenity and the view. The boardwalk is wheelchair accessible and your dog is most welcome to join you if he or she is on the lead.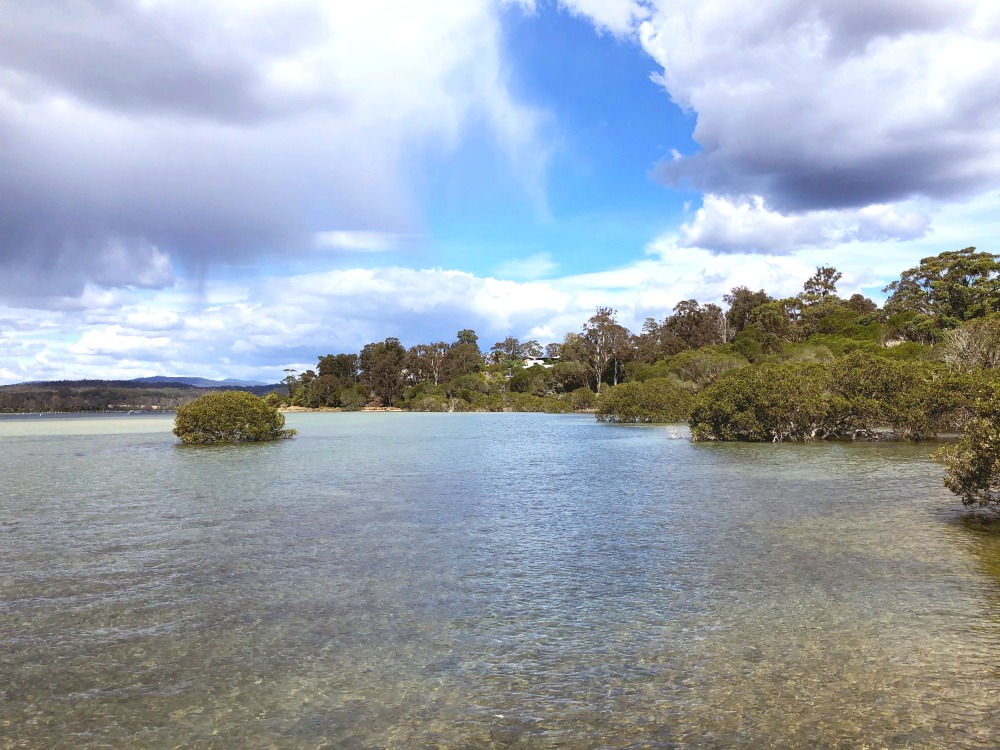 At 3.4km (return) it's a most pleasant stroll and there is seating along the way to rest your legs and a kiosk at the end. Sadly we make it only half way before the rain makes us turn back. Soggy doggy is not Teddy's style!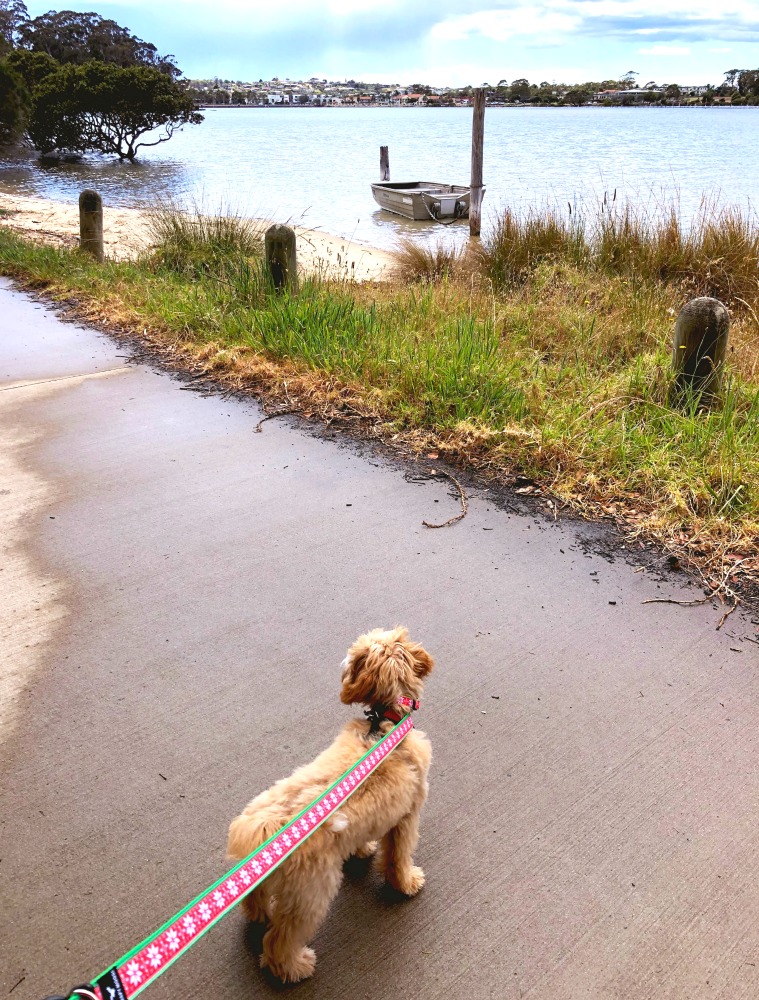 Explore Eden
This region is known as the Humpback Highway as every year between September and November, the waters around Eden play host to thousands of humpback whales making their way home to Antractica.
We're a little too late for whale watching unfortunately but we do head to Eden Lookout to check out the panoramic views of Twofold Bay which fun fact, is the third deepest harbour in the world. Look at the colour of the water – it's easy to see why they call this the Sapphire Coast.
The Rotary Park here has free gas barbecues, picnic tables, amenities and a children's playground.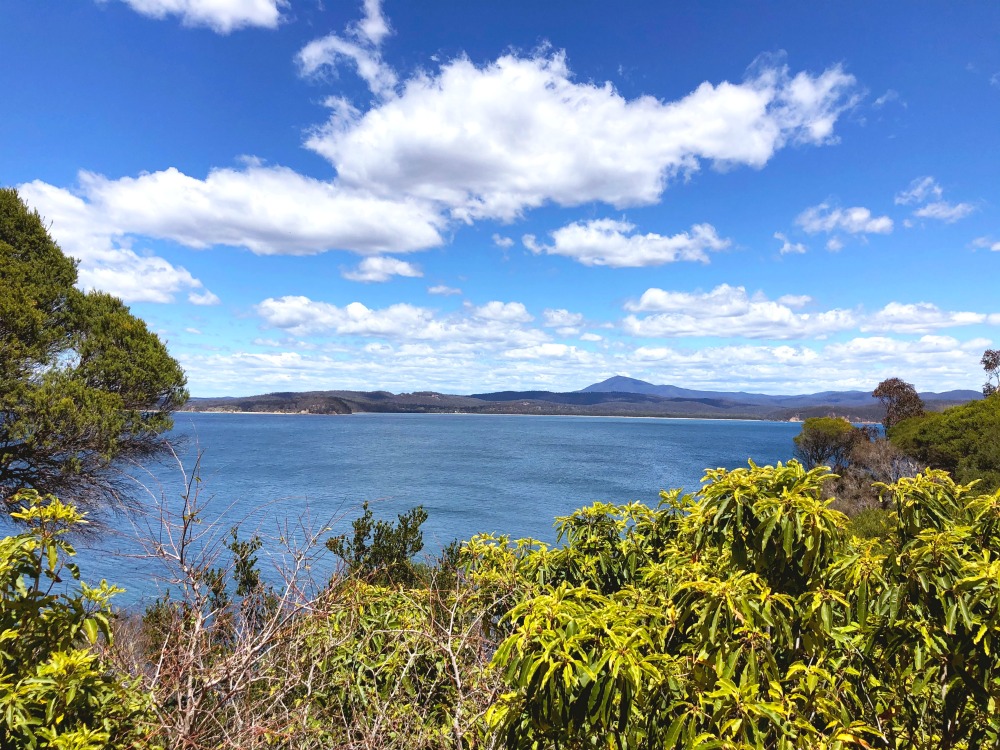 We swing by Eden Wharf which is pretty enough but with it's fish and chip shops and cafes feels a bit like a super touristy fishing village.
Unfortunately dogs aren't allowed in the Killer Whale Museum or on the Light to Light Walk but the town itself is so pretty it's well worth a visit.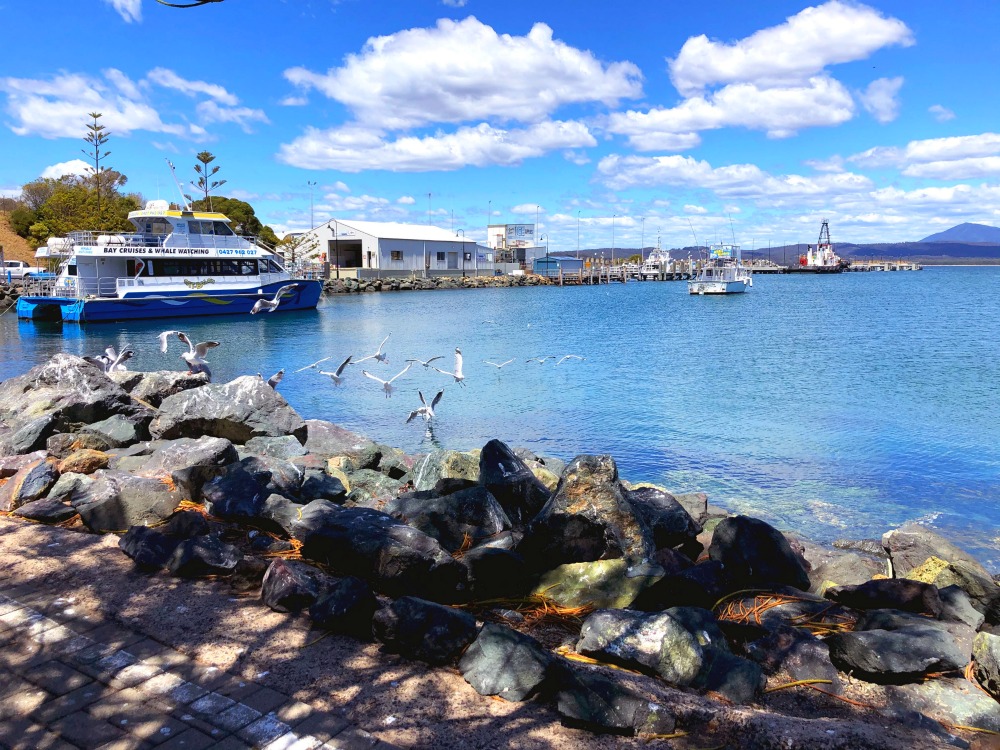 3546 Princes Highway, Pambula
It would be remiss of us not to visit a place billed as the biggest little brewery and oyster bar on the Sapphire Coast and I'm pleased to report that pet friendly Longstocking Brewery does not disappoint. The beers are cold and the welcome is warm.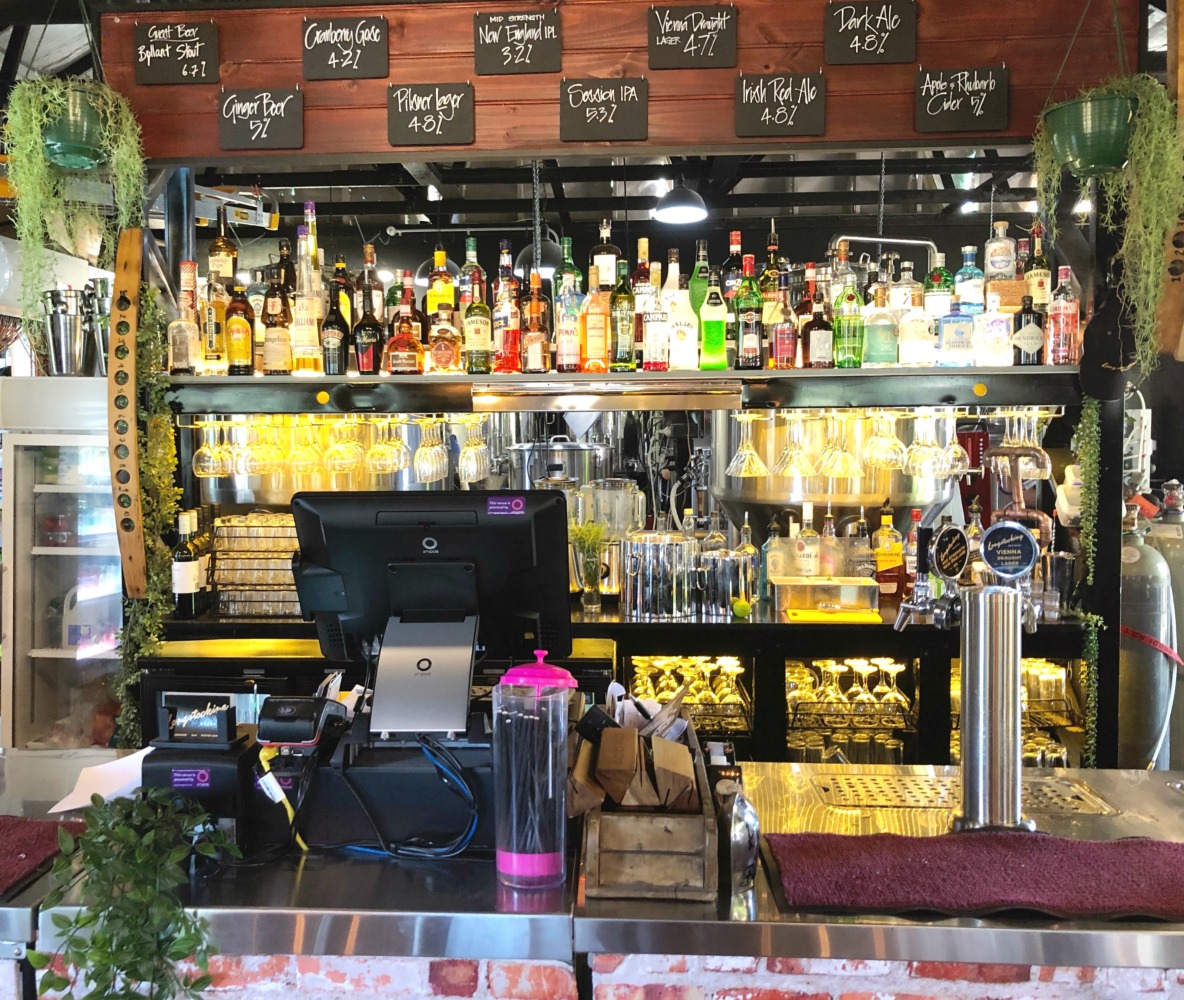 We pop in for a drink on a quiet midweek afternoon, to our eternal regret we don't have the stomach space to squeeze in any nibbles from the oyster bar that Longstocking has become so famous for. However, we can always make room for beer and here there are always ten on tap.
David enjoys the New England IPA and I can never resist a cold glass of alcoholic Ginger Beer. I love how this one is so zesty and served with a lime, in fact, it's so good, I buy some to take home.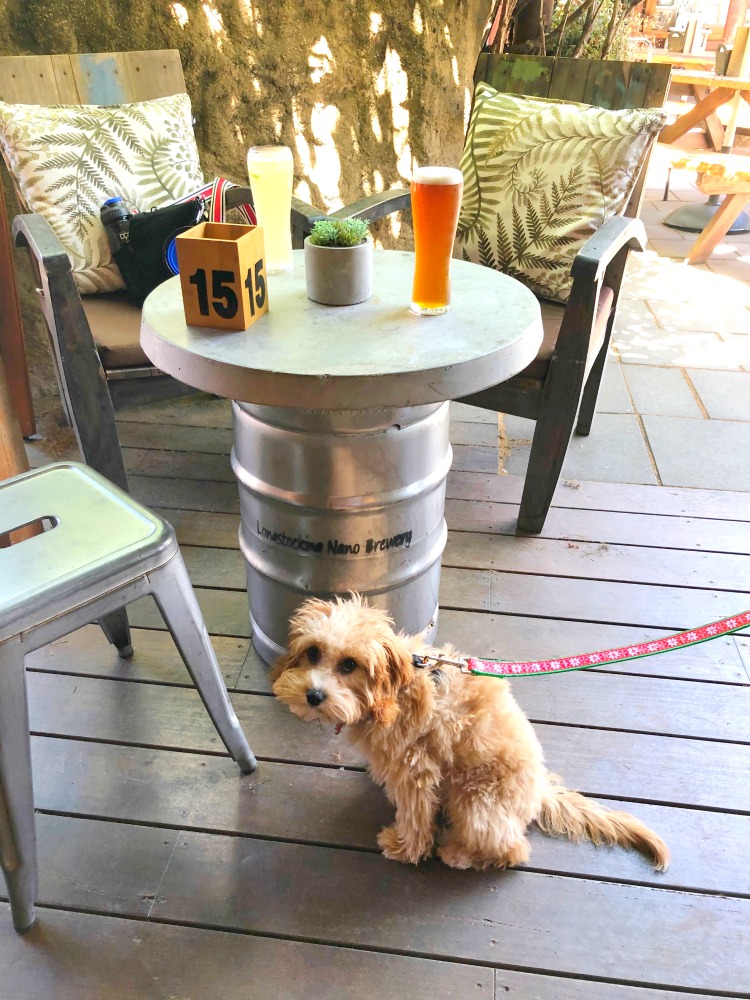 If beer isn't your thing, there's some wine and a cracking cocktail list. For once, Teddy Roosevelt gets to choose where he sits because at Longstocking, pups are welcome both inside the brewery and out. There's plenty of outdoor seating and a lawn for the kids to run around on.
Although it's relatively quiet on this early midweek afternoon, the place is stoved off at the weekends with live music on Friday nights and Sunday afternoons and Longstocking's famous wood fired pizza in the oven all weekend long. Bookings are highly recommended unless you like to be disappointed!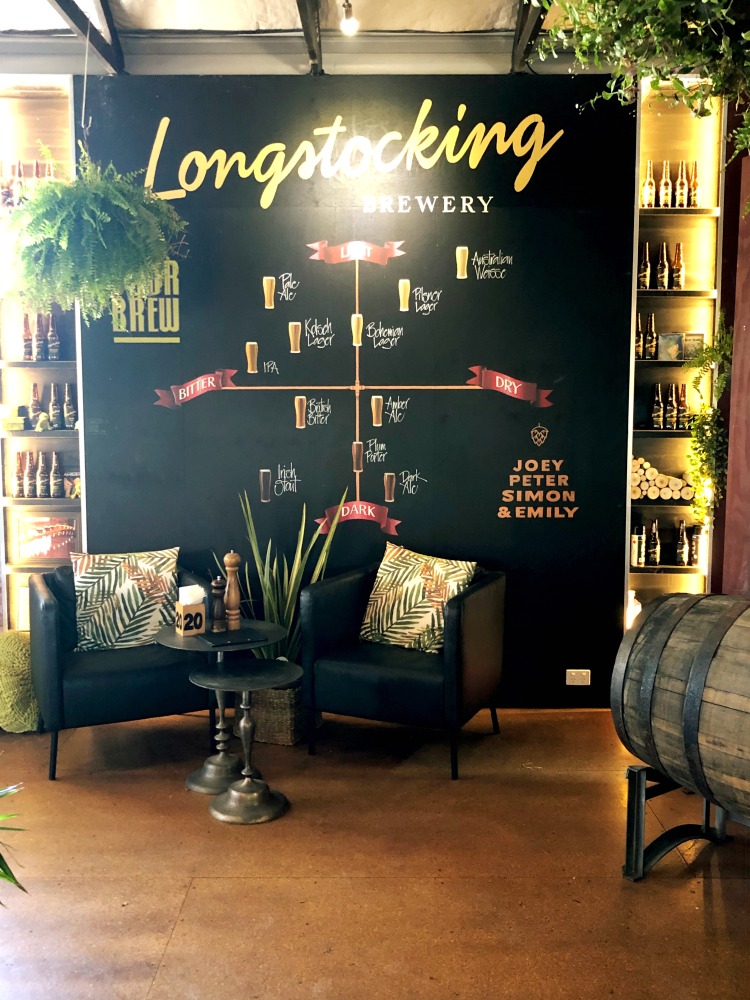 Feel Cheesy at Bega Heritage Centre
My philosophy is always more cheese please so there was no way I was not going to visit the Bega Heritage Centre. The centre was built in 1993 and is an replica of the original 'creamery' building built in 1899.
Inside there's a enormoos (ha, see what I did there?) selection of Bega cheese available to taste and to buy and there's also a plethora of souvenirs, farm-themed giftware and jams and honey.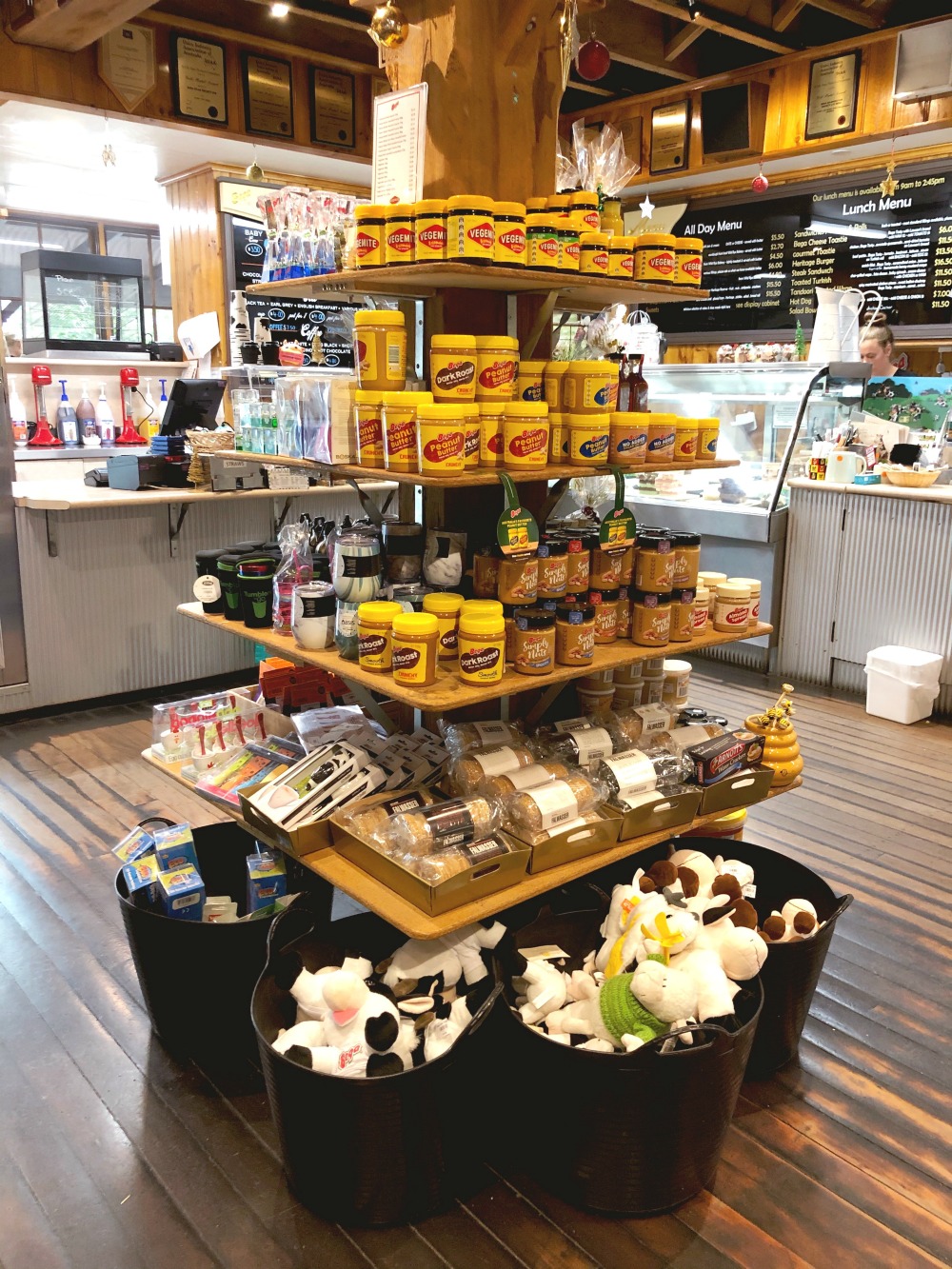 Although dogs aren't allowed in either the shop, cafe or museum, they are welcome on the deck (one of which overlooks the Bega river) and can join you for a drink and/or snack.
We take it in turns to have a quick peek round the shop and then skip the museum and gallery and enjoy a milkshake ($6) with Teddy outside instead. The milkshakes are very moo-rish! (Sorry, I can't help myself!)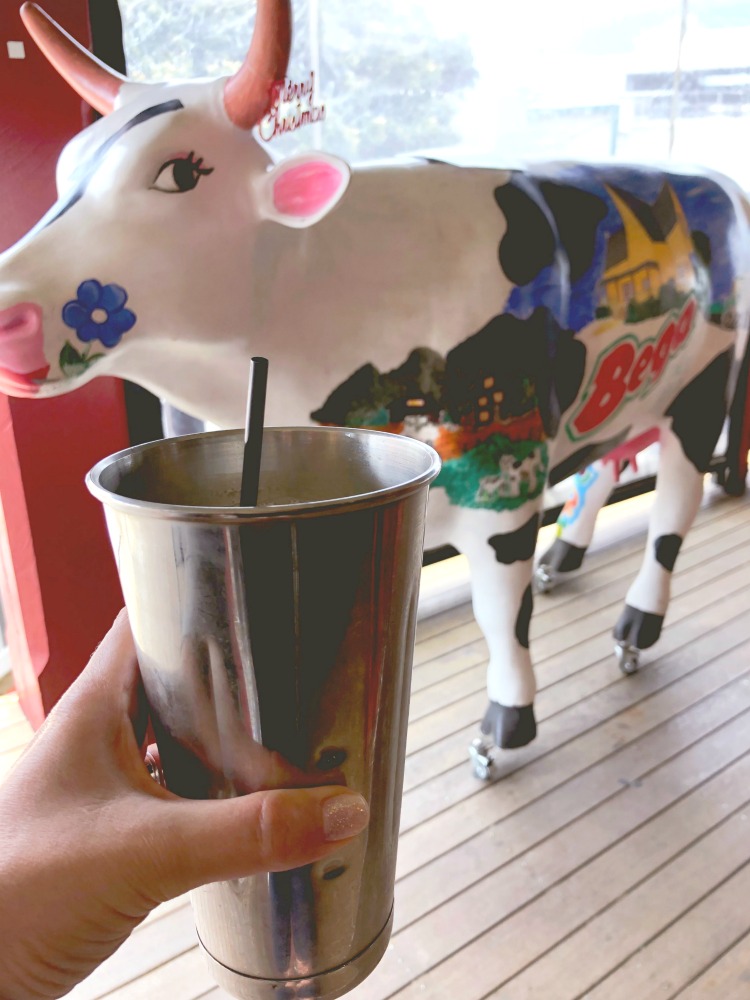 If museums are your jam, here you'll find out about the history of dairying in the Bega Valley and upstairs in the Spotted Cow Gallery you'll be able to view and purchase the work of local artisans with everything from paintings to woodwork.
Personally, I'm more excited about the Big Peanut Butter and Big Vegemite Jar outside which surely count as modern art and are likely the only Big Things you'll see in this neck of the woods where Big Things are very thin on the ground.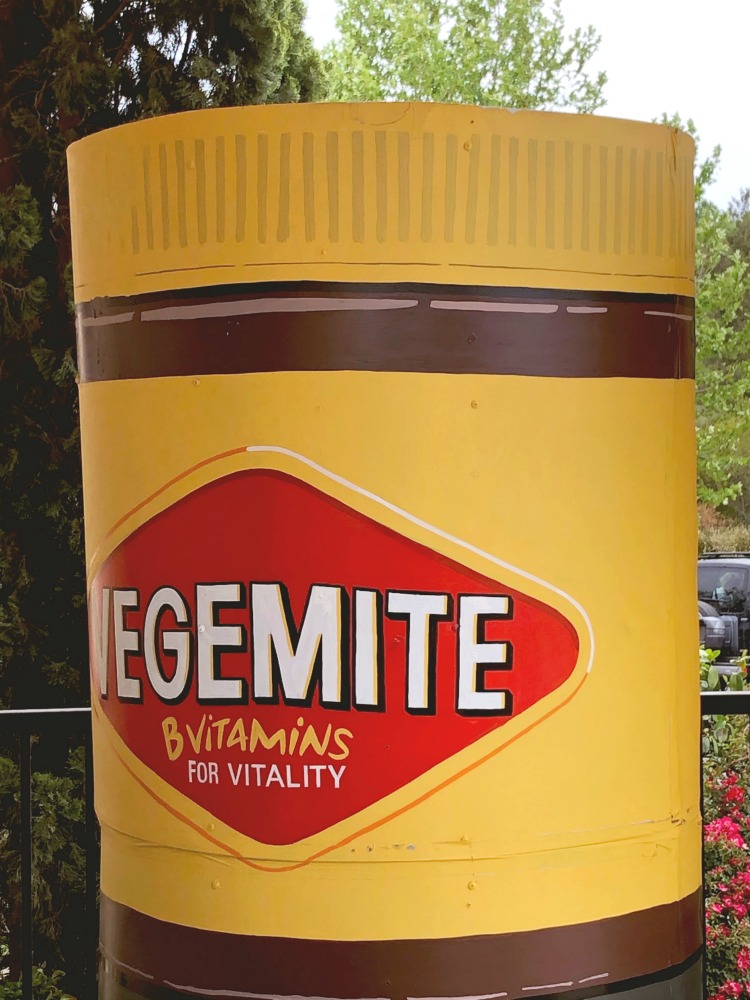 Have you ever visited the Sapphire Coast? What would you add to the Merimbula Must See and Do list?
All food, drinks and accommodation was thoroughly enjoyed and independently paid for.
Linking up with Denyse for Life This Week