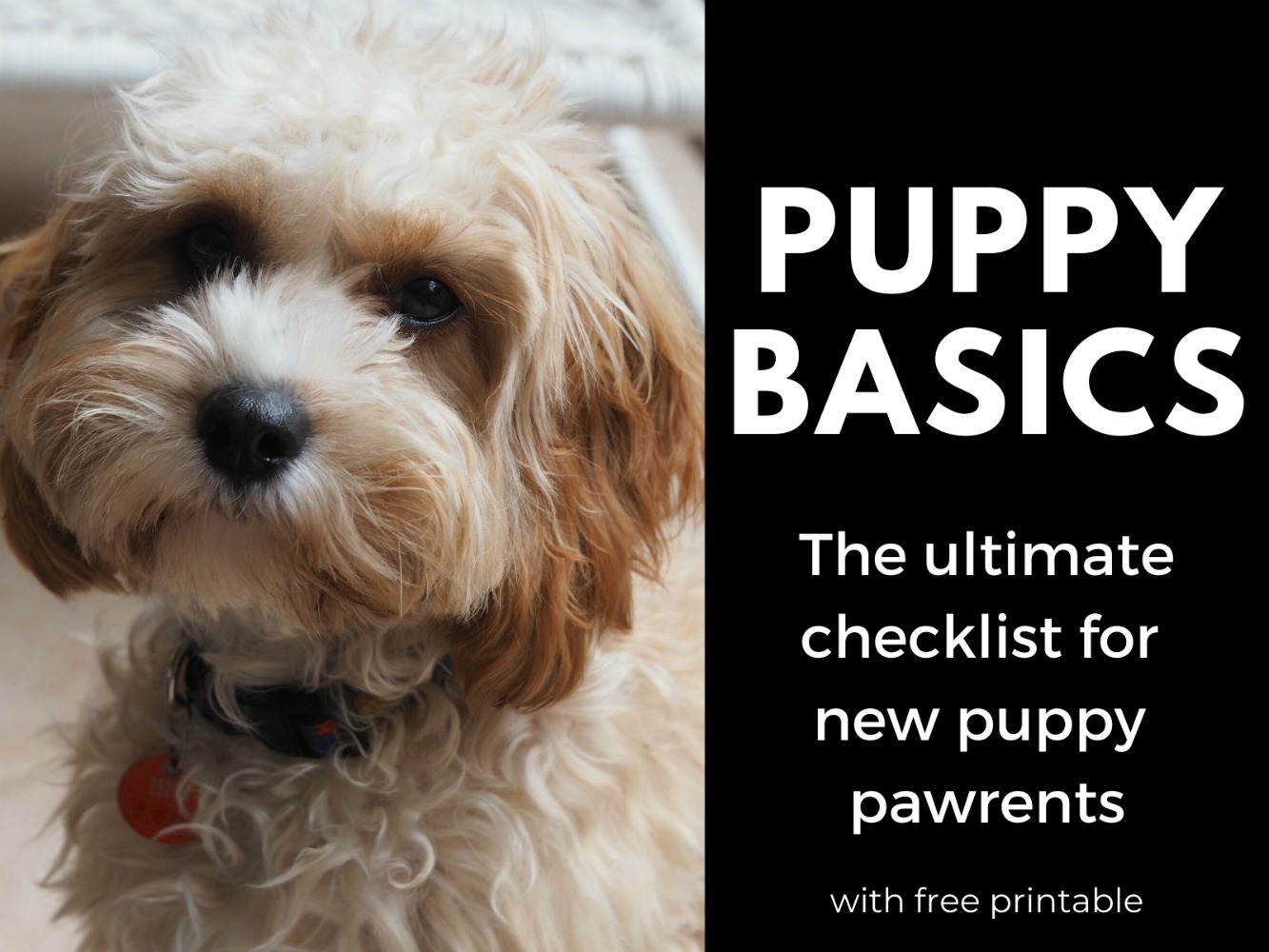 If you're bringing home a new puppy, there are some puppy basics that you'll need to buy before you bring your puppy to it's fur-ever home and this checklist has it all, including a free printable!
In case you missed it, I've already compiled a list of 11 Must Have Puppy Essentials for New Pawrents – but that list is largely big ticket and/or home set up items.
In this post you will find a list of the basic, every day items that your puppy will need in the first few months. Now don't just take my word for it, I consulted a group of experienced puppy pawrents in a doggy Facebook group and have put all of our sage advice in one neat blog post. You're welcome!
This checklist covers everything from sleeping to eating and playing to grooming and everything in between!
Sleeping
Beds
Puppies sleep and they sleep a lot so a comfy bed so finding a size-appropriate comfortable bed is a top priority.
It's worth remembering that puppies are notorious bed chewers so there's no point splashing out on a luxe model in the early days. Make sure the bed is washable or can at least be wiped down in case of potty accidents.
If you have a crate and a playpen, you'll need a bed in each and it's a good idea to have at least two beds so that you can use one and wash one.
Kmart does a fabulous range of dog beds in a range of sizes that are both economical, hard wearing and comfy. The best thing about them is that if your puppy decides to devour them, you won't have to break the budget to replace them.
If you're crate training, check out my tips for the best crate and bedding.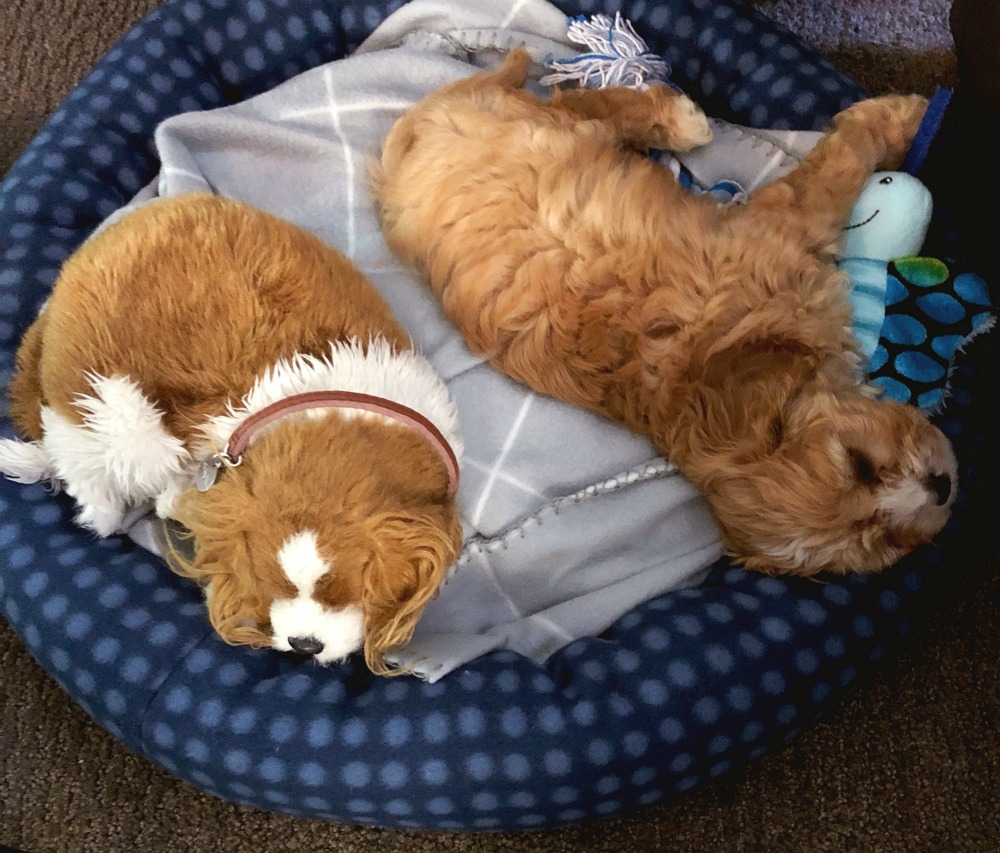 Blankets
It's handy to have a stash of blankets to keep puppy cosy whether it's in their bed, in the car or on the sofa. It's also a good way to "line" the bed and make the bed last a bit longer between washes.
If you can, see if you can get a blanket or a toy from the breeder with the scent of mum and the litter (our breeder gave us a toy which worked just as well.)
TIP! Kmart has a range of dog blankets starting at $2. The more expensive the blanket, the plusher it is, although it's likely your puppy won't be able to tell the difference between a blanket that's basic and one that's top of the range.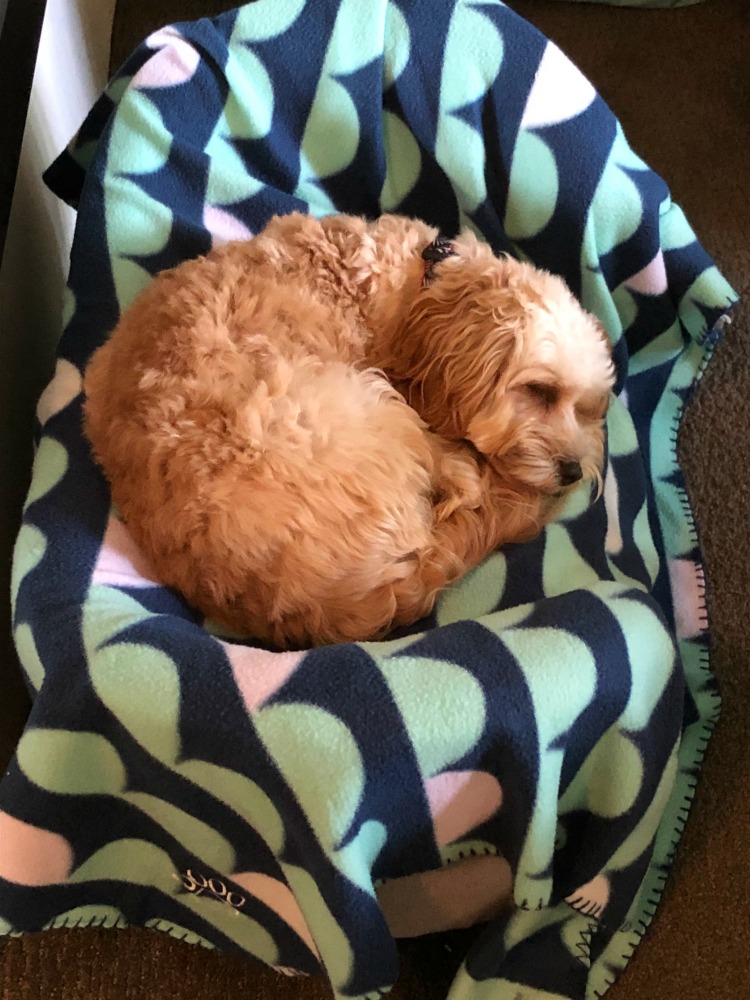 Cuddly Toys
A cuddly toy is a great way to entice your puppy into it's crate and make them feel comfortable. A heartbeat sheep is a great investment for your pup because it replicates the sound of their mother's heartbeat. Of course, you can replicate this with a ticking clock in a sock but this comforting toy is so much cuter, not to mention softer.
Another much loved cuddly toy is the Yours Droolly Plush Toy. This super soft but super durable toy comes in three sizes and is great for bonding with your puppy and is a cosy comfort at bedtime. Pop the toy into your dirty laundry hamper two or three days before puppy comes to their fur-ever home so that it will have your scent.
This toy is also great for an indoor game of fetch and as if all that wasn't exciting enough, this toy has squeakers in the head and each of the four paws. After 10 months, this toy is still much loved and in great condition, when it looks a bit tired, we just pop it into the machine for a wash.
TIP! When a toy is especially loved with or played with, buy a few more in case they go out of production.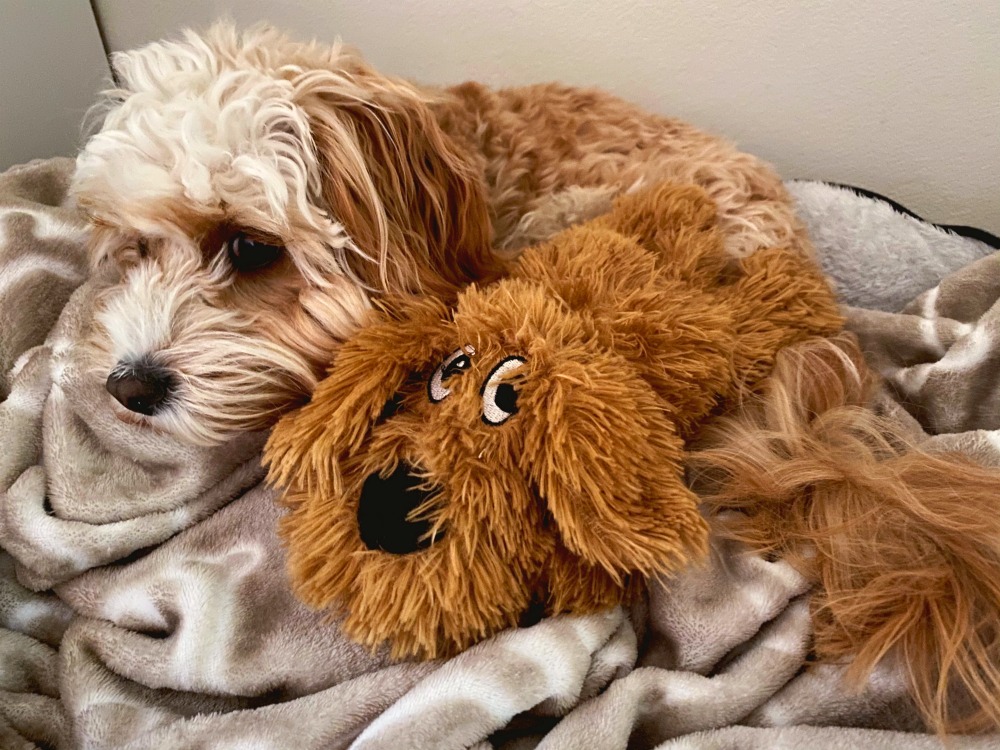 Feeding
Feeding Bowls
Your puppy will need two bowls, one for food and one for water. Choose two dog bowls that will suit their size for their first year of life.
For food, I prefer a melamine dish with a stainless bowl insert and Kmart has a great selection. For water, a ceramic bowl is the way to go, if the bowl is plastic or melamine, your puppy will knock it over every single time!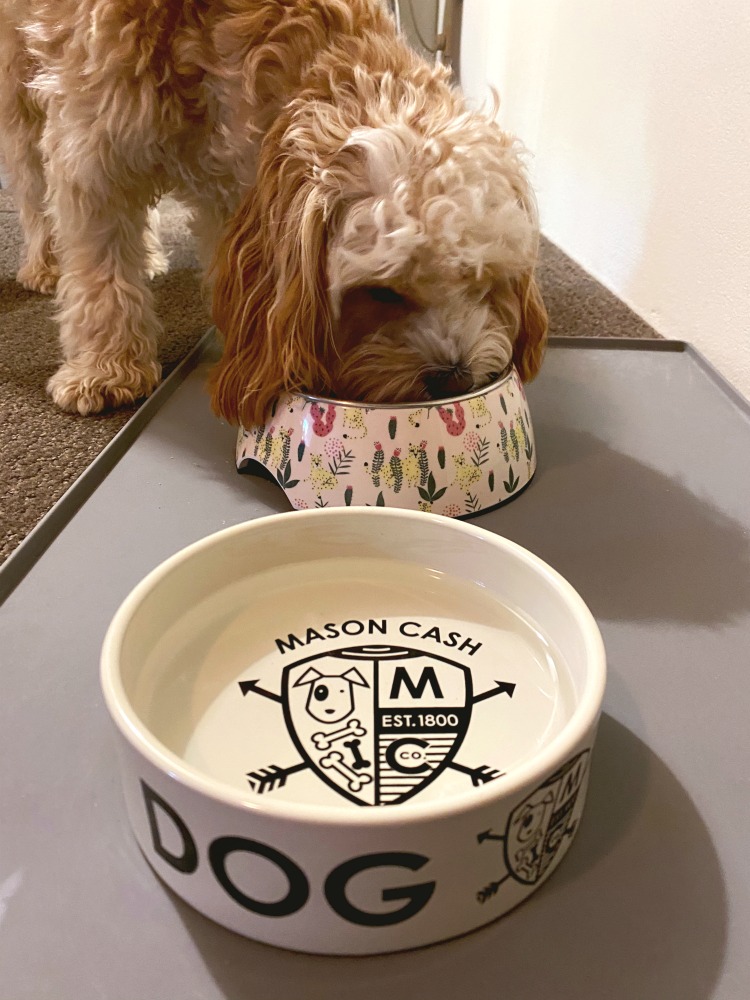 Food
Puppies have a lot of growing to do and the right diet and nutrition is really important so talk to your breeder and/or vet about what food is best for your puppy.
Treats
With all the training you'll be doing, it's important to have top notch treats on hand. Treats are such positive reinforcement and a great way to keep your pup interested in a training session.
Just be sure that your treats are easy for puppy to chew, healthy and given in moderation. Remember that when it comes to puppies and treats, size does not matter. Even a tiny treat is like a steak or a burger to your pup.
We use Ziwi Peak Good Dog Rewards because they're healthy, delicious and can be broken up into teeny tiny pieces so a little bit really does go a long way!
TIP! Buy a dehydrator to make our own treats. We bought a cheap machine that has more than paid for itself; we've saved a ton of money and made a whole heap of delicious 100% natural training treats.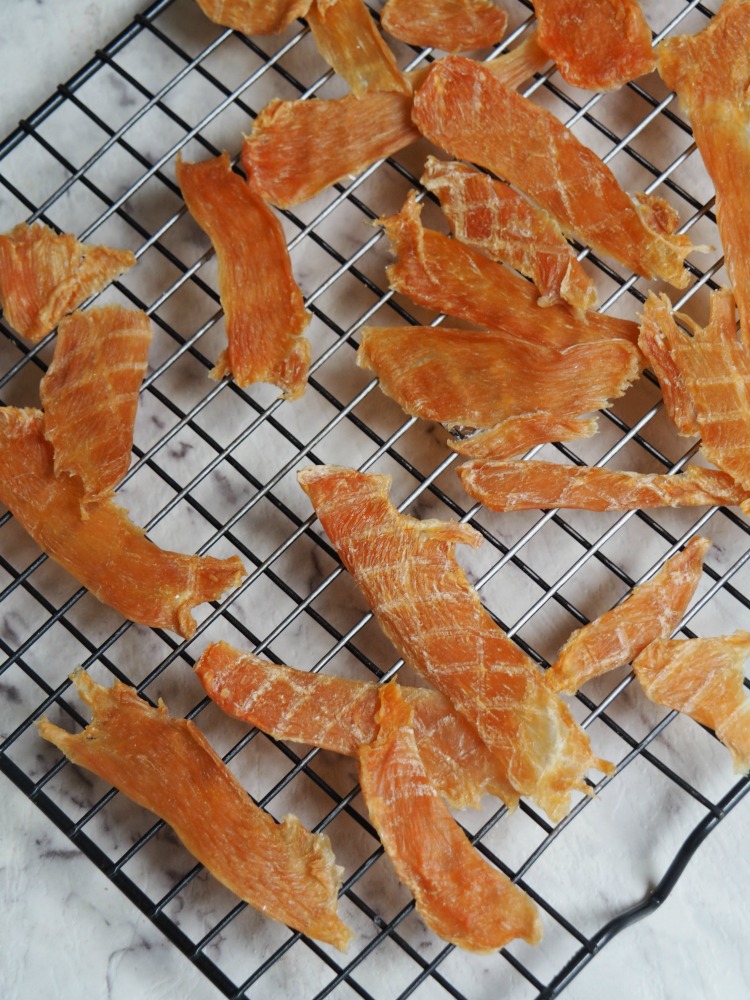 Toilet Training
Real Grass Dog Toilet
If you're puppy training your puppy and you live in an apartment, you'll want to check out my DIY real grass dog toilet. Personally, we found that puppy pads were neither environmentally friendly nor puppy friendly. Teddy thinks they're for shredding, not for toileting!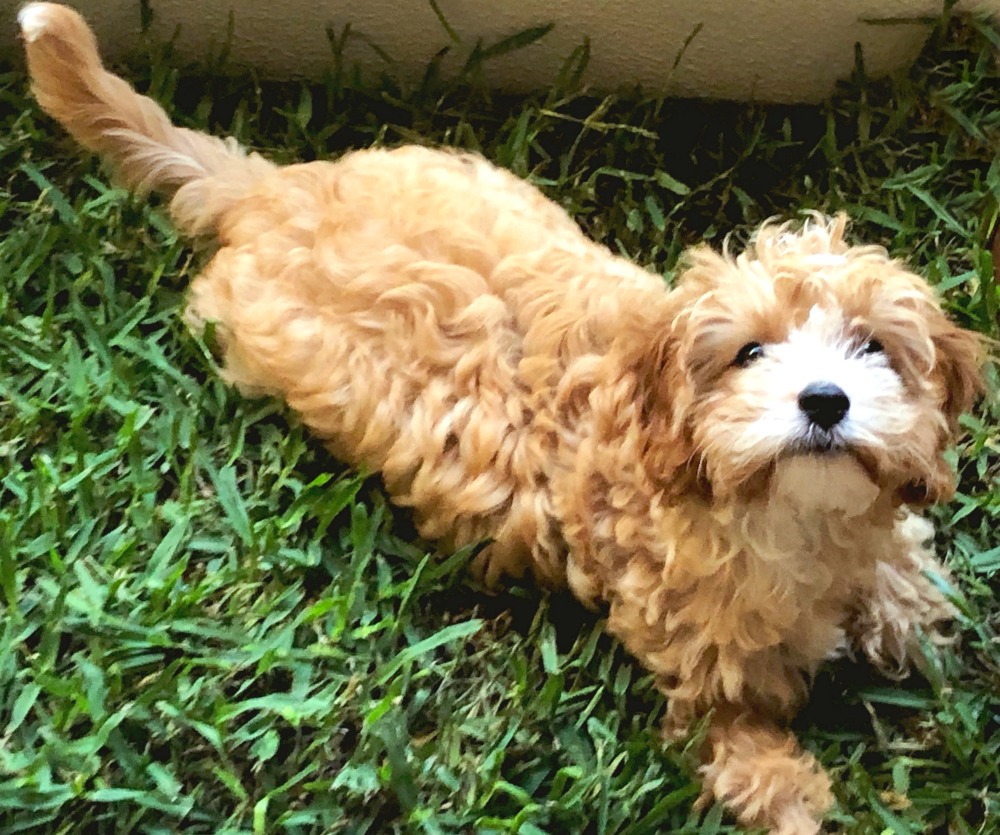 Fake Grass Dog Toilet
If you live in an apartment or a house without a (puppy proof) garden, do consider getting a fake grass pet potty mat. They can be used in or outdoors and it's best to buy at least two so you can wash one and use one.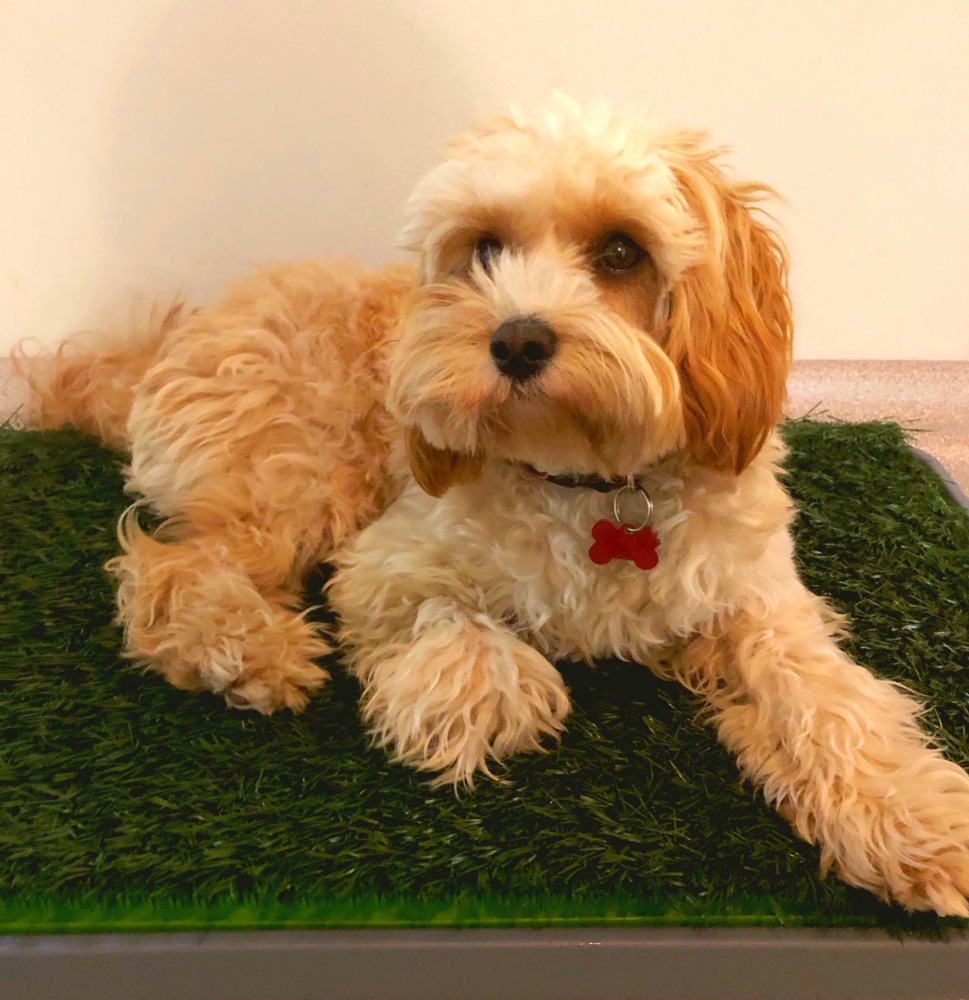 Doggy Door
If you have access to a garden, you'll want your puppy to have access to it too with a doggy door.
Odour Control
There are a number of odour removal products on the market that destroy the uric acid to ensure that your pup doesn't pee in the same spot. White vinegar is a budget friendly, eco-friendly alternative. When it comes to pet potty accidents, the quicker you attend to it, the less it will smell!
If your pup accidentally goes to the toilet on the carpet or floor, blot up as much as you can with kitchen roll and then lightly spray with enzyme cleaner or wipe over with vinegar. And do stock up on kitchen roll because it's likely you'll be doing a fair bit of mopping up in the early days!
TIP! To encourage your pup to pee in the right spot, take him/her and the pee soaked paper towels to the place where you do want him to toilet and give your toilet command.
Toys
Chew Toys
Puppies explore the world using their mouths and this means they have an insatiable desire to chew. Unless you're keen on them chewing your shoes, electrical cables and anything else they can get their teeth into, you'll need some quality teething toys. These chew toys will help them focus their need to chewing into an appropriate outlet.
Kong toys are incredibly long lasting – this Noodlez Tug Toy, Puppy Kong, Puppy Goodie Bone, Puppy Wubba and Gyro Treat Dispensing Toy are toys that have really lasted the distance and are still going strong 10 months on.
TIP! Think about investing in some good quality canine enrichment toys. These toys encourage your pup to problem solve, learn new skills, become more confident and they love it!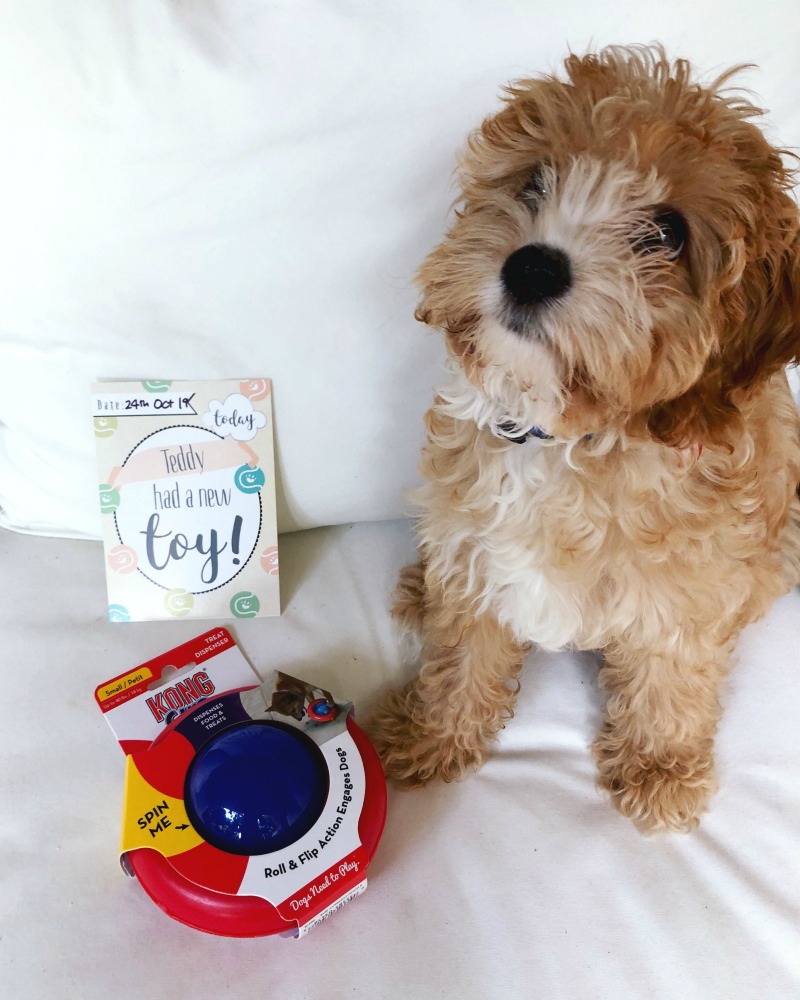 Although not chew toys, Lamaze toys are designed to engage babies and stimulate their brains and that's what they do for puppers too! They're really well made and a great investment for your new puppy.
TIP! Choose toys that are made with puppy safe, durable materials that your puppy can't destroy. Always supervise your puppy when playing with toys to check that they don't swallow any small pieces.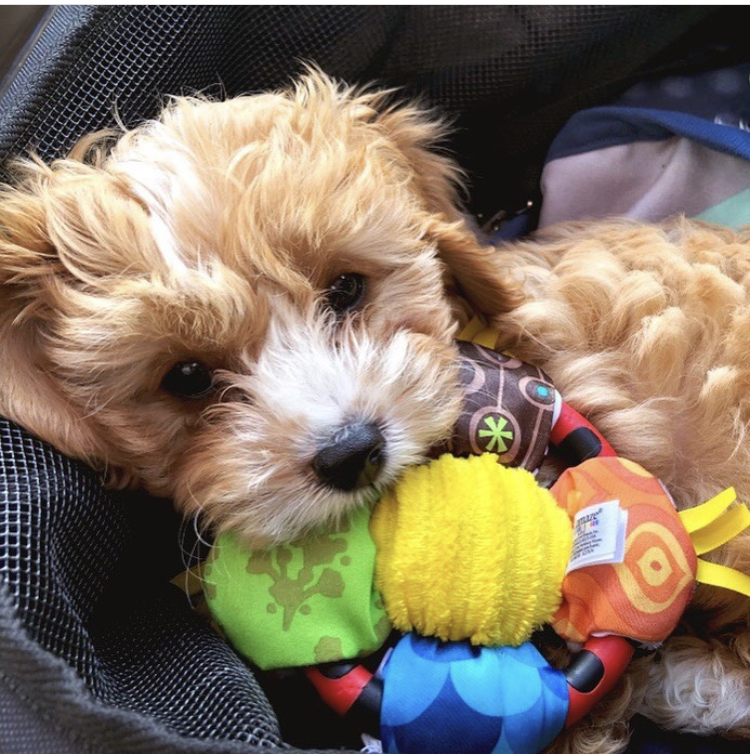 Grooming and Bath Time
Brushes
Brushing your puppy's coat is a great way to keep your puppy looking neat and tidy and for some longer haired breeds, like cavoodles, puppy will need brushing every day. For Teddy we have a stainless steel comb, a a small slicker brush and his personal favourite, a human Tangle Teezer. This grooming mitt can be used for washing at bath time and as it's so gentle, is also a great way to get your puppy used to being brushed.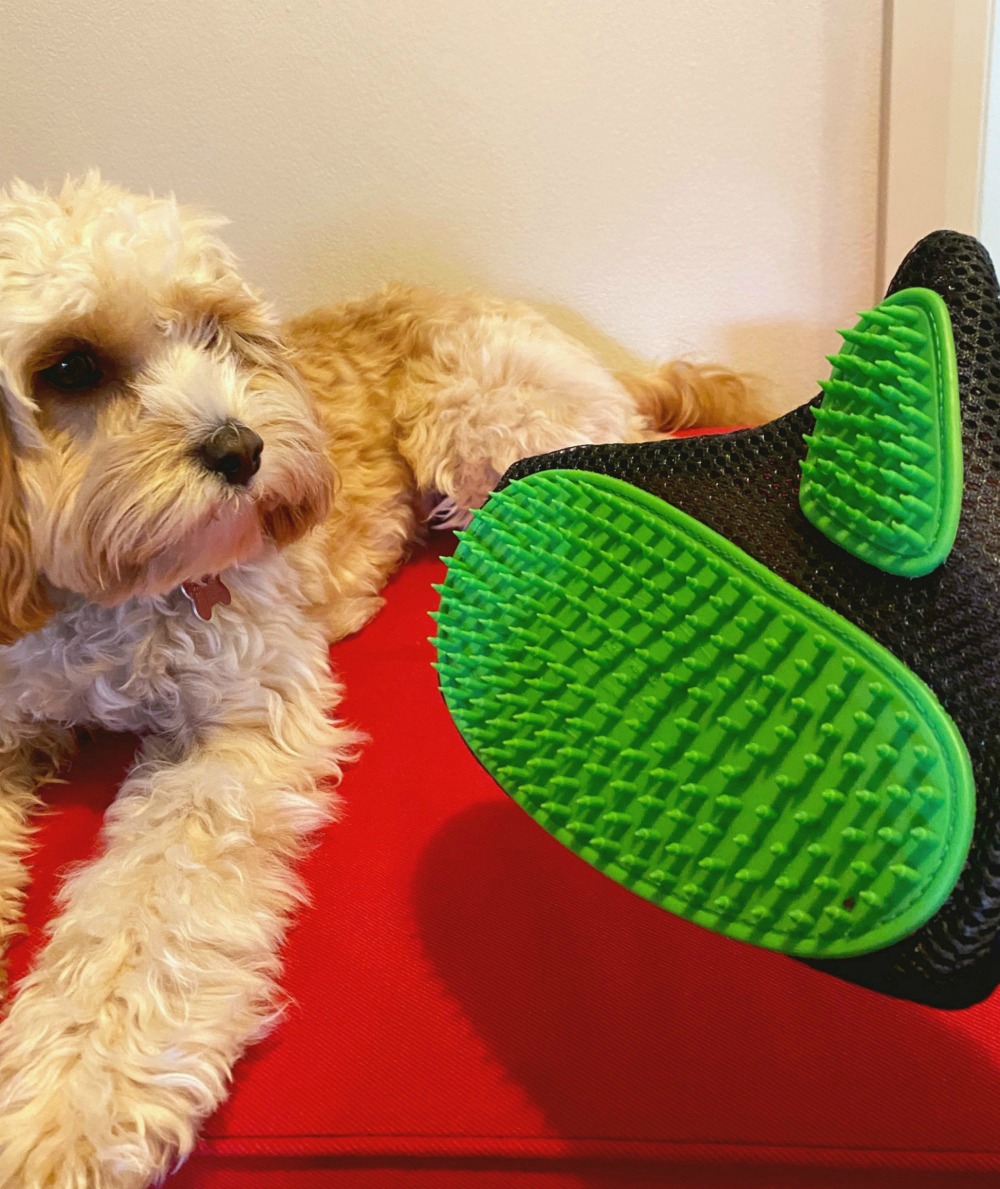 Grooming Kit
In your grooming arsenal, you'll also need a pair of blunt end scissors which are great for trimming hair on the face, especially around the eyes.
Puppy nails can get super sharp and a pair of nail clippers could really come in handy. If like me, you're not brave enough to trim puppy nails, your vet will do it for you when you visit for pup's vaccinations.
Bath Mat
Puppies love to get dirty and will spend significant time in the bath (or the shower.) Bath time can be a very slippery experience and a PVC bath mat with suction caps can make bath time a safe and pleasant experience for your pup.
Shampoo
Keep your puppy smelling clean and fresh with a shampoo and conditioner that's suitable for puppy's sensitive skin. Your breeder and vet can advise you on which is the best product for your pup.
Microfibre Towels
These super absorbent towels are lightweight, gentle on fur and help get your pup dry more quickly. We use them for bath time and keep one in the car and the lobby so that wet and muddy paws can be dried quickly and easily.
TIP! If your puppy has a coat that needs regular grooming, start brushing them from a very early age so that they get used to it.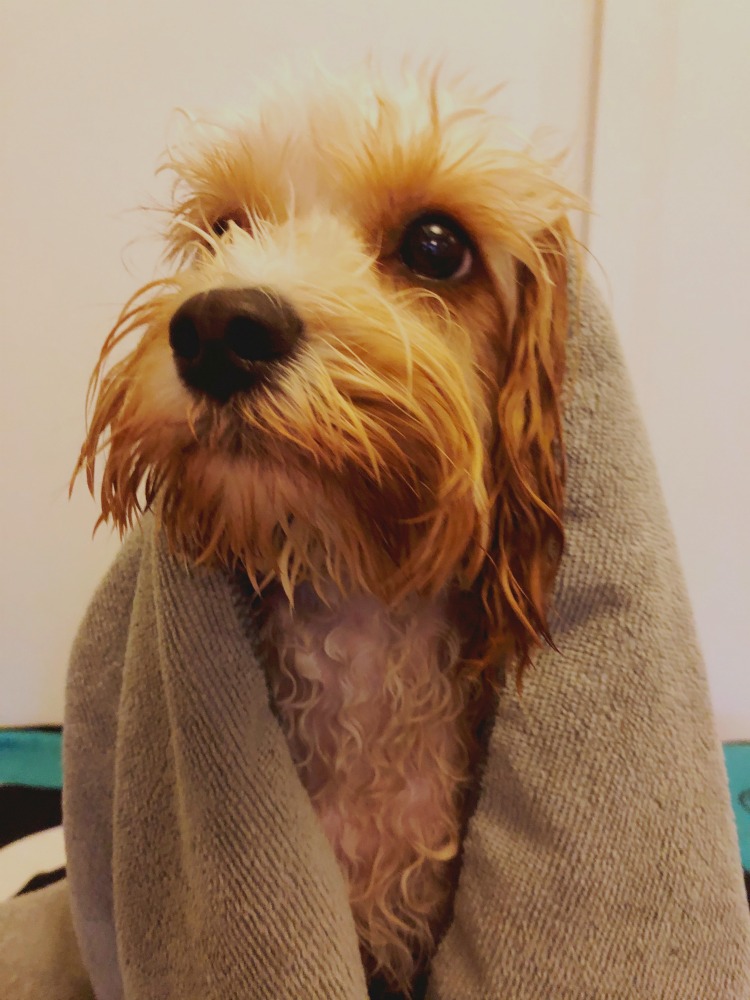 Out and About
Collar
Your puppy will likely outgrown their first collar (although Teddy hasn't!) but that doesn't mean picking the first collar isn't important. Choose a nylon or neoprene collar because they're easy to wipe down and are super comfy for little puppy necks. If your puppy is teeny tiny, you might need a cat collar to start with.
I love Soapy Moose – these handmade collars, leads and harnesses are designed and made in Brisbane and the quality is top notch. Most of their designs can be made into a tiny, narrow collar for pint size dogs and puppies and if you add a note about your breed of dog, they'll make sure to give you a collar that your puppy looks stylish and feels comfortable in. They can even embroider your phone number onto the lead or the collar.
TIP! It can take a while for your puppy to get used to wearing a collar. Once home, let puppy wear it for a few minutes at a time and repeat at various intervals until puppy is completely comfortable. Always remove your puppy's collar when it is in a crate or pen because it's easy for the collar to get stuck on the bars and can be a choking hazard.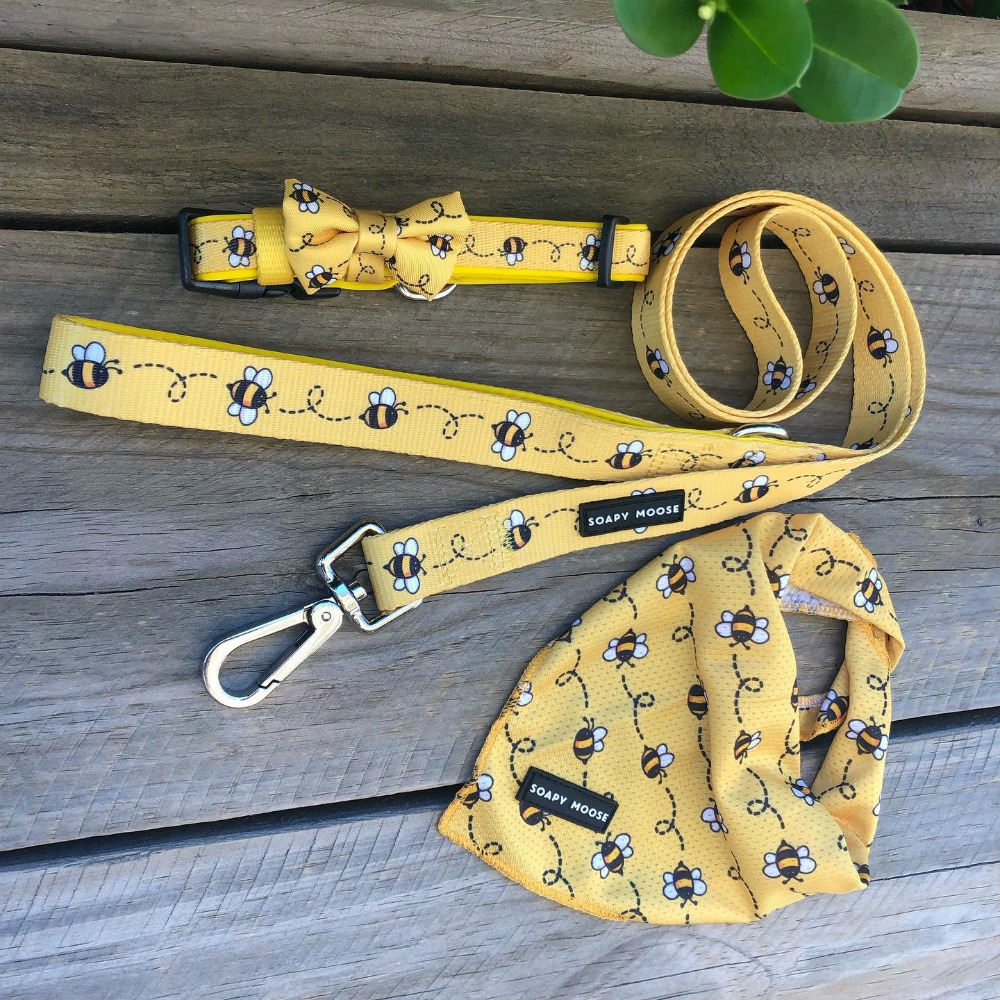 Lead
I'm a particular fan of the Soapy Moose Snappy Leash. This lead is lightweight but strong and the clip snaps open and goes around anything within seconds, think lamp posts, table legs, benches anything!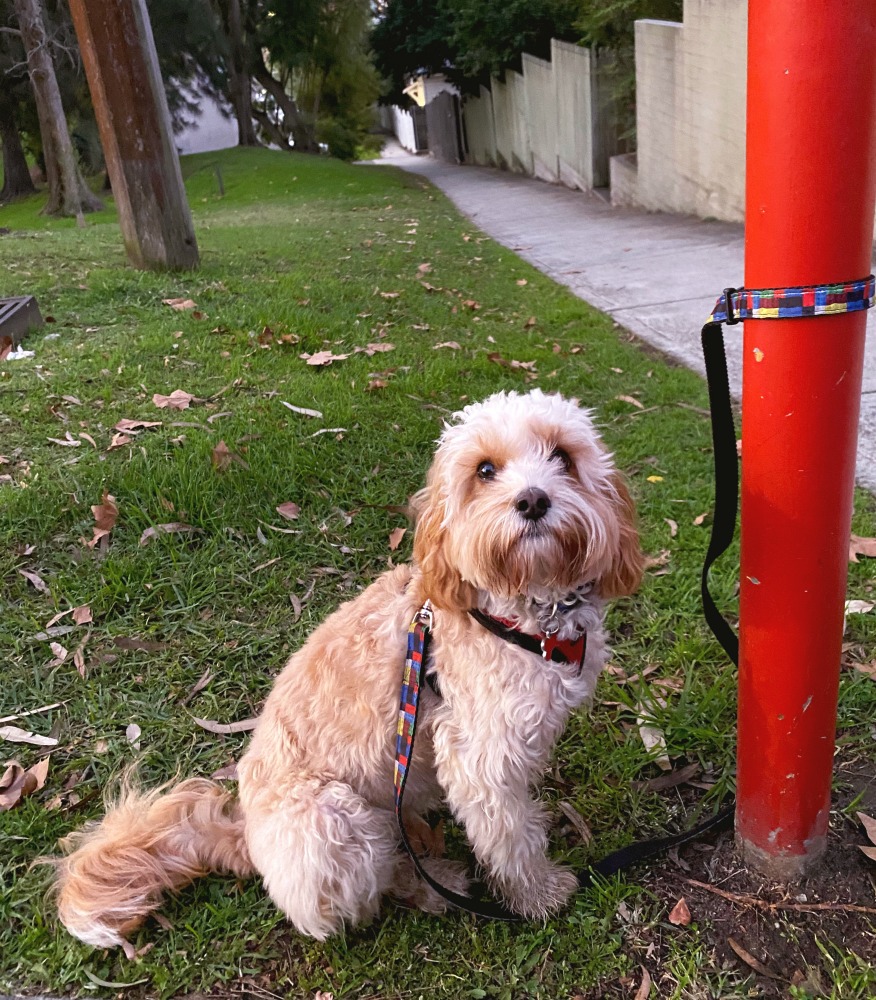 TIP! Just like the collar, your puppy will need to get used to wearing a lead so when you're at home, attach it to the collar and let them drag it around, keeping a careful eye on them in case they get tangled. By letting them drag the lead around, your puppy will feel comfortably being on a loose lead.
Harness
A small harness is much more comfortable than a collar when walking on a lead and when it comes to the first harness it's comfort and safety first. It can be quite tricky finding a harness for a very small puppy but we found the Puppia XS harness ticked all the boxes. It's comfy and easy to put on and take off and kept Teddy safe until he could wear something more fashionable!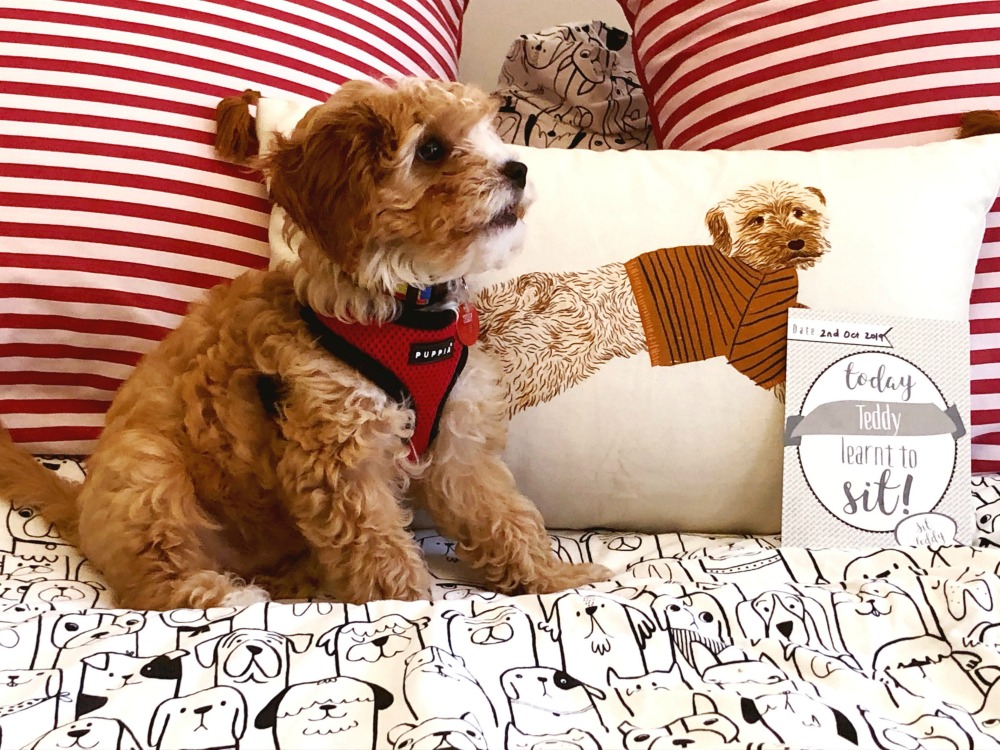 Training lead
An extra long lead is a great way for helping to teach dogs recall and to give you more control when your dog is free running. This type of lead is great for your puppy in large open spaces like the park or the beach. You can pick these up really cheaply on ebay in a range of lengths up to 30m.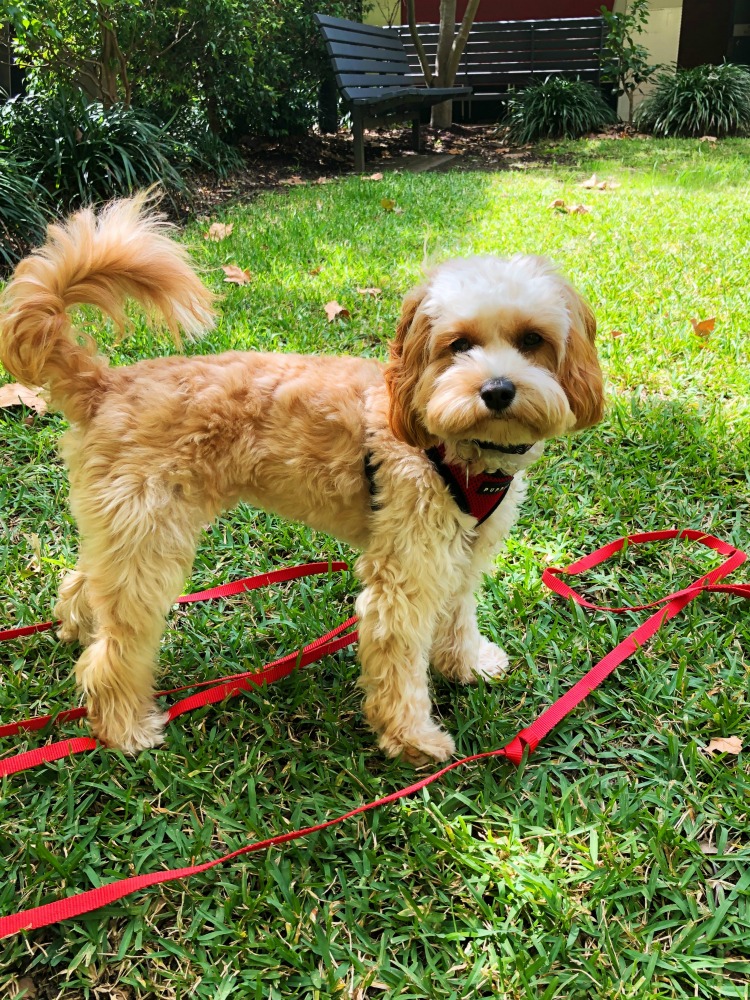 ID Tags
Having an ID tag on your puppy's collar is so important just in case it gets lost. If you want the most bang for your buck, ebay is the place to go. The tags are excellent quality with a range of colours and font. If you're pushed for time, head to your local key cutting shop or pet store where you can get your tag of choice while you wait.
Poop Bags
Don't forget the poop bags! Even while you're waiting for your pup to be fully vaccinated for outside adventures, you'll still need some poop bags to scoop the poop from your pet potty or backyard. Keep a stash at home and make sure you always have some on hand when you're out and about.
Dog Walking Bag
This cross body dog walking bag is the ultimate dog walking accessory. The bag comes in a range of colours/designs and inside there's space for all your walking essentials plus a plastic pouch to protect your phone, a water bottle/ball holder and a poop bag dispenser so you can enjoy your dog walks hands free!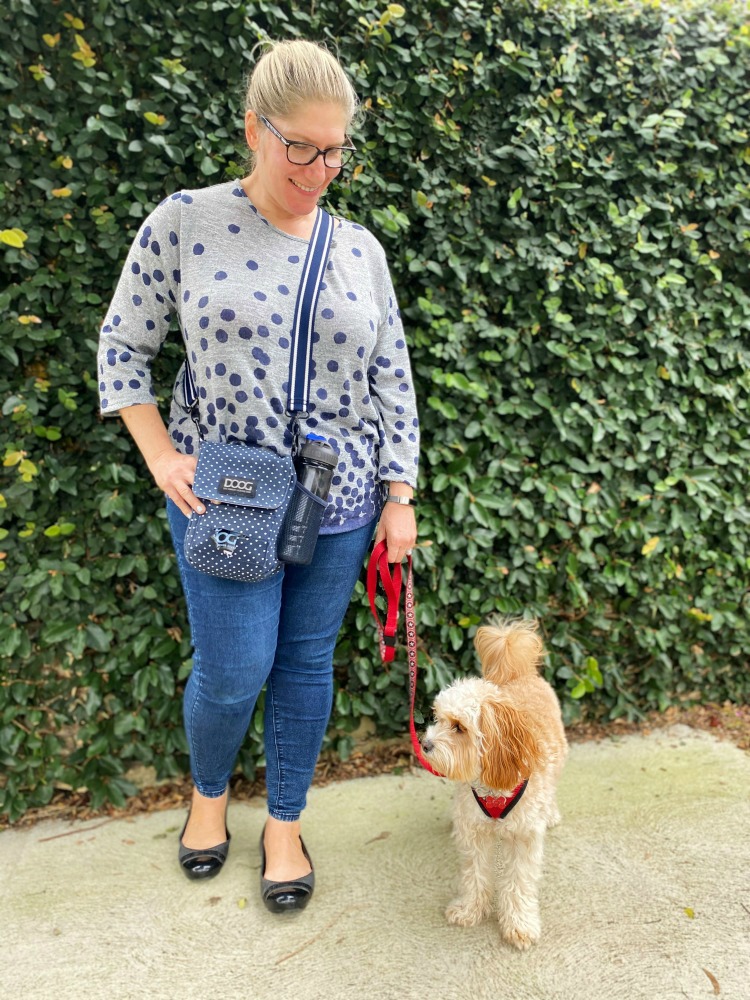 Training and Tips
Puppy School
Puppies develop super fast in the first few months of life and going to puppy school will help your puppy learn vital social and communication skills and provide new puppy owners with the knowledge, tools and skills to create solid foundations for training.
Puppy school is a great way for puppies to socialise together in a safe environment before they are fully vaccinated. Humans will learn as much as the puppies – it's almost like a new pawrent's support group.
And while you're waiting for Puppy School to start, and indeed long after it's finished, check out Zak George's Dog Training Revolution whose You Tube series shows you everything you need to teach your puppy in a really fun and engaging way.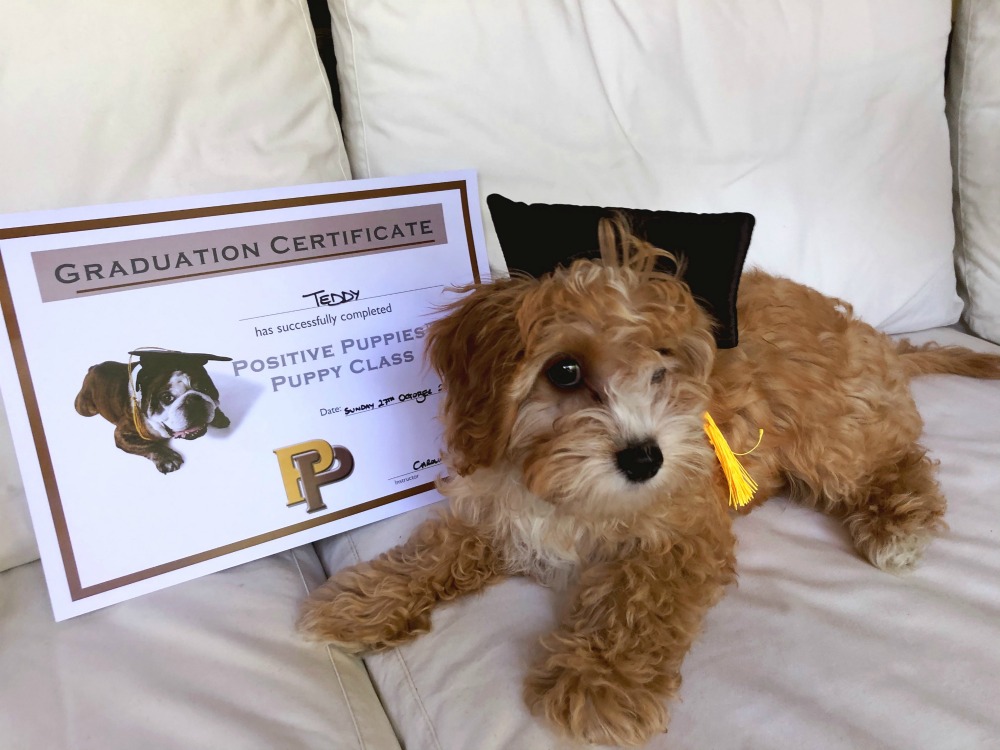 Facebook Groups
Joining a Facebook group is a great way to network with other like minded owners and get help, advice and support.
A breed specific group is a great place to start, our personal favourite is Oodle Owner's Australia. You may also find local, breed specific groups in your area.
Talking of local, some dog parks have their own Facebook groups too which is a great way to network and make friends with other pups and their owners. To find a local group, search for your local park. If there's not a group for your local park, why not start one of your own?
If you want to venture into making your own dog treats, you can find everything you need to know in the Dehydrated Dog Treats group and if raw feeding is your jam, or you just want to find out more about it, check out Fresh Food Feeding For Dogs – Kibble Feeders Welcome.
For ways to help your puppy live it's best life, check out the group Canine Enrichment
That's my list of puppy basics which I've put into one complete handy checklist! Have you got anything to add?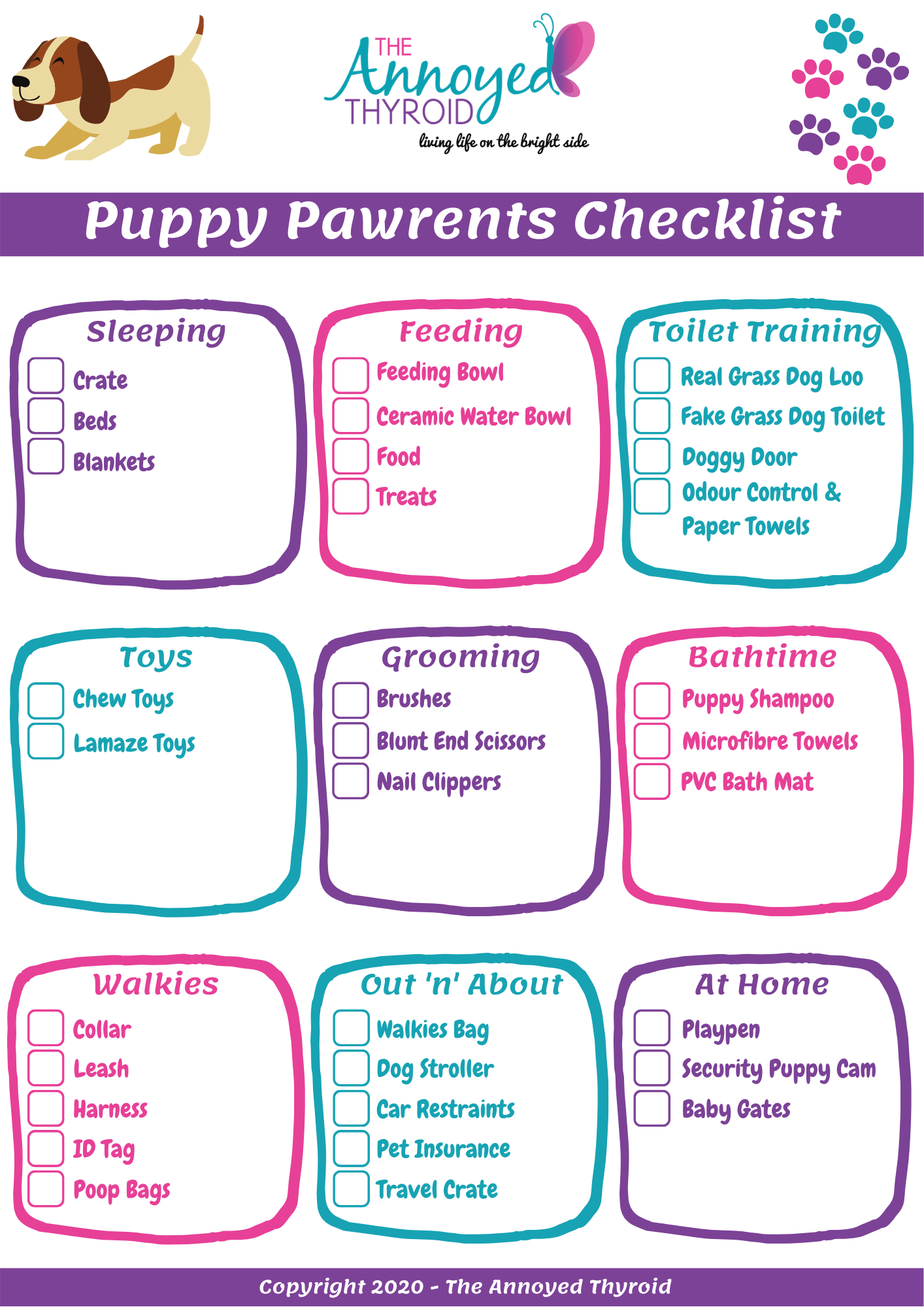 Some of the links in this post are affiliate links. If you click to buy the item, I make a little commission but you don't pay any extra.