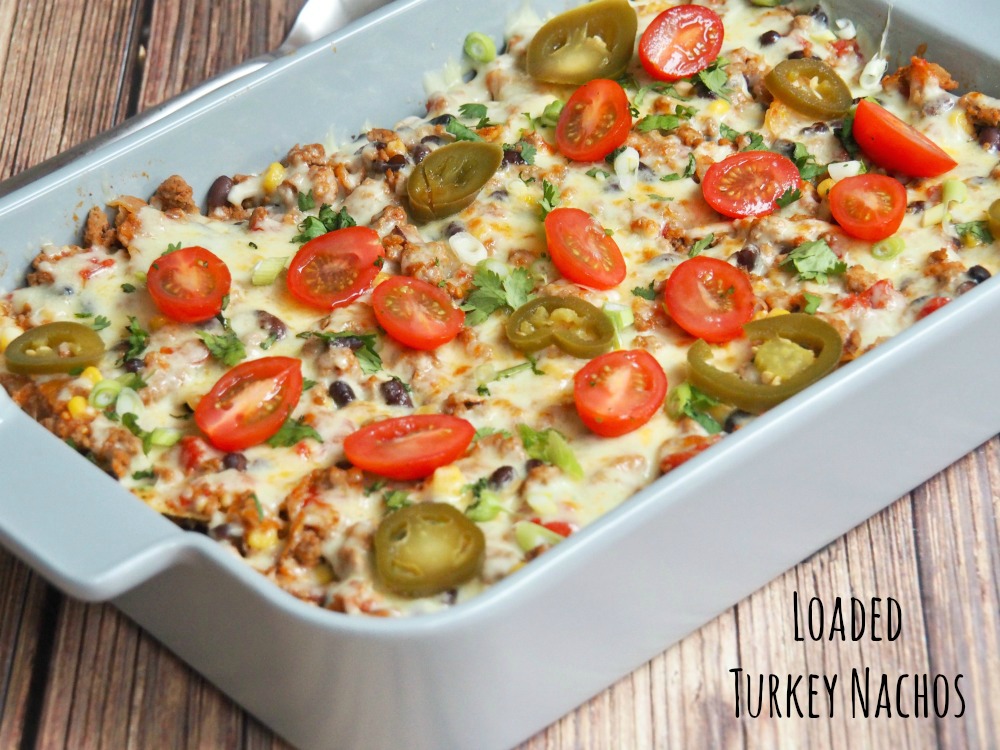 If you like nachos, you'll love this delicious twist with turkey mince.
I have to thank Teddy Roosevelt for this recipe. You see, for the first few months of his life he had what seemed like the world's most sensitive tummy and one of the few things that could settle it down was turkey mince and pumpkin. For this reason, I always had a packet of turkey mince in the freezer.
Now that Teddy has a (relatively) cast iron stomach, the hound had no need to eat the turkey mince but the hoomans in the house hated to see it go to waste. I did consider making these Caesar Turkey Burgers, these Turkey Burgers with Cranberry Onions or this super tasty Turkey, Pesto and Ricotta Lasagne but I really wanted to try something new.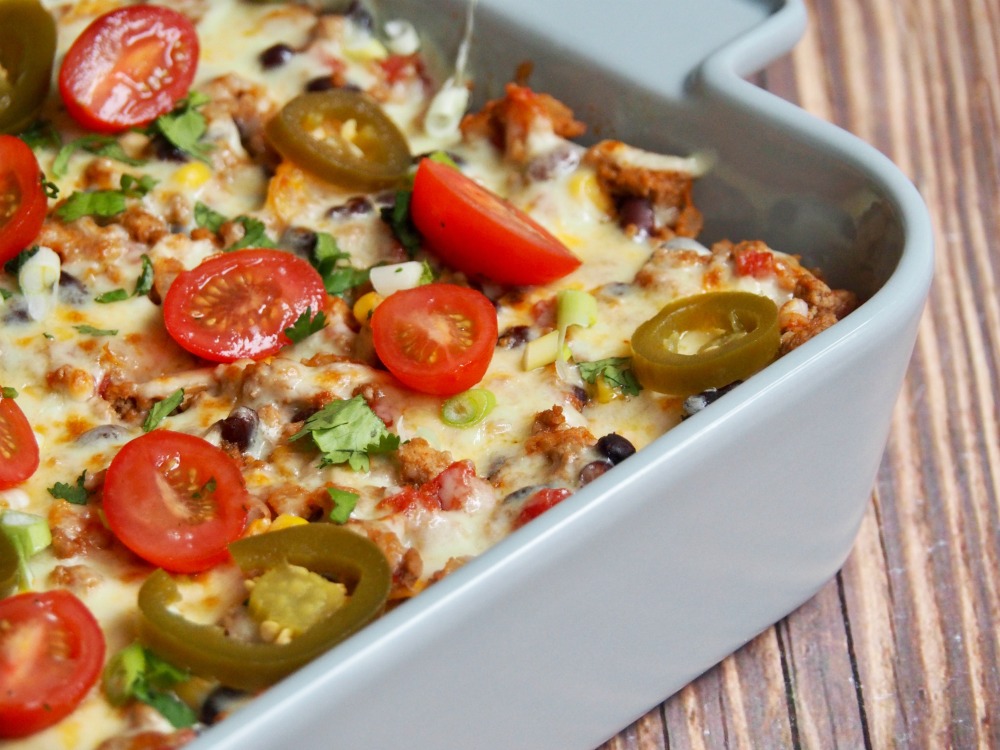 These nachos actually had many incarnations. First we tried making it as a pie and topping it off with tortillas. The result was tasty but soggy. Sticking with the pie idea, we then topped it with tortilla chips which was good but we still felt that this chilli lent itself best to a nachos situation, so here we are!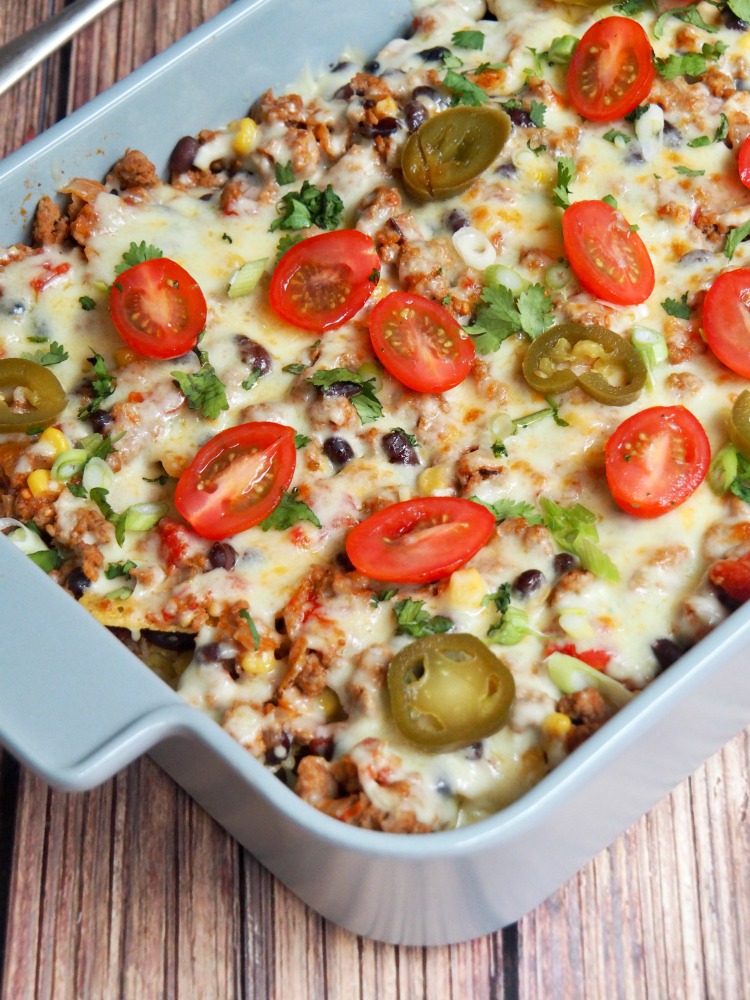 While fine tuning this recipe, I had a bit of a kitchen disaster. I'd cooked and added the garnishes and was carrying the dish outside to the balcony (my al fresco photo studio) when I tripped and dropped the dish smashing my favourite bakeware and depositing the contents of our dinner all over the balcony. I could have cried but mostly because I was hangry and it smelled so delicious.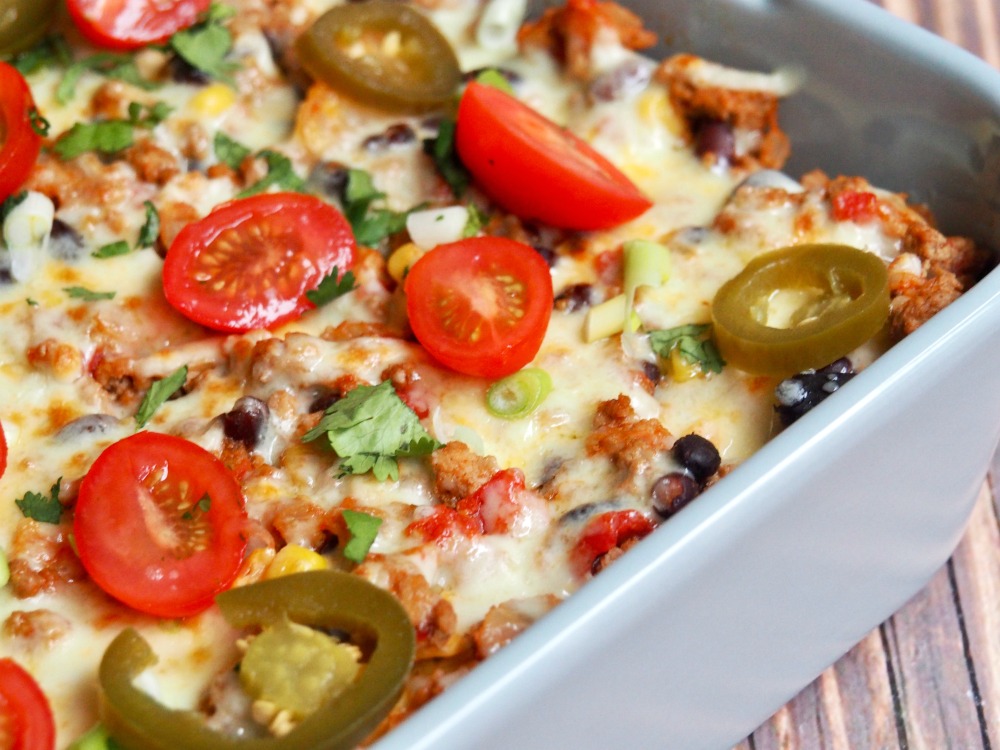 I hated wasting all that food, time and energy but on the flip side, I got to tweak the recipe one last time to achieve nacho perfection, if I do say so myself!
Using the turkey mince definitely makes this dish healthier although admittedly, this is cancelled out by the lorry load of cheese. I can't help that because I come from the school of thought that always thinks "More Cheese Please!"
If you are looking for a lighter alternative, you can skip the cheese and the grilling altogether and finish these off with some quality Greek yoghurt and your favourite garnishes instead.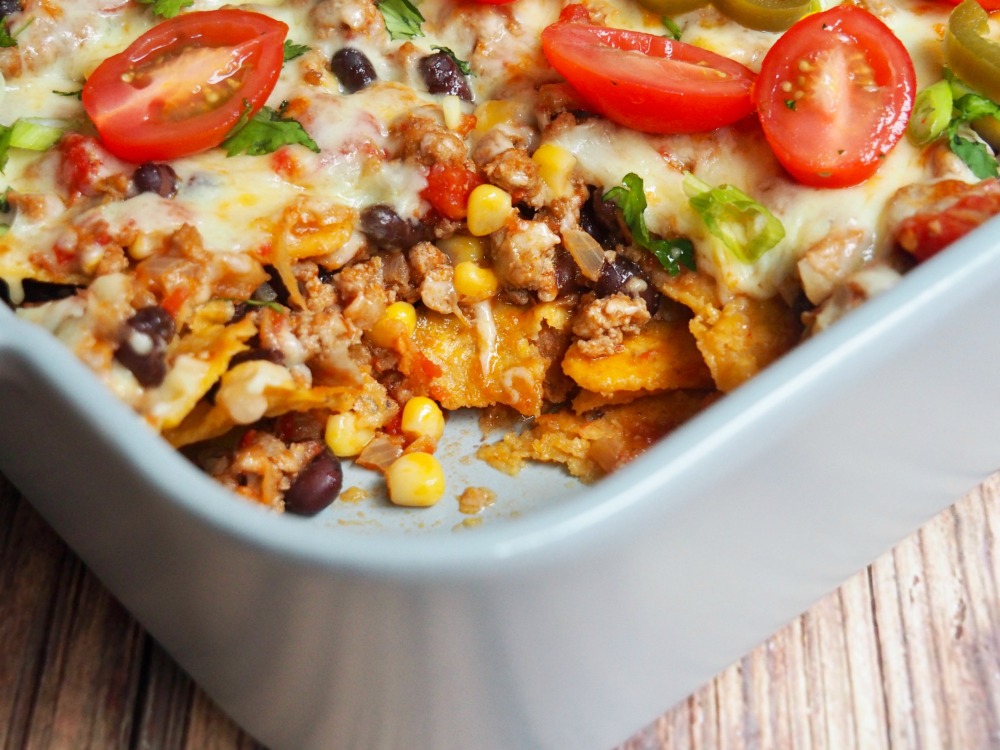 As for the garnishes, the possibilities are almost endless. I like to keep it fresh and simple with tomatoes, jalapenos, spring onions and some coriander but take your pick of the mix!
Have you ever had a kitchen disaster? Are you a hell yes or a hard no to cheese?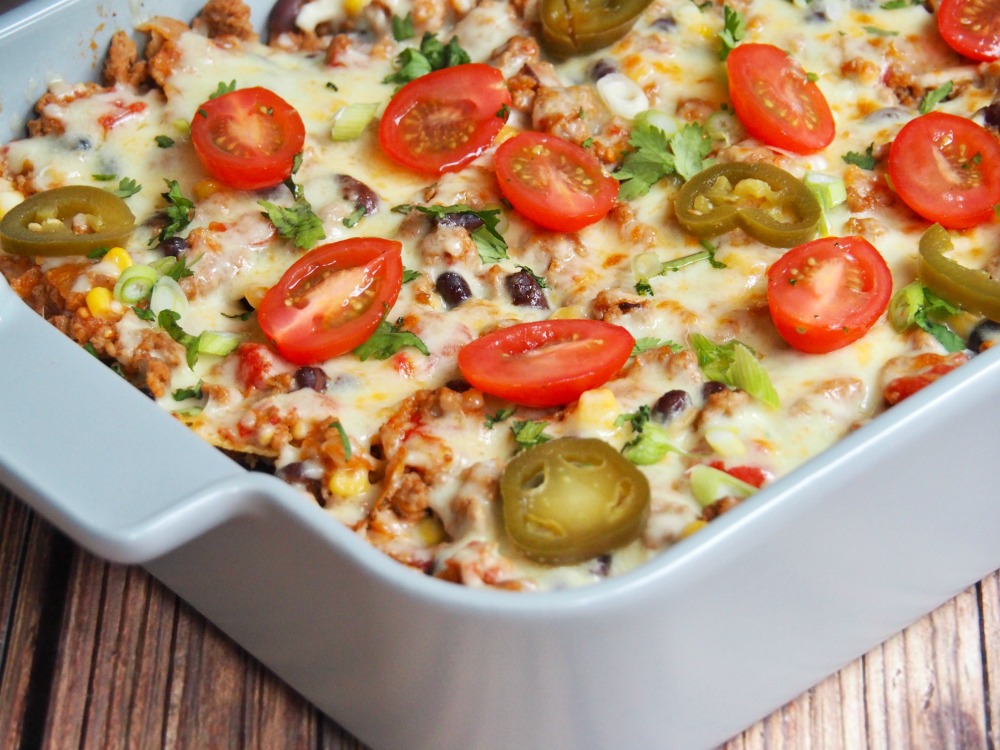 Ingredients
FOR THE CHILLI
2 onions, finely chopped
1 tablespoon olive oil
1 teaspoon ground cumin
1 teaspoon Mexican spice mix
500g pack turkey mince
2 tablespoons chipotle paste
1 tablespoon smoky barbecue sauce
1 x 400g tin chopped tomatoes
1 x 400g tin black beans, rinsed and drained
1 x 198g tin sweetcorn, drained
FOR THE NACHOS
300g tortilla chips
100g mature cheddar cheese, grated
100g mozzarella or pizza cheese, grated
TO GARNISH
10 baby tomatoes, halved
3 spring onions, finely sliced
Jalapeno
1-2 tablespoons coriander, finely chopped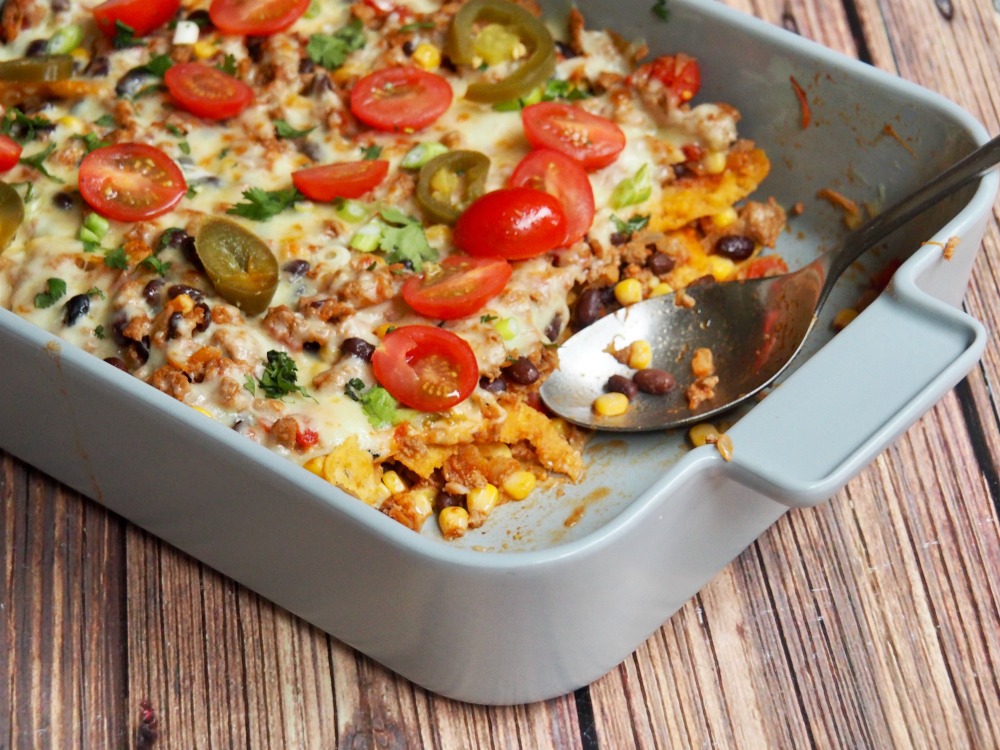 How to
Heat the oil in a high heat in a large frying pan, add the onions and cook on a medium heat for about 8 minutes or until softened.
Add the spices and stir until fragrant. Add the turkey mince and cook for 6-8 minutes until meat is browned.
Stir in the chipotle and barbecue sauce and tinned tomatoes and simmer for about 5 minutes
Add the beans and sweetcorn and allow the chilli to cook for another 5 or so minutes until the meat is cooked through, the sauce has thickened and the mixture is piping hot.
Preheat the grill.
Layer half the tortilla chips in a large ovenproof dish. Top with half of the turkey mixture and then repeat with the remaining chips and the remaining turkey mixture.
Sprinkle the cheese all over the top ensuring the tortillas are well covered otherwise they'll burn.
Place under the grill until the cheese is melting and bubbly and then scatter over toppings of your choice.