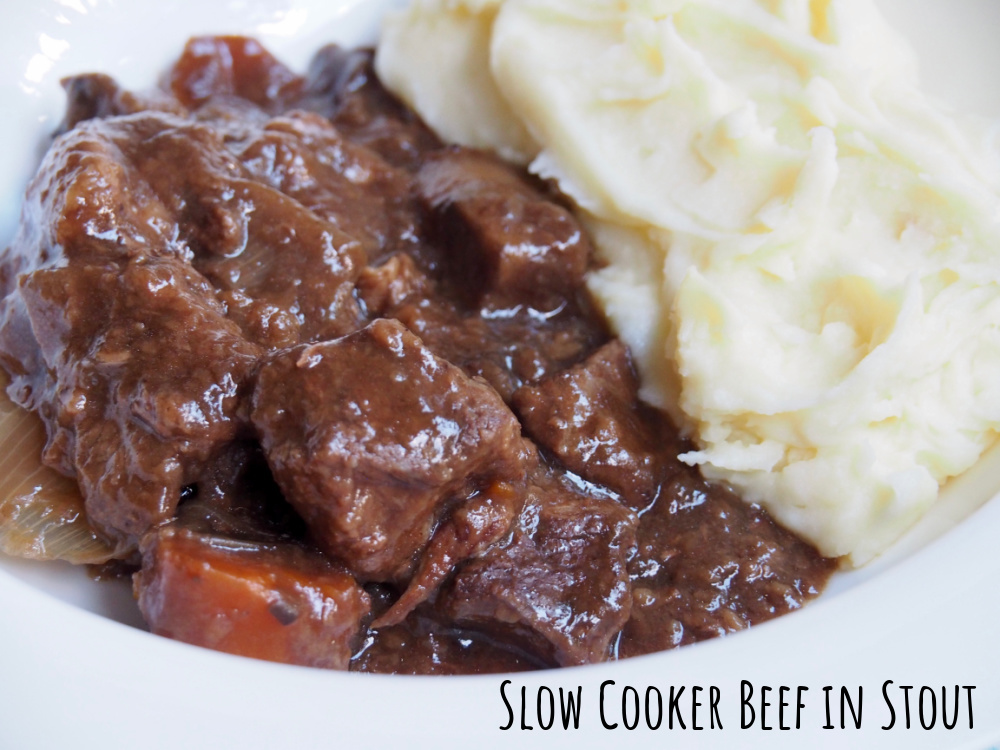 In this dish, cooking the beef in stout gives the sauce an incredible rich flavour and the meat is so tender it just falls apart.
I am super excited to share this recipe with you because it's another "sitter" as it's been sitting in my drafts folder for months! We've been so busy enjoying eating it and I was so busy globetrotting and quarantining, that I just haven't got around to a decent photo.
Truth be told, the photos still aren't that decent but it would be a crime against slow cookers not to share this recipe with you!
As soon as the weather in Sydney started to turn, I couldn't wait to get my slow cooker out and start revisiting my old slow cooker recipes and creating some new ones and this Beef in Stout is a keeper, I tell you!
I'm not going to lie, it's very similar to my Beef in Ale Stew but it's very different in that it slow cooks all day, not just for a few hours. It's absolutely plate lickingly delicious.
The thing I love about using the slow cooker is that you can pop it on in the morning and when dinnertime rolls around, everything is ready as if by magic.
Now I know some slow cooked stews can be a bit sloppy but not this Beef and Stout beauty! The gravy is rich, thick and full of flavour and eating a bowl of this is like giving your belly a hug. It's the perfect comfort food for the double whammy of winter and lockdown.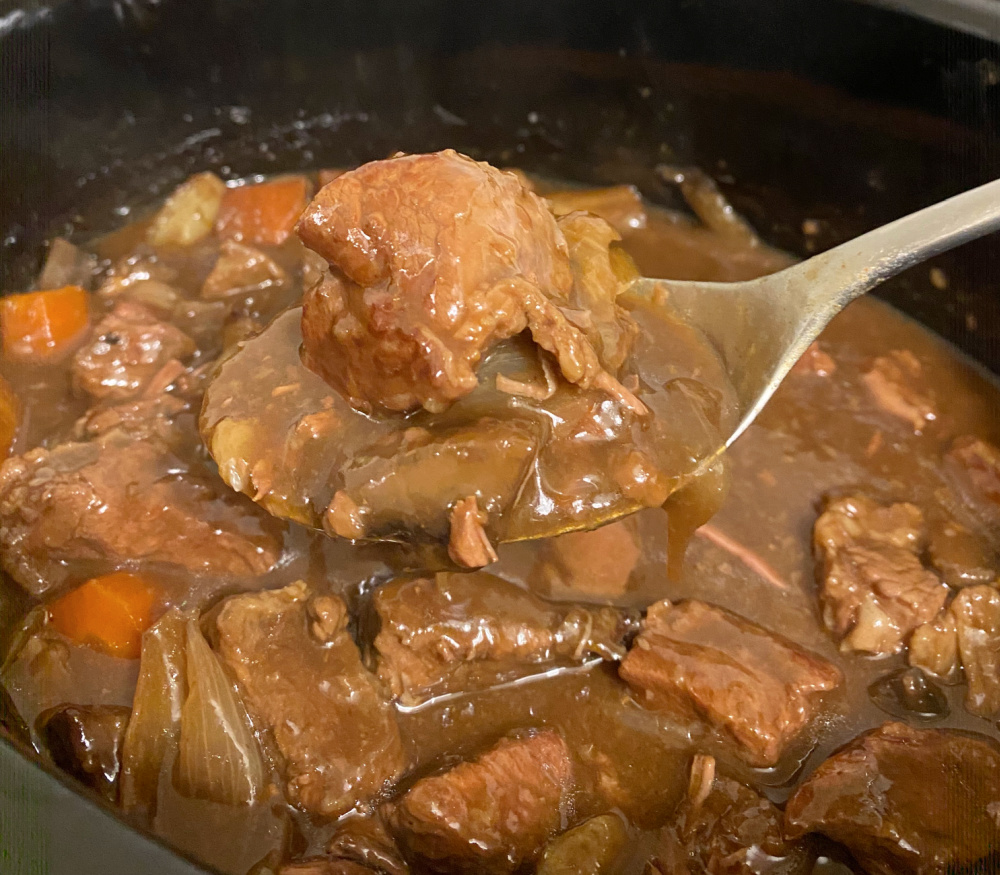 A few months back we were having friends over for dinner but Teddy Roosevelt had a big day in the city being the Ambassadog for Puppy Love Day, a charity event being held at The Museum of Love. I knew I would be busy being his chaperone and would have little or no time to slave over the stove – so slow cooker to the rescue.
I must confess, I originally used beef cheeks in this recipe but they were surprisingly hard to source and when I did source them, I nearly had to sell a body part to buy six of them. That's a slight exaggeration but let's just say chuck steak is just as delicious and less than half the price.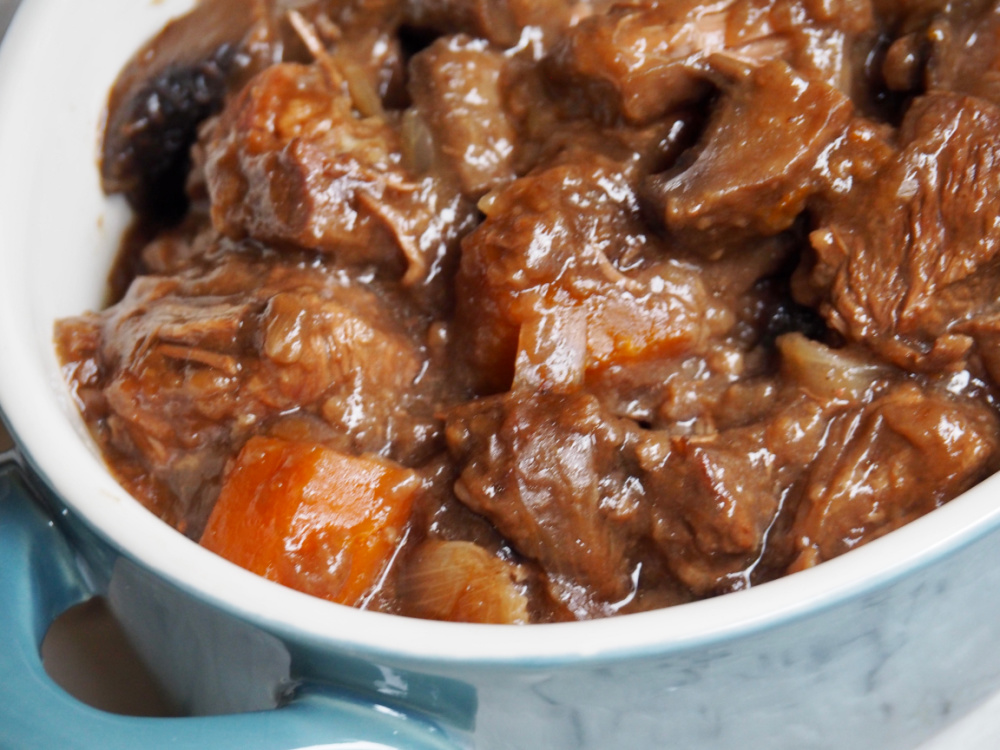 I love slow cooking with chuck steak; it's really reasonably priced, has a great balance of meat and fat and with it's full flavour and gelatinous texture, it's just perfect for slow cooked stews. I'm more than happy to add this to my every growing slow cooked beef recipe collection.
Cooking with beer is like cooking with wine, you should always buy the best that you can get/afford. Once again, Teddy Roosevelt was my sidekick/beer somelier and we settled on this Grifter Oatmeal Stout – The Omen.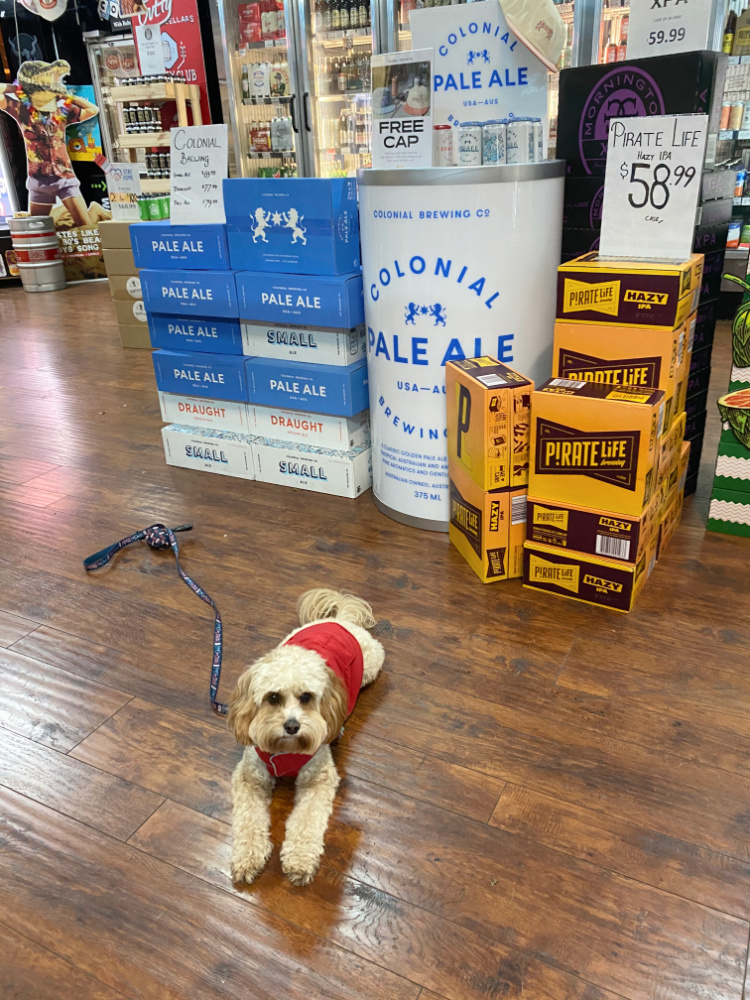 I often choose booze because of the name and this can certainly lived up to it's name, it was an omen that delicious things were afoot! Whatever stout you choose, remember the better the beer, the better the flavour!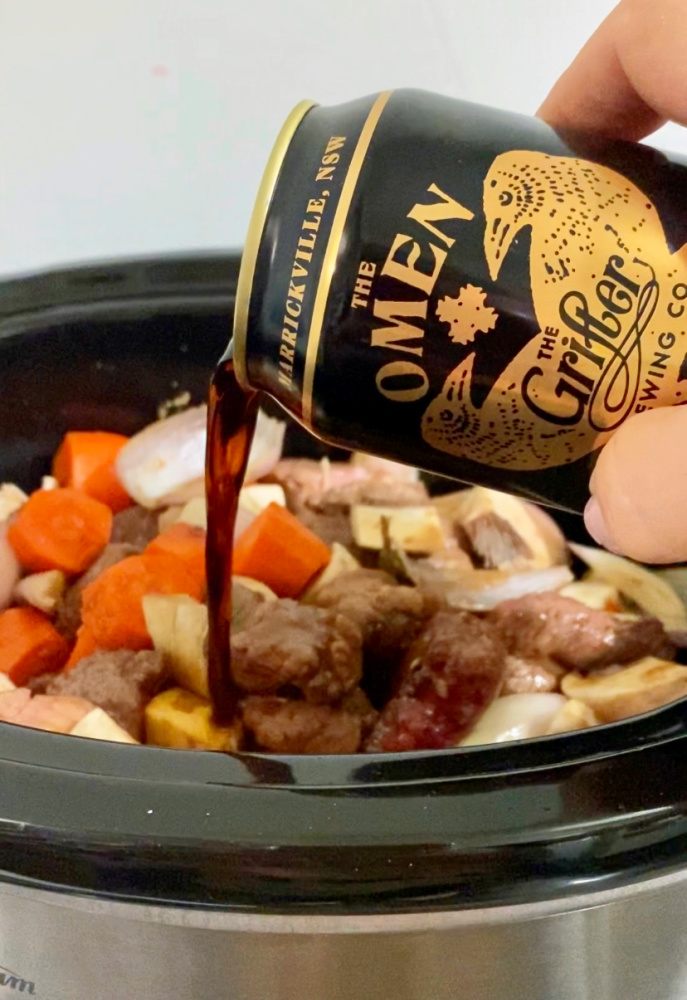 Funnily enough just as with the Beef in Ale Stew my neighbour Luce was my taste tester once again. This time she did actually lick the plate and if I hadn't taken the plate away, she might have eaten it too! Seriously, this dish is that good. It's almost impossible not to go back for seconds.
We like to serve this with creamy mash and if we have them, a side of green beans because life is after all about balance… And beer!
Do you have a favourite slow cooker recipe? What's your ultimate comfort food?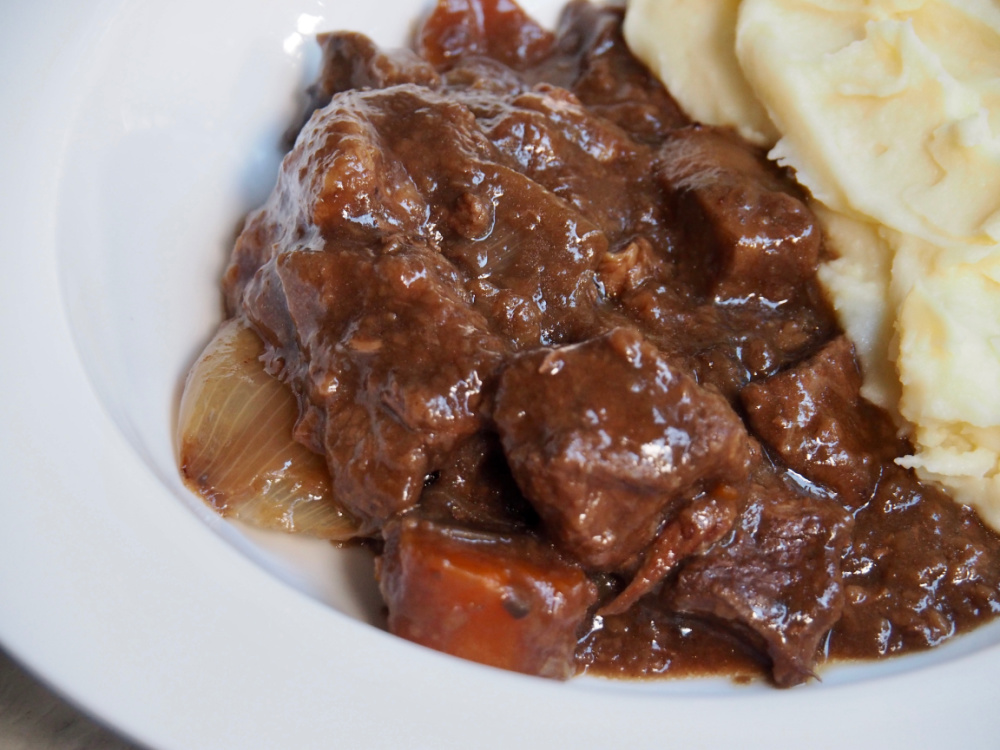 Serves 6
Ingredients
1.5kg chuck steak, cut into chunks
1/4 cup plain seasoned flour
2 tablespoons olive oil
12 shallots
3 cloves garlic, crushed
2 large carrots, roughly chopped
1 cup (250ml) beef stock
250g portabello mushrooms, roughly chopped
1 x 375ml can good quality stout
2 tablespoons brown sugar
2 sprigs fresh rosemary
1/4 cup cornflour
2 tablespoons water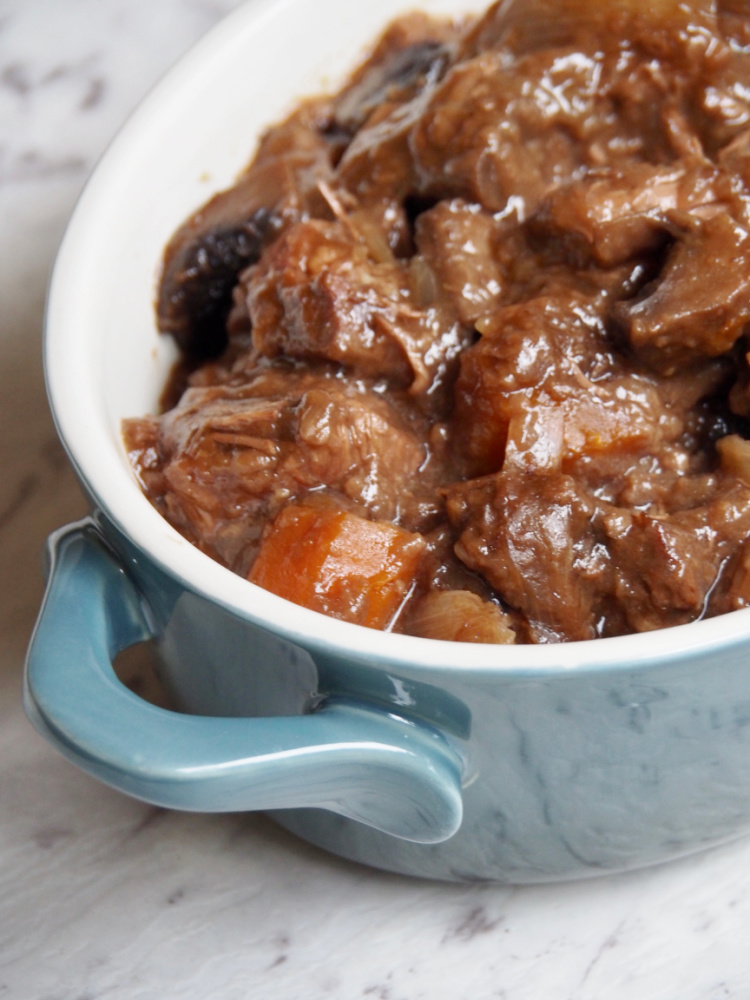 How to
Dust the meat in the seasoned flour. Shake off any excess flour.
Heat half the oil in a large frying pan and cook the beef in batches until browned all over. Transfer to slow cooker.
Meanwhile, peel shallots, trim the roots but leave the shallots whole and then halve them lengthways.
Heat the remaining oil in the same pan and cook the shallots and garlic, stirring until the shallots are browned lightly.
Add the stock and bring to the boil.
Stir the shallot mixture into the slow cooker and add the carrots, mushrooms, stout, sugar and rosemary.
Cook covered on LOW for 8 hours.
Carefully remove the beef from the slow cooker and cover to keep warm.
Blend the cornflour and water together and stir the cornflour mixture into the slow cooker. Cook, covered on HIGH for about 15 minutes or until the sauce has thickened slightly. Season to taste and return the beef to the slow cooker.
Serve the beef with the sauce with a side of creamy mash.