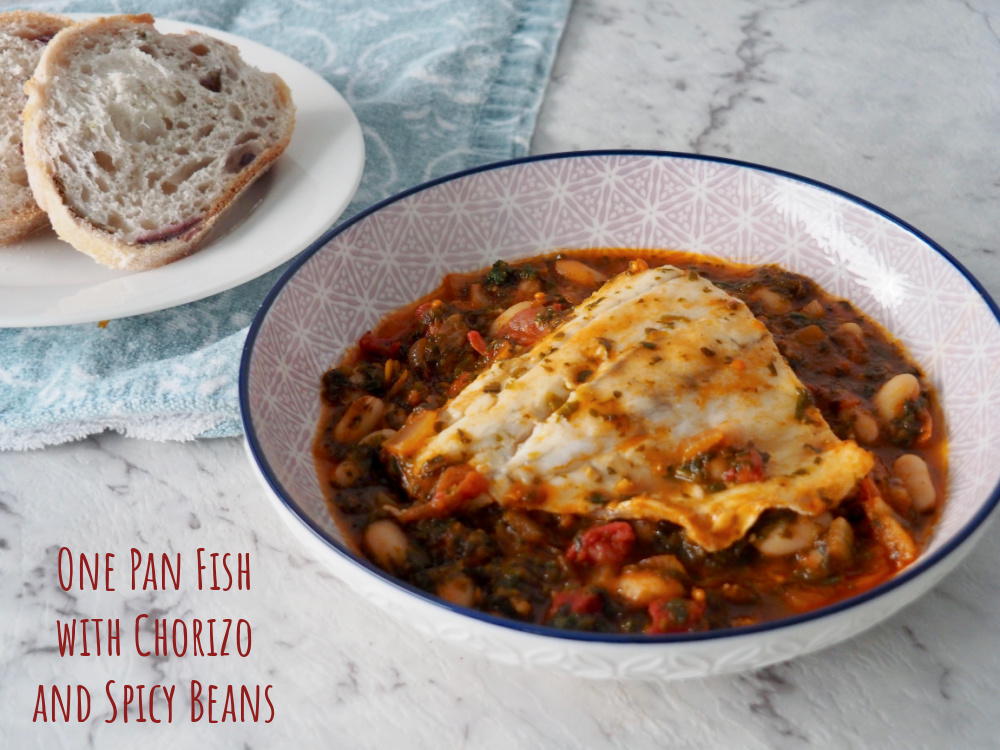 This midweek meal is quick, tasty and healthy – it truly is a one pan wonder.
While this one pan fish dish is never going to win any beauty contests, what it lacks in looks it more than makes up for in flavour. I love cooking chorizo and white fish together – talking of which have you tried my Slow Cooker Chorizo, Potato and Barramundi One Pot? It's so good, if I say so myself!
Anyway, I digress this one pot (or pan) dish is low fat, low budget and my personal favourite, low on washing up! To be honest, I haven't been really inspired to make many new dinner dishes since we moved, I've just been dishing up lots of our old favourites.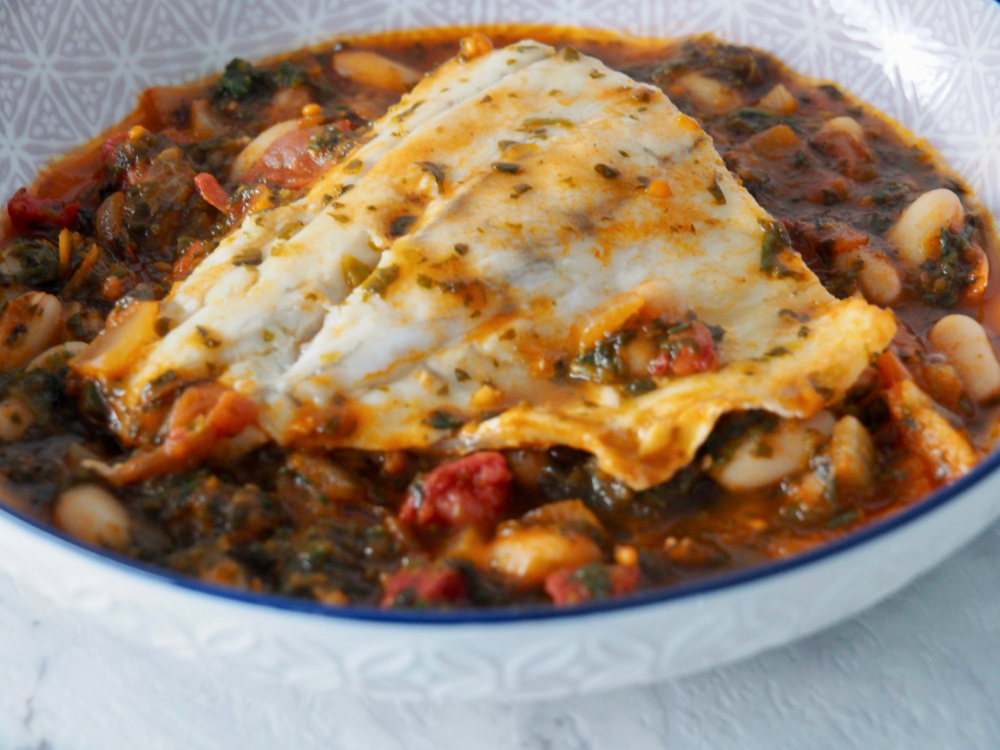 In an effort to eat a less meat and a little more healthily, I always keep a bag of barramundi or white fish fillets in the freezer. It's very economical and can be cooked and served in so many ways, even though I usually resort to our default dinner of baked fish and chips.
When my Thermomix recently went in for it's service, I really had to think out of the dinner box as so many of our regular recipes were made in my beloved machine. Missing my thermie was just the push I needed to try something new!
Enter this one pan wonder! It's so quick and easy and totally delish. I used cannellini beans because that's what I had but butter beans would work well too. I used frozen spinach because it's cheap and convenient but you can add more of your favourite veggies, I think red peppers would work particularly well.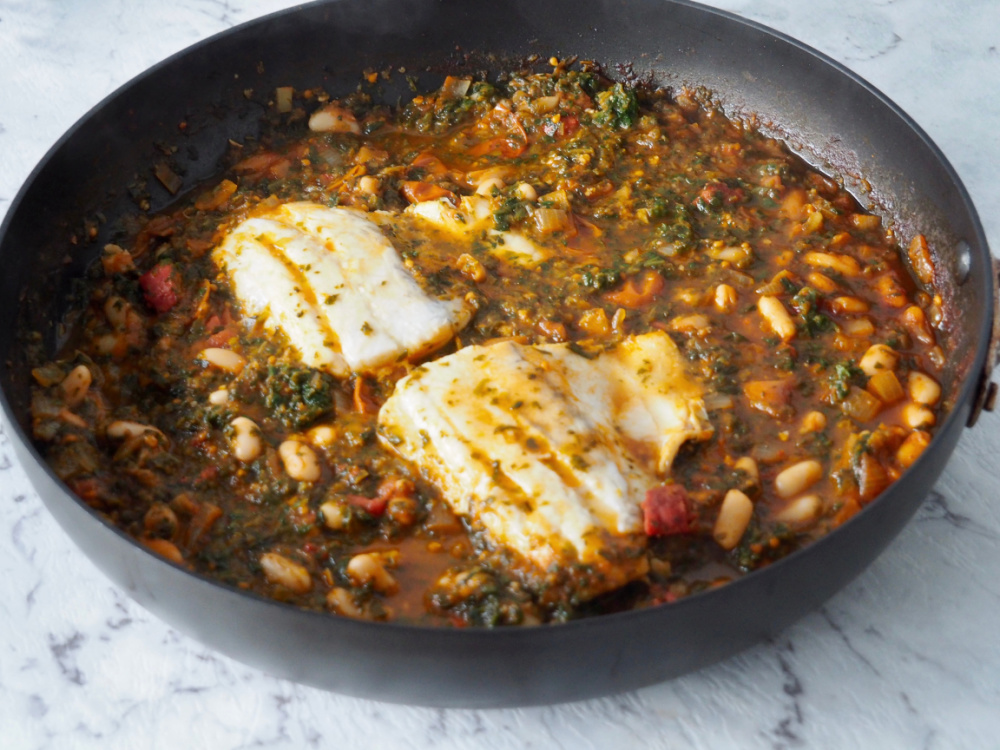 This recipe will serve 4 but as there's just the two of us, we only use two fish fillets and enjoy the left over beans the next day. If the foursome you're feeding is especially hungry or you want left to stretch your dollars, bulk this out by doubling the sauce ingredients.
We like to serve this with crusty bread to mop up all the juices. Garlic bread would also be a scrumptious side and if you're looking for a gluten-free option, serve this with some mashed or new potatoes.
This marvellous midweek meal is a real winner, winner, fishy dinner!
What are your go-to midweek meals? And tell me, what's the one kitchen appliance you couldn't live without?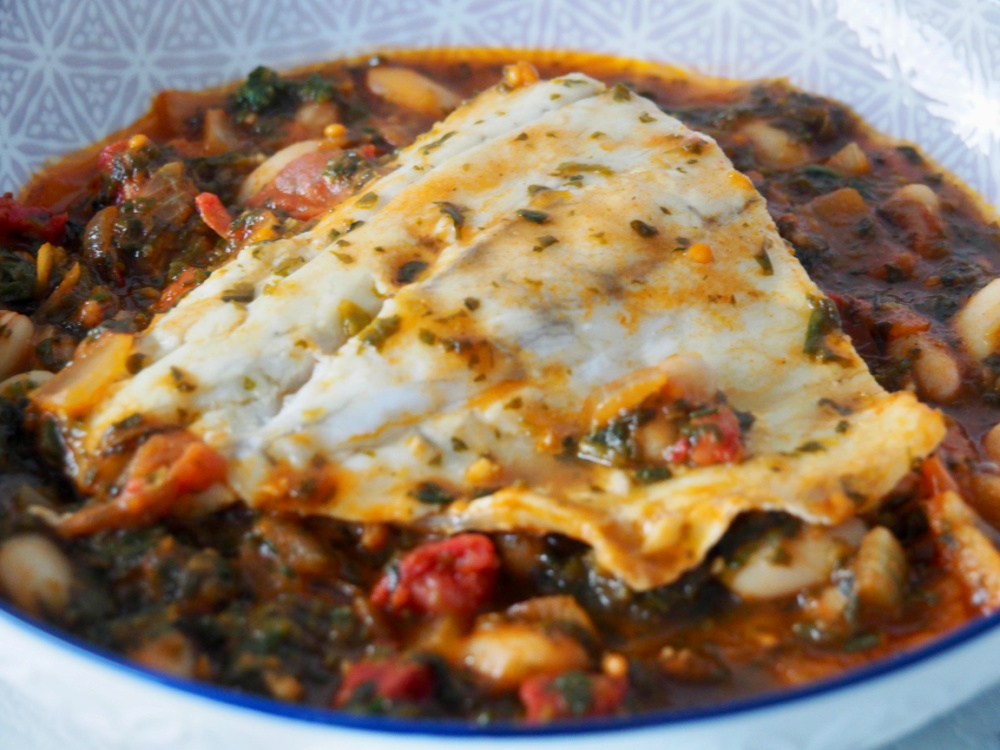 Ingredients
1 tablespoon olive oil
1 onion, finely chopped
1 teaspoon smoked paprika
pinch chilli flakes (optional)
3 fat garlic cloves, chopped
50g chorizo, chopped
1 x 400g tin chopped tomatoes
1 x 400g tin cannellini beans
pinch of sugar
200g frozen spinach
1/2 cup water
2 x 100g barramundi fillets
crusty bread to serve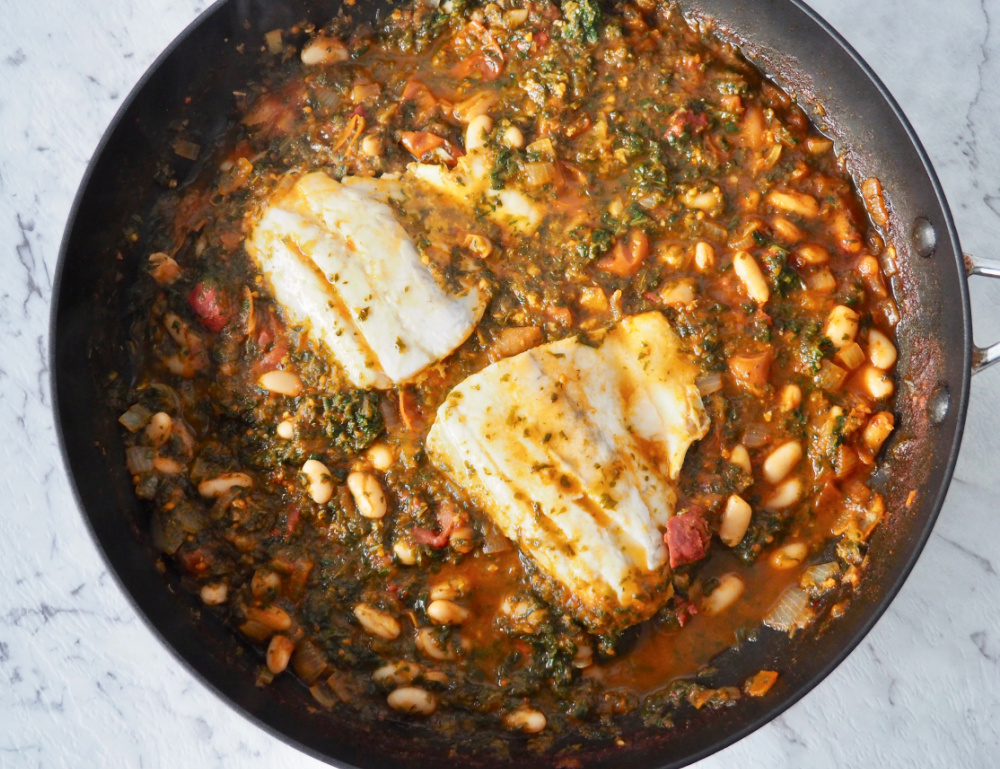 How to
Heat the oil in a large frying pan and soften the onion for about 5 minutes.
Add the paprika, chilli, garlic and chorizo and fry for about 2 minutes or until the chorizo starts to crisp up.
Add the tomatoes, beans, spinach, sugar and water and season well. Cook for 5 minutes.
Lay the fish fillets on the top, cover the pan and cook for 3-5 minutes or until the fish flakes easily.
Serve with crusty bread to mop up the juices.