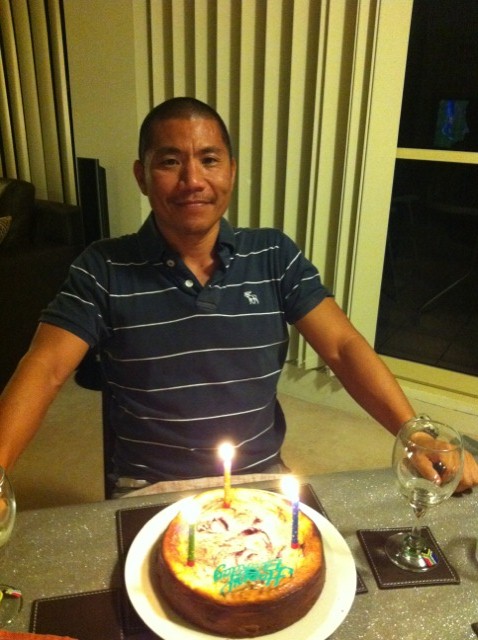 I'm making a big effort to stick to my 8 hour sleep schedule and therefore, as I went later to bed, I must be later to rise. For this reason, I give the gym a miss this morning. When I hear the rain bucketing down, I secretly congratulate myself on my good decision!
Work is fun but super busy. It seems since I've been trying to go slow and take more time to enjoy life, time just seems to be flying by even faster! I nip out at lunch and splurge on some awesome new PJ bottoms from my favourite sleepwear shop, Peter Alexander. They were just too cute to resist with little dogs all over them. Have a look here! Sometimes, I wonder if I will ever grow up!
The day whizzes by and then I rush home to prepare the repast for Simon and Takashi. I think of Simon as my big brother from another mother, and Takashi is his fantastic flatmate. I love them both dearly. Takashi makes the  most delicious food and David and I always get outrageously excited whenever we get invited over for dinner. It's hard to hook up with all of our busy schedules, in fact, the last time we had dinner chez Simon and Takashi was just after my biopsy. So much time has passed and so much has happened since then! I always feel a bit of pressure when feeding the boys, because Takashi's food is always so amazingly good, that I always struggle to measure up. I've tried to keep the menu simple tonight for minimum mess and minimum stress!
On the way home, I try out a new fishmonger in North Sydney. It's a bit more pricey than the supermarket but the fish looks fab. I even have time to pop into my favourite sports outfitters Lorna Jane to say hi to Tracey!
Tonight's menu is fast, simple and pretty healthy (apart from dessert!) I get started on the paste for the Bengali Fish Parcels  so I can just throw that in the oven after our starter. Then I mix the leftover yoghurt and some spices together, to create what must be the world's easiest Raita, which will be a great side for the fish and a delicious dip for the Cheesy Quinoa Bites.
I even have time to have a shower, change and chill out with a nice glass of wine! Finally the guest arrive! We start with the Cheesy Quinoa Bites for appetisers. This is a bit of a taste adventure as both Simon and Takashi are quinoa virgins! I love the Tropical Prawn Cocktail starter because it's so easy to throw together meaning I get more time with my guests. The sauce is delicious and we revel in being so retro! We drink some of the amazing wines that we bought back from our big, fat  wine tour in Mudgee for my 40th birthday. They go down very, very nicely! The Bengali Fish Parcels work beautifully and we polish off all the left over sauce. It's super spicy but very delicious.
It's Takashi's birthday on Tuesday so I stuff a few candles in the Baked Cherry Ricotta Cheesecake and we have a bit of a birthday sing song before tucking into a slice of cheesecake heaven with some cherry puree on the side. After all that eating and drinking, we're so stuffed that we have to stretch out on the sofa.
I'm stoked with supper, it's not nearly Takashi standard but if I say so myself  it's pretty damn good! I love it because it's healthy, simple, delicious and really easy to prepare. I even managed not to make a mess! The kitchen is restored to it's former splendour and glory in minutes! This is nothing short of miraculous. Despite years of working in McDonalds as a student, and being indoctrinated with their "Clean As You Go," policy, I am still probably the world's messiest cook. And that's a fact!
Soon it's time for the boys to head off – it's Mardi Gras this weekend and they've got a whole heap of partying to be getting on with! It's been an excellent evening with fab friends, fresh food and some mighty fine wine. Best of all, next time we see each other, it will be Takashi's turn to cook! Now that is something to look forward to!