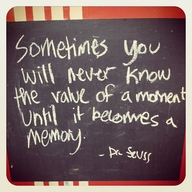 Hooray for the weekend. It may be winter in Sydney but we're enjoying some serious sunshine. I leap out of bed with a hop, skip and a jump and I get out there to pound the pavement. After all, I have a half marathon to train for! I'm not breaking any records today, but I am having the time of my life! Nothing clears my head, fills me with energy and makes me happier than a  run!
My blast around the block sets me up nicely for the day. We make the most of the sunshine and go out for coffee and grab the groceries, then come home to potter and prepare for Christmas in July! Adam, Leda and Baby Chloe are coming for dinner tonight and we're having a faux Christmas! I'm proper excited! There's so much to celebrate, both mine and David's birthday last week,  Adam's birthday next week, and best of all, Chloe's first Christmas (albeit in July!)
I get my wiggle on in the kitchen in the afternoon. I'm mindful  of the fact that I need to go slow this weekend but, apart from running, nothing makes me happier than making a mess in the kitchen! Luckily, I made Sandra's Champion Chicken Soup  last night, (it always tastes better the morning after the night before!) and the Plum and Orange Baked Cheesecake is already sitting pretty in the fridge so… there isn't too much to do.
Leda is vegetarian and therefore, not a big fan of chicken soup, so I get busy with the Thermie and try out the Thermomix Cauliflower and Leek Soup. This is  from the vast Thermomix Recipe Community, and it's simple, healthy and delicious. I think there are enough recipes in the community to keep me busy with my Thermie to infinity… and beyond!
For mains, David is making Simple Chicken Pies  for the carnivores and  Pea and Cream Cheese Pie for the lovely Leda. On the side, we're making more of that restaurant quality mashed potato (thank you Thermie,) Mustardy Baked Onions  and some steamed veggies. I'm pretty excited because all the herbs for the repast have come straight from the balcony into the baking dish! As if all that wasn't enough, I even milled my own caster sugar for the Plum and Orange Baked Cheesecake in the Thermomix.
Christmas in July is really rather fun. We've got the tree, the tunes and some fantastic company. Princess Chloe is bedazzled by the Christmas tree and all the festive excitement clearly takes it's toll, as she promptly passes out when the soup is served, and sleeps like a beauty, conveniently waking up in time to watch Daddy blow out the candles on his (cheese) cake. We're so full, I forget to bring out the Chocolate Pecan Slice for Petit Fours! Oooopsie!
Adam and Leda have taken the Christmas theme a bit too far, and come bearing gifts! A whole box of herbs! I couldn't have wished for anything better! These little lovelies will be a welcome addition to my herb garden! Happy, herbal Christmas everyone!
P-inspiration Reference: Dr Seuss