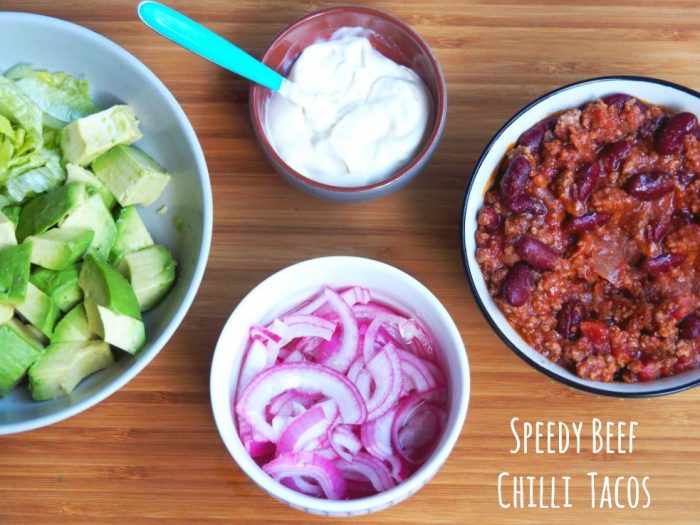 Serves 4 (easily doubled)
I'm always looking for new ways to try with bolognese (have you seen these Bolognese Stuffed Capsicums and these Pancakes Bolognese) but these speedy beef tacos are one of my favourites! This meal is quick, easy and full of fresh stuff. It's budget friendly too, because by bulking the beef out with beans, a little meat can go a long way.
I am a creature of habit and would happily eat the same thing every day. When I lived in London and I was a poor, newly qualified teacher I reckon I ate tuna and pasta for 95% of the year! David however is a different beast entirely. He really doesn't care to eat the same meal on consecutive days which means I  have to get creative with the meal plan. The best thing about this dish is that I can use left over bolognese but create something with a completely different style and flavour.
You can make this meal in minutes (well, about 20, to be precise!) In this recipe,  we simply upcycle our old Italian favourite and turn it into a Mexican fiesta! I usually batch cook the bolognese in bulk and then freeze it in portions  which saves time, energy and the stress of worrying about what to cook for dinner. If I make a full batch of bolognese, I only need to use half to make this Mexican inspired meal.
This is a very hands on, or should I say hands in recipe because I put everything in the middle of the table and everyone can help themselves to a little bit (or a lot of) what they fancy! I've included my current favourite bolognese recipe, but feel free to make it your way and then just add the Mexican magic at the end! We like to serve this chilli with warm tortillas, avo and salad but it would also go great with rice and/or this Mexican Tomato Salad. Whatever you do, don't  miss out the pickled onions, because they are uber-yum! Ole!
Do you like to eat something different every night? Have you got any new ways with bolognese?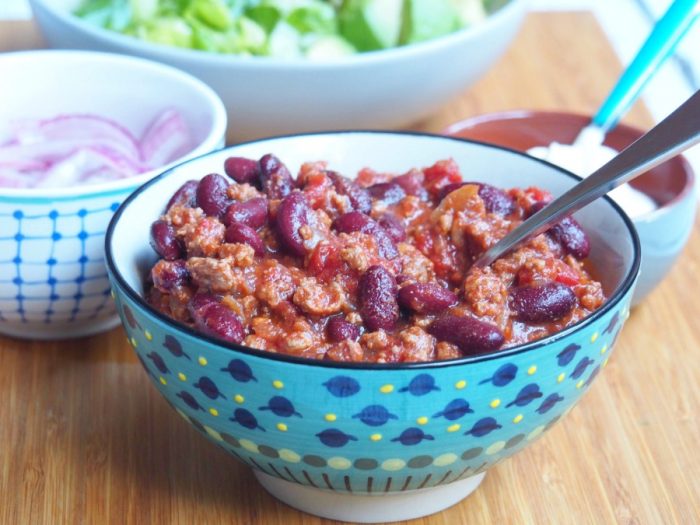 Ingredients
FOR THE BOLOGNESE
1 tablespoon olive oil
1 large brown onion (200g) chopped finely
2 garlic cloves, crushed
500g minced beef
2 x 400g tins chopped tomatoes
3 tablespoons tomato paste
2 tablespoons balsamic vinegar
1 beef stock cube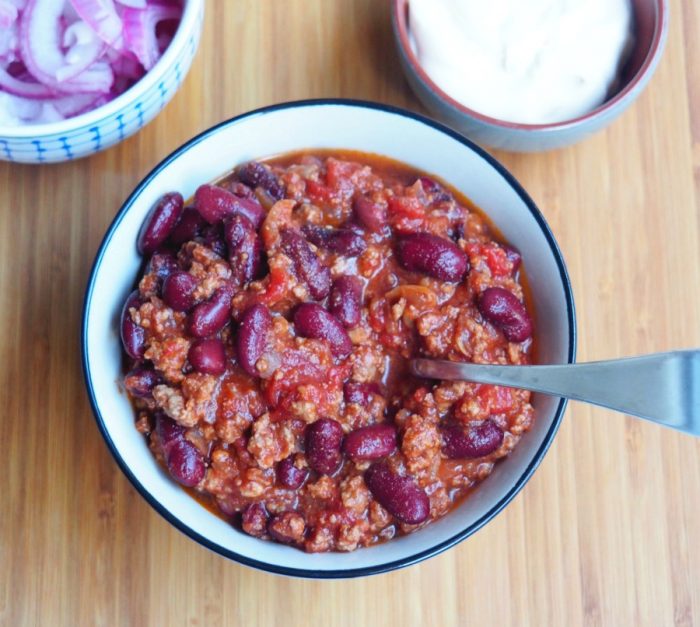 FOR THE TACOS
1 red onion, thinly sliced
1/2 teaspoon sugar
100ml cider vinegar
400g kidney beans, drained
1-2 teaspoons chilli sauce (or to taste)
1/2 portion leftover Bolognese (see above)
8 tortillas
Iceberg or cos lettuce, shredded (or a bag of chopped salad)
1 avocado, stoned, peeled and cut into chunks
Sour cream, to serve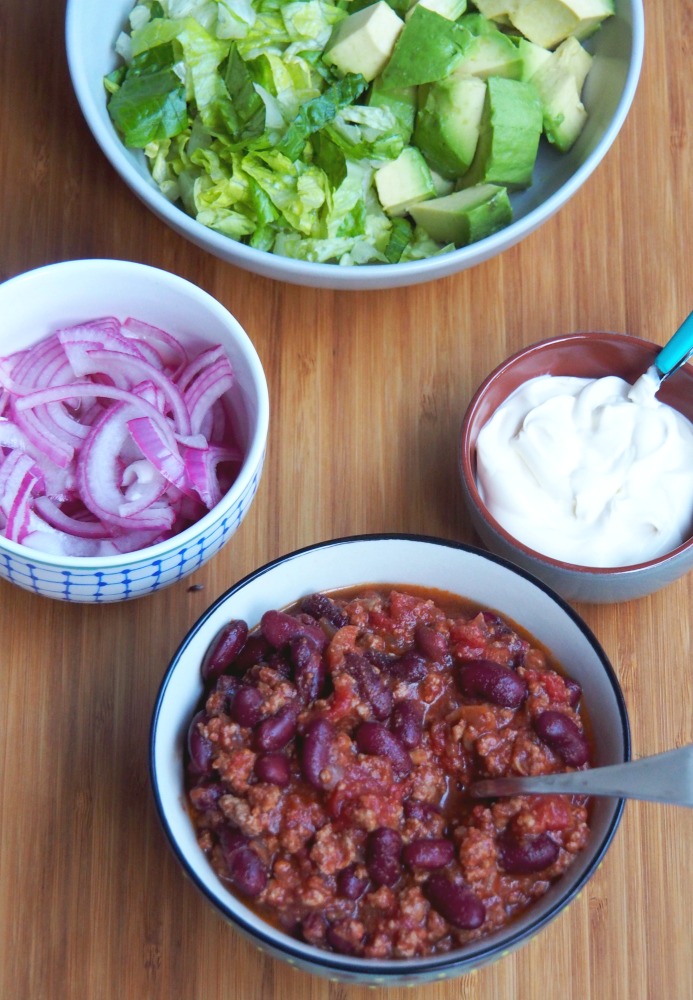 How to – Bolognese
Heat the oil in a large saucepan and cook the onion and garlic, stirring, until it starts to soften.  Add mince; cook, stirring, until browned.
Add undrained tomatoes, paste, vinegar and stock cubes, and bring to the boil. Turn the heat down and simmer, covered, stirring occasionally, for about 20 minutes. Then remove the lid and simmer uncovered, for a further 10 minutes or until most of the liquid has evaporated.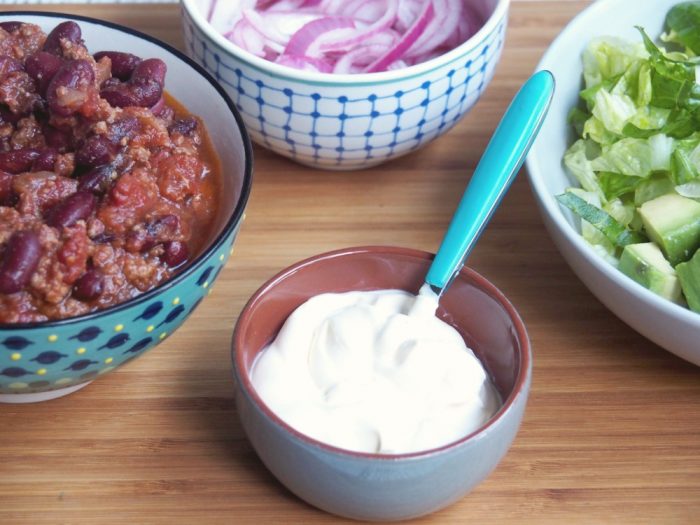 How to – Mexican Beef
Start by pickling the onion. Put it in a bowl, sprinkle with the sugar and 1/2 teaspoon of salt. Leave it for ten minutes and then stir in the vinegar and leave it to pickle for another 10 minutes.
Meanwhile, stir the beans and chilli sauce into the Bolognese and heat for 10-15 minutes until it's piping hot. You can add a little water if the mixture is too thick.
Heat the tortillas. Serve them topped with spoonfuls of Bolognese, some pickled onions, lettuce, avo and of course, a dollop of sour cream! Nom!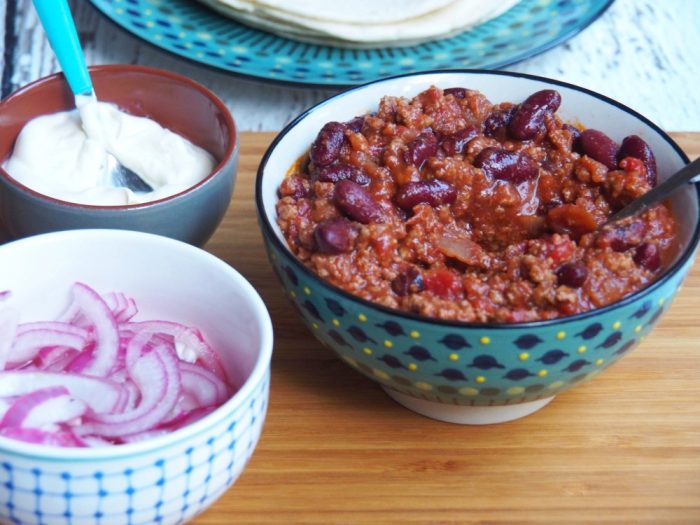 Other info
Prep  time:  10 minutes
Cooking time:  20 minutes