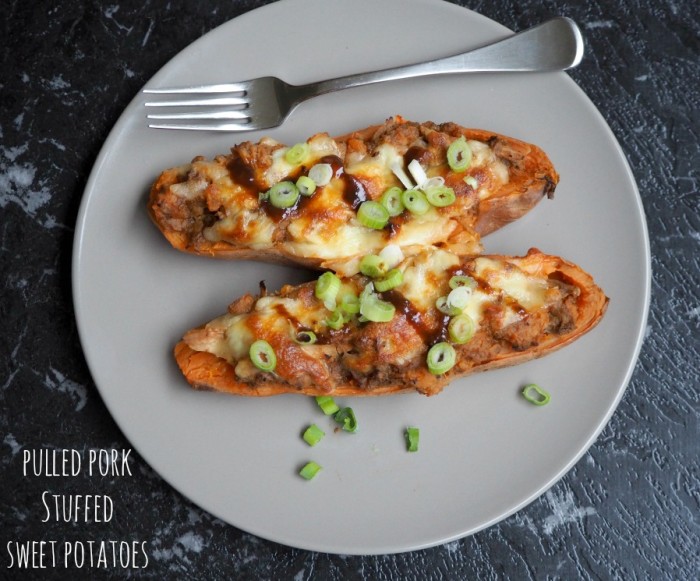 Serves 2 (easily halved or doubled)
Take left over pulled pork and make a colourful and delicious dish with these Stuffed Sweet Potatoes.
So, if you're a regular around here, you know I'm a huge fan of pulled pork, right? The only thing is that when you cook a 2 kilo shoulder of pork, and you're only 2 people, that pulled pork is going to be the meal that keep on giving.
Although David's tastebuds have evolved considerably in the ten year's we've been together, one thing he still doesn't "care for" is the same meal on consecutive nights. Plus, I'm always thinking of new recipes to post on the blog, so in this house, when it comes to dinners that are served, variety is the spice of life.
After we've pulled our pork, we eat some now and we freeze some for later in one person sized portions. I'm always thinking up new ways to upcycle the pork we put on our fork, first there was the Asian Pork Noodle Salad, and now that the weather is cooling down down under, we're going for these stuffed sweet potatoes, the winter warming option.
I'm a lifelong lover or baked potatoes or "potatoes in their jackets" as my mum used to call them and these sweet potatoes are just a more colourful and low GI option. Sweet potatoes also have more fibre and less carbs than regular spuds, so it's a win, win! I topped mine with cheese, but feel free to pass if you want a dairy free option, and let your imagine run wild with the toppings!
Ingredients
2 large sweet potato, scrubbed
200g cooked pulled pork
1 green apple, peeled, cored and finely chopped
2 tablespoons barbecue sauce, plus extra for drizzling
60g pizza cheese
2 spring onions, sliced thinly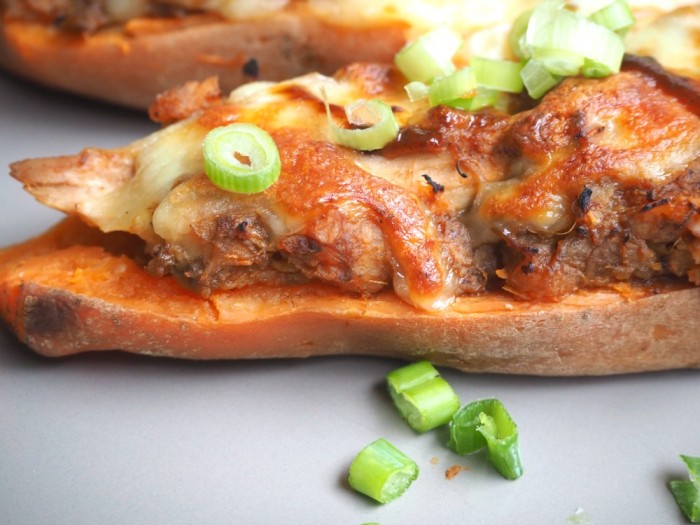 How to
Heat oven to 200C/180C fan-forced.
Pierce sweet potatoes with a fork and bake for about 45 minutes, turning half way through cooking.
Allow the potatoes to cool so that they are cool enough to handle. Cut lengthways and scoop out the flesh leaving about a 1/2 cm thick skin.
In a bowl, mix the potato flesh, pulled pork, barbecue sauce and chopped apple until combined.
Gently place the filling in to the potato skins and place stuffed potatoes in a baking dish or on a baking sheet. Sprinkle with cheese.
Bake for 10 minutes until cooked through and cheese has melted.
Drizzle with barbecue sauce, if desired and scatter over spring onions.
Other info
Prep time: 10 minutes Cooking time: 55 minutes