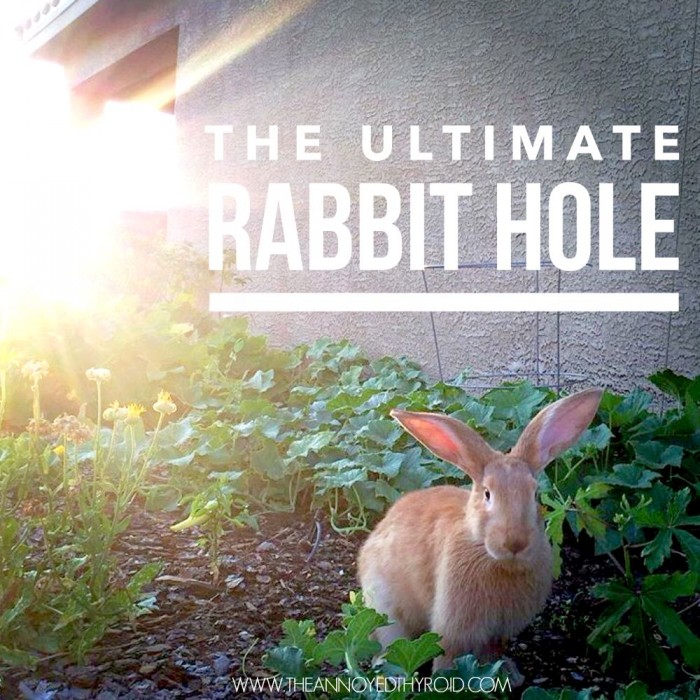 Welcome to the rabbit hole, edition 101. That has a really rather nice ring to it, don't you think? It was so sad to say goodbye to Karin last week, but I'm so happy today to say hello to Shari and Jess. It's an exciting time down this here rabbit hole!
If you need more reasons to celebrate, today is National Granola Bar day! I have my eye on these Carrot Cake Muesli Bars,  these Dark Chocolate Cherry Almond Granola Bars and these No Bake Peanut Butter Granola Bars. (Let's face it, everything is better with peanut butter. )While we're on the subject of granola bars, I can't resist adding my Thermomix No Bake Granola Bars into the mix. Yum!
So one of the things on my new list of 101 things to do in 1001 days is to meditate. I have never had much success because I have a busy and adventurous mind. My brain is always full and very fond of going off in different directions so I think these five tips to get the most out of meditation are going to come in very handy indeed!
Still on the subject of keeping things simple, I love these 13 ways to simplify your everyday.
If you've set a goal for 2017, you want it to be an awesome one, right? Here's how to set a freaking awesome goal. Still on the subject of goals, here's how you can help others smash theirs, 10 ways you can support a blogger this year. 
This year I want to save rather than spend so I'm going to be all over these 29 of the best tips to save money.
Making lamingtons was one of the things I didn't get around to doing on my last list of 101 things to do in 1001 days. Operation Lamington is totally going to feature on version 2 of 101 things and with Australia Day fast approaching,  I'm hoping to get my lamington on forthwith. In the meantime, think outside of the Lamington box with these Gluten Free Lamingtons (because everyone should have their lamington and eat it!), this  Caramel Lamington Map of  Australia, these Raw and Healthy Lamington Truffles, these Fresh Cherry and Coconut Lamingtons e and let's not forget the epic Lamington Layer Cake  which incidentally also features in my recipe round up of 10  recipes for a delicious Australia Day.
And because a rabbit hole adventure isn't a rabbit hole adventure without some poochy pieces, check out these 20 utterly adorable dogs that have no idea how big they are! I think of myself more of as a small dog person, but gee, these canines are cute!
We've got nothing grand planned this weekend but trying not to melt is high on the agenda. What are you up to? Have you got on the meditation train yet? Have you set a goal for the year? How do you like your dogs? Big or small, or do you love them all?! What's the weather like where you are? Tell me all the things!
Every Saturday morning, we will open up the rabbit hole link up for bloggers to add their link list posts or even just their favourite post (if you are not of the link list kind) for the week. Please link only one post. This makes it fair for everyone and allows more posts to be read. Talking of reading, do try and pop along to say howdee to some of  the other lovely linkers. This week, you can link up here,  bob on over and say welcome back to Paula at  The Geeky Shopaholic and/or give a warm welcome to Shari at Good Food Week and Jess at Confident Life. When you add your link it will appear on all four blogs, as if by magic!  The link up will stay open until midnight the following Monday.
Loading InLinkz ...