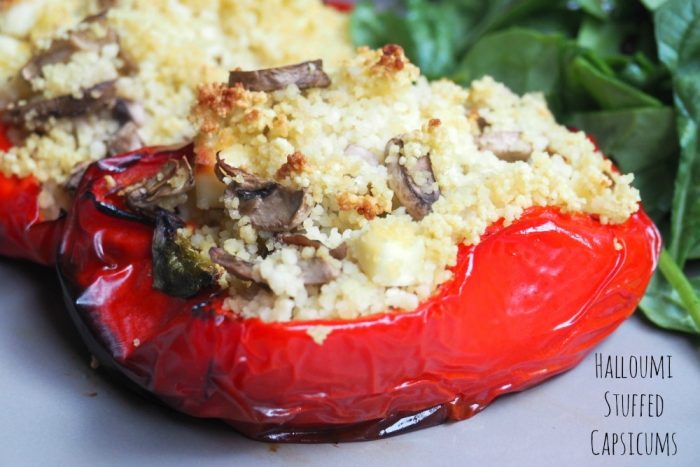 Serves 2 (easily doubled)
Every Christmas we watch a belly load of documentaries about the food we eat and as a result always start the year eating super inspired. This year, my big thing is for 2017 is to try something new (and when I say new, I mean kind of healthy) for 30 days and one of the things I want to try is being vegetarian for one month. Now I'm not vegetarian this month, but I have spent my time developing some new recipes so that when I morph into the 30 day vegetarian, I'll have a whole host of new recipes in my repertoire.
Now it's no secret that I love stuffing capsicums. Looking through the archives, I found the Bolognese Stuffed Capsicums, the Rice and Bean Stuffed Capsicums, and the Lentil and Veggie Stuffed Capsicums – looking through that lot, you'd think I'd made stuffing peppers my life's work!
Anyhoo, I think these capsicums top the lot because… Halloumi! I just can't get enough of that cheesy deliciousness. Actually, this recipe is super adaptable, because you can swap out the halloumi for whatever cheese you have to hand. I think feta would be fabulous, especially when mixed with a bit of cheddar, because doesn't everyone love a cheese medley?! If you don't have mushrooms, use whatever veggies you've got left in the fridge. Next time I want to try zucchini… But that's a dish for another day.
With all the textures and flavours popping in those peppers, this really is a treat to eat. I serve these up with a spinach and rocket combo for a delicious dinner, but they'd make a lovely light lunch or a stunning starter too.
What are you waiting for, let's get stuffing!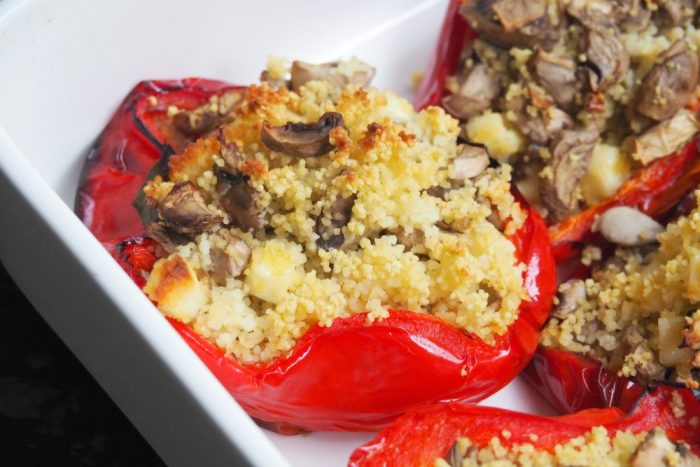 Ingredients
1 tablespoon olive oil, plus a little extra
2 large red capsicums
200g mushrooms, finely chopped
1 garlic clove, finely chopped (optional)
50g couscous
100ml hot vegetable stock
125g halloumi, chopped into small cubes
How to
Preheat oven to 200C / 180C fan-forced.
Halve the capsicums and scoop out the seeds and white membrane. Place the capsicums cut side up in a baking dish lined with baking paper. Drizzle over a tablespoon of olive oil, season and bake for about 20-25 minutes, until just tender.
Meanwhile, heat a little olive oil in pan and fry the chopped mushrooms and garlic, if using,  for a couple of minutes until softened. Set aside.
Tip the couscous into a bowl and pour over the hot stock. Cover and leave for 5 minutes to soak, then use a fork to fluff it up and then stir through the mushrooms and halloumi.
Season the couscous mixture and fill the capsicum halves.
Pop the stuffed capsicums into the oven and cook for a further 15 minutes until the cheese is golden. Serve warm with some green salad leaves.
Other info
Prep  time:  10 minutes   Cooking time:  40 minutes