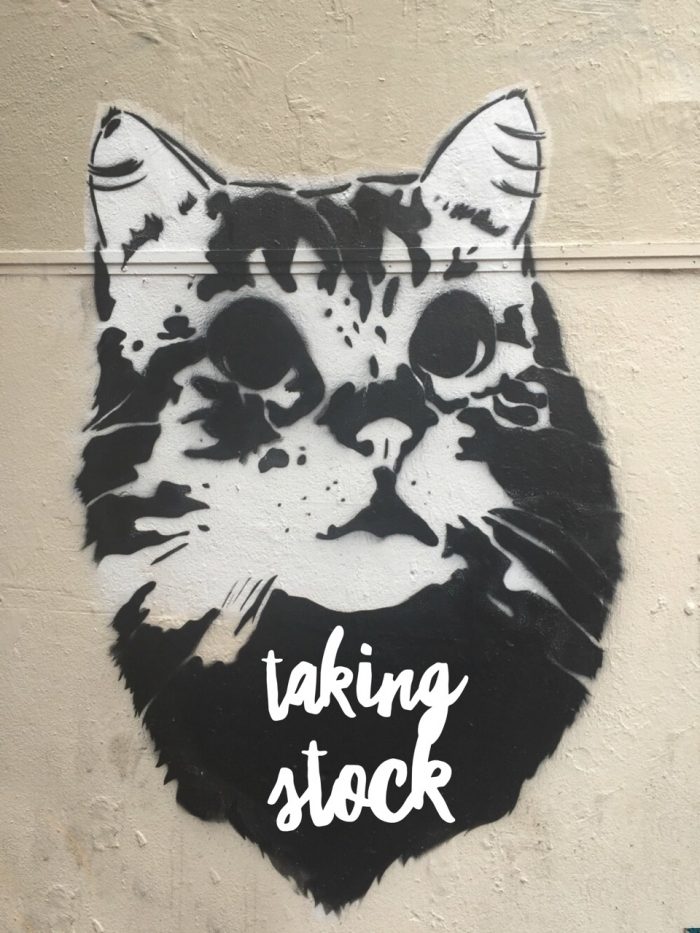 Oh my goodness, February flew by fast. It's been an action packed month, but before we march into March, let's take stock,  just like Pip did. Here's what went down…
Baking: All things peachy. Peaches are so "in" right now. We've fallen in love with this Lemony Peach Cake all over again!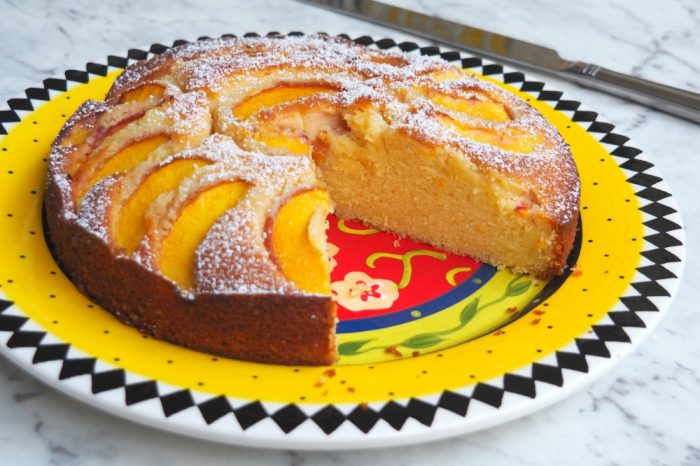 Snacking: On banana and peanut butter. It's my new old favourite thing! I cut the banana in half length ways, spread some peanut butter on it and then sandwich it together. So much yum!
Loving: Our new Yumbox. It's the little things that make me happy!
Making: Lunch boxes like a boss. The Yumbox makes it so easy!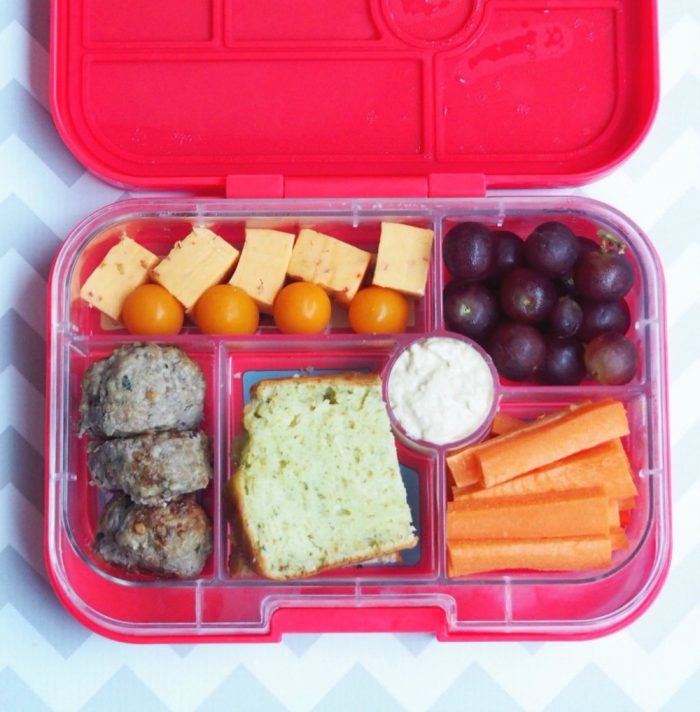 Coveting: More yumboxes. I would love to try the Tapas next.
Reading: I was reading Notes From a Small Island  by Bill Bryson but I had to return it to the library half way through. Devastated! Have started the The Marble Collector by Celia Ahern. I like it but not as much as I love Bill!
Remembering: Our wedding, this month, ten years ago. Double digits!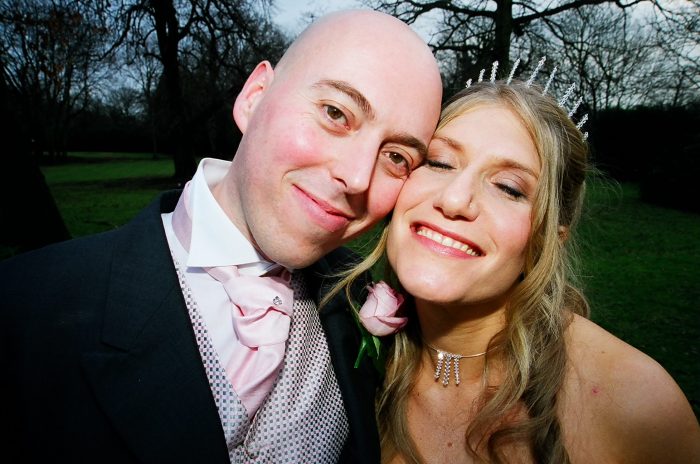 Finishing: The Minimalism Game. It's been a bit tricky at the pointy end. Let's just say I'm pleased February has only 28 days!
Drinking: Iced fruit tea. It's my new healthy alternative to wine and I can drink it anytime and anywhere now I have this gorgeous tea flask from A Box Of.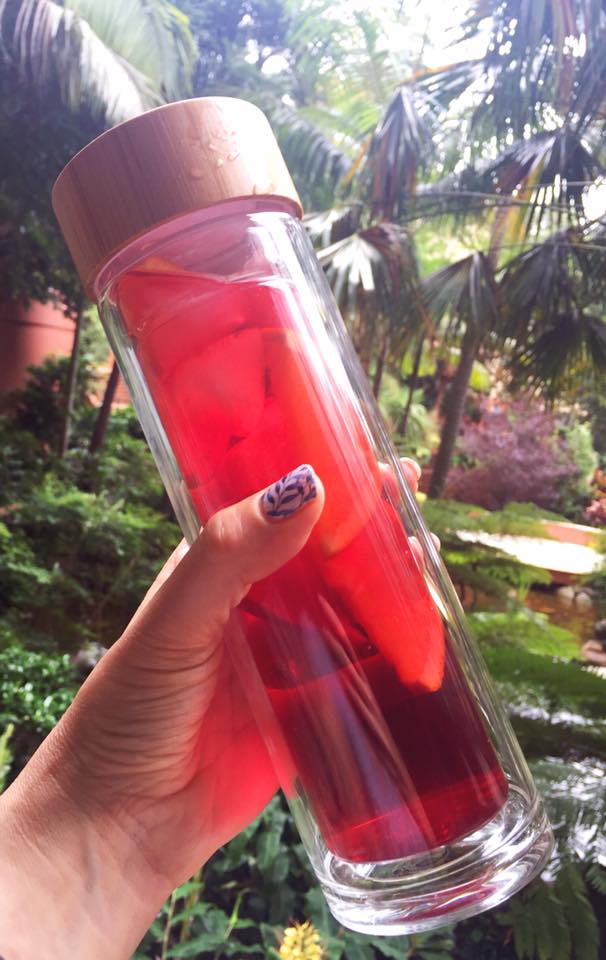 Eating: Our way around Melbourne. We only had 48 hours but we crammed a lot in (literally. ) The donuts were one of the edible highlights!
Discovering: Some of the best places to eat and drink in Melbourne. And finding the best donuts! I'm all about the donuts!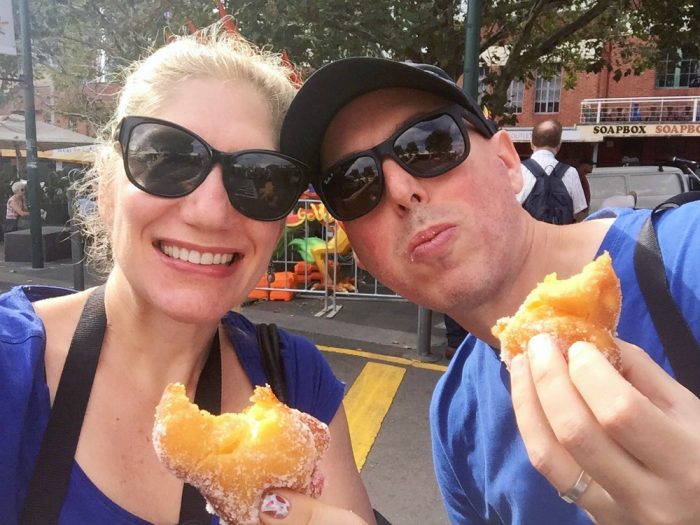 Wanting: To bring the She's So Inspiring series back to the blog. If you know someone who is inspiring, please drop me a line and tell me about them!
Feeling: The Love. February is the month for it, what with Galentine's, Valentine's and our anniversary!
Wearing: My heart on my hands because February is the month of love.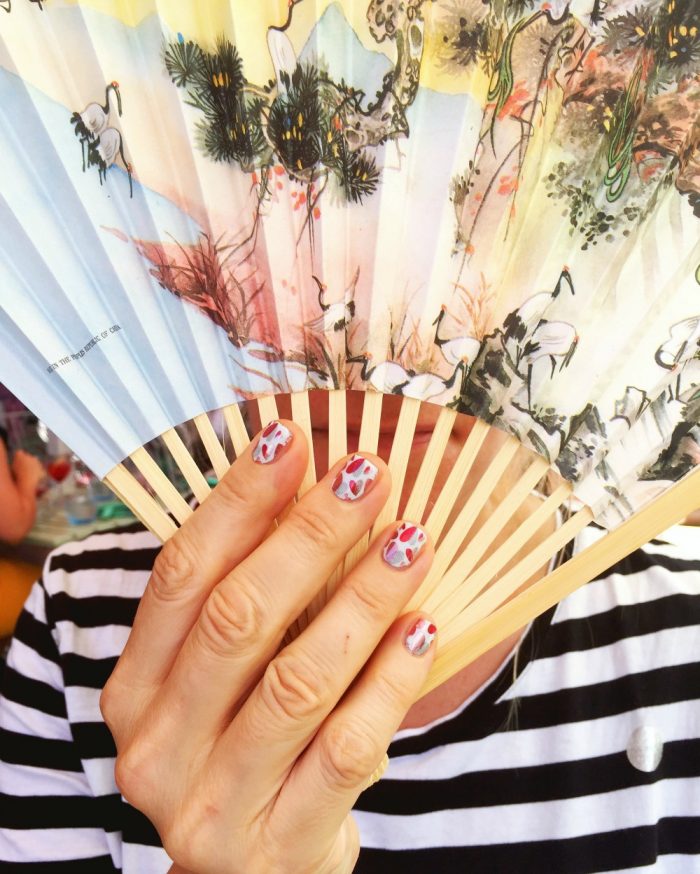 Booking: Our accommodation for our big trip this year – a hotel and Air BnB combo.
Opening: My books. I'm finally knuckling down to some study.
Running: Around the Northern Beaches in this year's Sun Run.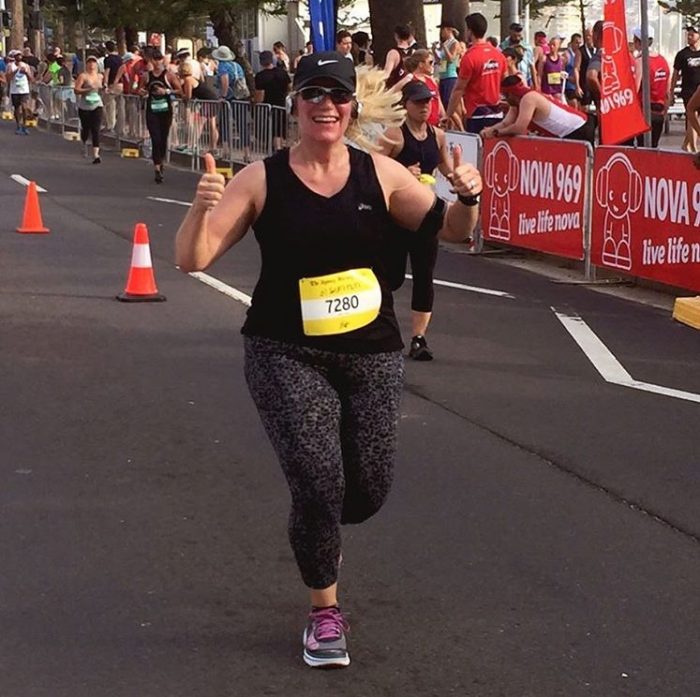 Missing: Running. It's been so horribly hot, I haven't been able to think about a run, let alone go for a run since the Sun Run. Bring on the cool change that's what I say.
Listening: To The Minimalists podcast.  Still. I'll never get bored of those guys!
Liking: The cool change. In the words of Jon Snow, winter is coming… But first it's Autumn and that's my favourite.
Disliking: That my balcony garden has turned into a eat-all-you-can caterpillar buffet. Not happy, Jan.
Helping: At the Asylum Seekers Resource Centre. Our team totally outdid ourselves on lunch duty this month. I took the Pumpkin, Lentil and Bean One Pot with Fig Raita and it went down a treat. And how about that spoon? SWOON!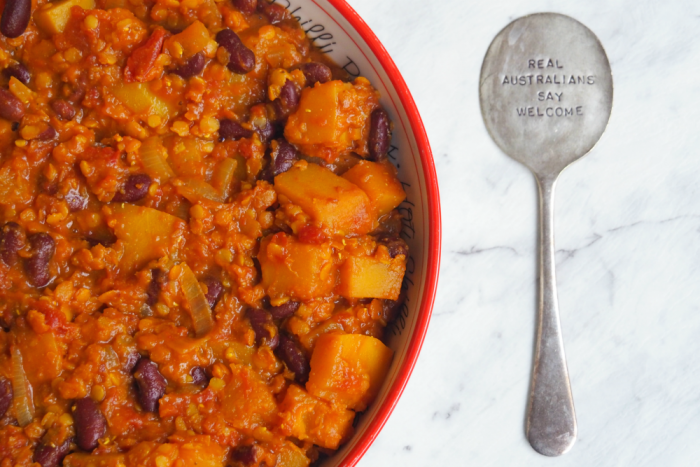 Learning: To ride a bike. 
Needing: A lot more practice.
Admiring: Anyone who can ride a bike and especially the instructors at Sydney Cycleways. They have unending patience and some serious skillz!
Deciding: Which bike to buy. I have no idea what's good for beginners.
Wishing: I'd taken my training wheels off a bit earlier! As in like, 40 years earlier.
Bookmarking: So many recipes in Simply Nigella. 
Trying: So many of the delicious recipes from Simply Nigella. So far, I can tick the two ingredient, gluten free Nutella Brownies, the Oven-Cooked Chicken Shawarma and the Sweet Potato and Chickpea Dip off the list!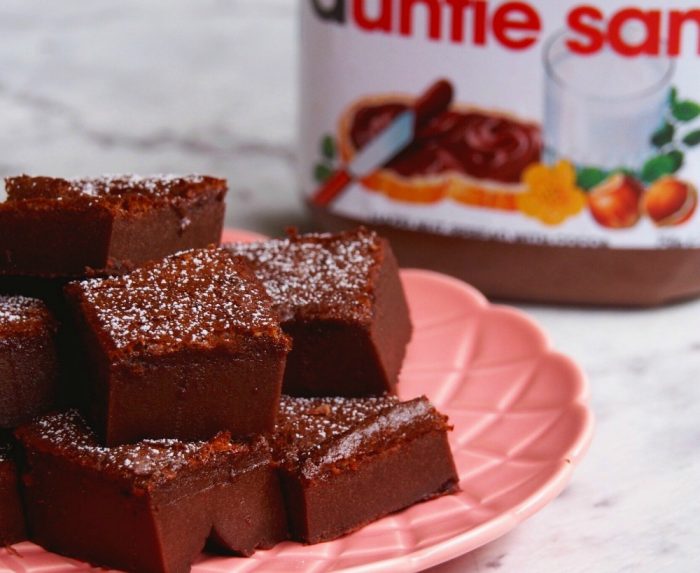 Wondering: Which Nigella recipe I'll try next.
Enjoying: Going to work. For realz.
Knowing: That love is all around. Even in my pickle!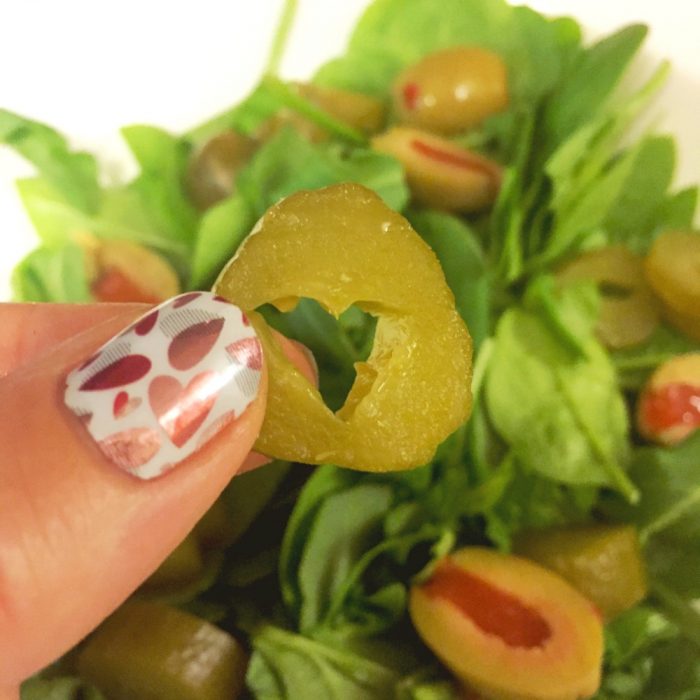 Meeting: My friend's new baby for the first time. So tiny and so cute!
Buying: These gorgeous milestone cards for the new arrival.
Loving: The amazing customer service from Hannah. I was late getting my gift together but she sent my gift (along with a beautiful hand made card and note) the same day which was delivered the next! Above and beyond would be an understatement!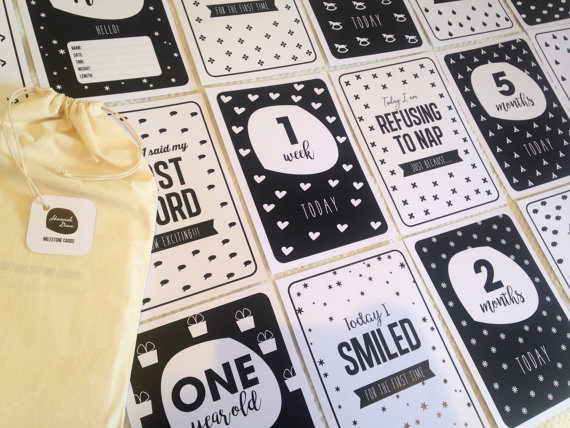 Sending: Good vibes to my mum who has just celebrated her two month hospital-a-versary.
Hoping: Mum gets to break out of the hospital and get home soon.
Waiting: To book flights to the mother country. Yep, still on standby.
Watching: All the documentaries. This month's favourite is The Barklay Marathons – The Race That Eats It's Young. It's a cracker!
Marvelling: At the course and the characters that make the Barklay Marathons the Barklay Marathons.
Seeing: Lion in Gold Class. Now I need to read the book and take out shares in Kleenex!
Looking forward to: Autumn. It's my Goldilocks season, not too hot, not too cold, just right!
So tell me, what's your favourite season? I need a new TV show to watch, so what should I binge watch next? What was the last movie you saw at the flicks? Any idea of what kind of bike I should buy (apart from one with three wheels)? What was your February highlight? Tell me all the things!
Linking up with Kylie for IBOT
* Some of the links in this post are affiliate links. If you click to buy the item, I make a little commission but you don't pay any extra.