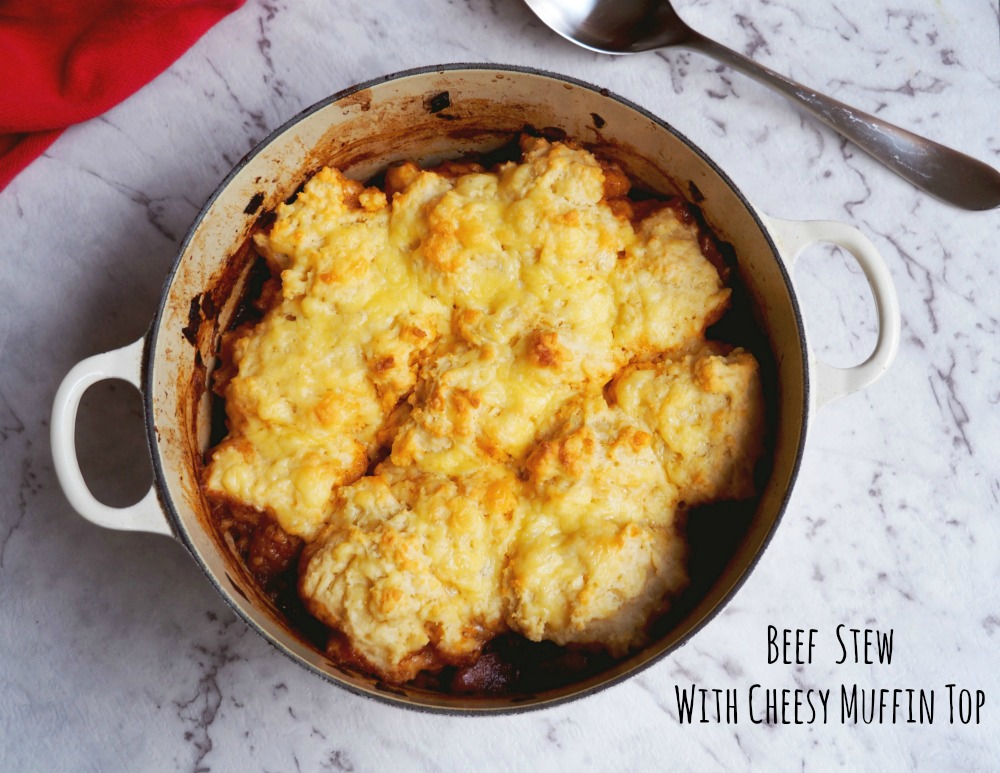 Serves 4
This dish may look ugly but this rich red wine stew topped with a cheesy muffin top tastes beautiful!
I have always maintained that ugly food tastes the best, if you don't believe me, check out this Creamy Salami Pasta  and this Slow Cooker Chicken and Red Wine Casserole with Dumplings. This one pot wonder is no exception! The meat just melts in your mouth, the sauce is deliciously rich and flavoursome and you can mop up the juices with the fluffy muffin top.
Now I must admit, I use the term "muffin" loosely, because it's kind of a cross between a savoury scone, a muffin and a dumpling, although a muffin top has a rather nice ring to it, don't you think?!
Food names can often get lost in translation. When I was at university I went over to Long Island in New York to work for a summer in McDonalds. When I got there I was so confused with the breakfast situation when people were ordering biscuits for breakfast which were actually scones! Or at least they looked like scones to me. Trust me though, whatever you want to call this topping, it's hands down delicious!
There are so many reasons to love this dish (looks aside,) it's all cooked in one pot, can be made ahead and it's easy to throw together.
Do you think ugly food tastes the best? Have you ever got a dish lost in translation?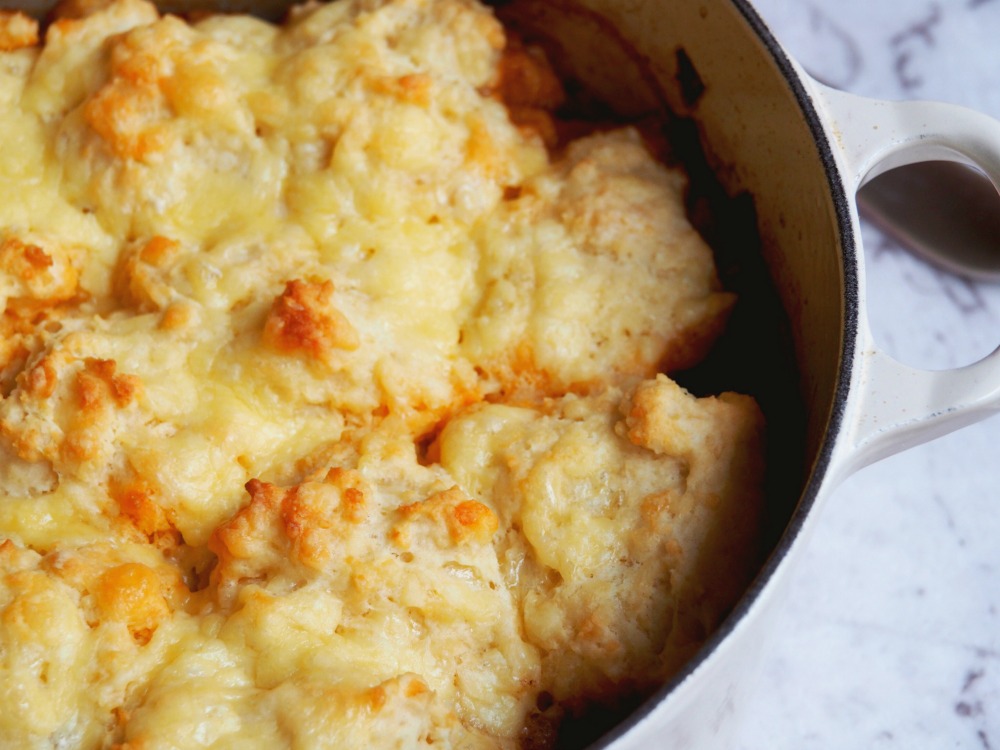 Ingredients
500g chuck steak, cut into bite sized chunks
2 tablespoons plain flour, seasoned with pepper and a little salt
2  tablespoons olive oil
1 large onion, finely chopped
450g carrots, cut into chunks
2 large parsnips, cut into chunks
2 bay leaves
2 tablespoons tomato paste
300ml red wine or extra stock
450ml beef stock
FOR THE MUFFIN TOP
225g plain flour
3 teaspoons baking powder
140g tasty cheddar, coarsely grated
2 tablespoons olive oil
150ml milk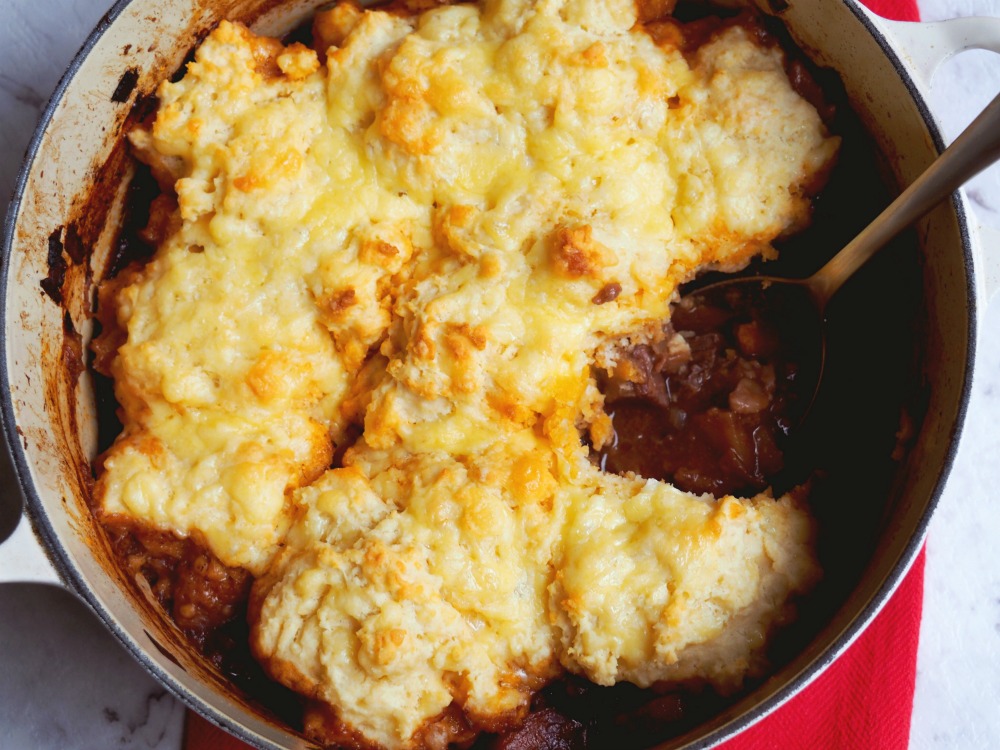 How to
1. Heat oven to 150C/fan 130C.  Toss the beef in seasoned flour. Heat the oil in a large flameproof casserole. Fry the beef in batches over a high heat until browned all over. Remove with a slotted spoon and set aside.
2.  Add 2 tablespoons of  water and the onion to the pan, stir well over a medium heat. Scrape up the crusty bits from the bottom of the pan and lower the heat and cook gently for 10 mins, stirring occasionally until the onions have softened.
3. Add the carrots, parsnips and bay leaves and fry for another couple of minutes. Return the beef to the pan, stir in the tomato paste, wine , and stock, then bring to the boil.
4. Cover and cook in the oven for 1¾-2 hours until the meat is tender and falls apart.  Take the stew out of the oven and increase the temperature to 190C/fan 170C.
5. To make the muffin top, sieve the flour and baking powder into a bowl and add half the cheese. Mix the olive oil and milk, then stir into the flour to make a soft, slightly sticky dough. Add more milk, if necessary. Roll spoonfuls of dough into balls and place randomly over the meat and vegetables. Don't worry if the dough doesn't cover all the stew, as it bakes the dough will spread over the dish.
6. Sprinkle with the remaining cheese and bake for about 15 minutes until golden, puffed up and cooked through.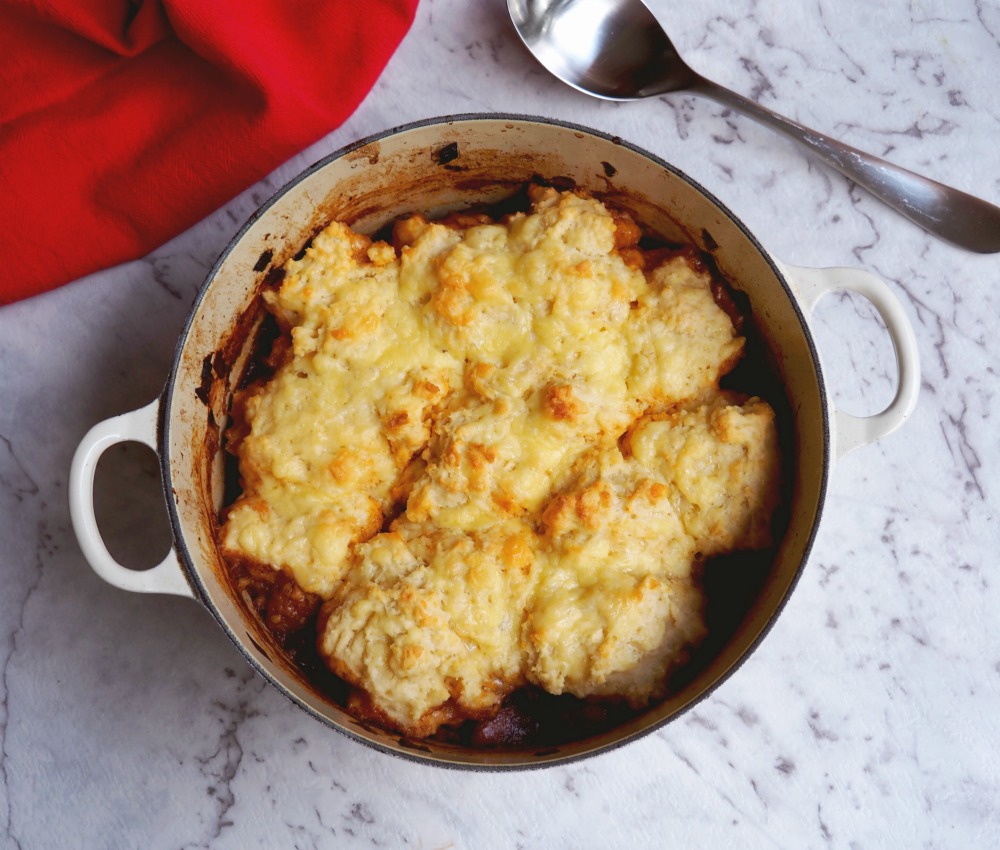 Other info
Prep and cooking time:  2 hours 50 minutes
TIP!  The stew can be made up to 2 days ahead or frozen for up to 1 month. Defrost thoroughly in the fridge before topping and baking.