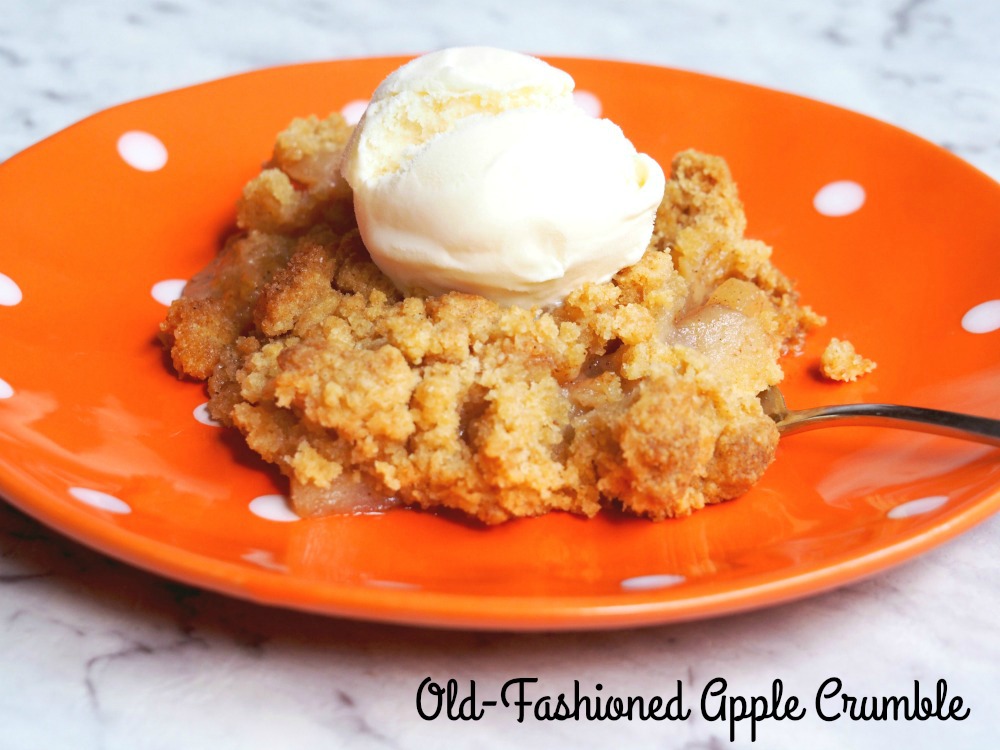 This is the ultimate apple crumble recipe – a sweet apple and cinnamon filling topped off with a crunchy crumb topping. It's perfect for a cold winter evening or any evening come to that!
You might not know this but I went to boarding school from the ages of 10 to 15 and the years I spent there were some of the best years of my life. It was a regular state school and there was plenty of high jinks and high spirits! I also consumed a lot of school meals which is unfortunate as I really didn't care for them.
The savoury stuff was not too bad but the puddings made me want to gag. I don't know why this was because all my teeth were sweet even way back then. I'd usually skip dessert and retire to my dorm with my tuck tin (yes that's totally a thing,) unless of course it was crumble (of any variety) because my belly has always rumbled for crumble.
My favourite bits of the crumble were the nobbly bits that cook had not quite crumbled enough. They were like prize crumbly nuggets. Naturally, the crumble was my favourite part and I would take great care to deconstruct the pudding separating the fruit from the topping, eating fruit first then the topping because everyone knows to save the best til last.
After my recent fruit picking extravaganza in the Blue Mountains and Canberra, I knew it was the perfect time to recreate this beloved pudding of my youth!
These days it's so thoroughly modern to put oats on top of, or in the crumble as is the case with my Slow Cooker Apple Flapjack Crumble but this recipe is for the purists because the topping has only flour, butter and sugar, just like cook's in her boarding school kitchen. Of course in the motherland they have those big Bramley apples for baking but as they're so tricky to find and so expensive to buy down under, eating apples will do!
For the crumble, I followed some tips from my favourite domestic goddess, Nigella. First off, I used self raising flour for the crumble (because I ran out of plain) a mix of brown and raw sugar (for that gorgeous golden colour) and I made it in advance and popped it in the freezer in a ziploc bag. Now I've tried and tested this trick, I'm going to always keep some crumble in the freezer for a rainy day/chilly evening. Also, I didn't cook the apples first but the only reason for that is that I'm lazy which is as good a reason as any!
Have you got an all time favourite pudding? Do you deconstruct your food too?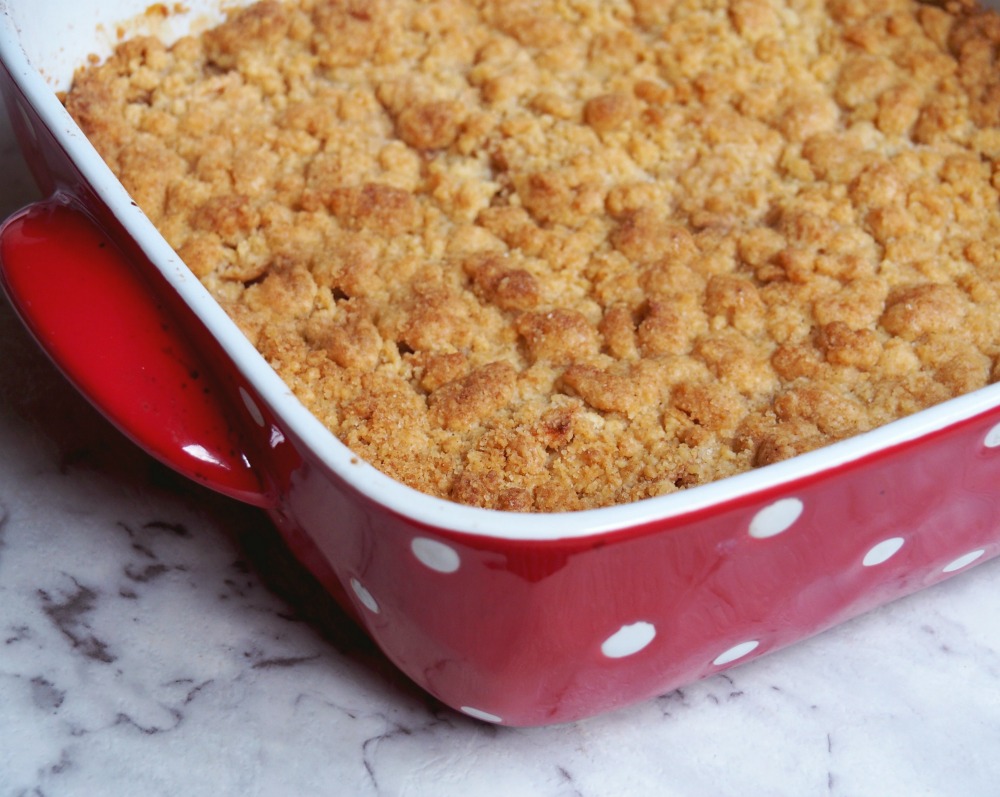 Serves 4 generously
Ingredients
FOR THE CRUMBLE
120g self-raising flour
90g butter, cold and diced into 1 cm cubes
3 tablespoons brown sugar
3 tablespoons raw sugar
FOR THE APPLE FILLING
550g apples (peeled weight) cored and sliced thinly
2 tablespoons raw sugar
1/2 teaspoon cinnamon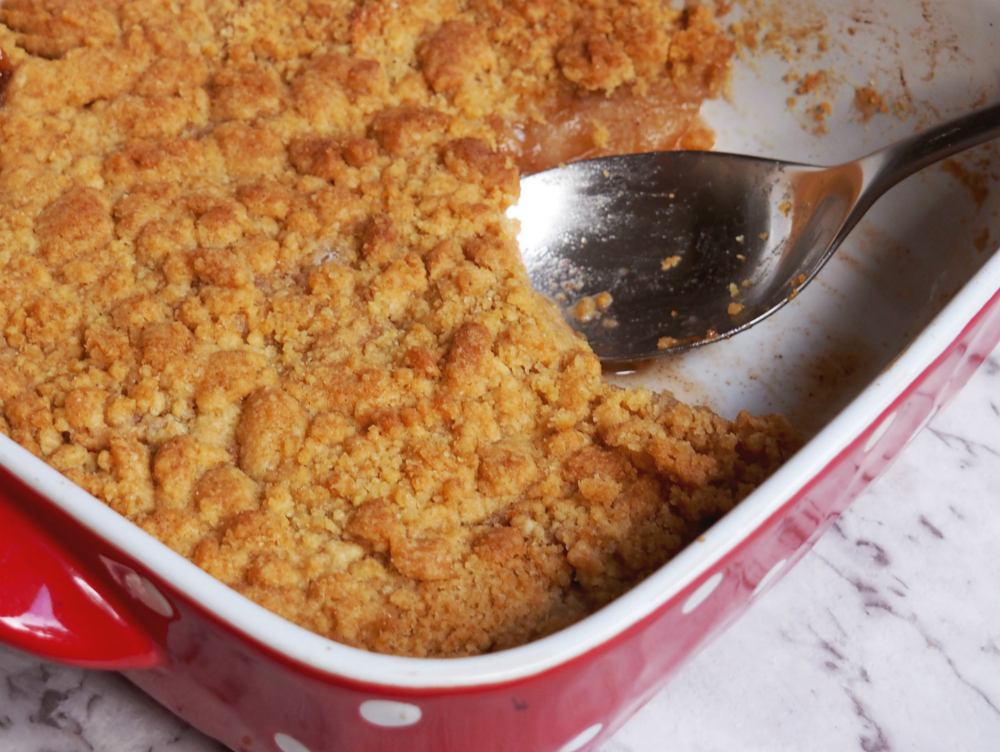 How to
Preheat the oven to 190C.
Put the flour, sugars and a pinch of salt in a large bowl and using the tips of your fingers, rub the butter into the flour. Stop when the mixture looks like moist breadcrumbs. You can also whizz the crumble in a food processor or the Thermomix (5 seconds on speed 5) but go cautiously, you don't want your crumble to be over processed. Don't worry if it's a bit lumpy, the nobbly bits are the best! Pop the crumble in ziploc bag or airtight container and chill in the freezer for 10 minutes.
Toss the apple slices with the raw sugar and cinnamon and place in a 20cm square baking dish.
Sprinkle the crumble over the top of the apples, taking care not to leave any gaps. Don't press the crumble down because it will just make it solidify.
Bake for 35-40 minutes, until the top is golden and the apples feel soft when you insert a small knife.
Allow to cool for 10 minutes before serving with ice cream or custard.