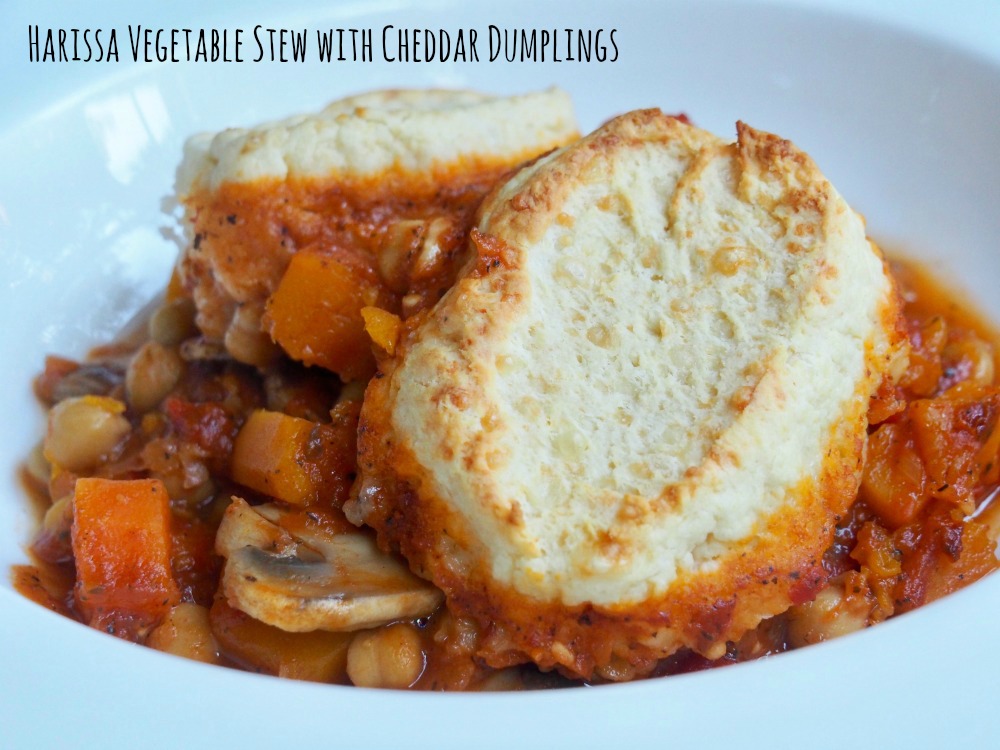 This budget friendly veggie casserole with a spicy North African twist is topped with delicious cheesy dumplings – it's a one pot wonder!
If I had to choose one meal to eat for the rest of my life, it would definitely be dumplings. Not only are they super delicious but they feature in so many ways in so many different cuisines. Put it this way, I never met a dumpling I didn't like.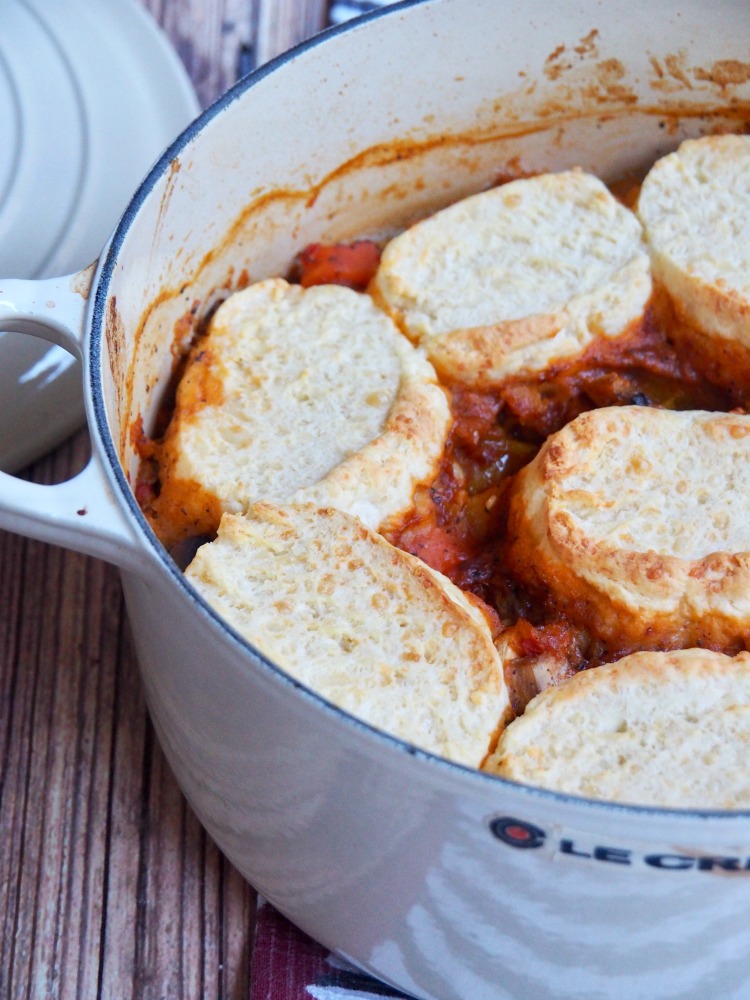 Growing up in the UK, school dinners (as in lunches) were totally a thing. Then I went to boarding school where I had school food for breakfast, lunch and dinner.
Being such a cool climate country, the dinner selection offered a variety of hot food choices and stew and dumplings regularly featured on the menu. You might need to sit down when I tell you, I only ate a school dumpling once and it was so steamed and gross and suet-y that I never ate another one again.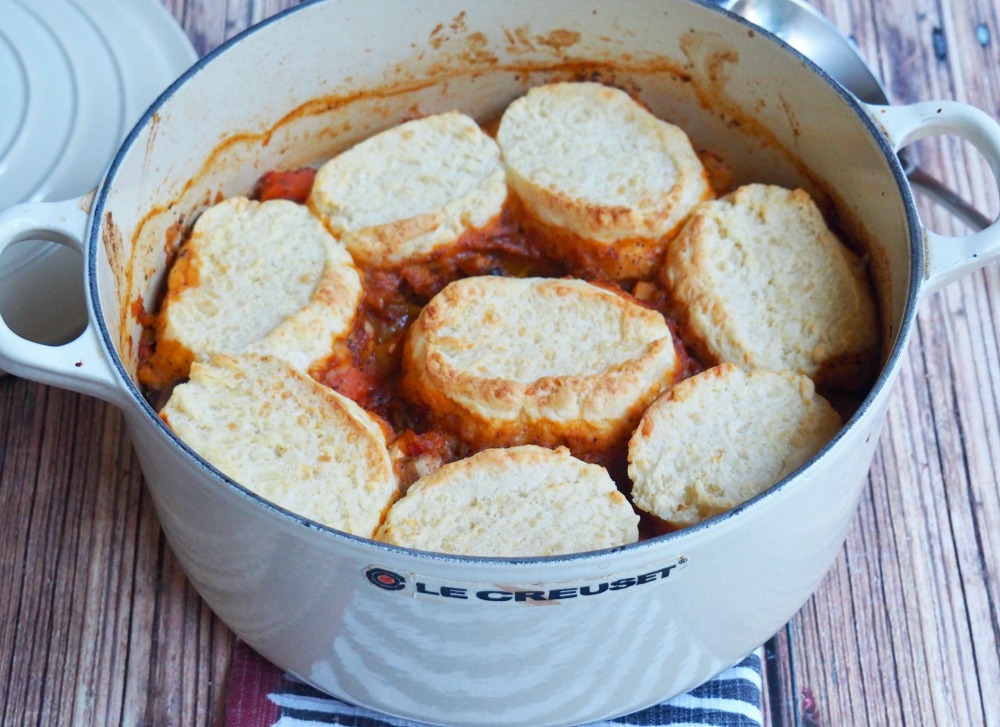 Well, not until I was grown up (or at least trying to be.) Now I just can't get enough of dumplings especially when they're served atop a hearty casserole – then they're not even dumplings, they're yumplings!
My dumpling adventures have been delicious and varied with this Pesto Chicken Casserole and Cheesy Dumplings, this Slow Cooker Chicken and Red Wine Casserole with Dumplings and this Chilli Beef and Cornbread Dumplings. Nom, nom!
This veggie stew is super easy, super forgiving and is a great way to use up whatever veggies you have lying around in the fridge. Similarly, you can knock yourself out with the pulses, I like to use chickpeas to keep with the North African theme but you can really use whatever beans or pulses you have to hand.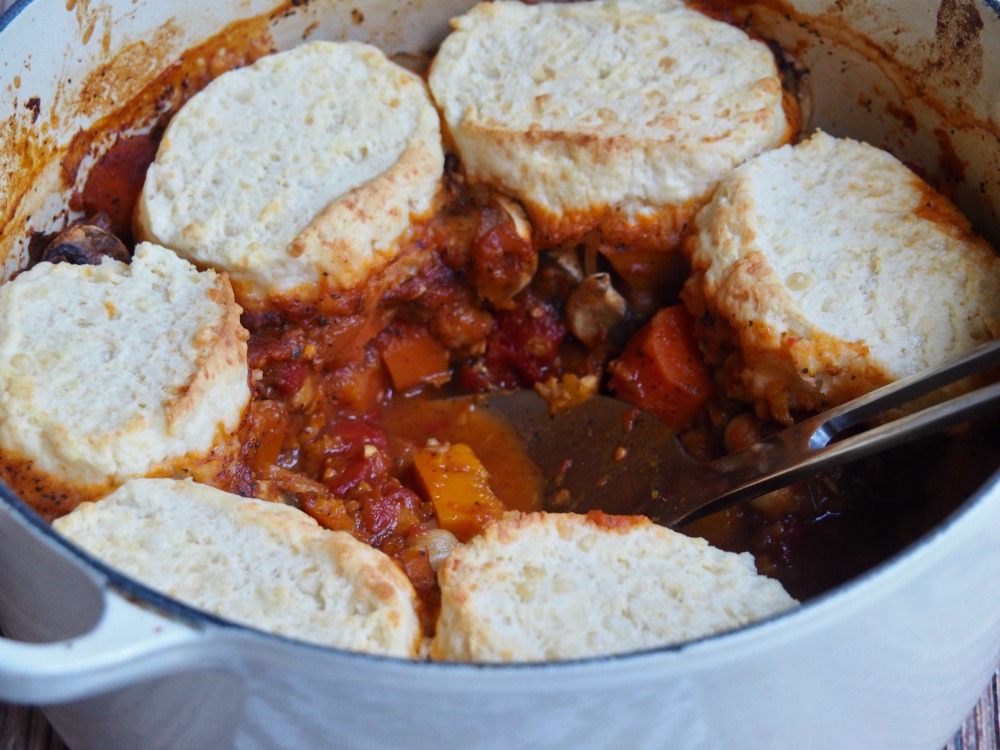 Talking of North African flavours, for a more intense flavour swap the harissa powder for harissa paste. I actually prefer the milder powder giving the stew warm flavours rather than intense heat. Of course, if you don't think spice is nice, skip the harissa altogether and add some of your favourite herbs and seasonings.
The thing I love most about this stew is that it really is a one pot wonder and will not only feed the family but please them too!
Are you a dumpling lover too? Did you have a childhood food nemesis that you have learned to love as an adult?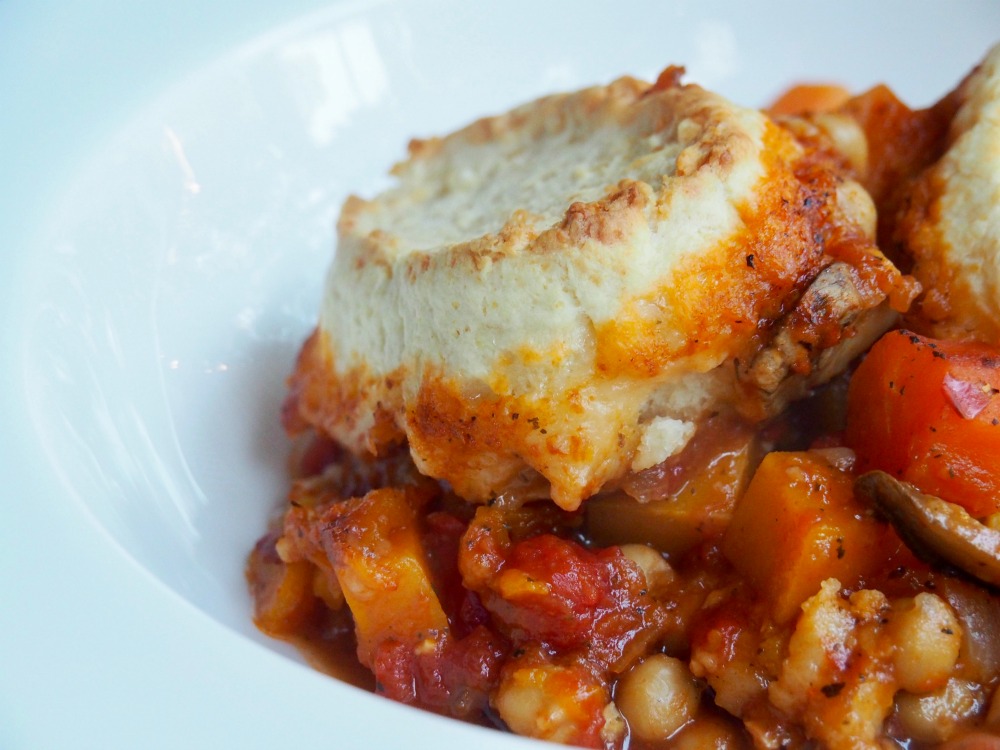 Serves 4 generously
Ingredients
FOR THE STEW
1 tablespoon olive oil
1 onion, chopped finely
2 cloves garlic, crushed
1 x 400g can chopped tomatoes
1 1/2 tablespoons harissa powder
400g pumpkin, diced 2cm
2 large carrots, sliced
1 vegetable stock cube or 1 tablespoon TM veg stock
1 tablespoon tomato paste
1 x 400g can chickpeas, rinsed and drained
200g sliced mushrooms
FOR THE DUMPLINGS
25g butter, chopped
200g self raising flour
1 teaspoon baking powder
75g mature cheddar, grated
100ml milk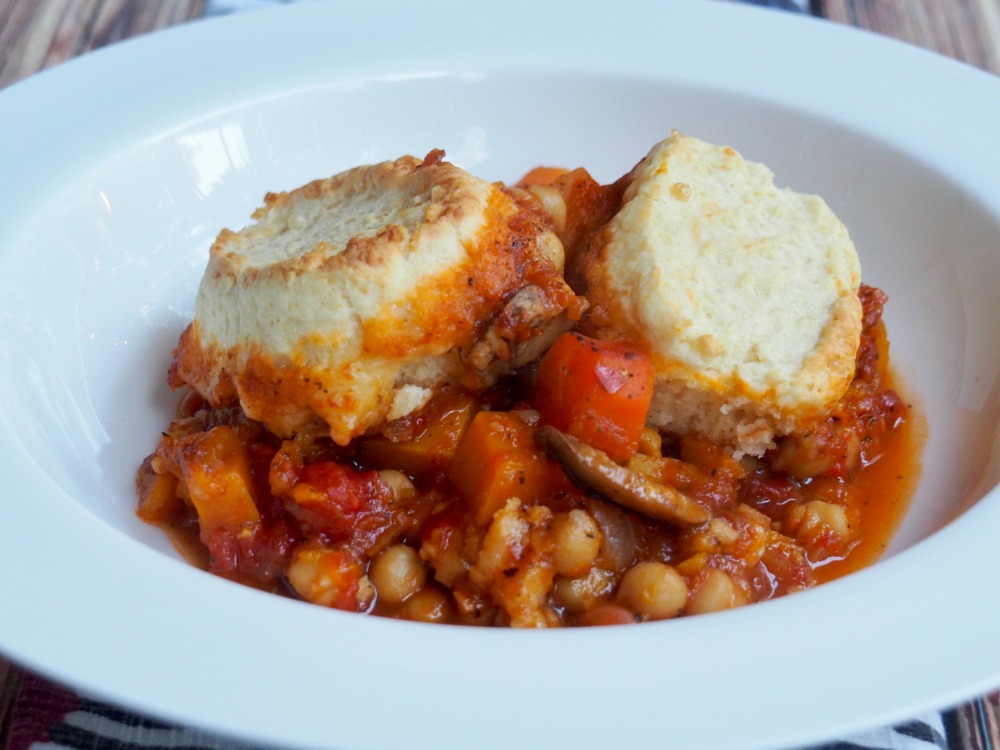 How to
Heat the oil in a large flameproof casserole dish with a lid and fry the onion for about 5 minutes until softened and it starts to colour.
Add the harissa and stir until fragrant.
Add the chopped tomatoes and a can of water along with the pumpkin, carrots, stock cube (or paste) and tomato paste. Cover and simmer for about 20 minutes until the veg is almost tender.
Add the mushrooms and chickpeas and cook for another 10-15 minutes. Heat the oven to 200C.
Meanwhile, make the dumplings.
Combine the flour, baking powder and a generous pinch of salt in a bowl. Rub the butter into the flour until it resembles fine breadcrumbs. Add the cheese and 2 minutes before the stew is ready, add the milk and stir with a knife to make a dough. Turn out onto work surface (no need to flour it,) shape into a sausage shape and cut into 8 pieces.
To make the dumplings in the Thermomix, place the butter, baking powder and flour in TM bowl and mix for 5 seconds on speed 6. Add the cheese and milk and mix on interval speed for 25-30 seconds until the dough starts to come together.
6. Turn out onto the work surface, shape into a rough sausage shape and cut into 8 equal pieces.
7. Place the dumplings on top of the stew and bake, uncovered, in the oven for 15-20 minutes until the dumplings are golden and cooked through.