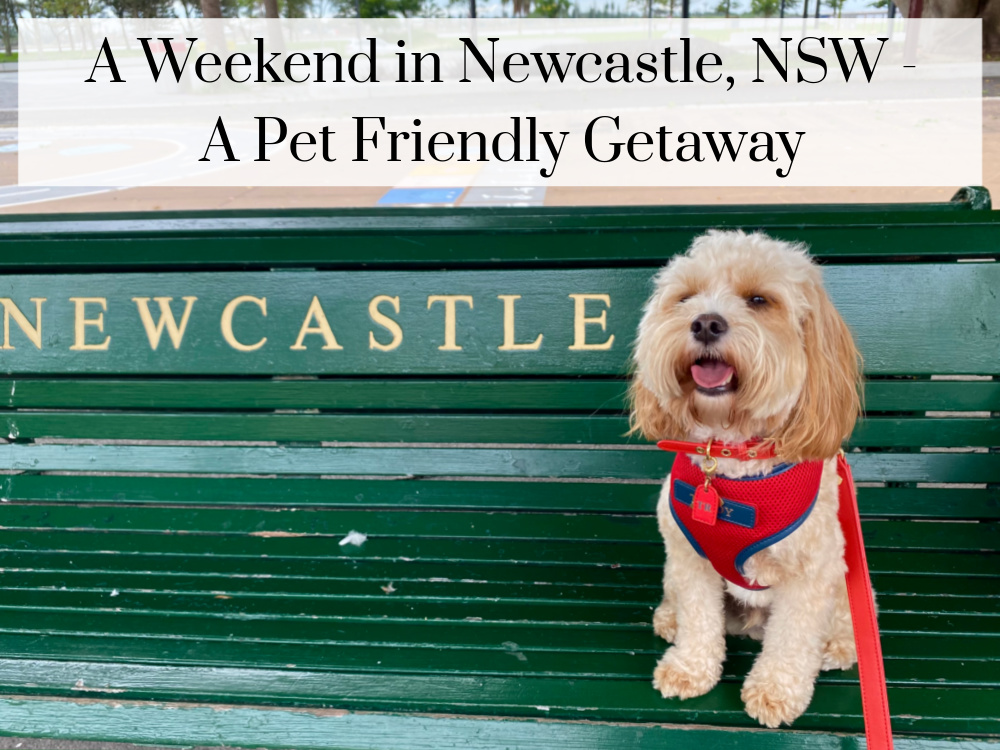 With it's golden sandy beaches, stunning coastline, working harbour and just over a two hour drive from Sydney, Newcastle is a fabulous dog friendly destination.
Fun fact: Newcastle was the first place I stayed when I first visited Australia in 2002 and it will always have a special place in my heart. The city has changed a lot over the years but my love for this town has not!
Located just an hour away from both Port Stephens and the Hunter Valley, Newcastle is the epicentre of the Hunter region and is a great base for a weekend away.
That said, there's plenty to keep you and your pup entertained without leaving the city limits. There are beaches (for both hound and their hoomans,) world class walks, a working harbour, a lorry load of history and a vibrant food and drink scene with heaps of dog friendly wining and dining options.
Together with Teddy Roosevelt we took one for the team and explored all the dog friendly things to see, eat and do!
Pit Stops En Route Sydney to Newcastle
310A The Entrance Road, Long Jetty,
"Leave your worries at the door" is the call of this cafe and yoga studio. This whole food cafe uses local, organic and seasonal produce and offers healthy and delicious food with something for everyone. Teddy makes himself right at home in the zen garden which is dog friendly and has a really relaxed vibe.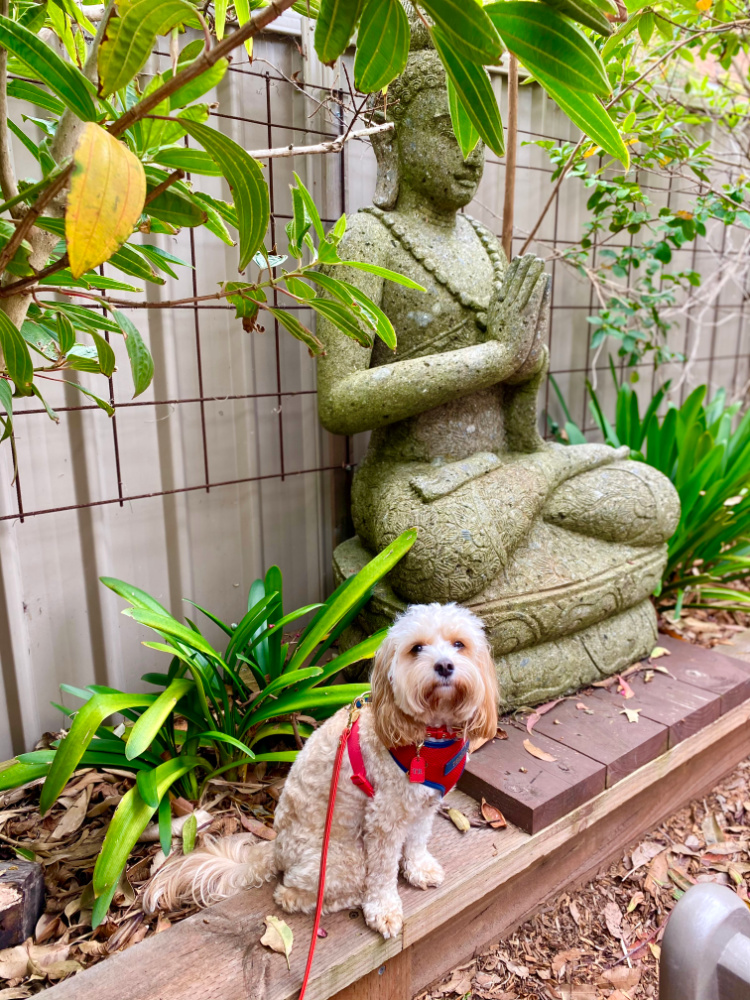 The food definitely errs on the side of healthy but it's thoroughly delicious catering for a range of dietary requirements. David, ever the traditionalist is more than happy with his BLT ($15.50) and my corn fritter and chilli burrito with house made chilli jam, guac, aioli and slaw ($18) totally hits the spot. Oh, and the coffee is decent too.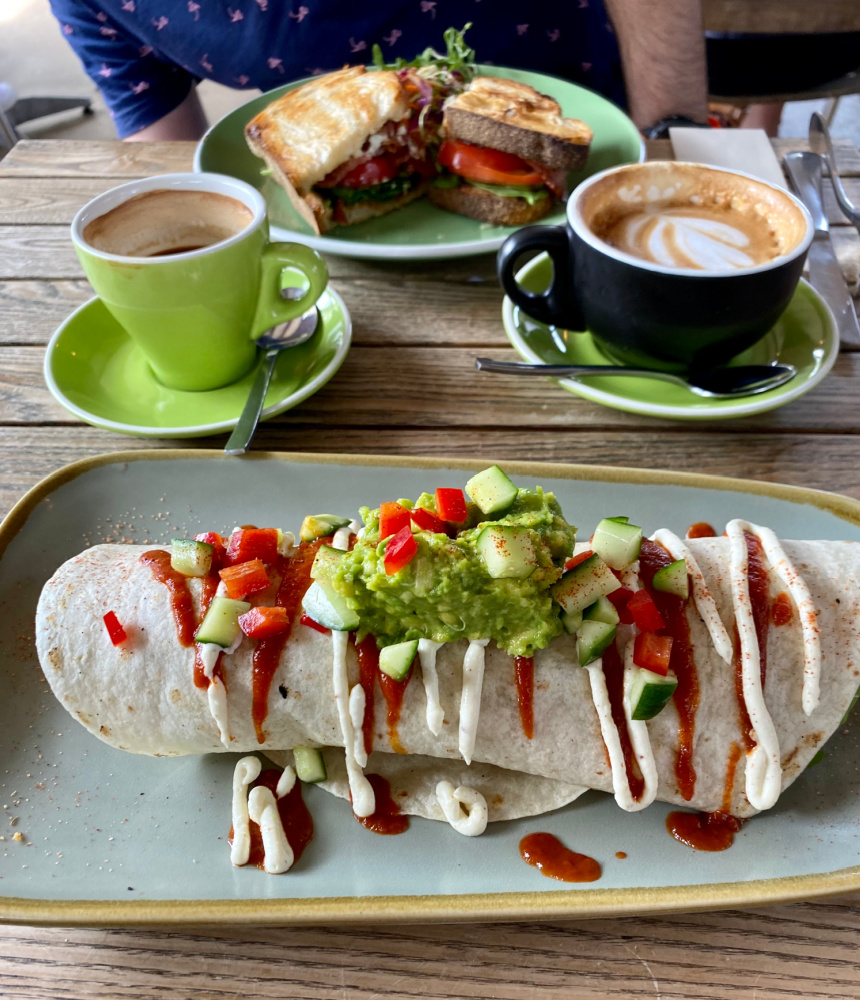 The dog friendly zen garden is the perfect place to recharge your batteries en route – it's like a little tropical oasis in the middle of the central coast. To guarantee your spot you can book ahead, just give 48 hours notice.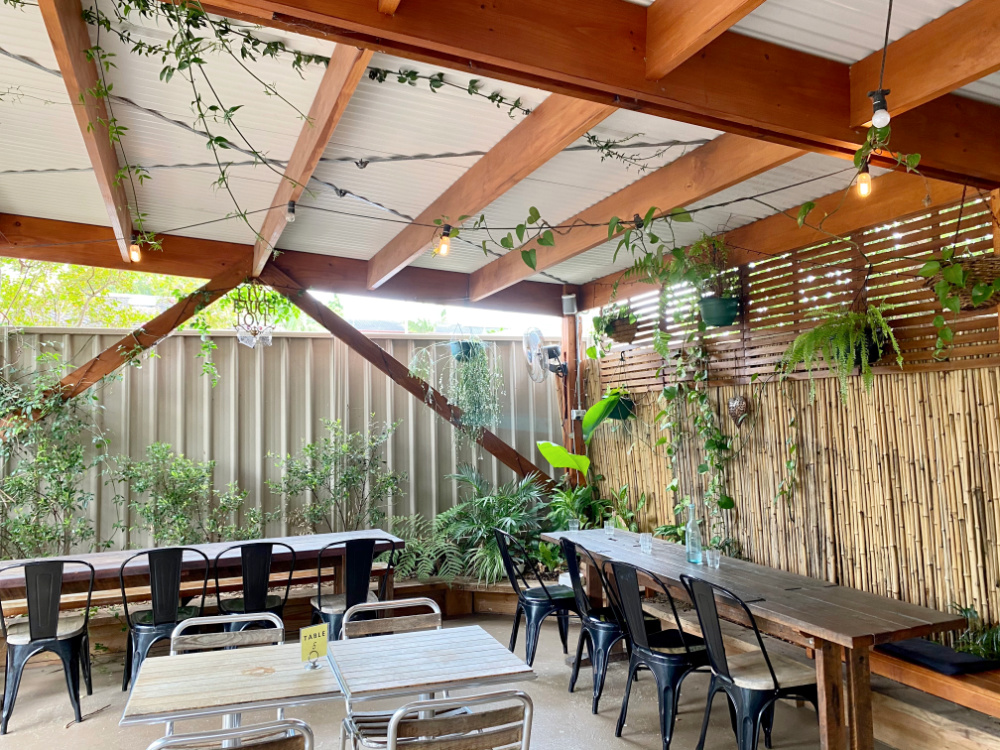 3/600 Pacific Highway, Belmont, NSW 2280
If you're headed to Newcastle via the Pacific Highway, do your pooch a favour and stop in to the Gourmet Dog Barkery and stock up on some pawsome treats.
There's every kind of treat imaginable and a whole range of dog friendly baked goods that are made on site. And of course, dogs are more than welcome.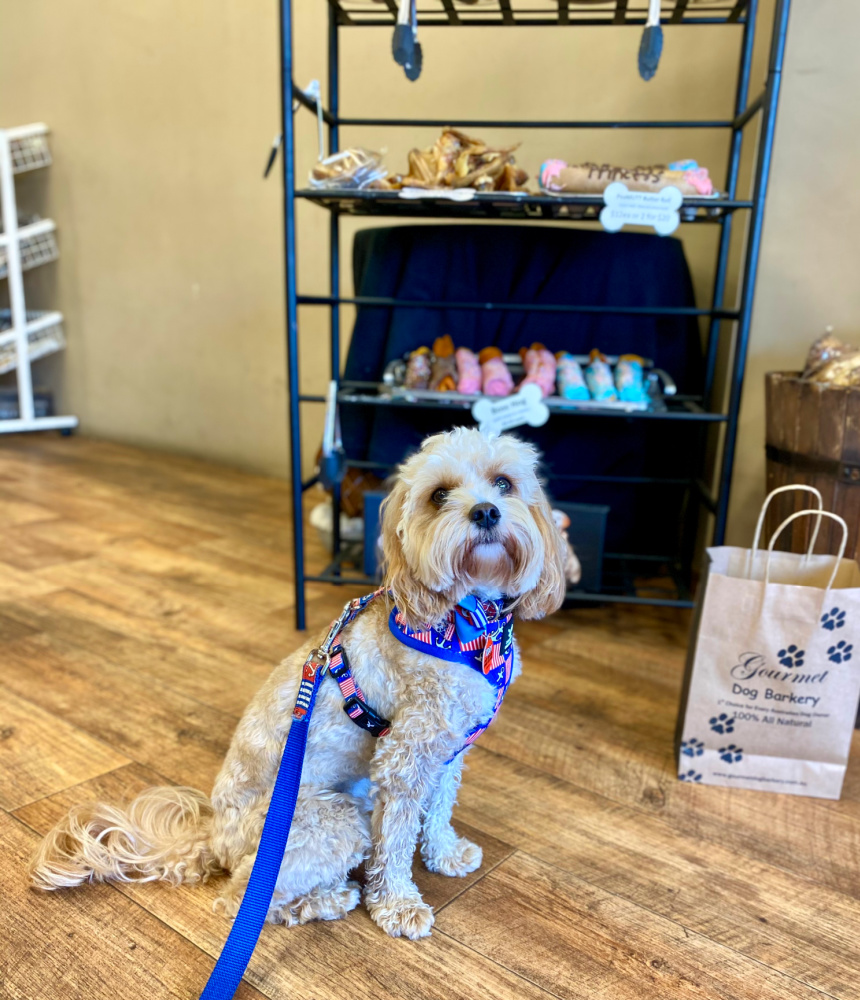 Where to Play
Have a Splashing Good Time at Horseshoe Beach
Horsehoe Bend Road, Newcastle, NSW 2300
This is the go-to off leash dog beach right on the harbour. The water is clear, the waves are gentle and it's a great spot to watch the comings and goings of the working harbour.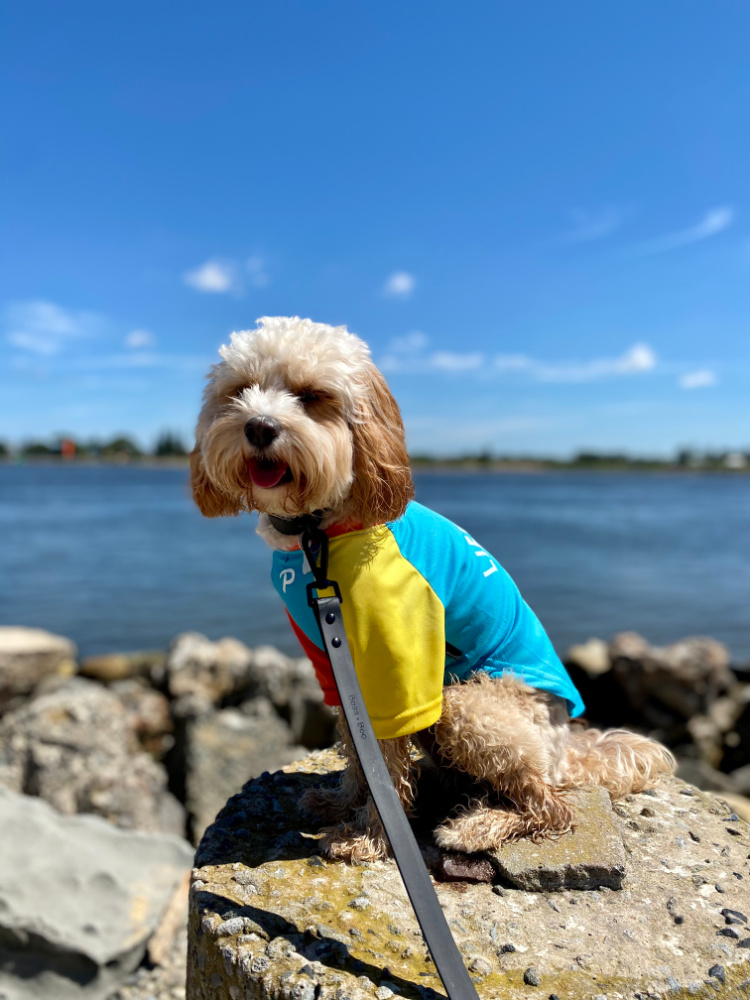 You and your pup can stretch your legs along the Bather's Way, the 6km path that links Newcastle's beaches from Merewether Ocean Baths to Nobby's Beach. On the shared path you can expect to see cyclists, skaters, walkers and lots and lots of pups!
We are blown away literally and metaphorically when we take our stroll! There are viewing platforms, seating, shade and plenty of photo opportunities along the way. Although Bathers Way connects to the Newcastle Memorial Walk, just be aware that dogs are not allowed on the commemorative pathway dedicated to WW1 soldiers.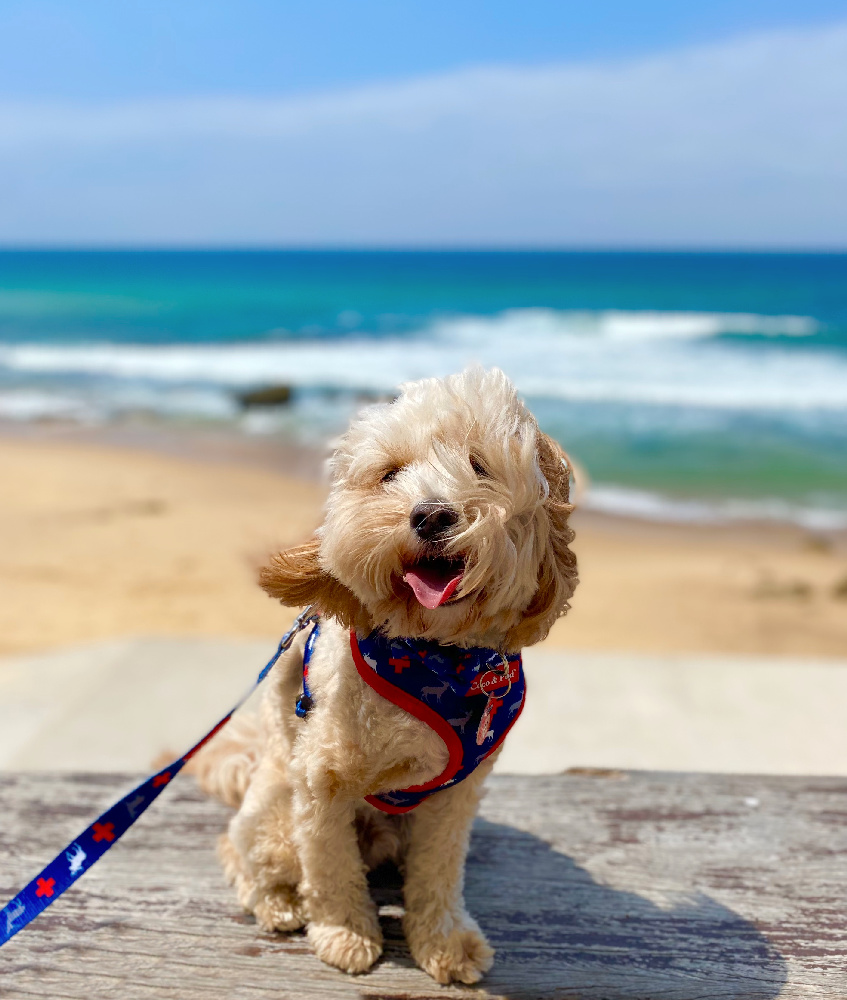 The old railway station in the centre of town has been totally transformed into a vibrant, outdoor event space including a landscaped piazza, a scooter track and heaps of old railway memorabilia.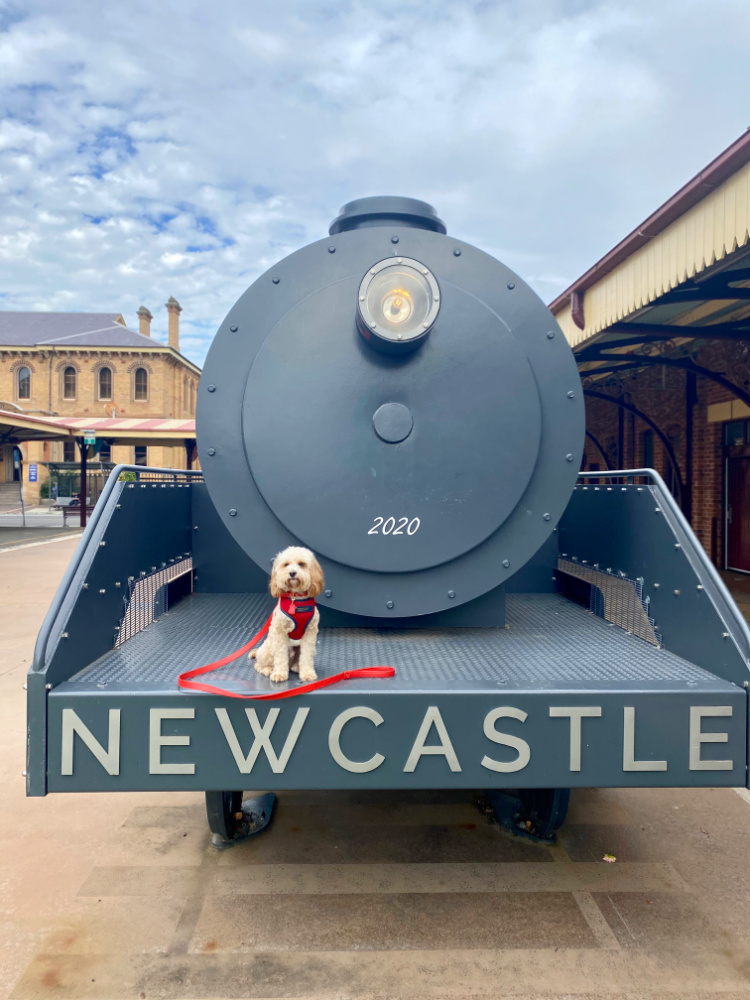 There are new events every week with everything from foodie Friday night feasts, markets and music. There's a vegan market on when we are in town but whenever you visit, there will be heaps of pet friendly fun to be had!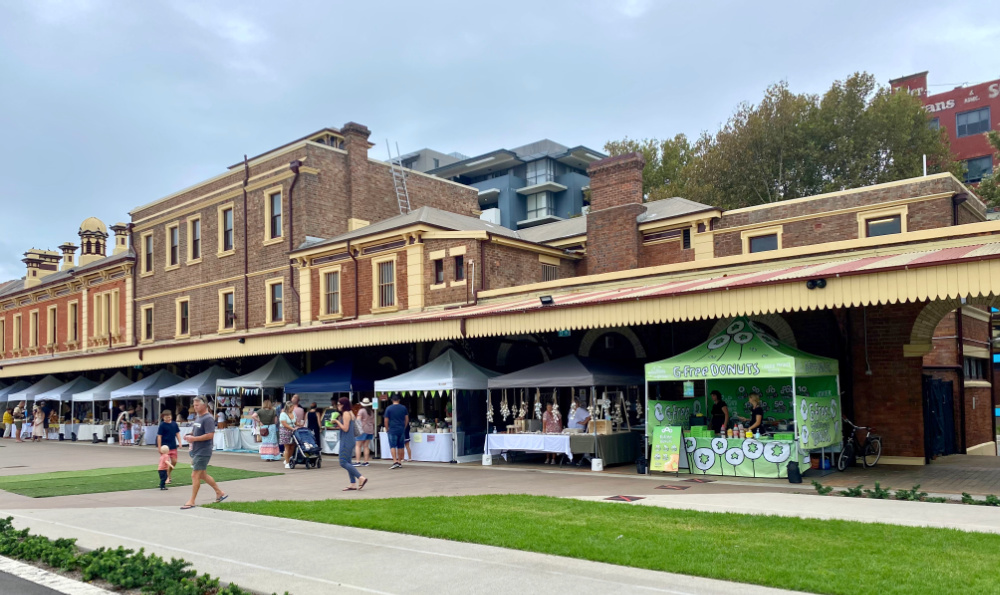 Take a Harbourside Stroll
Start at Nobby's Beach and head towards Honeysuckle – this walk has beach and harbour views and it's great for a bit of boat spotting. You'll be able to see tugs, coal ships and of course, the iconic ferries sailing around the working harbour.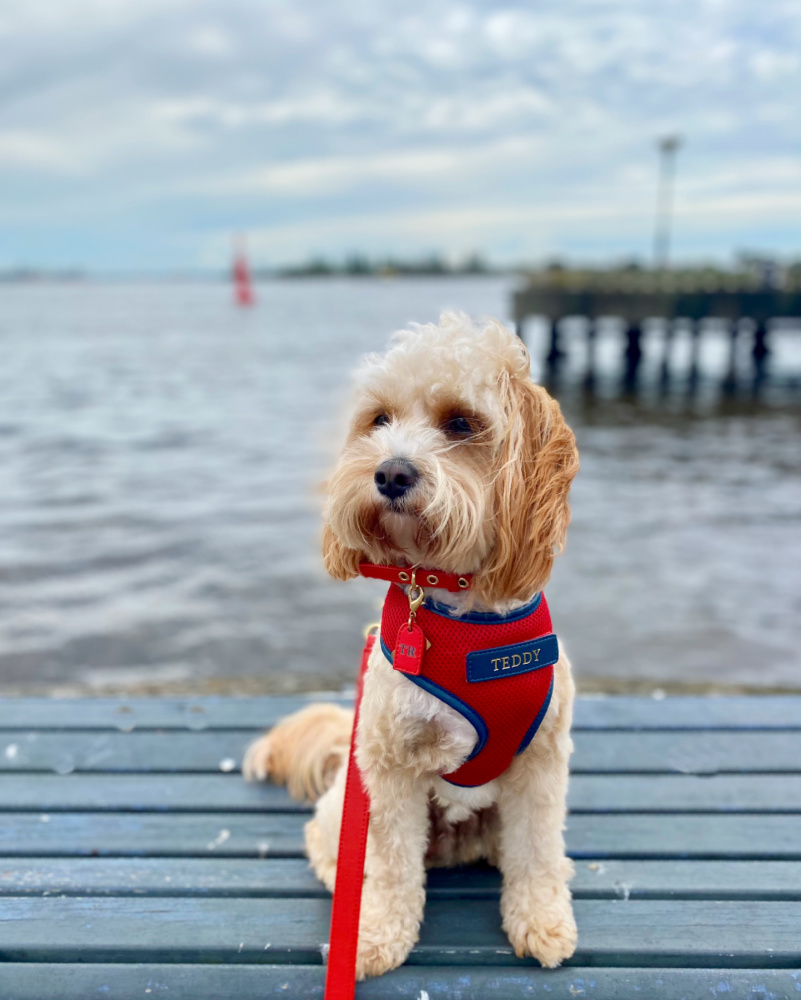 It's an easy 2.2 kilometre walk and the path is wide and flat. You can stop half way for some liquid refreshment at Queens Wharf or save yourself for a cold one at one of the many bars and cafes at Honeysuckle. We popped into MoneyPenny with a it's retro garden party feel and friendly service.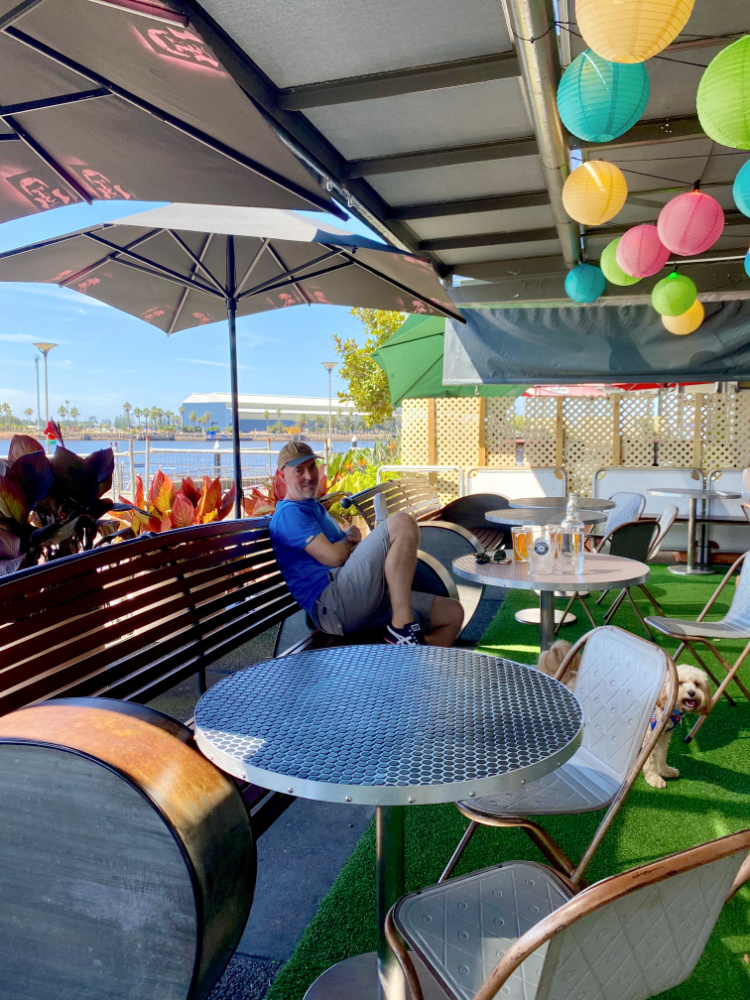 Where to eat, drink and caffeinate
10 Pacific Street, Newcastle, NSW 2330
Inside you'll find comfy bar seating and old skool booths but there are four tables outside and the night we visit there's a dog at every single one of them, ours included! The outside tables are reserved for walk-ins so cross your fingers that there is one free. The vibe here is super chilled, the service is friendly and the menu is inspired by the southern states of America. There's a decent wine list, a good selection of beers and some delicious cocktails to quench your thirst.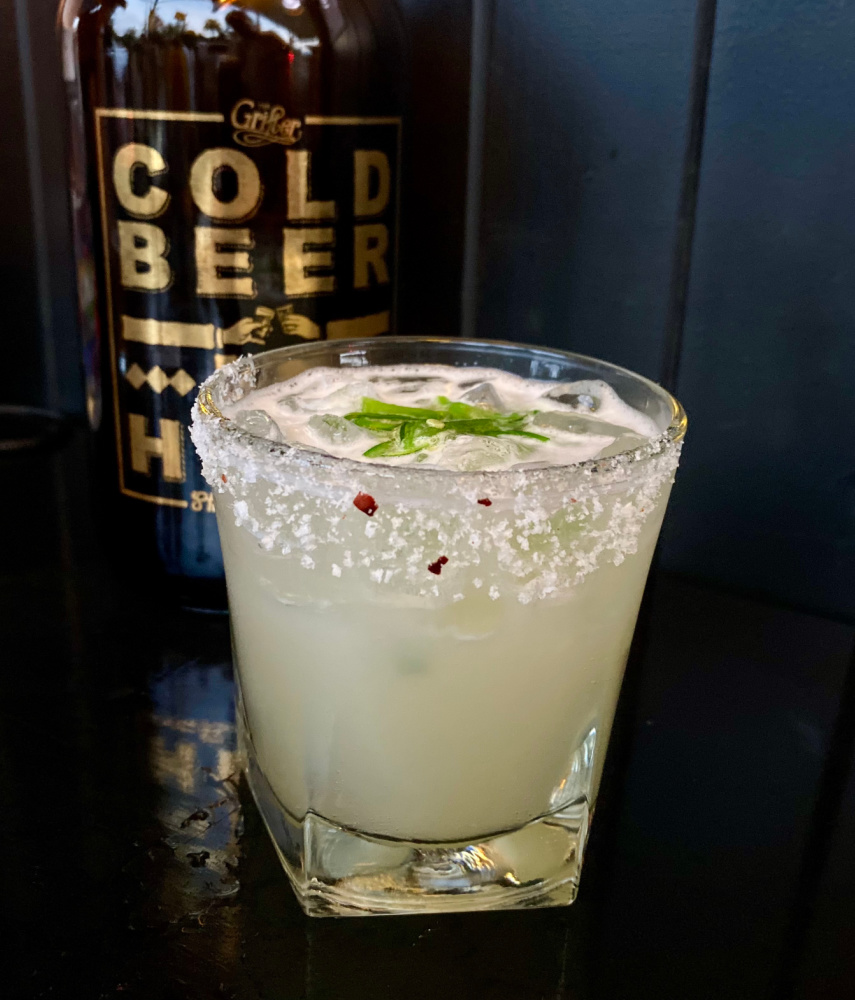 The menu has some delicious burger and sandwich options, nachos, jambalaya, chicken and waffles and a kids menu too. We can't go past the fried chicken burger ($18,) the pulled pork sandwich ($17,) with a serve of the brisket mac and cheese ($19) because it would be rude not to try it. Well, that's our theory and we're sticking to it!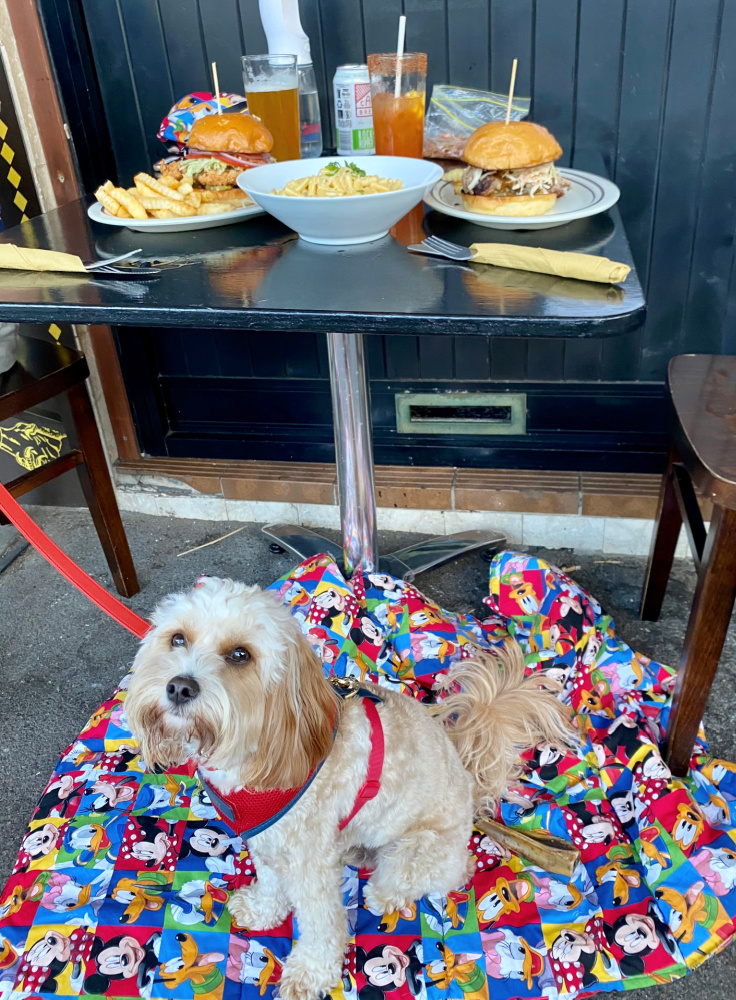 43 Denison Street, Carrington, NSW 2294
Housed in a former industrial warehouse, this cafe is quite unique with it's mismatched furniture, Japanese inspired menu and plenty of room to spread out. Dogs are more than welcome outside and there's even a few dog friendly tables inside – what a refreshing change! FYI – the dog friendly seating is on the right hand side as you enter the cafe.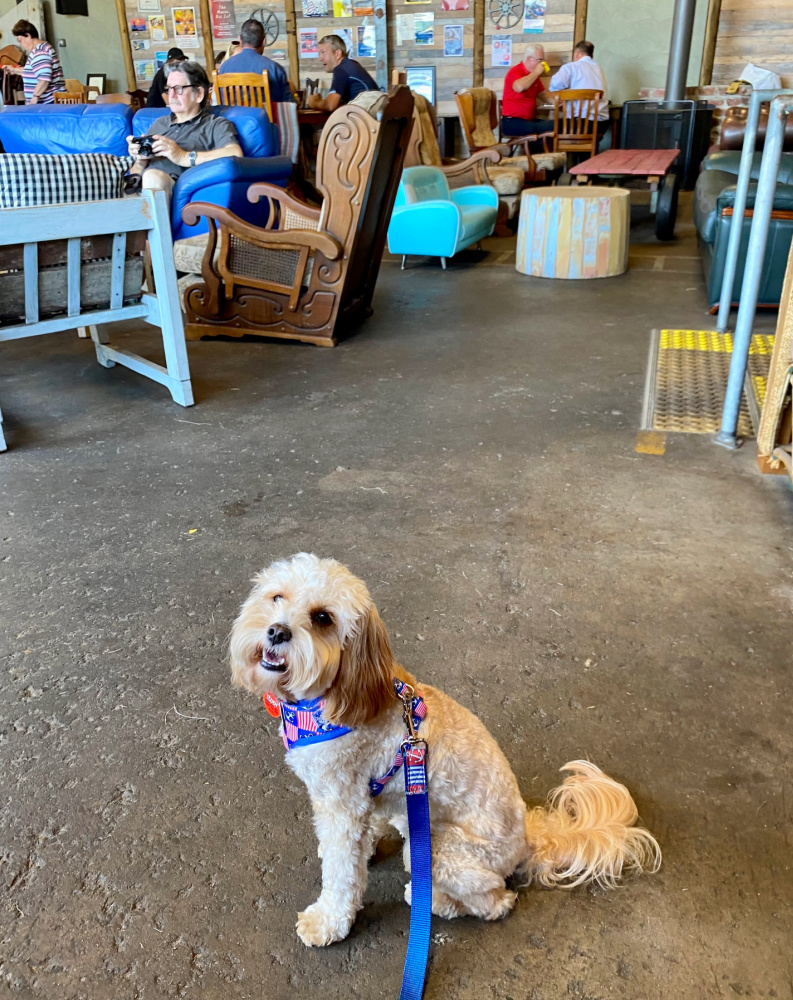 Service is friendly, the vibe is relaxed and the menu is Japanese fast (but very delicious) food with some Aussie classics. The Japanese Sausage and Egg Roll with free range scrambled egg, Japanese sausage on a brioche roll is great value at $11. The food is good, the coffee is decent and you're lucky you might even get to see the resident woofer, Bear.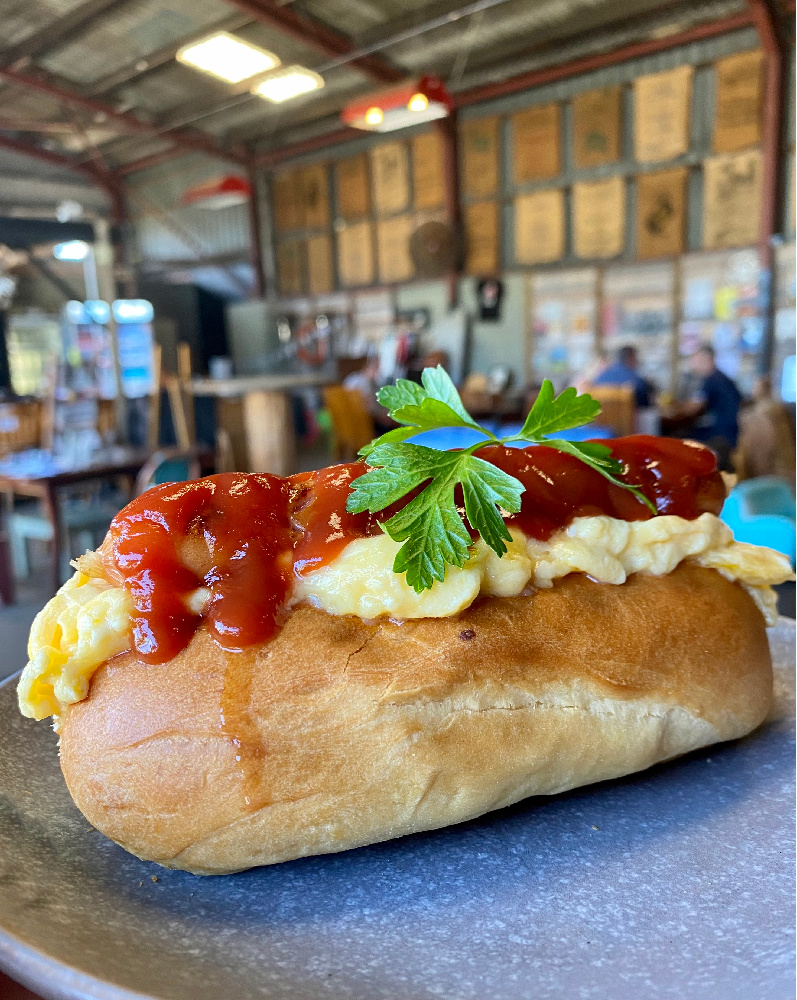 575 Hunter Street, Newcastle West 2302
We loved The Happy Wombat last time we were in town so we're more than happy when our friend Belinda suggests meeting there for dinner. This boutique cafe and restaurant serves breakfast, lunch and dinner with a varied menu and a strong emphasis on Australian beer, spirits and food.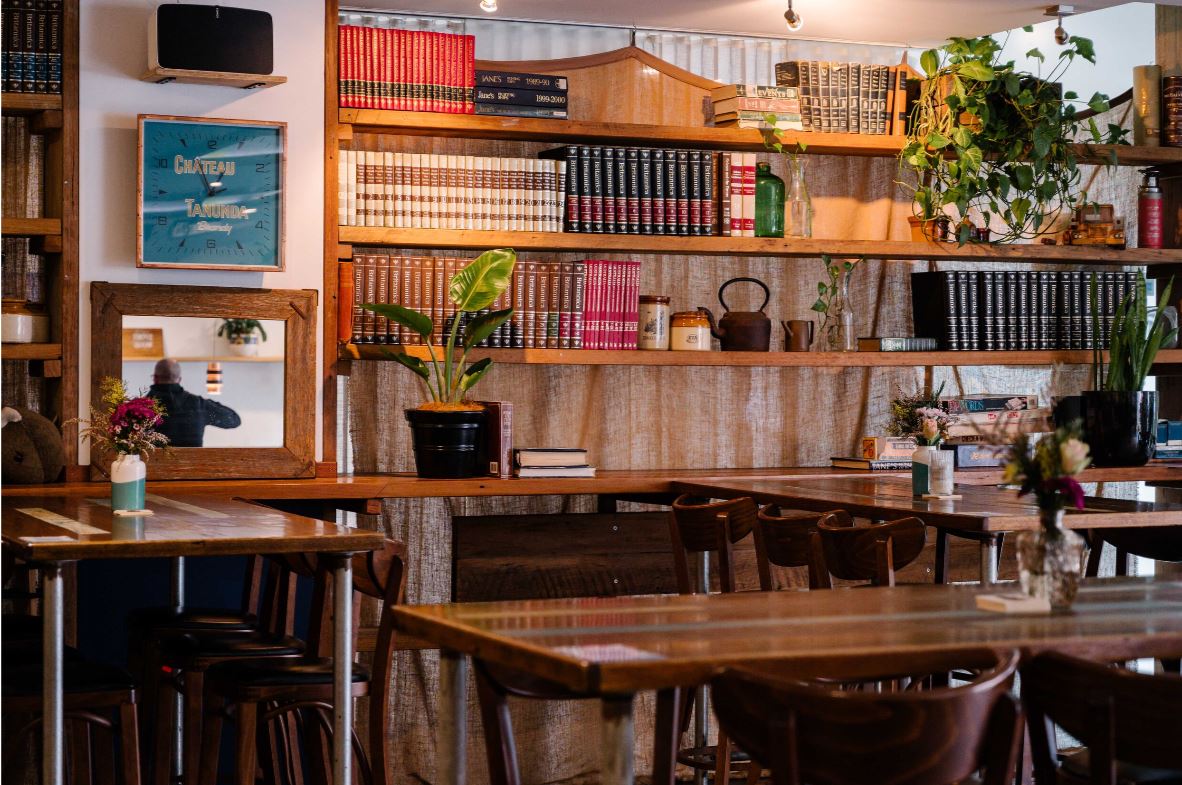 Inside there's been a reno and the space is bright and cosy but there's some neat dog friendly outside where you can kick back with a drink and some eats and if it's raining, the helpful staff will try and find you a spot just inside the door! The dinner menu consists of burgers, pizzas and some tasty mains with some gluten-free, dairy-free and vego options – there really is something for everyone at The Happy Wombat!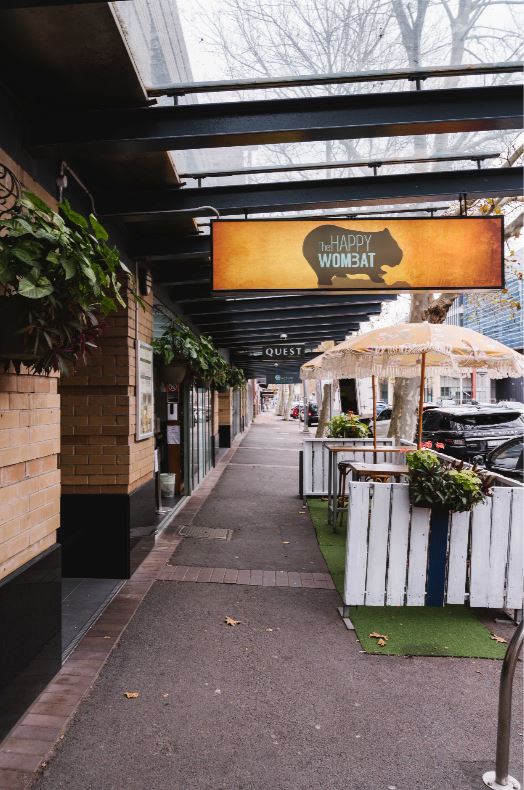 148 Parry Street, Newcastle, NSW 2302
This former laundromat with it's subway tiles and exposed rafters is another one of our Newcastle favourites and we can't wait to take Teddy especially when we discover there's a dog friendly 'beer garden' out the back. The beer garden is in fact a large covered space making it a great choice in inclement weather. There's a super relaxed vibe here and there's often live music.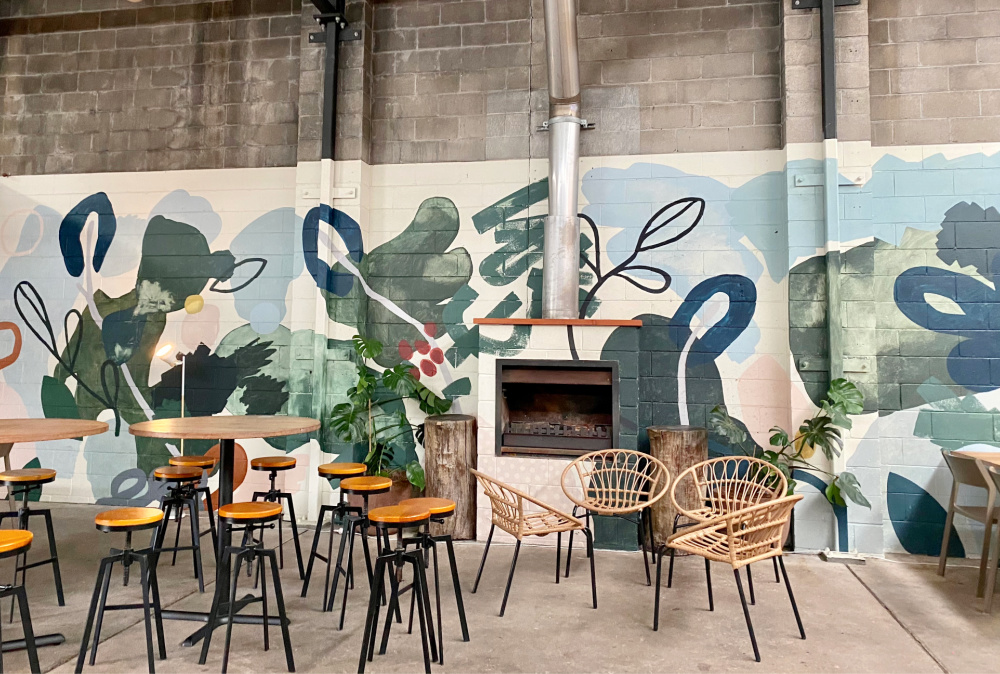 The Edwards is open Wednesday to Sunday serving breakfast, brunch, lunch and dinner and there's great coffee too. For those who like their drinks a tad stronger, there's also a decent selection of craft beer, a great wine list and hand crafted cocktails.
There are vegan and vego options and a kids' menu that's so yummy, the grown ups will be jealous. Even the pups approve! In fact, we love it so much that we enjoy go twice on the same day – once to enjoy brunch with an old friend and later for some arvo drinks with Teddy's sister, Maple, her brother Marlow and her hoomans. It's almost impawsible to tell Teddy and Maple apart!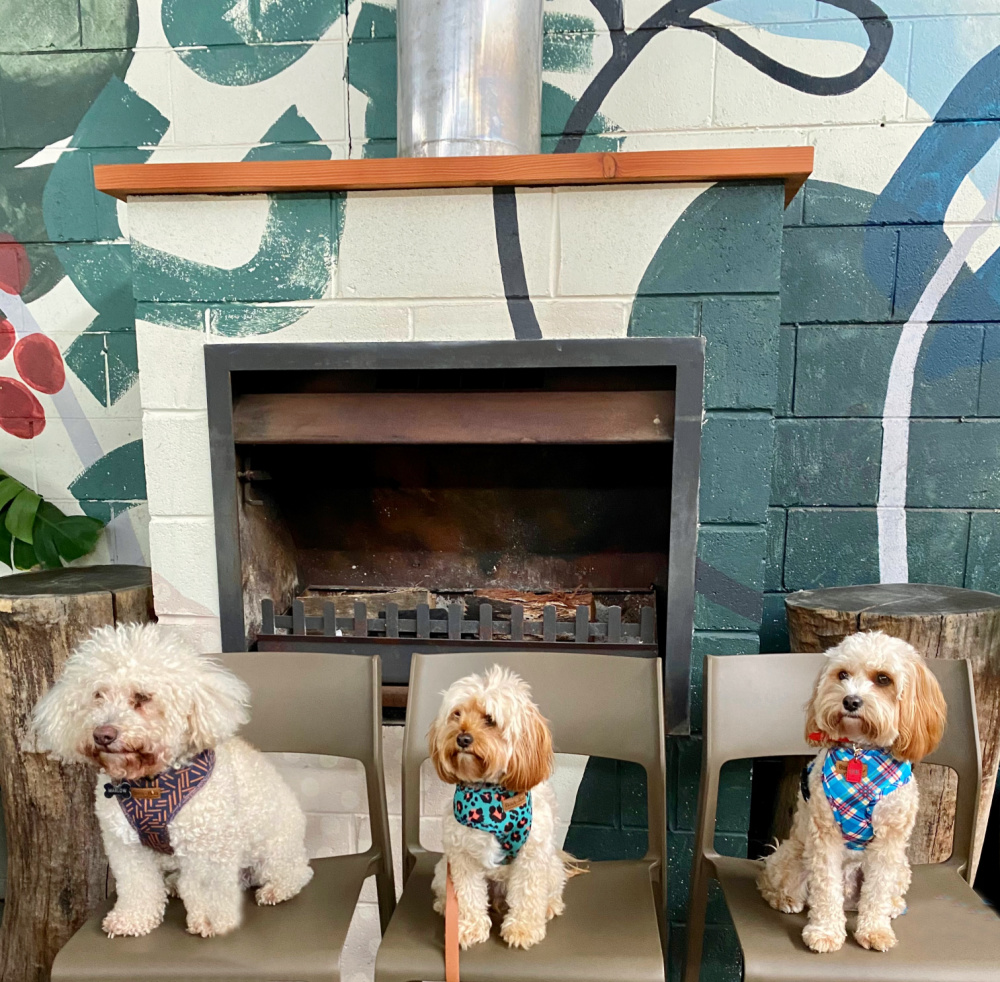 Wil and Sons
102 Darby Street, Cooks Hill, NSW 2300
Open for breakfast, lunch and dinner, Wil and Sons offers delicious fare, an impressive craft beer selection in a cool but cosy brick exposed interior… And it's an interior where you can take your dog! There's dog friendly seating outside too but your pup can join you while you eat inside in the front part of the restaurant – just be sure to add a note to your reservation.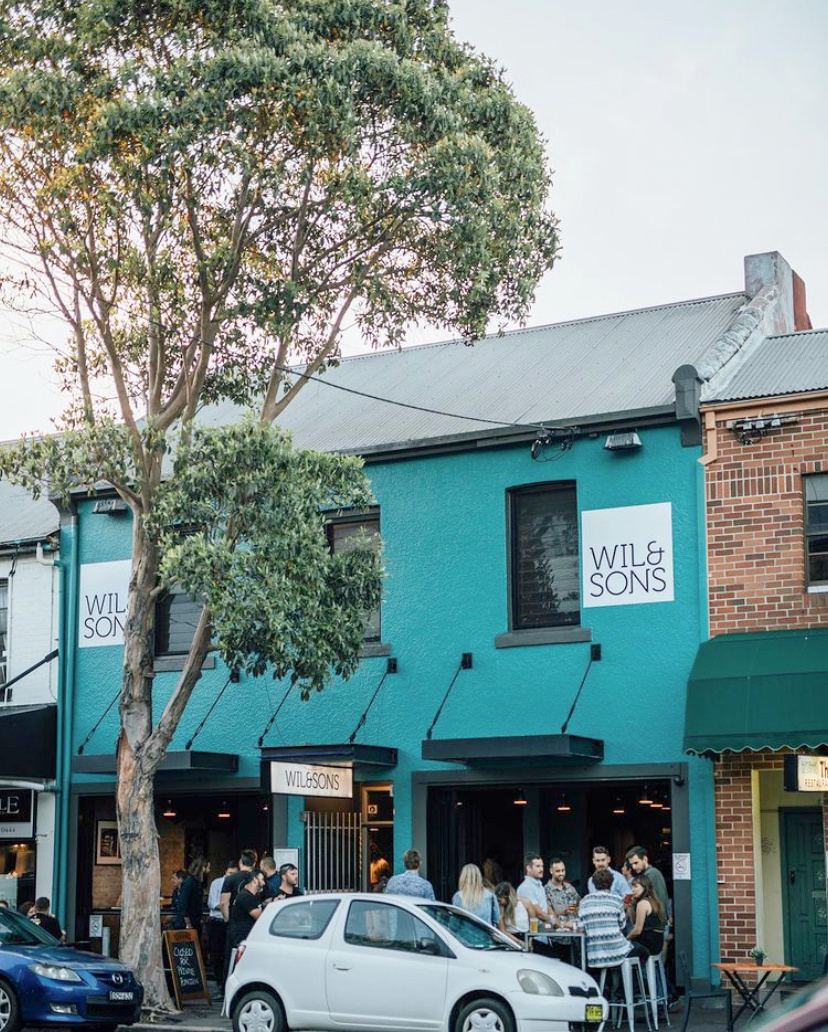 Service is relaxed and friendly and the food is fabulous. The farfalle pasta with smoked chorizo sauce, black olive pangritata and salsa verde ($28) is so good, if only my picture could do it justice! It's such a treat that Teddy can join us too!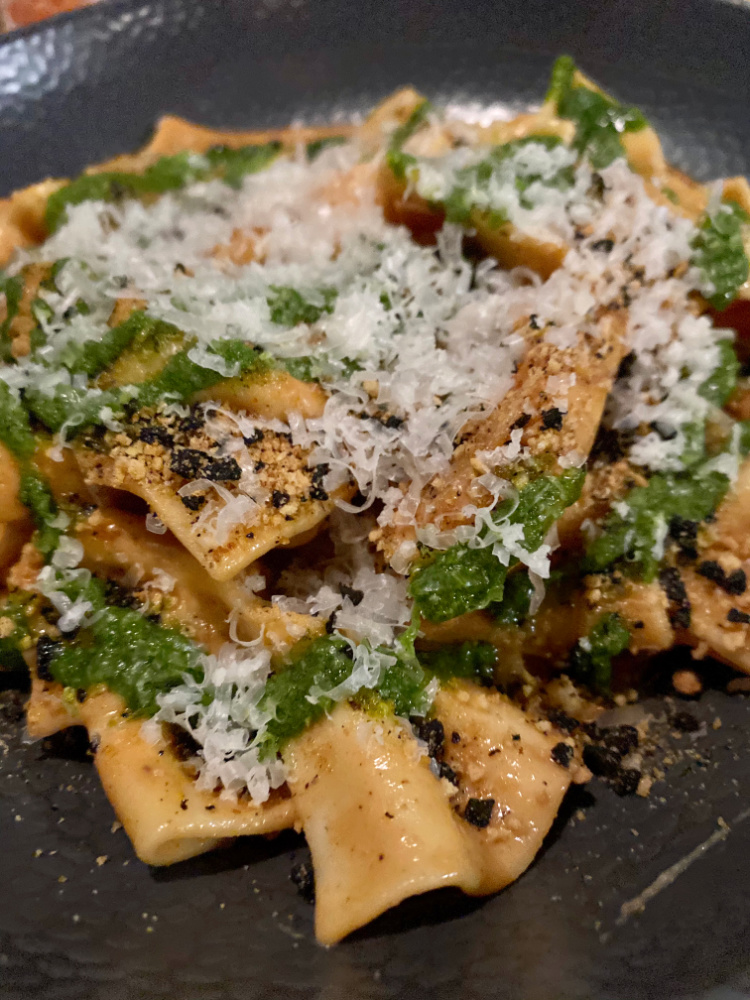 137 Darby Street, Cooks Hill, NSW 2300
For me a visit to Newcastle isn't a visit to Newcastle without a visit to Goldbergs. I've been loving on this place since I first visited in 2002 and love to go back. Serving breakfast, brunch, lunch and dinner with some gluten-free and veggie options this place has a really relaxed vibe and something for everyone.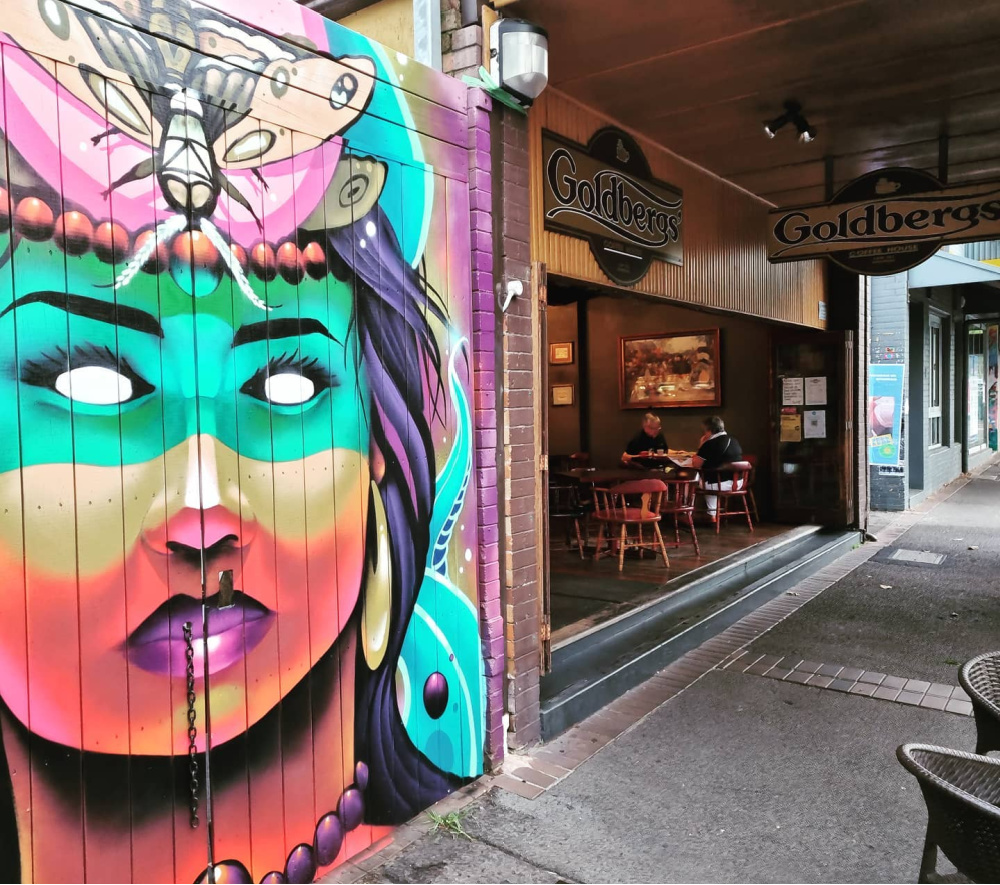 We stop by for an after dinner treat of liqueur coffee and some of Goldy's sticky date pudding, it's my all time favourite thing on the menu. Whether you're stopping by for a bite or a beverage (or both) you won't be disappointed. There's some dog friendly tables on the street and a courtyard out the back.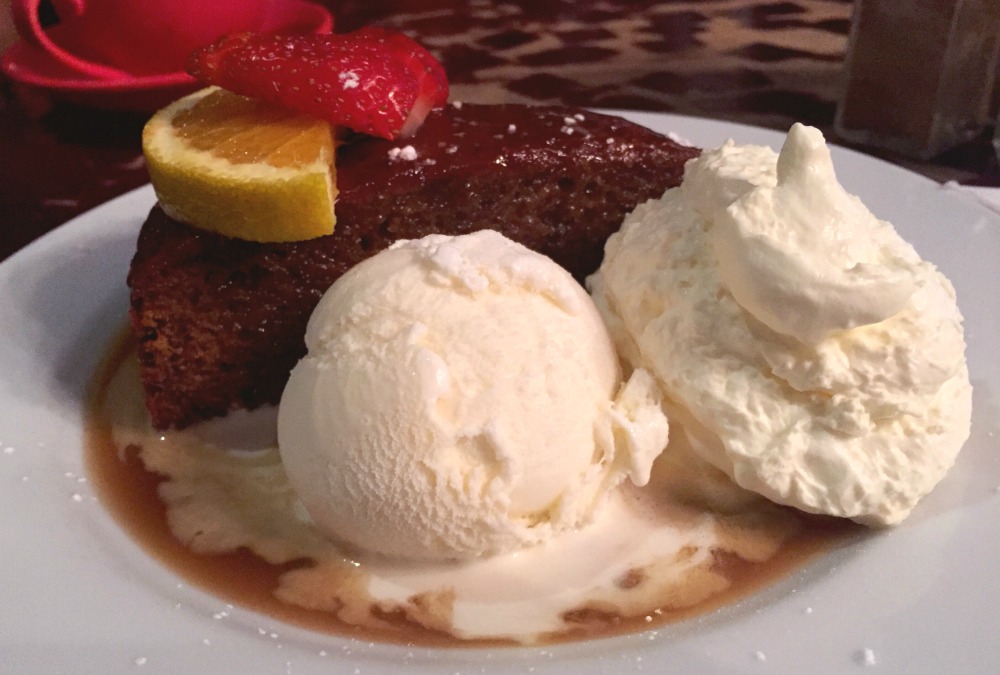 3/3 King Street, Newcastle
I have unfinished business here as I wanted to come on our last visit but alas, it was closed for Easter. This large, smart, glass walled cafe has plenty of dog friendly outdoor seating but when we rock up on a Sunday morning for brunch, the place is packed inside and out. We score a table almost immediately and settle in to enjoy the good food and friendly service.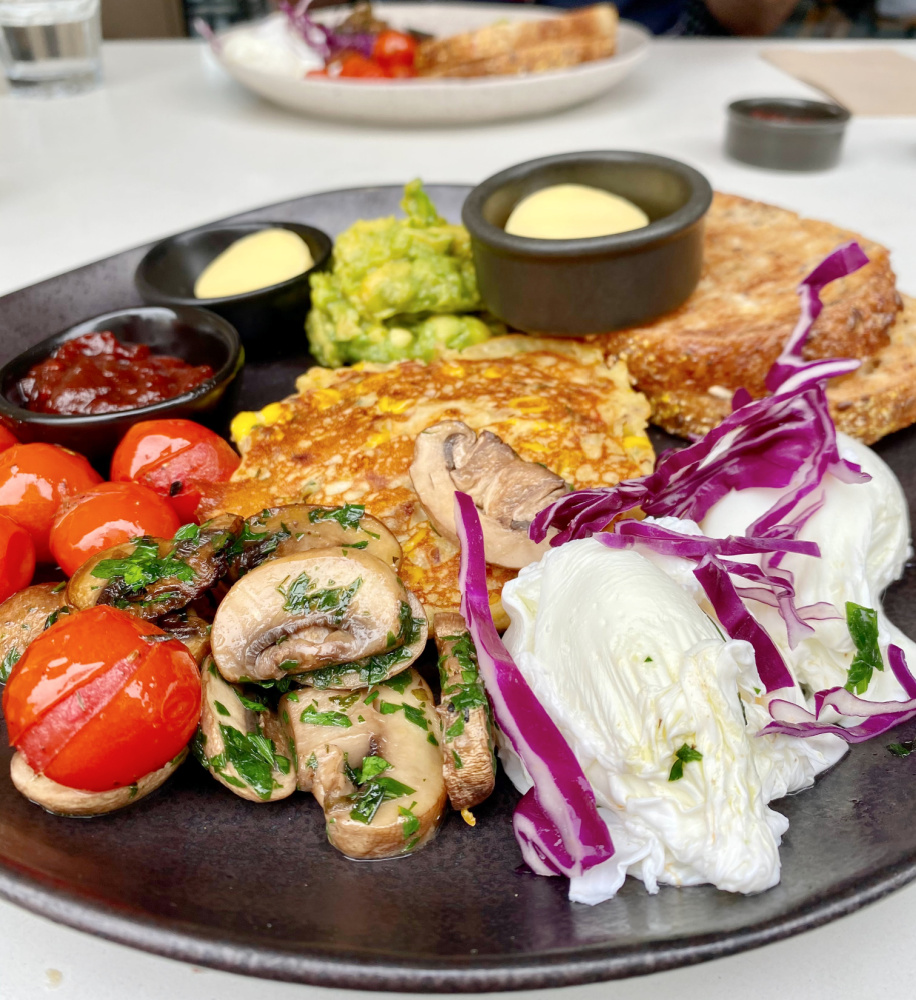 We both enjoy the Veggie Hub Breakfast ($24) with eggs our way, corn fritter, avo, roast tomatoes, mushrooms, chilli jam and toast. Between you and me, I think Teddy Roosevelt has food envy although he seems content with the quality people watching. There's also a kids breakfast and lunch menu, mouth watering daily specials and lots of gluten free options available. Our visit does not disappoint.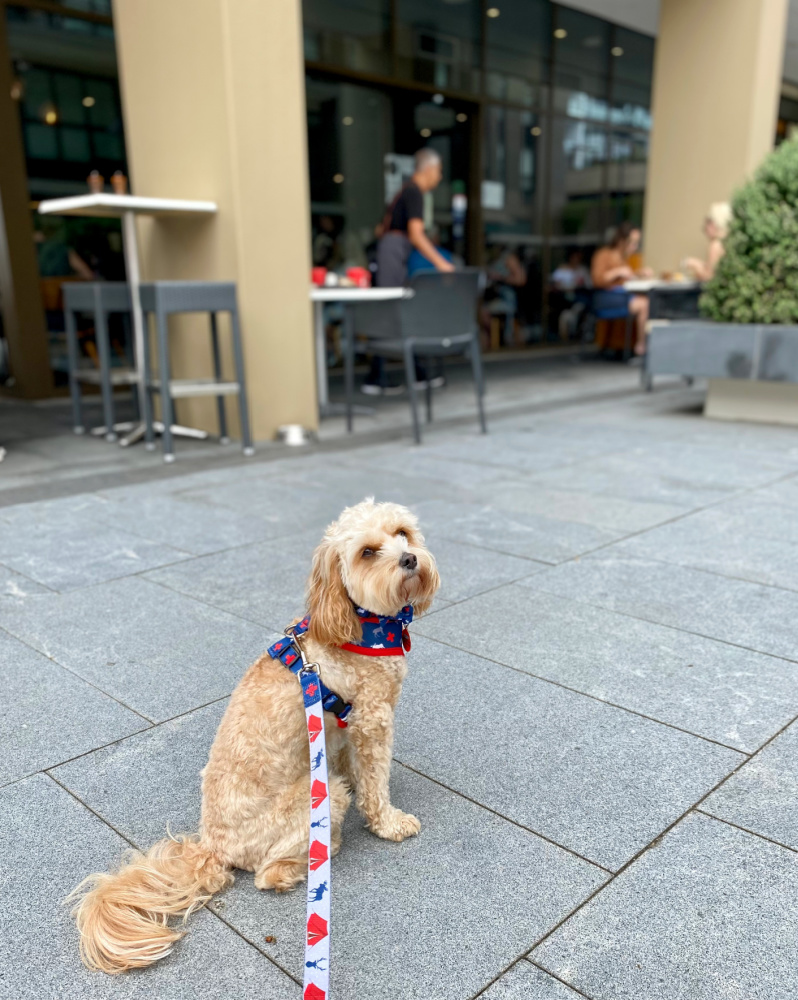 196 Hunter Street, Newcastle, NSW 2330
We don't have time to eat here but we do keep caffeinated on their locally roasted blends. This place is always busy but there's plenty of dog friendly seating outside.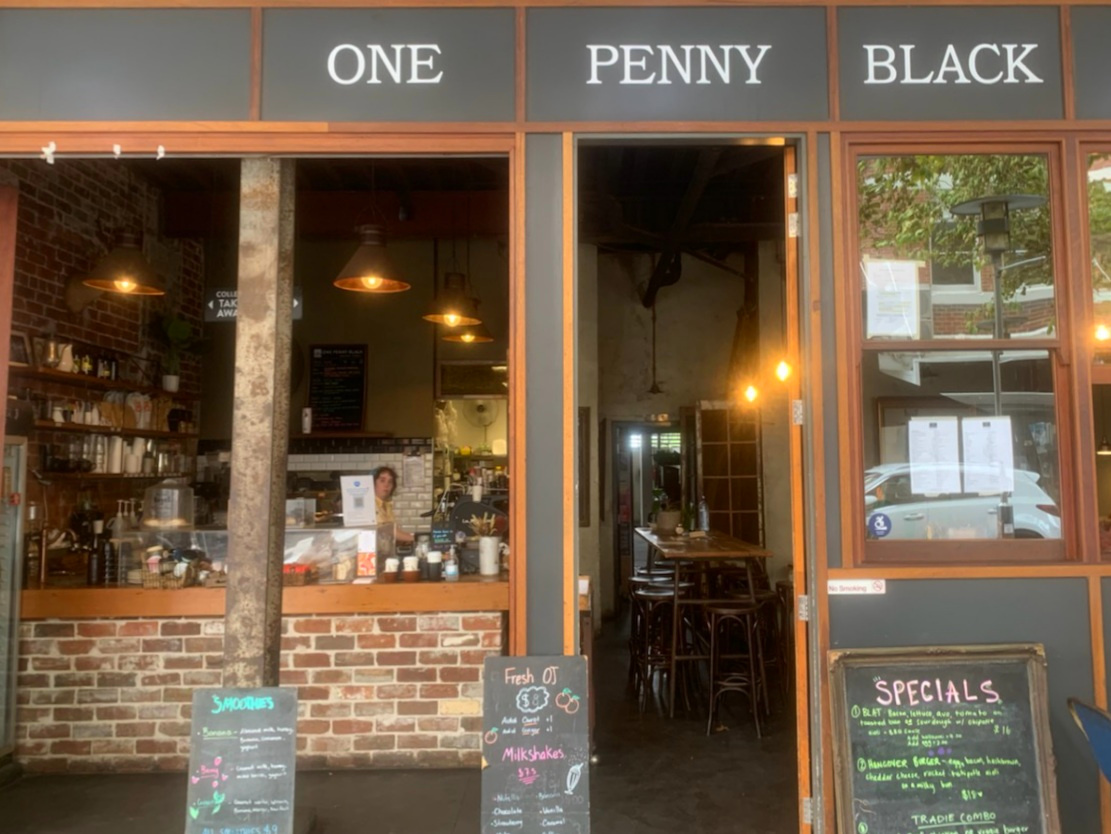 Have you ever been to Newcastle? What do you like to do on a weekend away?
All food and drink was throughly enjoyed and independently paid for. All opinions as always are mine and Teddy Roosevelt's own.
Linking up with Denyse for Life This Week