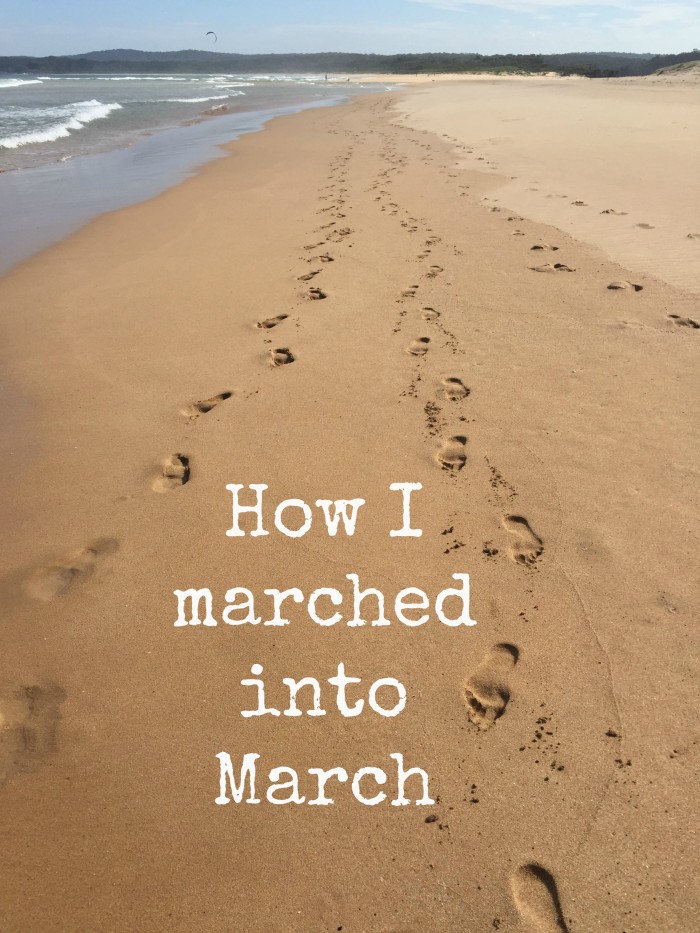 I wasn't going to do a round up of March because it was so full and so full on. Where to begin? But you know these days, I have Swiss Cheese for brains and sometimes, the only time I know if something really happened or when it really happened is if I blogged it. Having a blog is like having my own personal online memory jogger. So this is how I marched into March. It was mad but in the best way possible.
We spent the first day in this secret holiday spot down the South Coast. At least it was a secret until  I spilled the beans about it here. I couldn't think of a better way to march into March. It was a sign of wonderful things to come!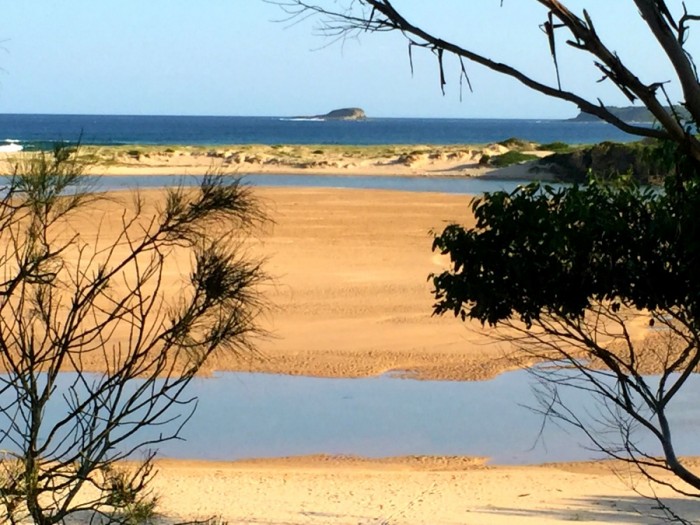 I don't often have good reason to dress up but  I put my best  fashion foot forward,  in sky high heels too, for a very fancy but very fabulous dinner for a friend's birthday at Rockpool. I may have walked like Bambi, but at least I avoided face planting the pavement. Sam 1 – 0 Stilleto Heels. Victory for me!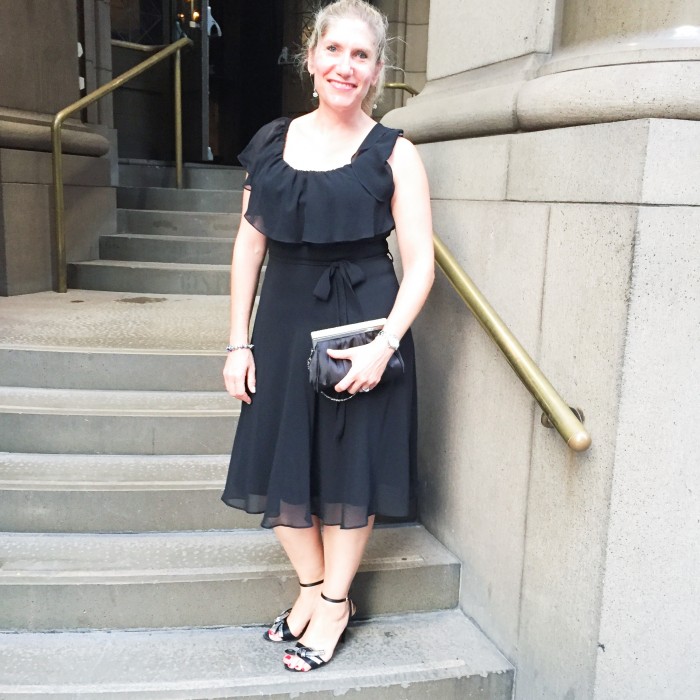 March was a bit of a blogfest. I attended my first pro-blogging event where I overcame my FODP (Fear of Disappointing People) and had a lot of fun, learnt how to use my camera and met up with my fellow graduates from the Clever Cookie School of Blog.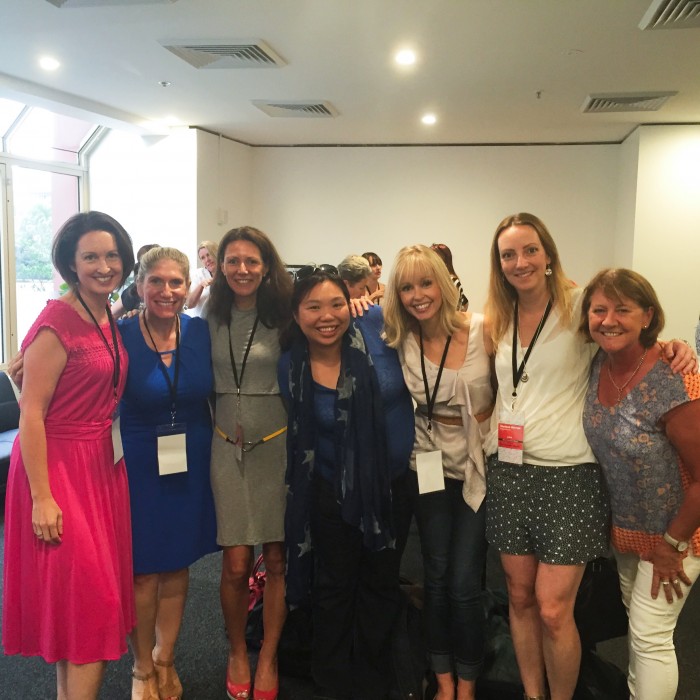 As if that wasn't enough, I got all  inspired at a General Assembly Etsy seminar with the lovely Christina from Hair Romance and Jean from Holy Smithereens. Afterwards, me, Di, Jess, Shannon and Victoria all went to "debrief" at The Rook over a glass of wine or two. As you do! I also bit the bullet and bought my ticket to my first ever big blogging conference, Problogger. I've got until August to grow some balls and cure myself of ye olde FODP.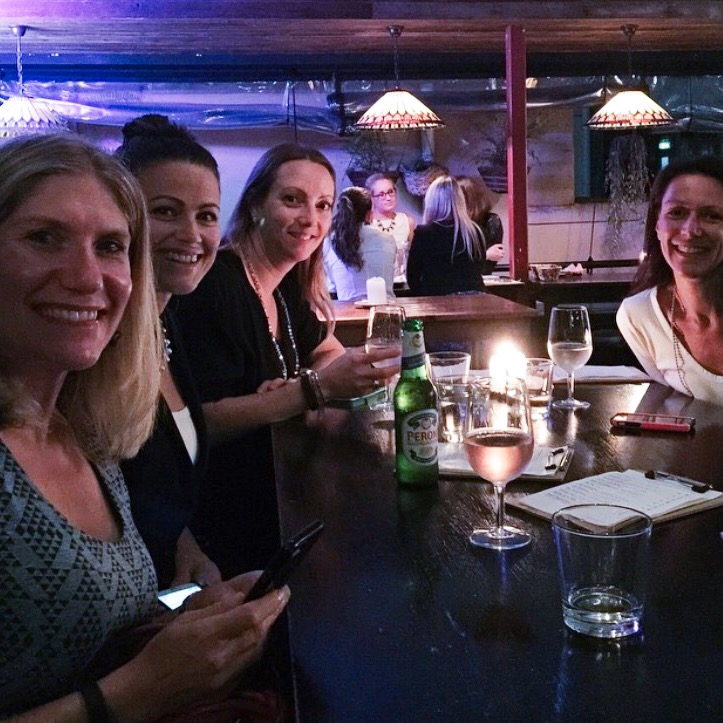 I also got to hang with and learnt how to strike a pose from Blogging Royalty AKA  Nikki from Styling You. Twas glorious! I shared all that I learned here.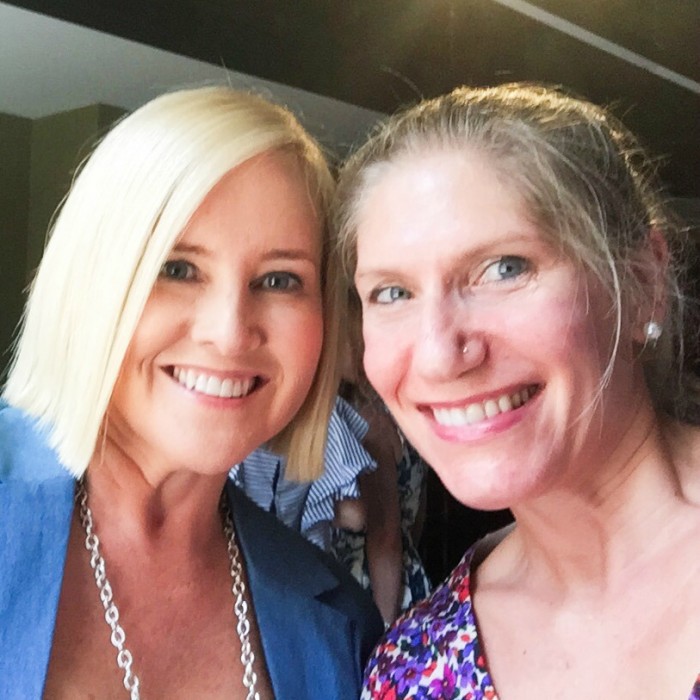 I got my hair did. I waited 3 months for a visit and then it looked  salon perfect for like 5 minutes before it was blowing in the wind and looked like I'd stuck my fingers in a  wet plug socket. I asked the peeps over on Facebook how long they've been with their hairdresser. I thought I was in a pretty committed relationship – 6 years and still going strong – but the record breaking partnership was 32 years! That's true love, that is!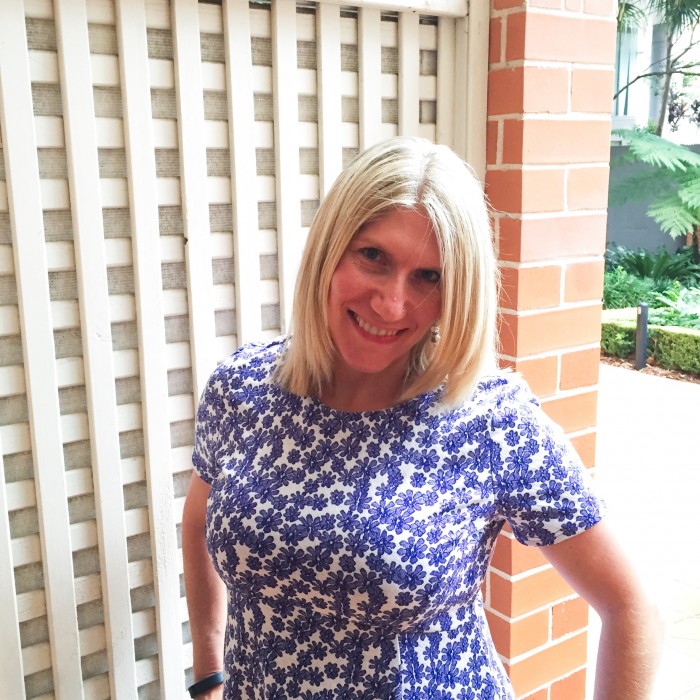 When I'm not chained to my computer, I teach English to international (adult) students. It's an awesome job because I get to meet people from all over the world who do the most interesting jobs. This is Yuka, who is not only my ex-student but the Nail Art Champion of Australia. She did my nails.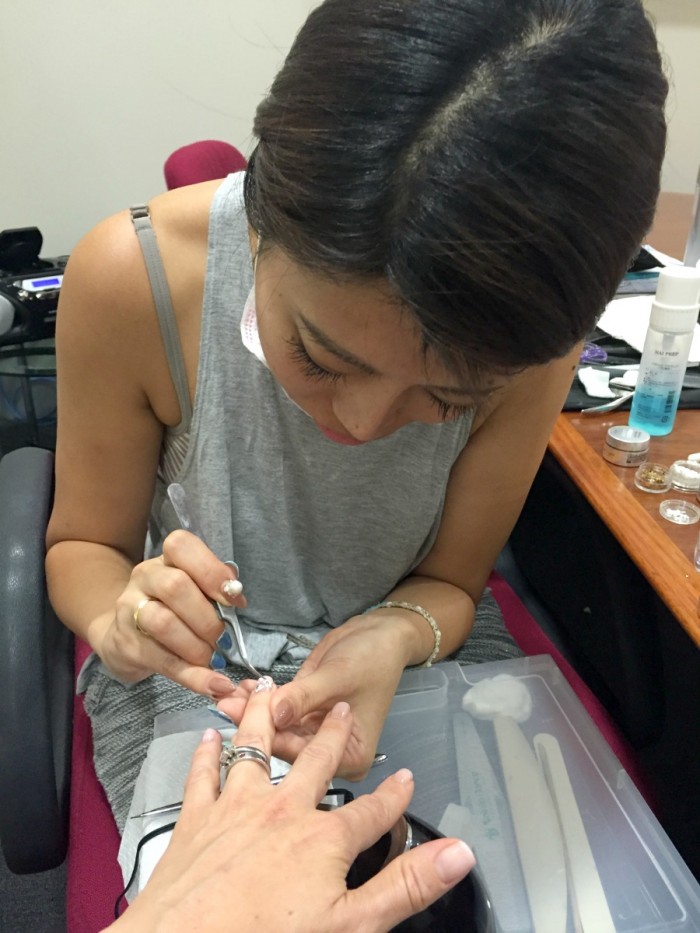 Yuka tells me that this is a new Japanese nail product and it lasts longer than Shellac and unlike other gel applications it doesn't need buffing or sanding which means it looks good, lasts ages and isn't bad for your nails. Winning and it turns out that nail bling is a thing!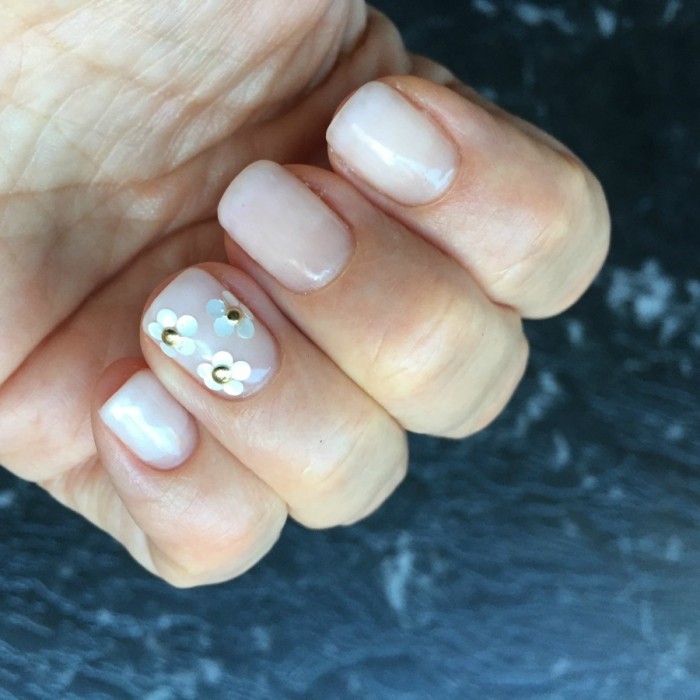 The start of Autumn was glorious. We celebrated our friend's 30th birthday at The Greens in North Sydney and the day was picture perfect. We loved the cool vibe, the stunning city views and the Aperol Spritz! I can't wait to go back!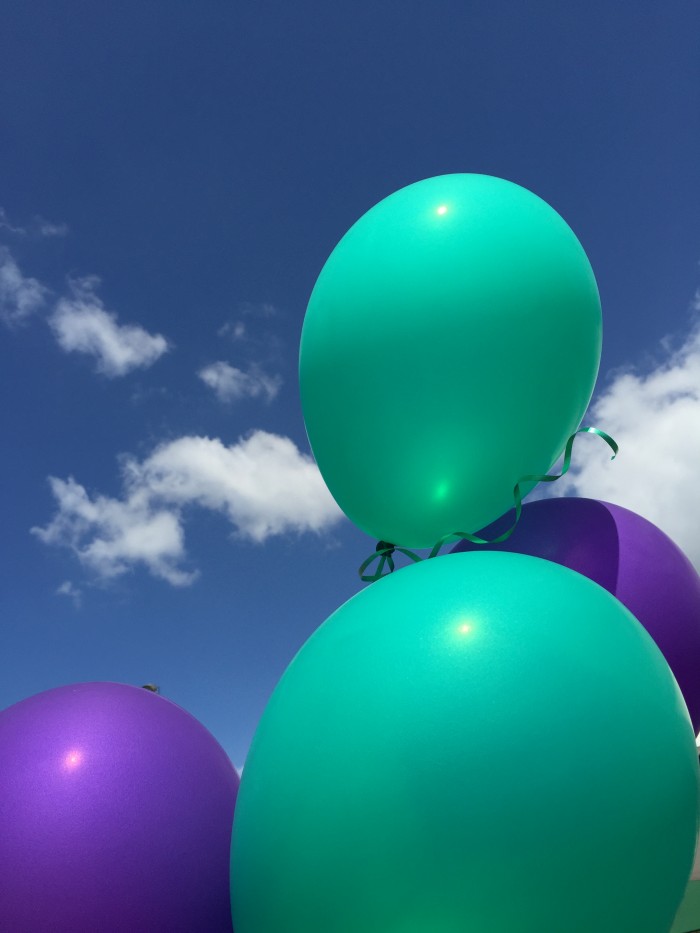 David and I spent most of the month swotting up for our  Citizenship Test. There were sighs of relief all round, when we each scored 100% and a round of applause for David who finished all 20 questions in a record time of 1 minute and 24 seconds! Boom! Of course, there was beer and cheer to celebrate. And now there is much twiddling of thumbs while we wait for our Citizenship Ceremony to become Bona Fide Australians!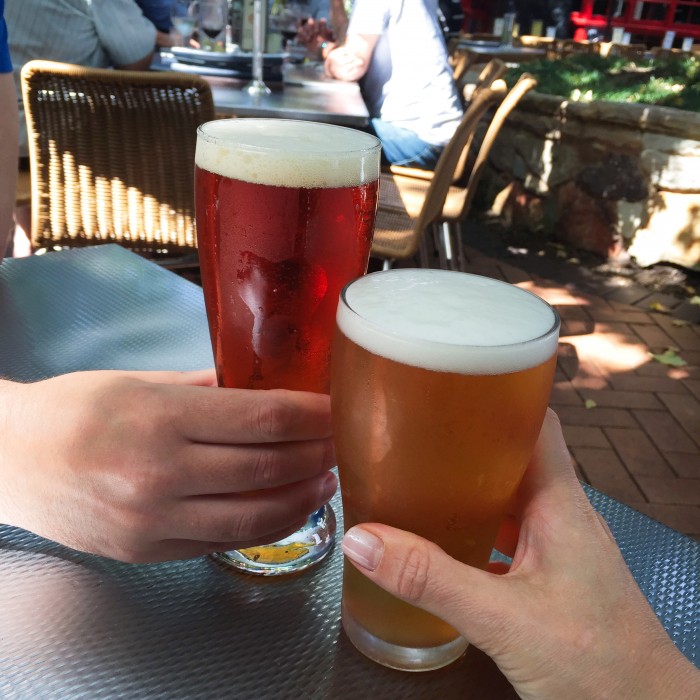 On the food front, us adults have been enjoying something of a CDR (Childhood Dinner Revival.) This fish fingers and smashed peas combo is a winner dinner in this house and has been a regular feature on the weekly meal plan. Have you tried it yet?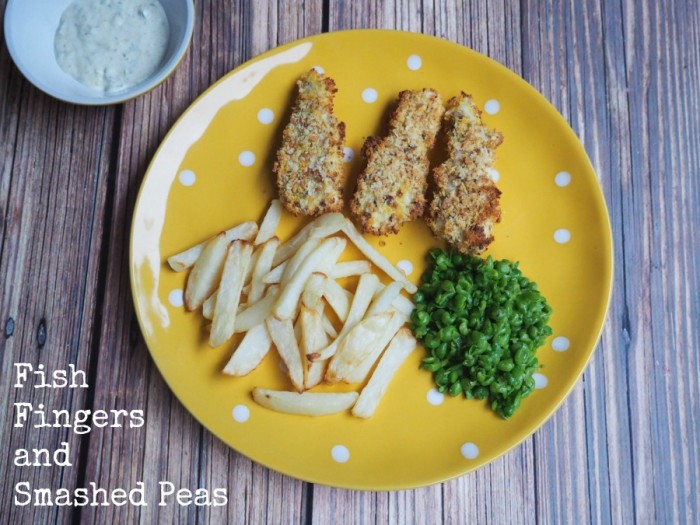 I took part in the inaugural Run Forest Run. This is the before picture with my trainer, Kathy, and her kids at the start line! It was a brilliantly organised event and it was such a joy to support local schools but man, it was 10km of torture. Let's just say this place is called Killarney Heights for a reason and that the after picture wasn't quite so pretty!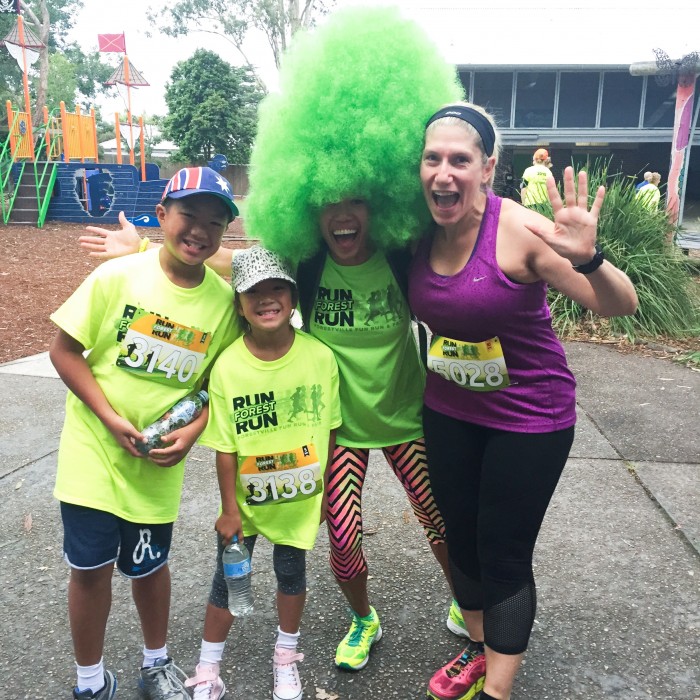 There were dumplings for birthdays, for citizenship and just because. There were soupy dumplings, spicy dumplings, steamed dumplings and fried dumplings but these coloured Dumpling Gems from Din Tai Fung were the stars of the show!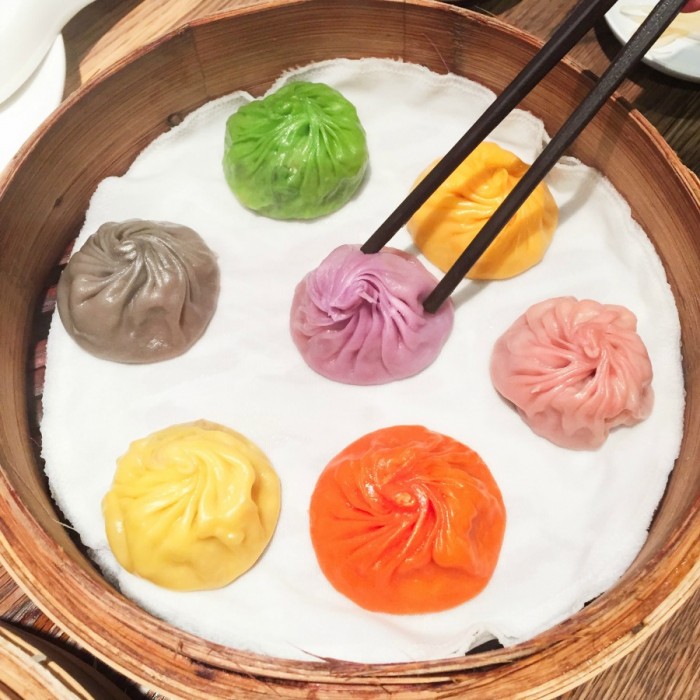 I didn't really have time to get my Easter bake on but I did pop my Hot Cross Bun cherry with some eggcellent results. Mini Egg Hot Cross Buns – they're a thing!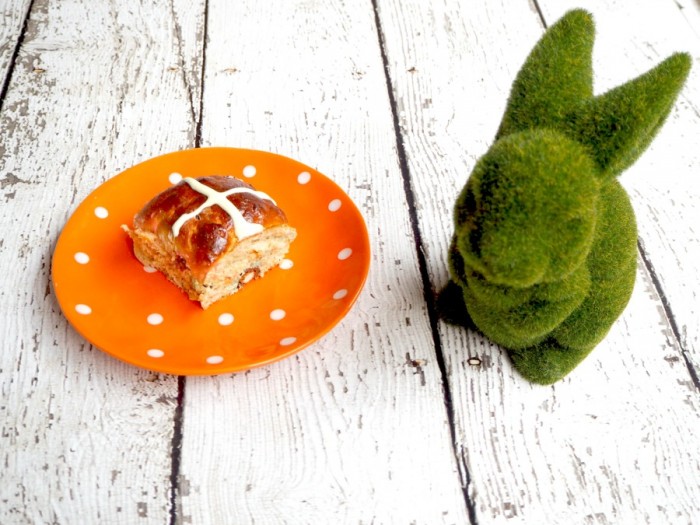 Today, I'm over at Mrs D Plus 3 sharing the recipe for this delicious tea time treat.  It's an oldie but it's a goodie! Now I've converted it to the Thermomix, it's getting a modern day makeover. The method might have changed, but trust me, it's as delicious as ever! Come over and say hello, grab the recipe and get your bake on!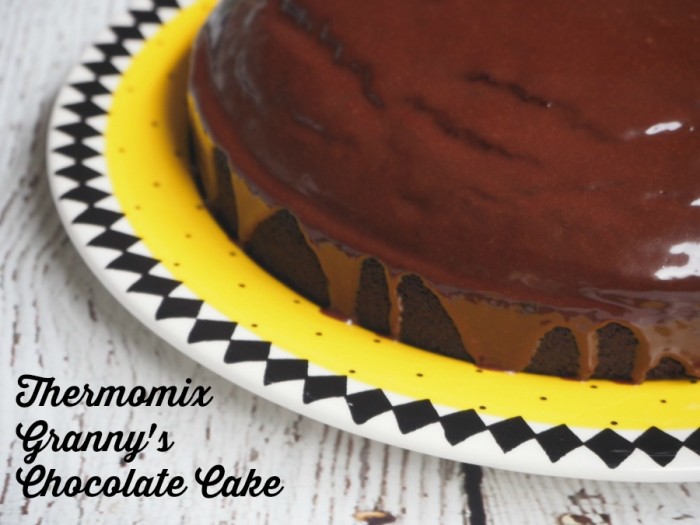 March – that's a wrap! I don't know how I can fit any more fun, frolics or deliciousness into April but I'll sure as hell give it a good try. So tell me, what was magic about your March? How long have you been with your hairdresser? Flats or heels, what say you? What's the latest winner dinner at your house? And tell me what secret tricks and eggciting plans have you got up your sleeve for Easter?