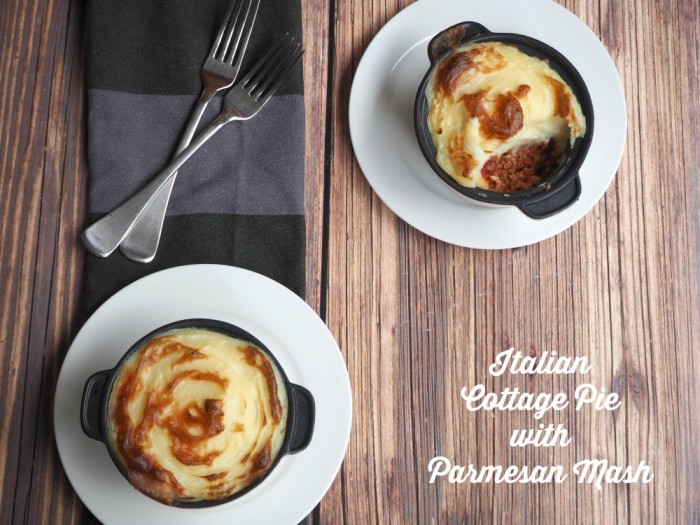 Serves 6
This recipe should come as no suprise as I'm a huge fan of pies and I'm always looking for new ways with bolognese. If you're looking for some non-spaghetti bolognese inspiration, you've come to the right place. You might also want to check out the Bolognese Stuffed Capsicums, Pancakes Bolognese  or the Speedy Beef  Tacos. Just sayin'!
Anyway, back to these pies, they're a tasty Italian twist on an old classic and they're the ultimate winter warmer. Who doesn't love a good bolognese sauce? And that creamy parmesan mash? It's the tops! I've included my favourite bolognese recipe too, but if you have your own, just top it with the mash, bake it in the oven and you're good to go!
Ingredients
FOR THE MEAT FILLING
1 tablespoon olive oil
1 large brown onion (200g) chopped finely
2 garlic cloves, crushed
500g minced beef
2 x 400g tins chopped tomatoes
3 tablespoons tomato paste
2 tablespoons balsamic vinegar
1 beef stock cube
FOR THE PARMESAN MASH
1kg (2 pounds) potatoes, chopped coarsely
250g (Thermomix) or ¾ cup (180ml) milk
25g (Thermomix) or 45g butter, softened
½ cup (50g) coarsely grated parmesan cheese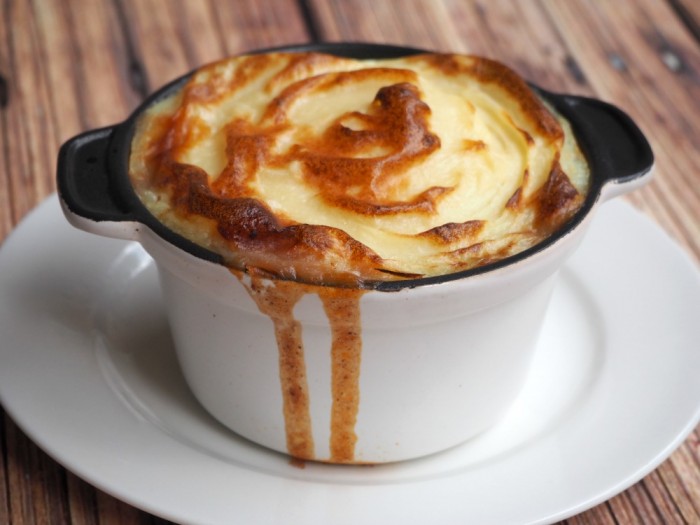 How to
Make mash.
Conventional Mash
Boil, steam or microwave potatoes until tender, drain. Combine potatoes with milk and butter, mash until smooth, stir in the parmesan and season to taste.
Thermomix Mash
If you are making the mash in the Thermomix you will need less butter and a bit more milk. Chop the potatoes into 2 cm pieces. Place the parmesan into the TM bowl and grate for 10-15 seconds

on

speed 8

. Set aside. Place potatoes, 250g milk and some salt into TM bowl and cook for 20 minutes at

100C

on

speed 1

. The potatoes should fall apart when cooked, if they're still a bit hard, cook for a few minutes more. Insert butterfly and add parmesan cheese and 25g butter. Mash for

20-30 seconds

on

speed 4
Preheat oven to 200C / 180C fan-forced.
Heat the oil in a large saucepan and cook the onion and garlic, stirring, until it starts to soften.  Add mince; cook, stirring, until browned..
Add undrained tomatoes, paste, vinegar and stock cubes, and bring to the boil. Turn the heat down and simmer, covered, stirring occasionally, for about 20 minutes. Then remove the lid and simmer uncovered, for a further 10 minutes or until most of the liquid has evaporated.
Spoon the mixture into a 2.5 litre oven dish or 6 small ovenproof pie dishes and top with the mash.
 Bake, uncovered  in oven  for about 30 minutes or until brown and heated through.
 Other info
Prep and cooking time:  1 hour 10 minutes
TIP! This recipe is suitable to freeze.  Thaw overnight in the fridge before reheating.