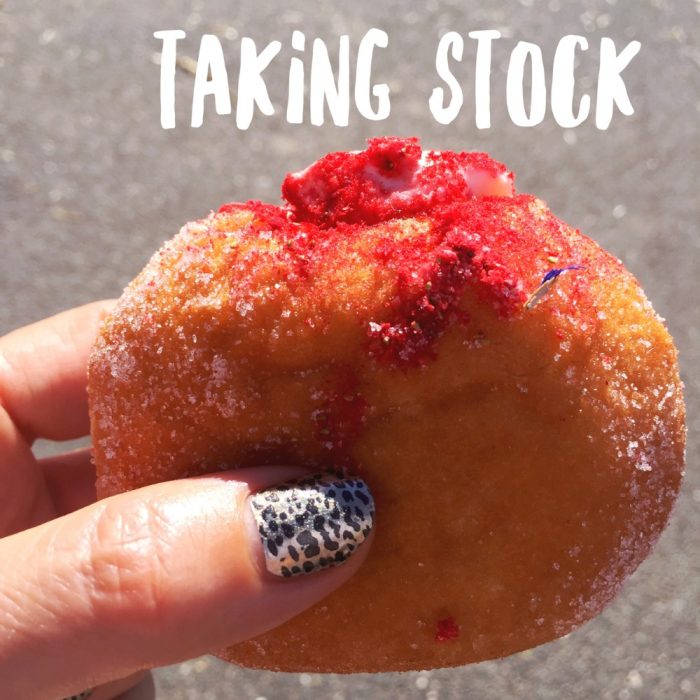 Now, I know it's not quite the last Tuesday in April but it is the last Tuesday I'll be down under in April so I thought it was an appropriate time to take stock  like Pip did. April has shaped up really rather nicely!
Baking: All things Anzac! I totally outdid myself this year with the Ultimate Australian Anzac Blondies.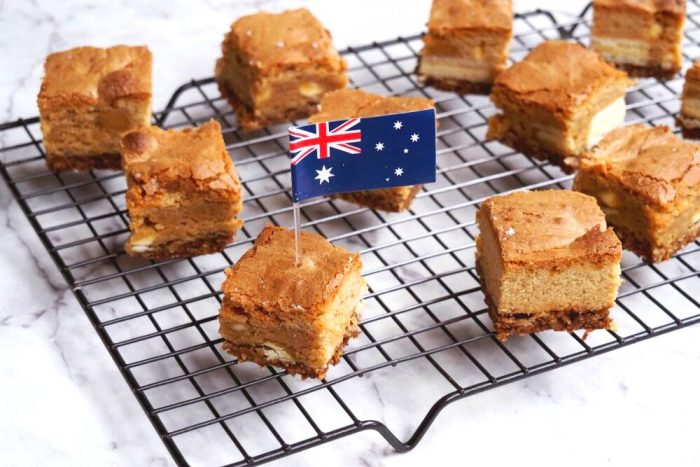 Snacking:  On olives. The spicy ones.
Cooking: Pulled pork for Easter.
Drinking: A never ending supply of coffee from our Nespresso machine. The novelty hasn't worn off yet.
Eating: Our way through the archives. This super healthy Sweet Potato Shepherd's Pie was a huge hit.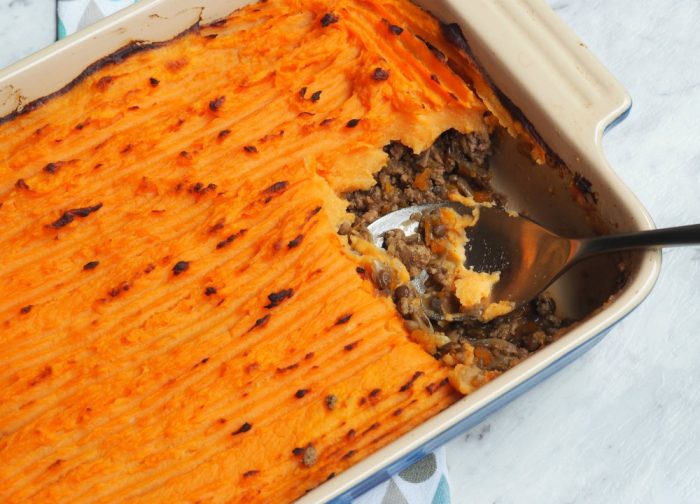 Bookmarking: All the yummy food I'm going to make for my mum when I'm in situ. I've always wanted to be a personal chef.
Filling: The freezer with all our favourites  because otherwise David will try to  live on cheese on toast alone while I'm away.
Making: Lunch boxes and loving it!
Sharing: Ideas on how to pack a yummy and healthy grown up lunch box and  a 10% discount code on Yumboxes – you can find all the delicious details here.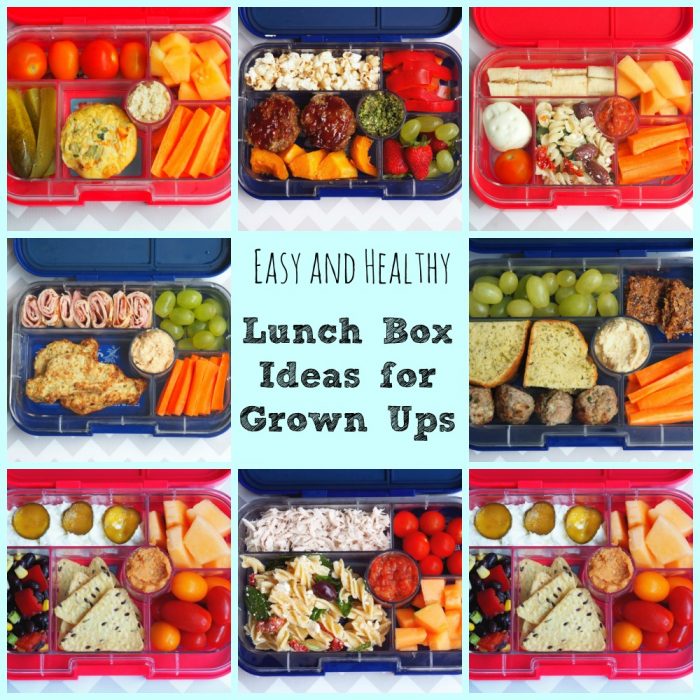 Feeling: Anxious about the 24 hour flight ahead. The older I get the less I enjoy flying.
Wishing: England wasn't quite so far away.
Buying: A case load of Tim Tams to take to the mother country. I hope they survive the journey!
Wondering: What else to pack. Apart from a snack box… Because airline food dislikes me as much as I dislike it!
Booking: The last bits and bobs for my trip. All the fine tuning!
Taking:  Selfies at the Big Merino. I didn't feel a bit sheepish about it either!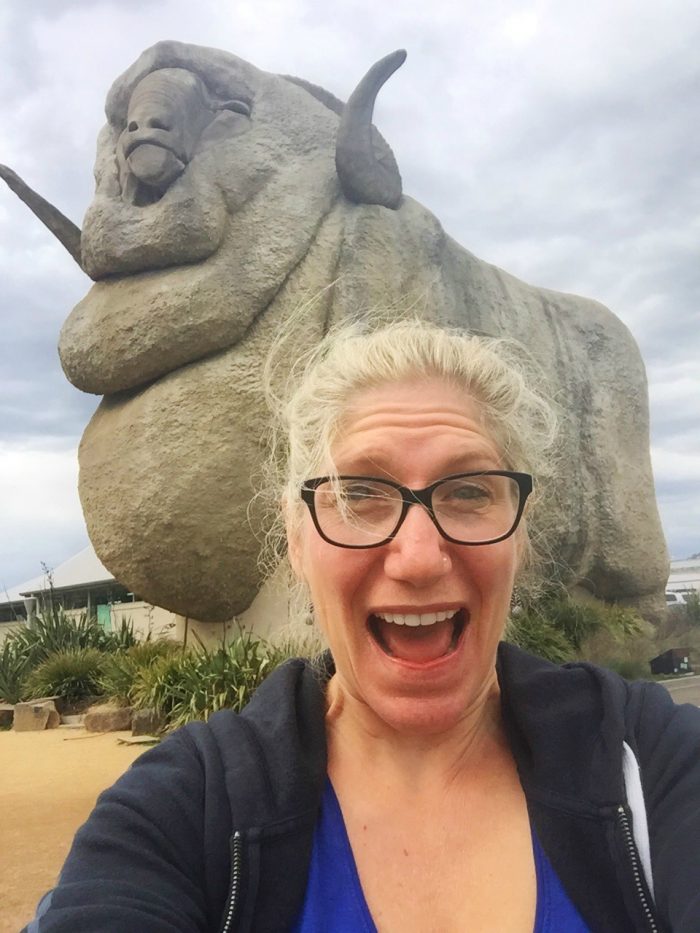 Discovering: New places to eat and drink in Canberra.
Staying: At the QT Canberra. It's quirky plus!
Enjoying: A wonderful weekend in Canberra.
Running:  Rings around Canberra in the Australian Running Festival 10k.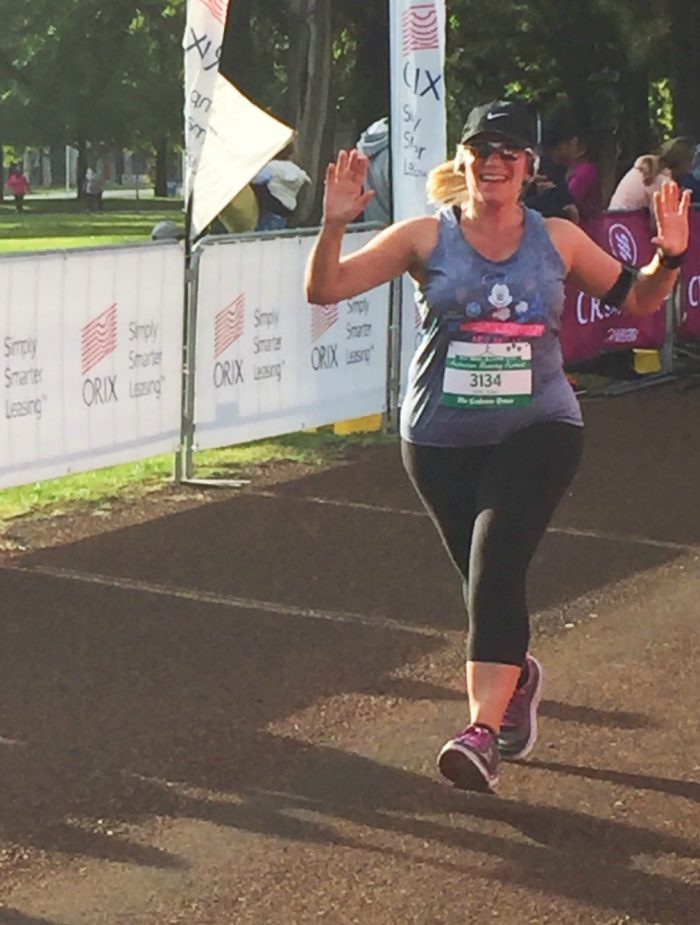 Realising: That the older I get, the slower I go. But going slow is better than not going at all. Amirite or amirite?
Loving: Our capital city, and not just because of the donuts.
Coveting:  More Bombolini Donuts. I will run for donuts. True story!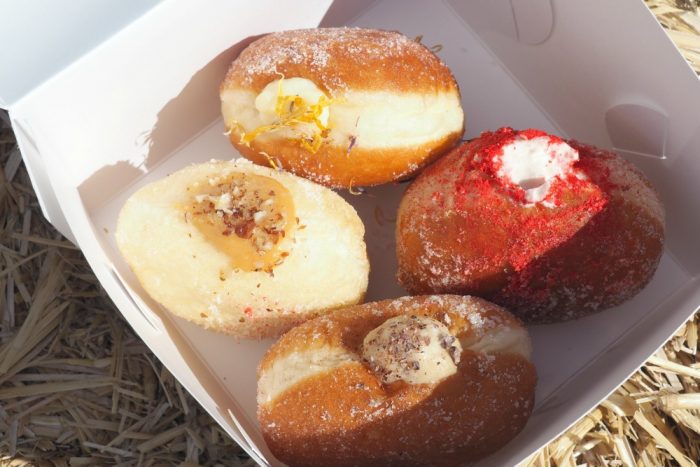 Losing:    My nose ring. My nose is naked for the first time in 21 years.
Wearing: Winter clothes! We seem to have fast forwarded through autumn to instant winter.
Hoping: That the weather will be warmer in the mother country. (I believe in miracles.)
Finding: Photos from my modelling days. Did you know I was a  baby model back in South Africa back in the day?!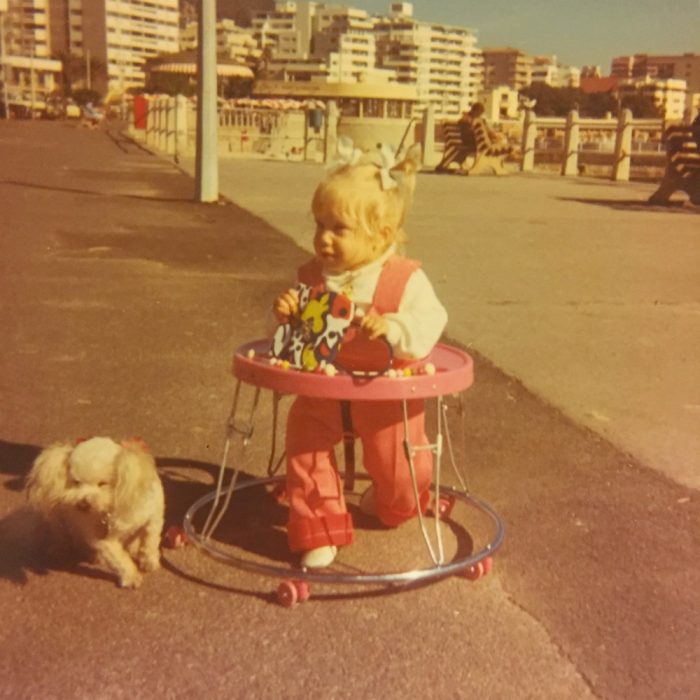 Marvelling: That I've wanted a dog since I was knee high to a grasshopper. This photo is proof of that.
Wanting: A dog. But looking forward to sharing my mum's for a while.
Missing: My nana. Even though we said goodbye on an April day 23 years ago, I miss her as much now as I did then. I light a  memorial candle that burns for 24 hours on this day every year.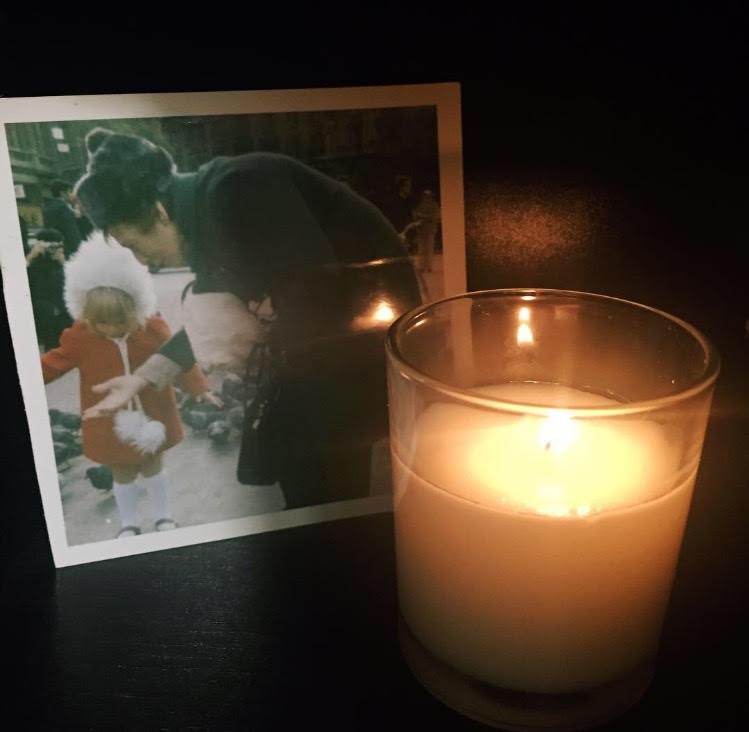 Needing: To make Nana's Best Ever Bread Pudding. It's not called "best ever" for nothing.
Thinking: That if Tom Kirkman from Designated Survivor was the real president of the US, what a wonderful world it would be.
Following: Along on Instagram stories. I'm totally addicted.
Remembering: Our favourite things to see and do in Vancouver. The bears, the bears!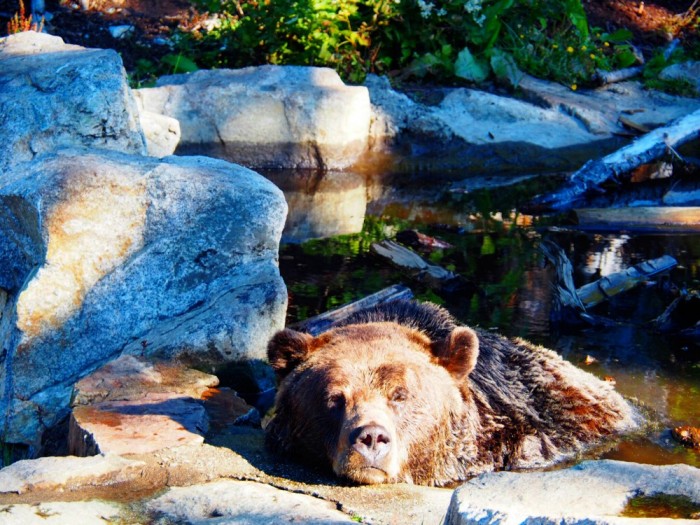 Enjoying: The Easter long weekend. I think every weekend should have four days, don't you?!
Trying: Lots of new bars and restaurants near and far.
Opening: Up my books. I am all aboard the study train.
Seeing: Beauty and the Beast in Gold Class. It was absolute magic.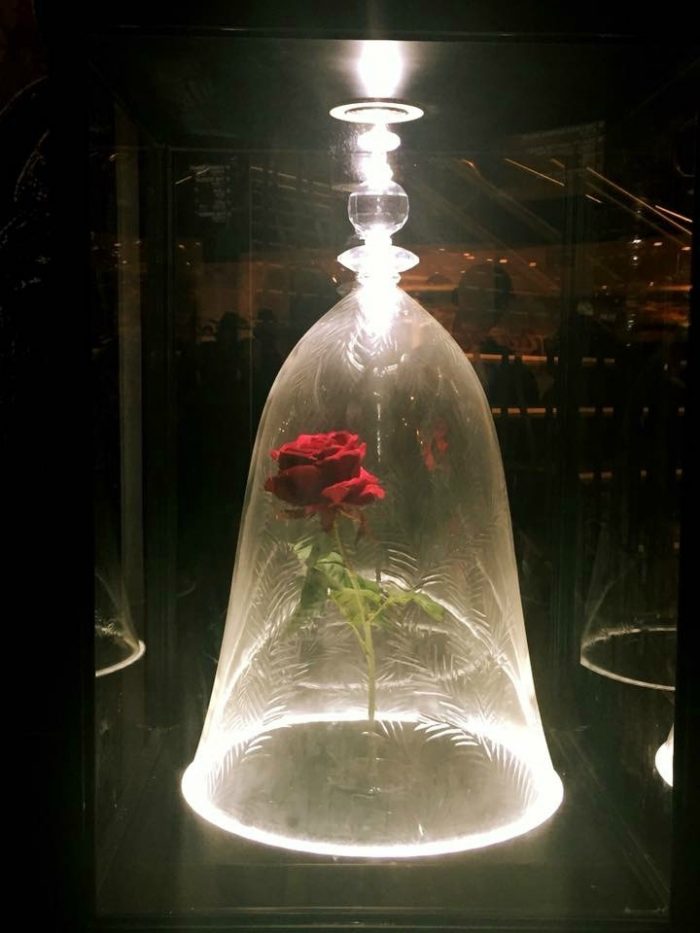 Listening: To The Minimalists. They just make perfect sense.
Liking: Saying hello, goodbye, not so much.
Disliking: The news. In fact, I dislike it so much, I refuse to read or listen to it.
Getting: My hair did. Nothing feels like fresh hair does.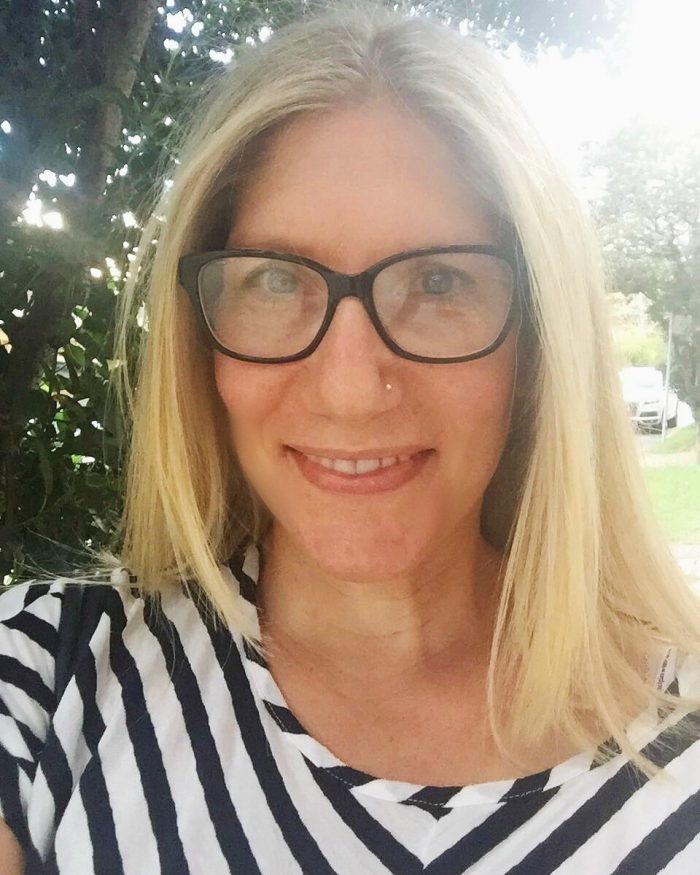 Admiring: My hairdresser. She's genius!
Reading: Just finished  Notes From a Small Island  by Bill Bryson. It was pure gold. Next up Lion, but not before I gather a lorry load of tissues!
Watching: Grace and Frankie. Best!
Celebrating: My friend's 60th birthday… the perfect excuse for gold plated dumplings at Mr Wong.
Looking forward to: A month in the UK, canine cuddles and some quality mum time.
How's your April shaping up? Tell me all about it!
Linking up with Kylie for IBOT
* Some of the links in this post are affiliate links. If you click to buy the item, I make a little commission but you don't pay any extra.