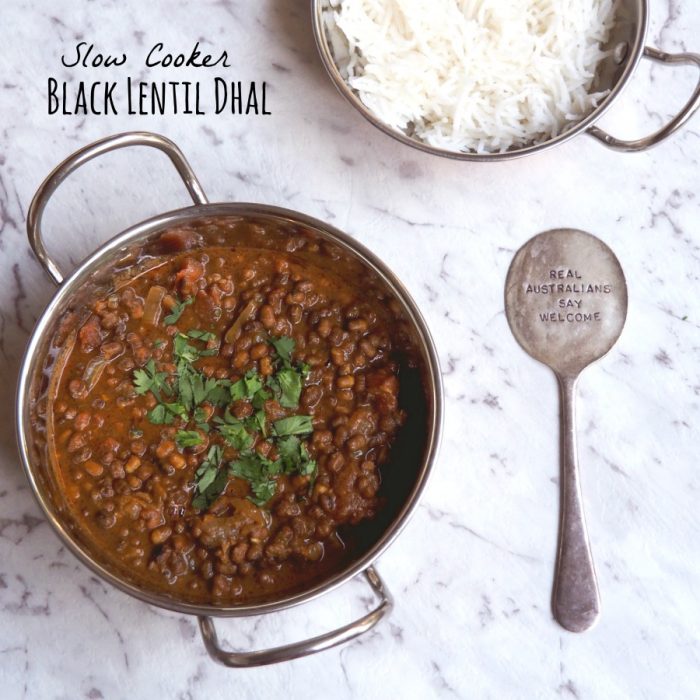 Autumn is my favourite season, it brings warm days, cool nights (at least when Mother Nature is playing nice,) and the slow cooker comes out of it's summer hibernation. Actually, I tell a lie, because I've been using my slow cooker through spring and summer to make this delicious dhal and other spicy niceties like this Slow Cooker Prawn, Pea and Tomato Curry,  this Slow Cooker Red Thai Fish Curry and this Slow Cooker Pumpkin and Chickpea Curry. Saying that, if you don't have a slow cooker, you can make this delicious dhal on the stove, check out the tip at the end of the recipe to find out how!
Am I the only one who has noticed that this is the second Meatless Monday recipe in a row? I know, right? The truth is that at home we don't eat a lot of meat. When my friends Joan and Beverley came to visit, I kept telling them how I was a part time vegan. Every time we went out for lunch, I'd choose a plant based option, and embrace my inner vegan. Then I'd come home and eat spaghetti bolognese or a chicken pie (the filling for which I also made in the slow cooker) because I "forgot"about being vegan. We all had a right laugh about it, but we also all agreed that my healthy choices should be commended because eating plant based some of the time is better than none of the time, amirite or amirite?
This recipe isn't vegan, but it is vegetarian and it's a very delicious vegetarian recipe at that! I bought these urid beans (soemetimes called urid dal or black lentils,)  from our local Indian supermarket and was desperate to try them. I'd never cooked with black lentils before so I first took this dhal for lunch to the Asylum Seekers Centre with some trepidation. I needn't have worried though, this dhal was a huge hit with the clients. It was a big hit at home too, both fussy husband and not fussy neighbour gave this a thumbs up as did our overseas visitors and Bev doesn't usually eat curry. I turned her!
This dhal is uber mild, in this recipe, the spices bring all the flavours of a good curry without any of the heat. If you're worried, skip the fresh chilli and if you think spice is nice, add in an extra one. I love that this is so cheap, easy and freezer friendly and that the slow cooker does all the work. I'm so pleased the clients at the Asylum Seekers Centre liked this because they'll be seeing a lot more of it in future!
Do you love your slow cooker too? How do you like your curries, hot or mild?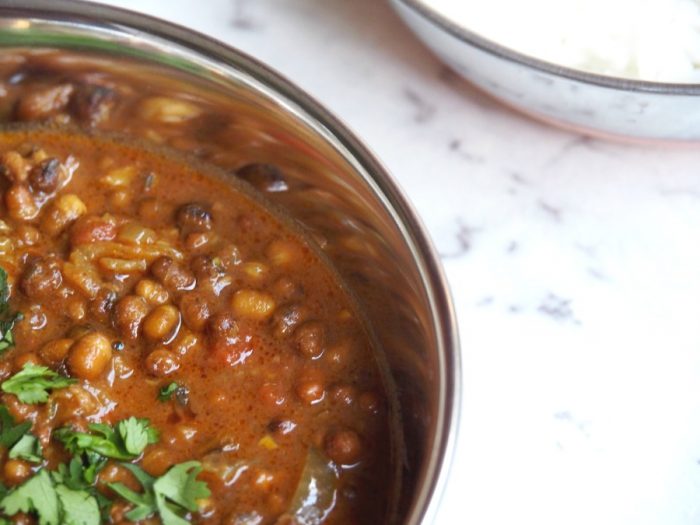 Ingredients
250g urid beans
100g butter or ghee
2 large brown onions, thinly sliced
4 garlic cloves, peeled and chopped
thumb size piece of ginger, peeled and chopped
2 teaspoons ground cumin
2 teaspoons ground coriander
1 teaspoon turmeric
1 teaspoon paprika
1/4 teaspoon chilli powder (optional)
small bunch of coriander, stalks finely chopped (leaves chopped, to serve)
400g chopped tomatoes
1 long red chilli, pierced a few times with a sharp knife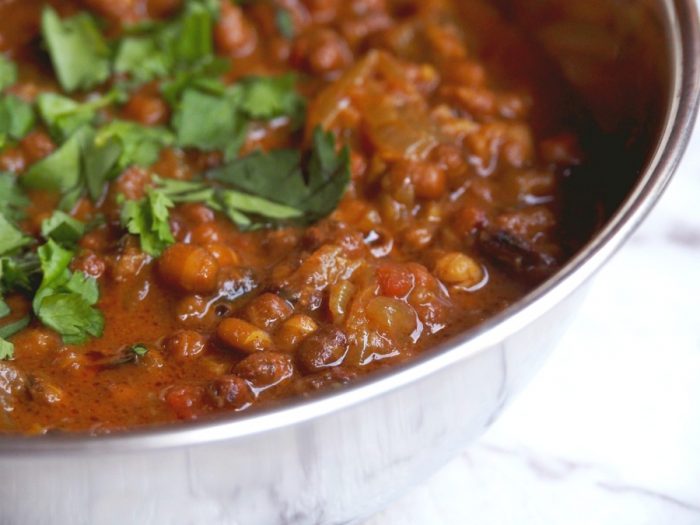 How to – Slow Cooker
Soak the beans overnight in plenty of cold water.
Melt the butter or ghee in a large pan and add the onions, garlic and ginger and cook gently for 10-15 minutes until the onion starts to caramelise.
Stir in the dry spices, coriander stalks and 100ml water.
Add the onion mixture into the slow cooker and add the drained beans, tomatoes and chilli.
Add another 400ml water and season very well. Cook on LOW for 5-6 hours, until the dhal is thick and saucy and the beans are tender.
Sprinkle over the chopped coriander leaves and serve with steamed rice or roti.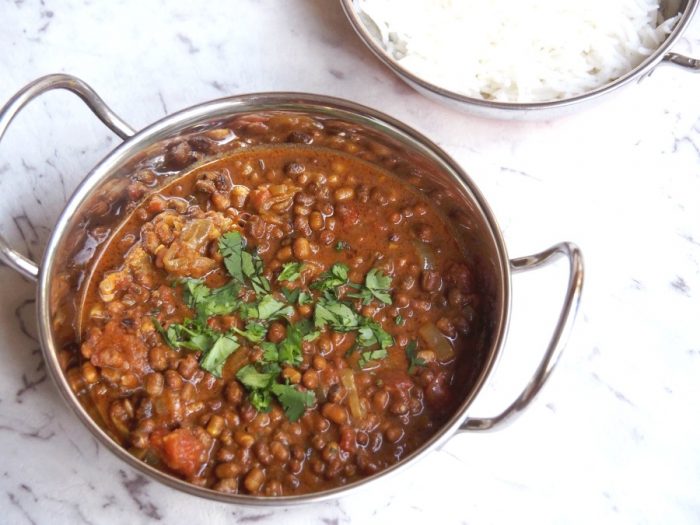 TIP!
Freeze the dhal in containers or freezer bags for up to two months. Defrost and reheat thoroughly.
If you haven't got a slow cooker, continue from step 4, cooking the dhal covered, on a very low heat for about 2 hours.