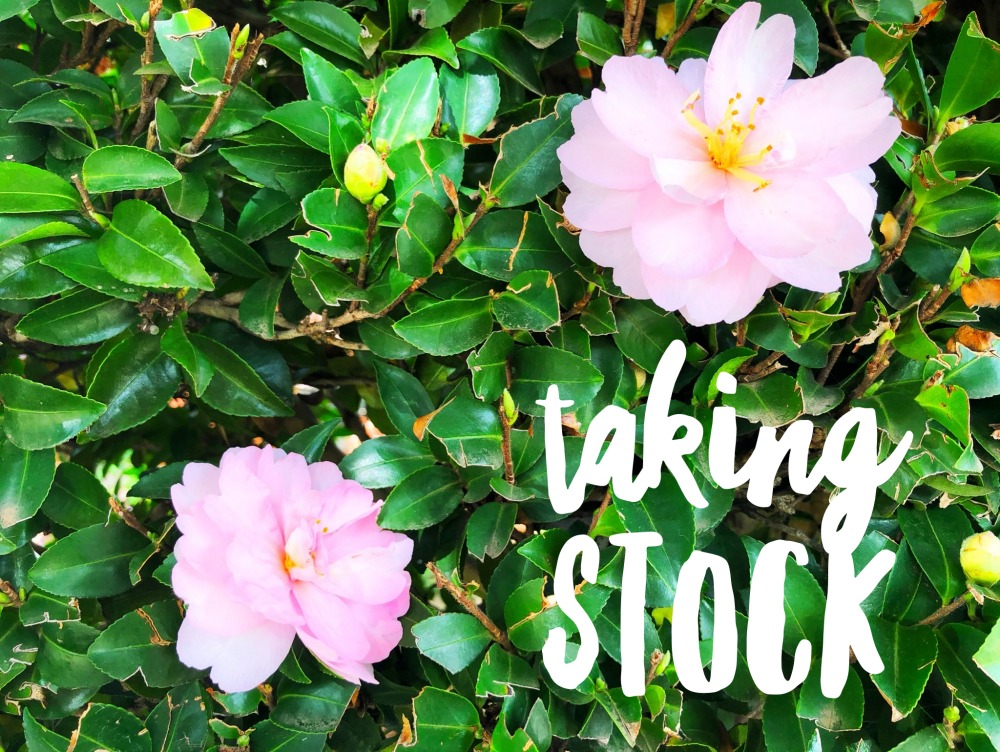 Is it just me or does every day feel like the same these days? Well, that's my theory and I'm sticking to it.
I'm losing track of time to the extent that I'm posting my April reflections at the start of May. But what's a few days tardiness between friends? Let's grab a cuppa and compare notes!
Baking: All the flourless sweet treats including these 3 Ingredient Peanut Butter Isolation Cookies
Testing: Lots of new and totally delicious recipes. Now I just need to share them!
Making: Delicious dinners like this Slow Cooker Beef Goulash. It's like giving your belly a hug.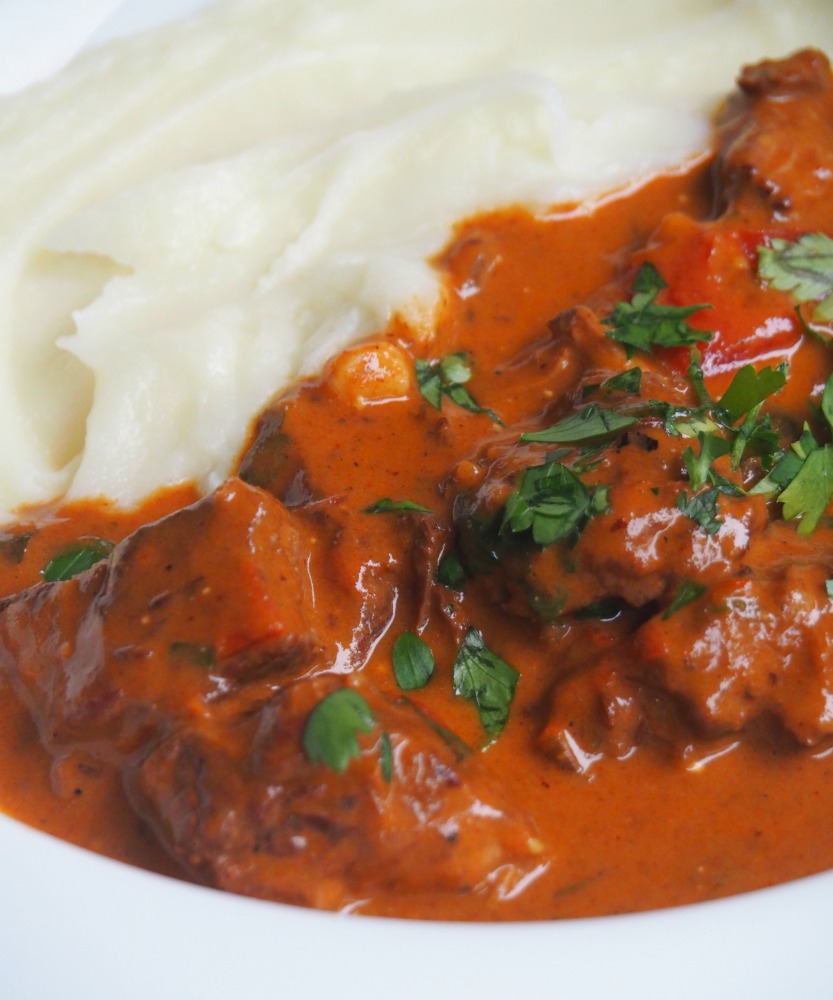 Cooking: For our neighbour a couple of times a week. It feels good to share.
Revamping: Another 10 recipes in this month's 10 on 10 including this delicious Chickpea Curry.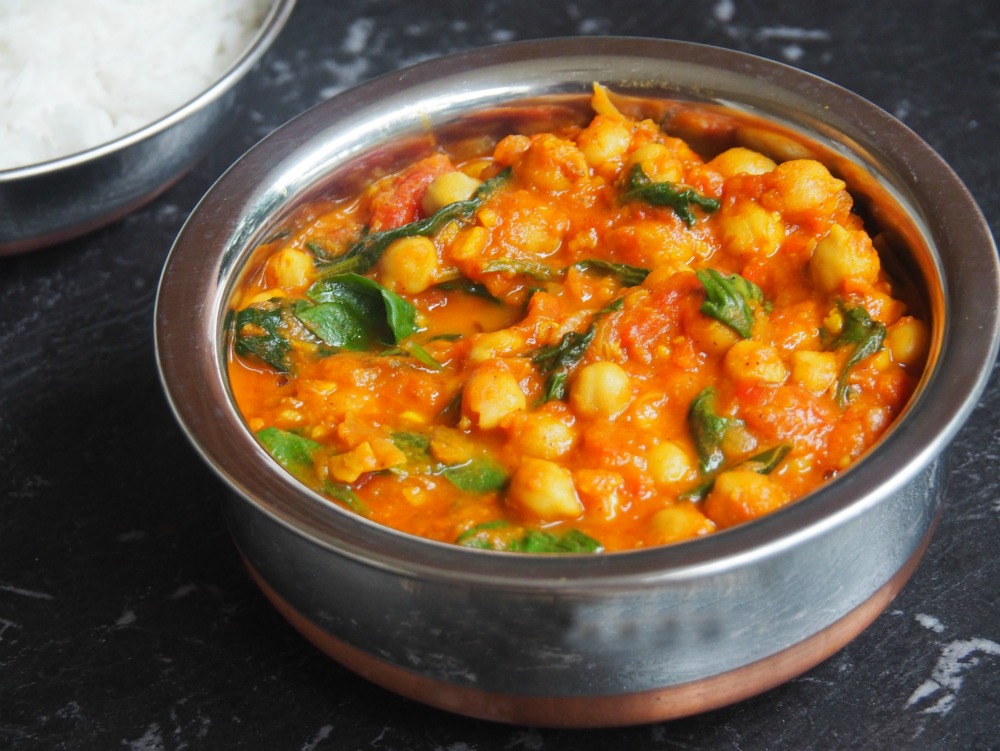 Drinking: A glass of red wine a day.
Sharing: Some of my favourite recent reads.
Reading: Where the Crawdads Sing by Delia Owens and Grown Ups by Marian Keyes.
Playing: Virtual trivia with our friends on Zoom – so much fun!
Watching: The third season of Atypical on Netflix. It's one of my faves.
Crying: At Afterlife Season 2 on Netflix – it's pure gold.
Asking: So many questions after watching Unorthodox on Netflix.
Binging: On series with subtitles. Can highly recommend Agent Hamilton and False Flag on SBS on Demand.
Realising: How watching foreign TV shows is such a great way to learn/brush up on languages.
Singing: Along to Andrew Lloyd Webber's musicals – he's streaming a free musical every week on his Show Must Go On You Tube Channel.
Listening: To 80's workout music.
Doing: This puzzle of a cover of The New Yorker magazine. I think it's the most difficult puzzle in the world (probably.)
Noticing: The one piece that Teddy Roosevelt chewed and then spat out. Charming!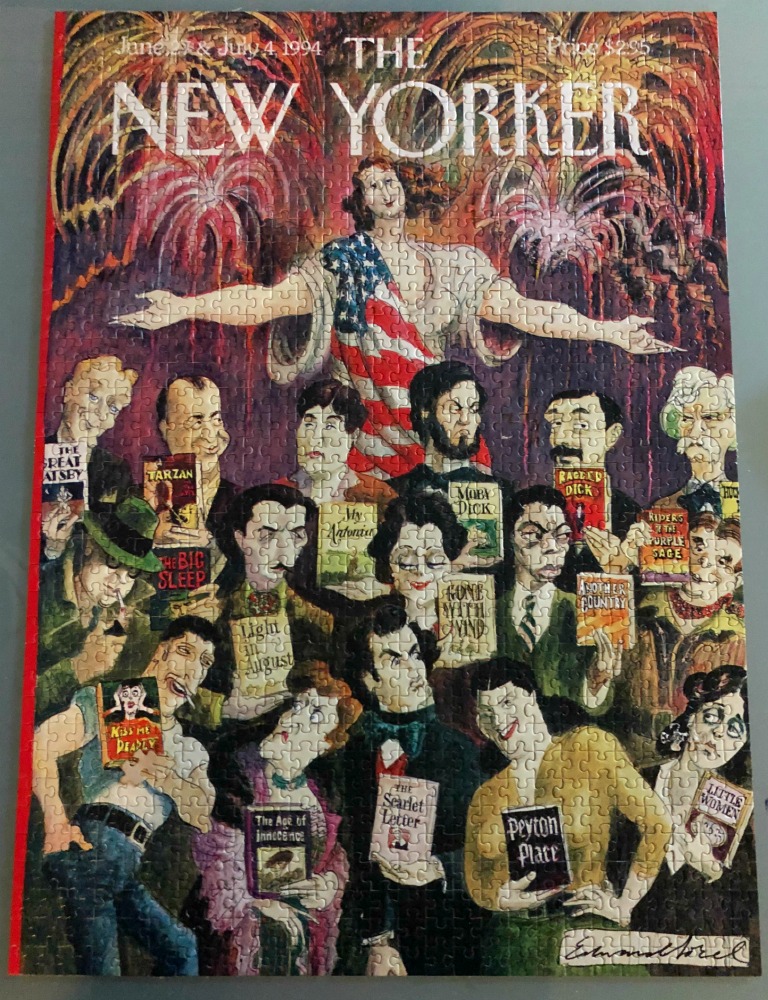 Swapping: Puzzles with friends at a respectable physical distance, of course!
Taking: Teddy Roosevelt to the vet (again) and lamenting his oh, so sensitive stomach!
Thanking: Our past selves for taking out pet insurance!
Bookmarking: Lots of dog training You Tube videos.
Training: Teddy to walk nicely on the lead. At least I'm trying to!
Celebrating: Teddy Roosevelt turning 9 months old. Can you believe?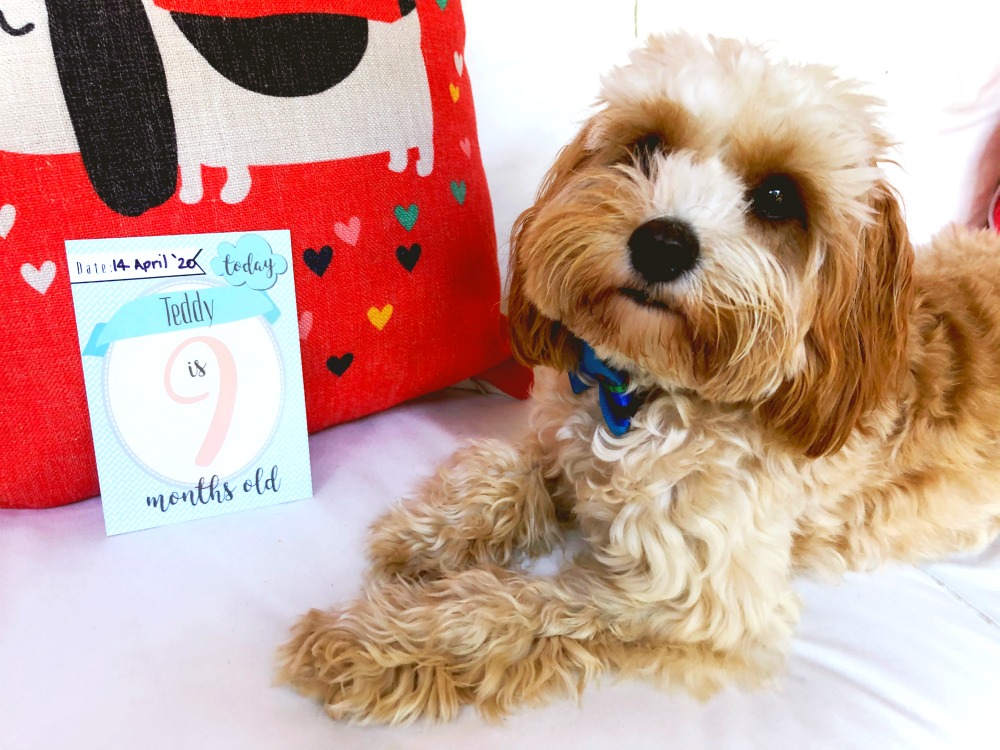 Sleeping: With Teddy Roosevelt – after 7 months of sleeping in his crate, he's finally made his way on to the bed!
Finding: A bag of these Galaxy Enchanted Eggs that our friends brought us from the UK. They are SO good! Safe to say that they didn't last long.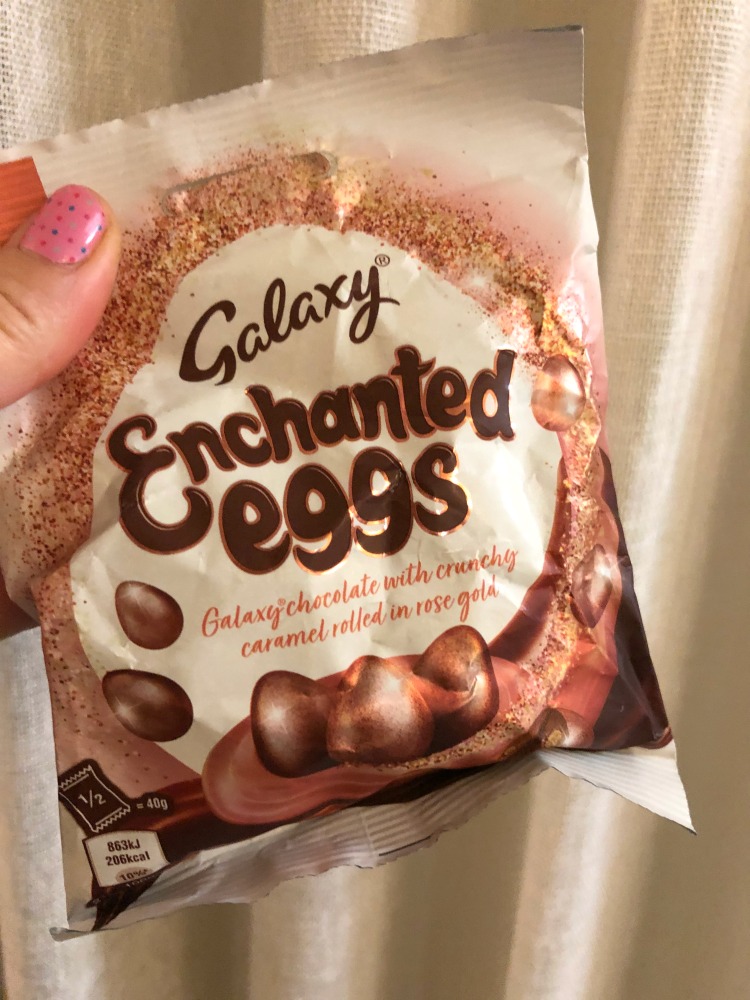 Settling: Into my isolation groove.
Feeling: Lucky to be in Australia right now with it's flattening of the curve. Nice work, team!
Enjoying: My family morning walk with David and Teddy Roosevelt.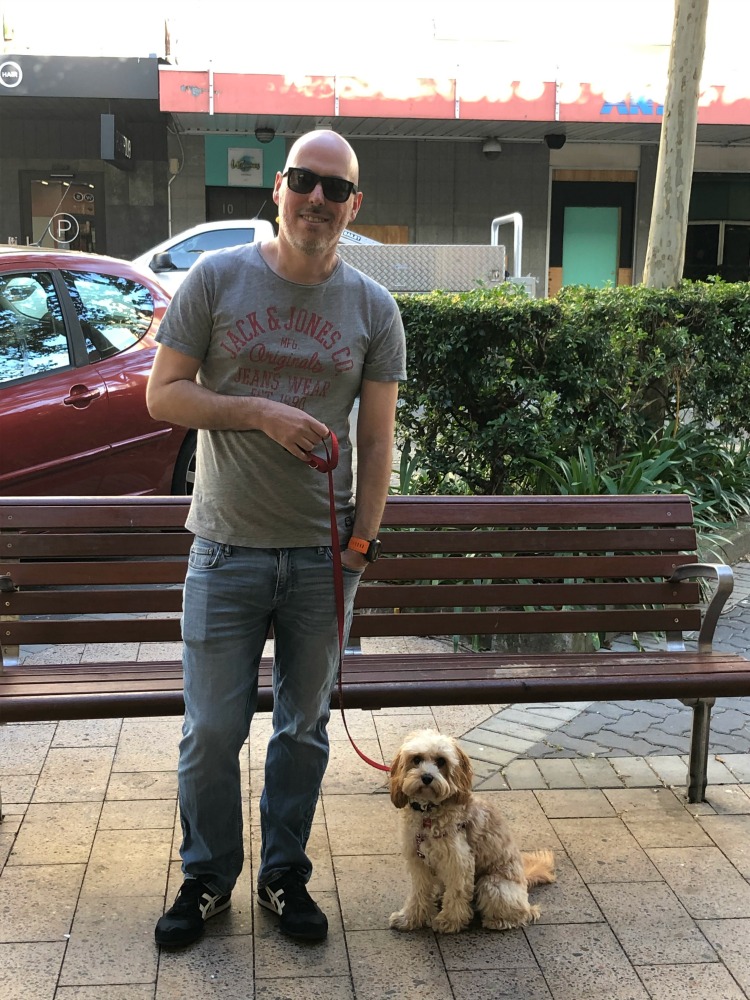 Signing: Up for a free TAFE course. Now I just need to get my brain in gear.
Remembering: My nana by making her famous bread pudding with a chocolate twist.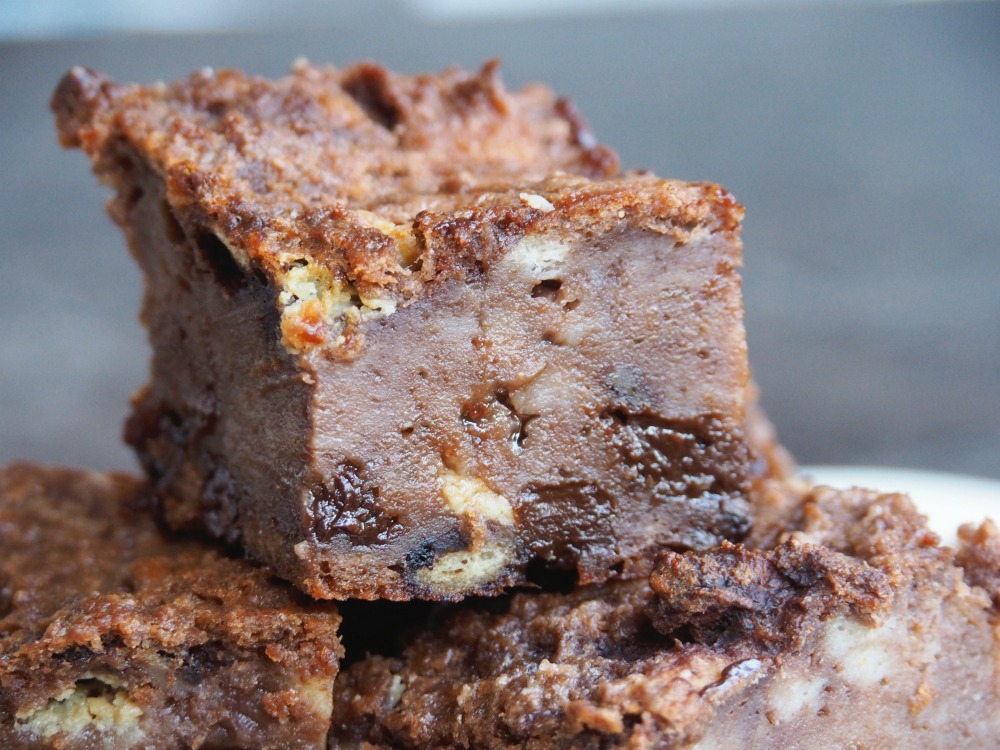 Thinking: There's no correlation between how long someone has gone and how much you miss them.
Trying: Not to watch the news. It's just depressing.
Staying: Home.
Donning: My face mask and disposable gloves when I go to the supermarket. Note the steamy glasses!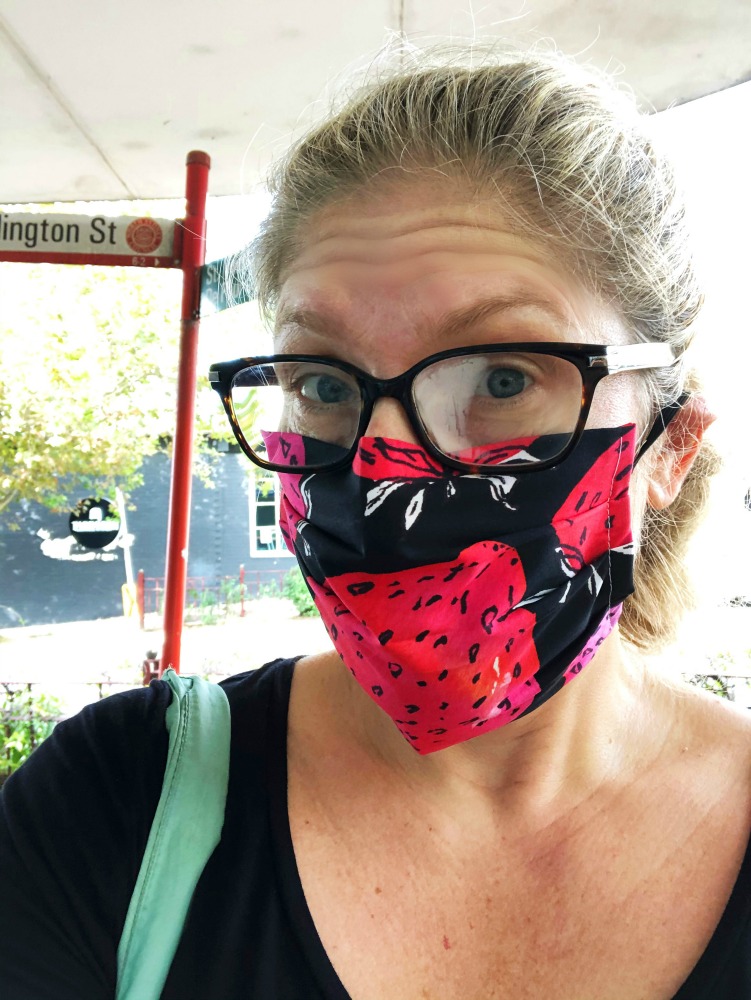 Planning: Meals which means less visits to the supermarket and less waste. Win, win!
Wearing: MyLittle Party Dress Hoppy Easter dress, I love it even more knowing it was designed by Kim!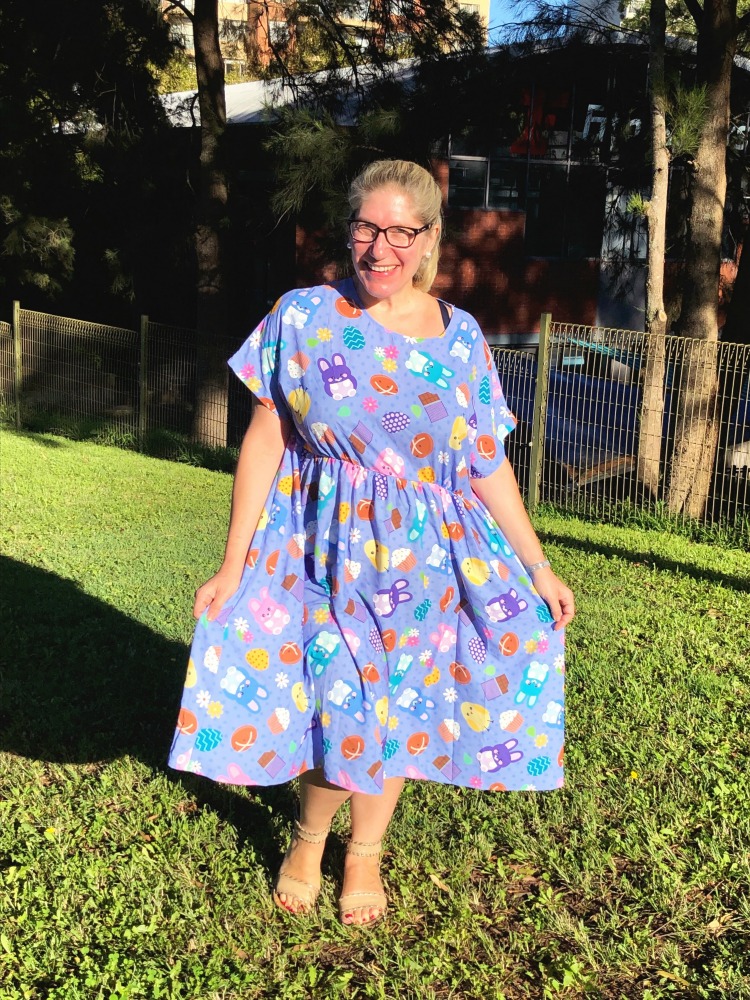 Cancelling: My hair appointment – "safety before vanity."
Marvelling: At my new "lipstick" facial hair remover – why didn't I invest in one before?! No more moustache for me!
Rediscovering: The joy of having jams on my hands. If I can't have salon manicures, I'll have the next best thing!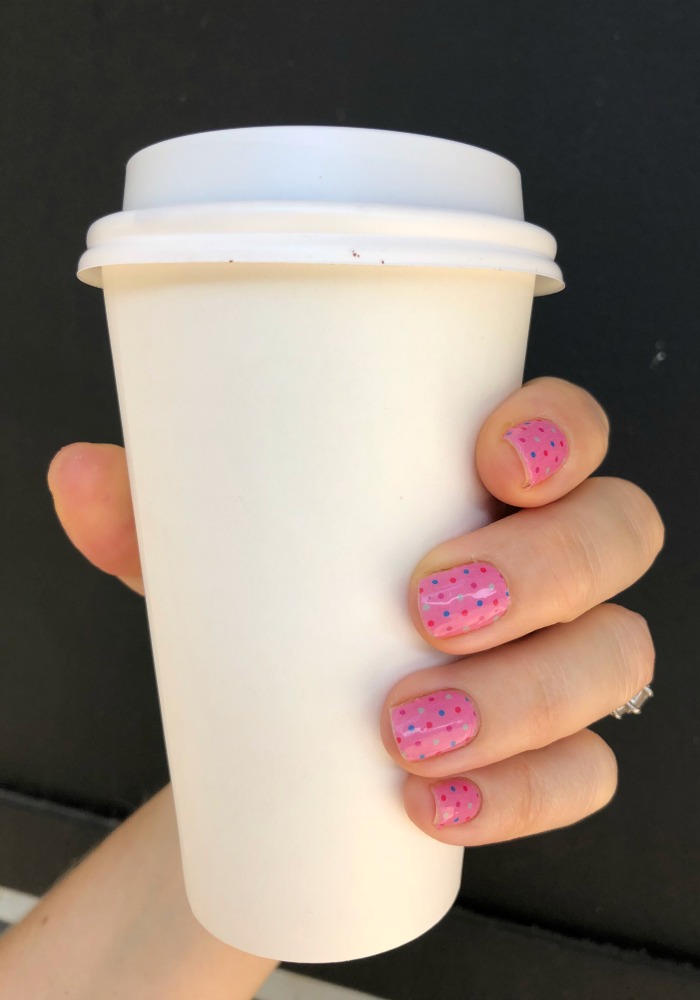 Researching: Ways to get rid of fruit flies. We have the flies but no fruit and it's so annoying!
Disliking: Fruit flies!
Liking: Autumn – it's Goldilocks weather. Not too hot, not too cold, just right.
Needing: To step away from the fridge! This is so me!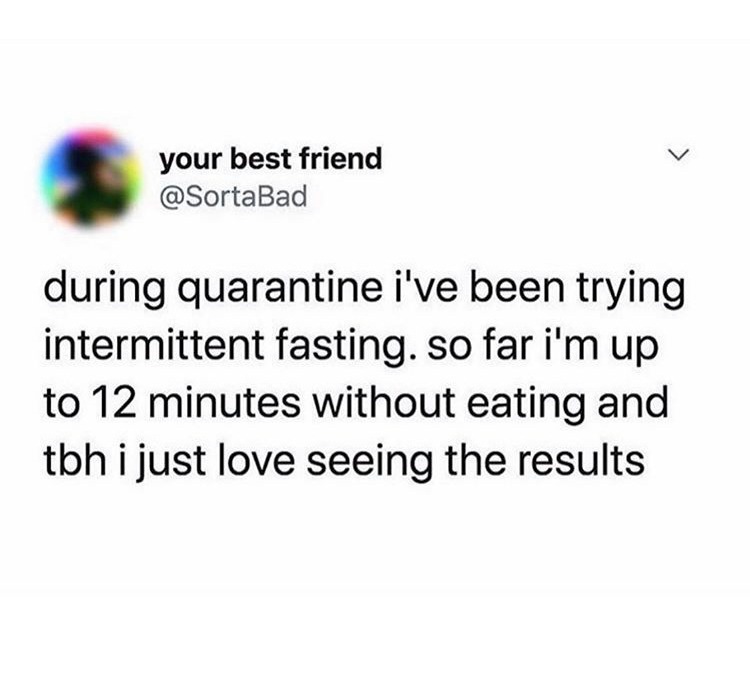 Getting: Woolies delivered again – yay!
Supporting: Local restaurants and coffee shops with take away.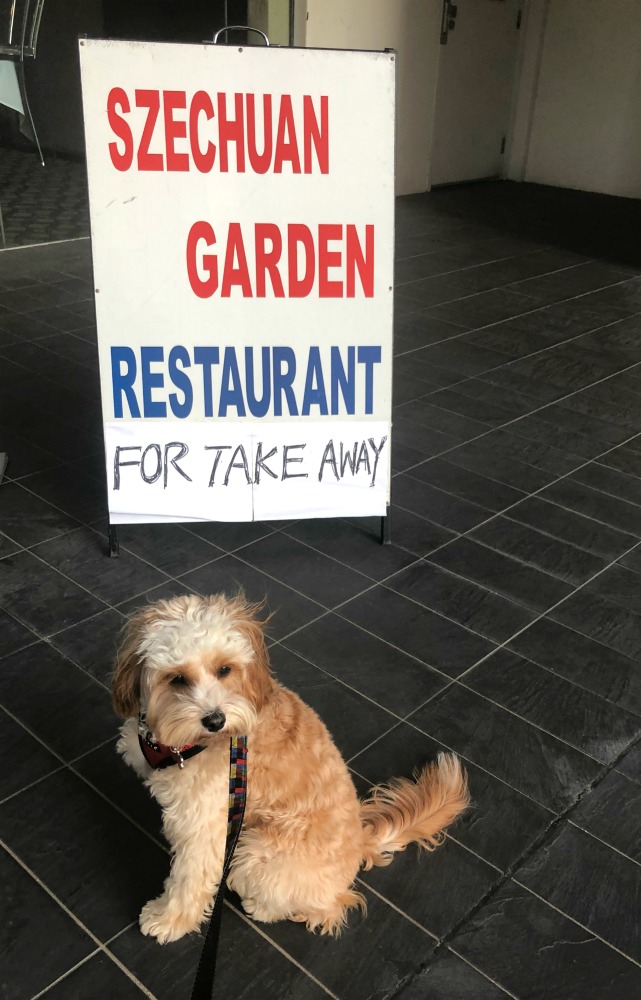 Catching: Feral cats in our rear courtyard. Praise be to vet friends who cat rescue!
Loving: Our scone delivery from The Tea Cosy.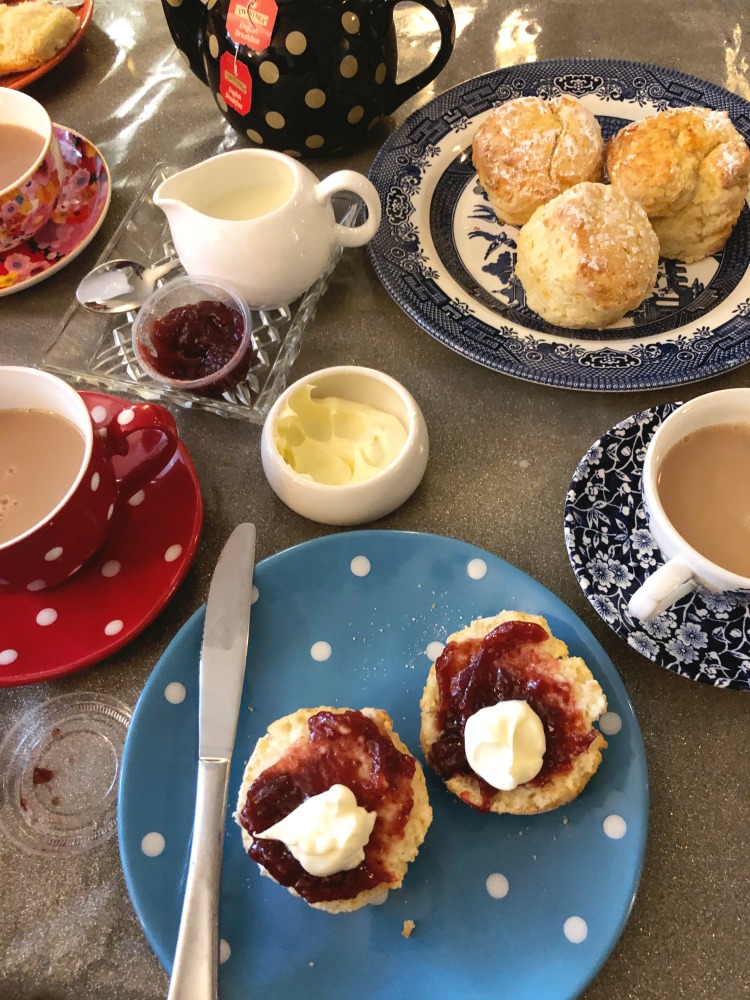 Coveting: A tea cosy from The Tea Cosy!
Remembering: The sacrifices that our servicemen and women have made on Anzac Day.
Sending: My Anzac care package just in the nick of time.
Buying: Dog bandanas. I'm a bit obsessed.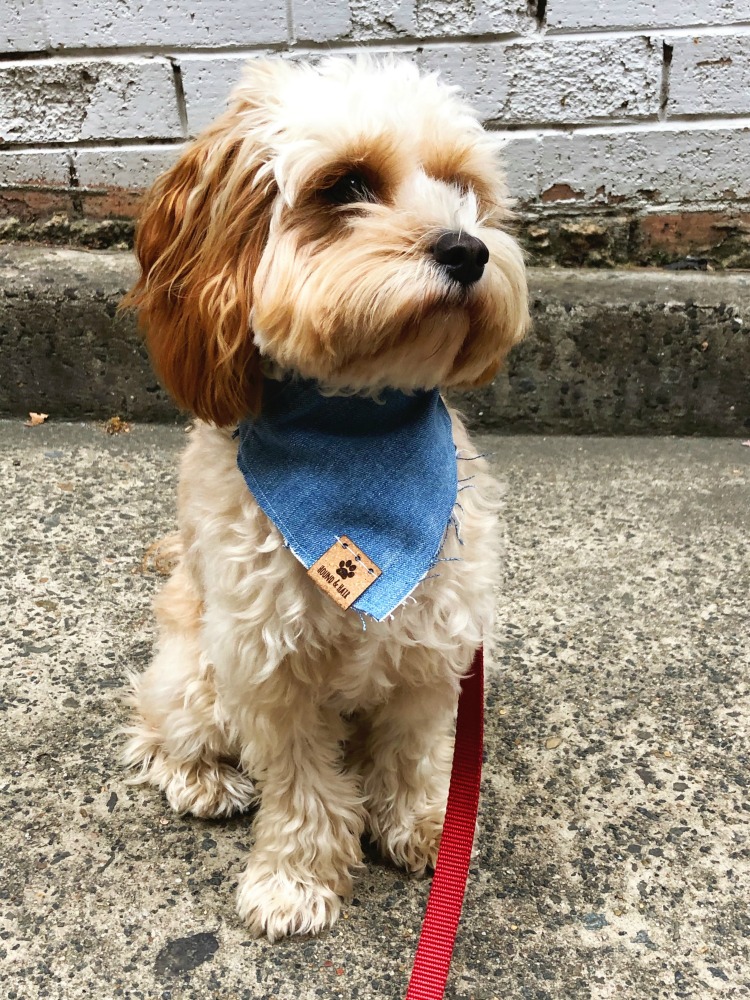 Waiting: For online shopping to arrive in my mailbox.
Opening: Lots of parcels. Canine couture for Teddy Roosevelt and some puzzles for me.
Running: For the first time in ages. I'm slow but I go!
Walking: With Teddy and friends (at an appropriate physical distance of course.) Teddy loves his Auntie Sanch!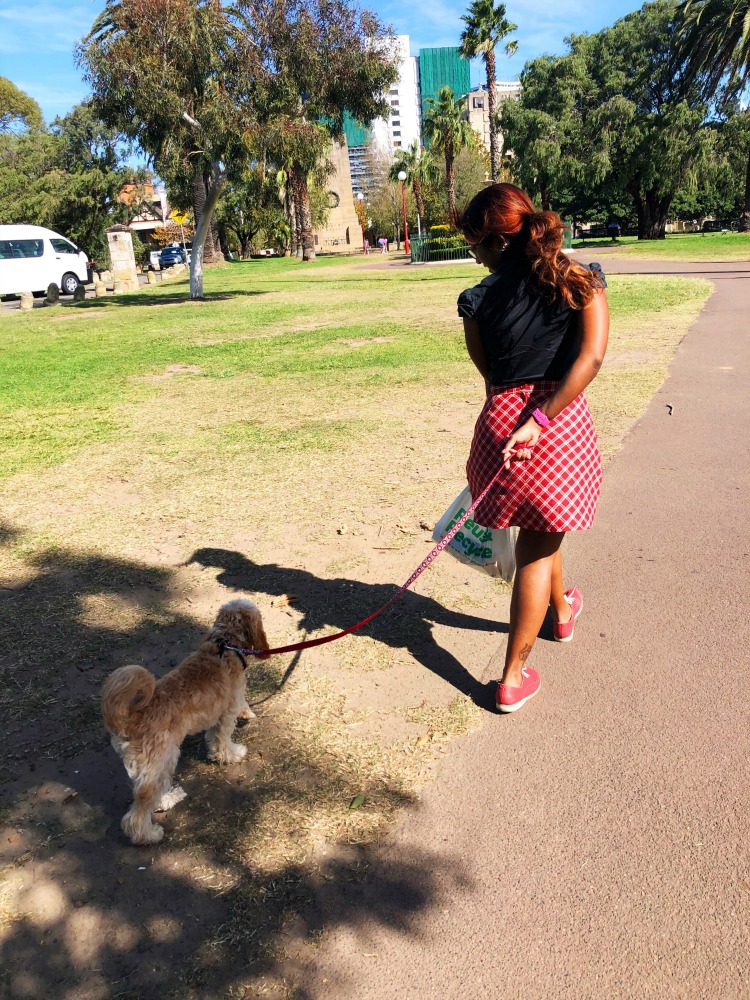 Accumulating: A tidy supply of gym equipment and jumping into my trainer's online classes. So much fun!
Keeping: In touch with friends and family near and far. Thank goodness for Whatsapp and Facetime!
Worrying: About my friends and family overseas.
Wondering: When I'll be able to see my mum again.
Missing: My mum. It's so hard being so far away.
Hoping: (At least some) Covid restrictions are lifted soon.
Now I've told you about my month, I'd love it if you told me about yours. What does isolife look like for you?
Some of the links in this post are affiliate links. If you click to buy the item, I make a little commission but you don't pay any extra.
Linking up with Denyse for Life This Week