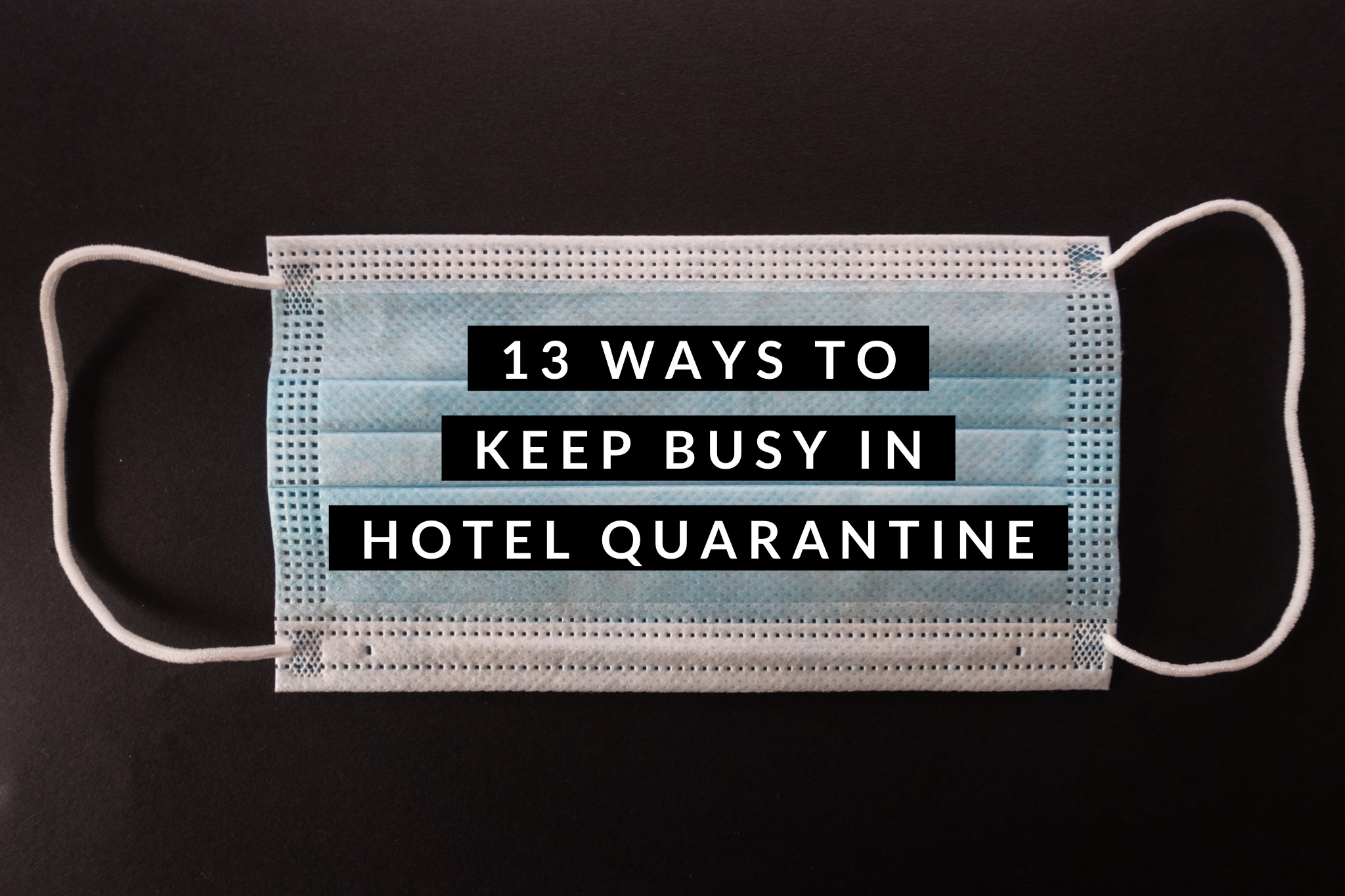 If you find yourself in hotel quarantine, you'll be locked up in your room for 14 days, likely without an opening window or balcony. The trick to surviving your incarceration is to keep busy and to keep to a routine.
So whether you're just quarantine curious or about to join the exclusive club of Mandatory 14 Day Hotel QuaranTeamers, I've put together a list of ways not just to pass the time but to pass it with purpose and pleasure and without even turning on the TV.
1. Work It
This is one of the easiest if not the most relaxing ways to spend the time. If you have a job and can keep regular working hours (whenever they may be,) you've got a ready made routine. I didn't have a job but I did have a blog so I set aside some writing time each day.
2. Make Time For Each Other
Although I couldn't see my friends in person, I spent a lot of time catching up with friends on the phone. Real life can be so busy, it was such a luxury to be able to spend time having a quality conversation.
Couples and families who quarantined together said that they appreciated sitting round a table and having time to talk to each other and I felt the same although I was quarantining alone and my catch ups were virtual.
FaceTime and video calls make virtual catch ups so much fun. I had virtual coffee, virtual drinks and even virtual dinners – I ate dinner with David most days and on his birthday, we both ordered take away pizza and had it delivered at the same time!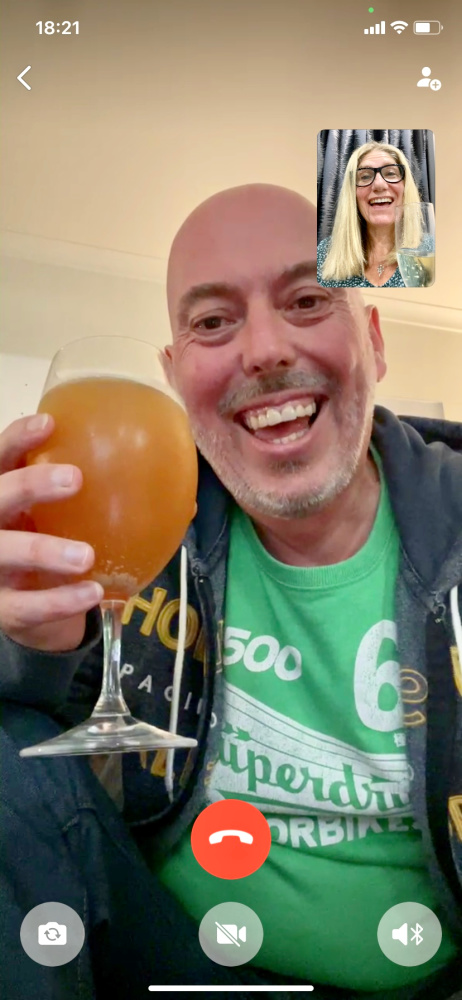 3. Get a Move On
Exercise is a great way to power through quarantine. Just because you can't go out, doesn't mean you can't move so set those endorphins free.
There are a range of options depending on your level of fitness, budget and enthusiasm, from hiring treadmills or exercise bikes to youtube workouts. You can buy an inexpensive exercise mat online on arrival and it's worth packing an exercise band or two.
If you want to hire equipment, there are a number of companies that will drop off to your hotel and collect again at the end of your stay. If you're in Sydney, Livelo offer exercise bikes, treadmills and everything you need for an in-room workout from exercise mats to kettle bells. If you want to hire, it's best to book your equipment before you arrive so as not to miss out.
I averaged about 7,000 steps a day thanks to You Tube videos with Walk at Home and Get Fit with Rick and Joe Wicks AKA The Body Coach also had my back. Fellow QuaranTeamers raved about the Nike Training app, FitOn, the 7 Minute Workout and the free 2 week trial of Les Mills On Demand.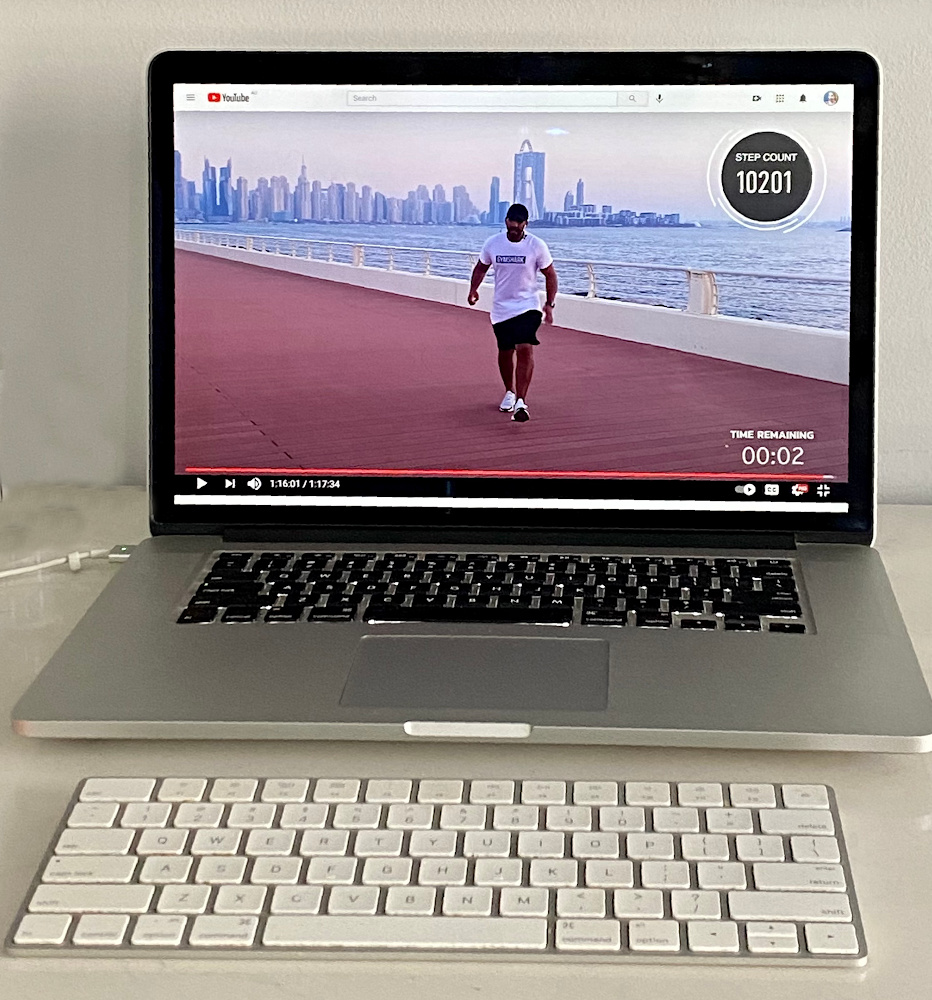 4. Curl Up with a Book
With so much free time on your hands, there will never be a better time to curl up with a book. If you're looking for something to read check out my recent reads recommendations.
5. Self Care – You're Worth It
Self care has never been more important. Find what floats your boat and do something nice for yourself each day.
I didn't have a bath but if I did I would definitely have soaked in it although I played "spas at home" with luxurious hair treatments, face masks and DIY manicures and pedicures.
Be sure to bring your pack your pampering paraphenalia!
6. Get Puzzling
Whether you're into jigsaws or brain games, keep your brain busy with a puzzle. I got a jigsaw or two in my care packages but if you're not local, you can order them online and get them delivered to your hotel.
Many hotels will have boredom busters like crosswords and sudoku puzzles for you to do and if you're tight for space and/or money, there are heaps of free jigsaws online!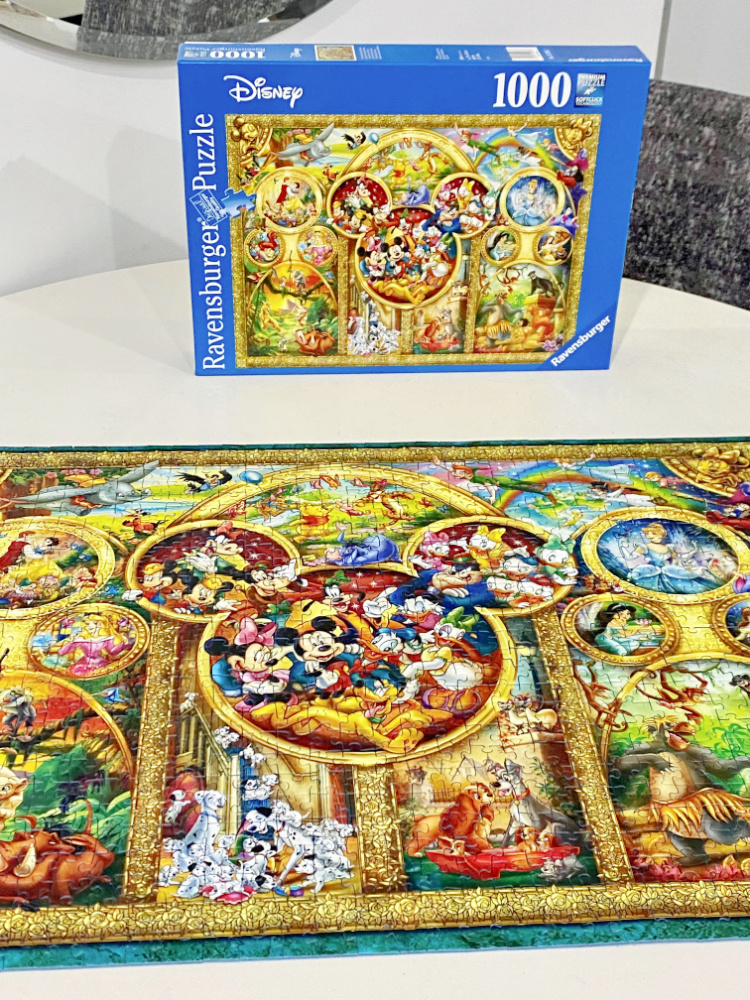 7. Heart Some Art
There's nothing like a bit of colouring in to soothe the soul. Finishing one of my many colouring books is on my list of 101 things to do in 1001 days and I made great in roads in quarantine. I highly recommend packing a colouring in book and some pencils (don't forget the sharpener) in your suitcase.
If you want to release your inner Picasso, why not try a Paint By Numbers and create your own quarantine masterpiece. Kits come with everything you need including canvas, brushes, paints and even a frame! For something more memorable, you can try a personalised paint by numbers.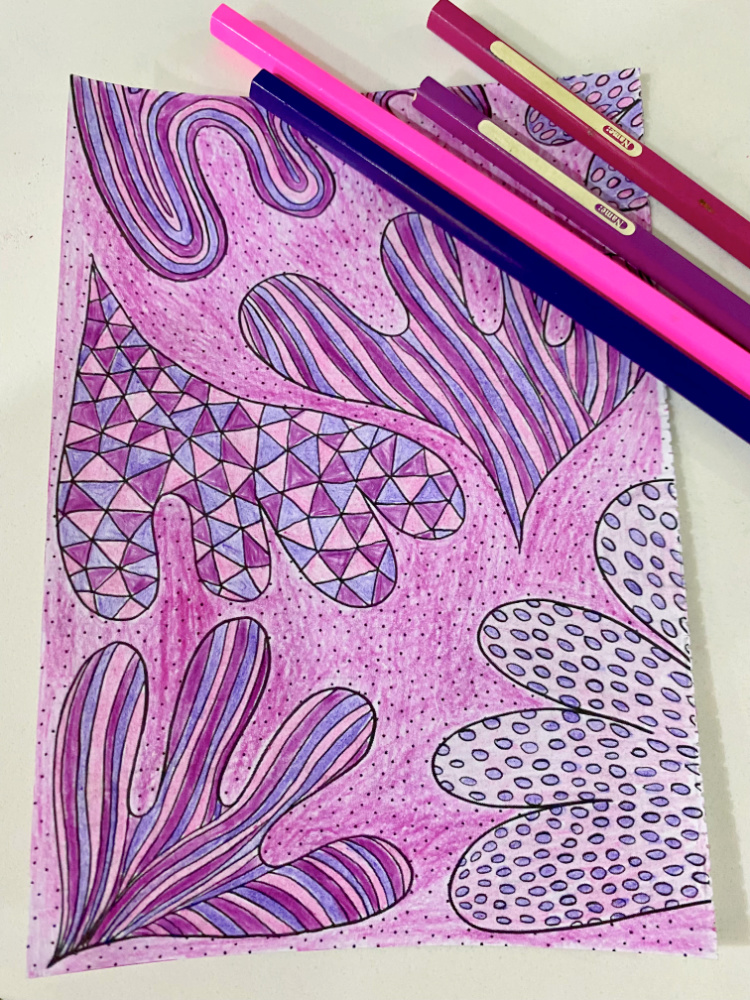 8. Get Your Craft On
I don't have a crafty bone in my body but if you do, definitely pack some scissors, glue, sticky tape and your crafting kit of choice in your luggage because you're going to have plenty of time on your hands.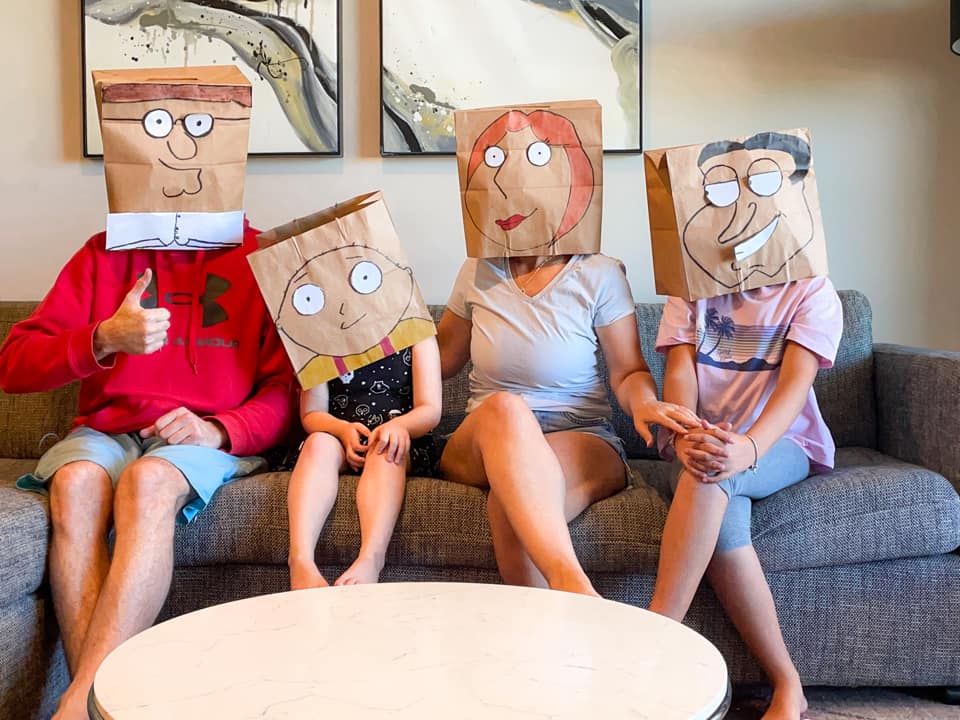 9. Channel Your Inner Masterchef
You'll be amazed at what you can create from the limited kitchen equipment you have available. At worst, you'll have a kettle and an iron and at best you'll have a microwave and/or a stove.
You might also be surprised at what you can whip up with just a few ingredients. One of my favourite quarantine dinners was this delicious bean salad and the only equipment I needed was a sharp knife and a chopping board.
Note: be sure to pack a sharp knife in your checked luggage because once you're in quarantine you won't be able to get one in.
QuaranTeamers who travelled with kids and were fortunate enough to have cooking facilities said they actually enjoyed having the time to cook dinner and even had time to teach the kids how to cook some of their favourite meals!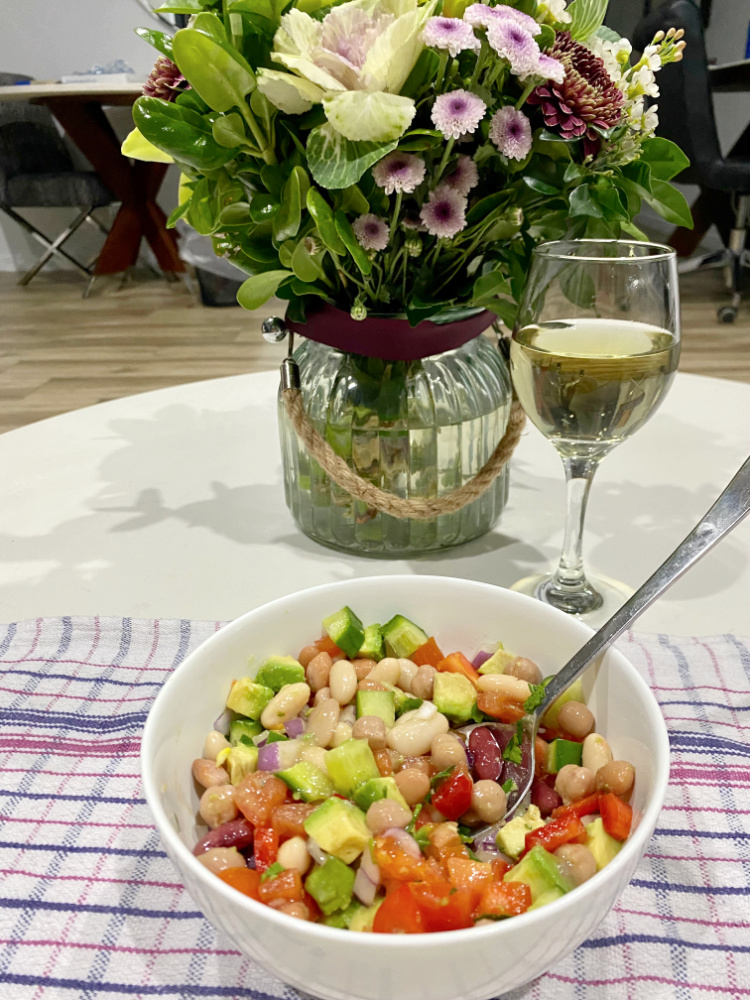 10. Find Your Zen
If you meditate, you'll have plenty of quiet time to find your zen and if you don't, there will never be a better time to start! Try an app like Calm or HeadSpace.
11. Find a Facebook QuaranTeam
If you're lucky, your hotel might have a dedicated Facebook group where you can meet other inmates, oops I mean QuaranTeamers, and join in regular activities like Trivia Nights or cocktail making classes.
There are a couple of great quarantine Facebook groups from past, present and future QuaranTeamers my favourites include Mandatory 14 Day Hotel Quarantine Chat Group and Hotel Quarantine Australia.
By far my favourite though was Virtual Quarantine Happy Hour Australia which as it's name suggests is a Virtual Happy Hour where you connect via Zoom with QuaranTeamers all over Australia. It's such a fun way to meet new people and share experiences and was a highlight of my day!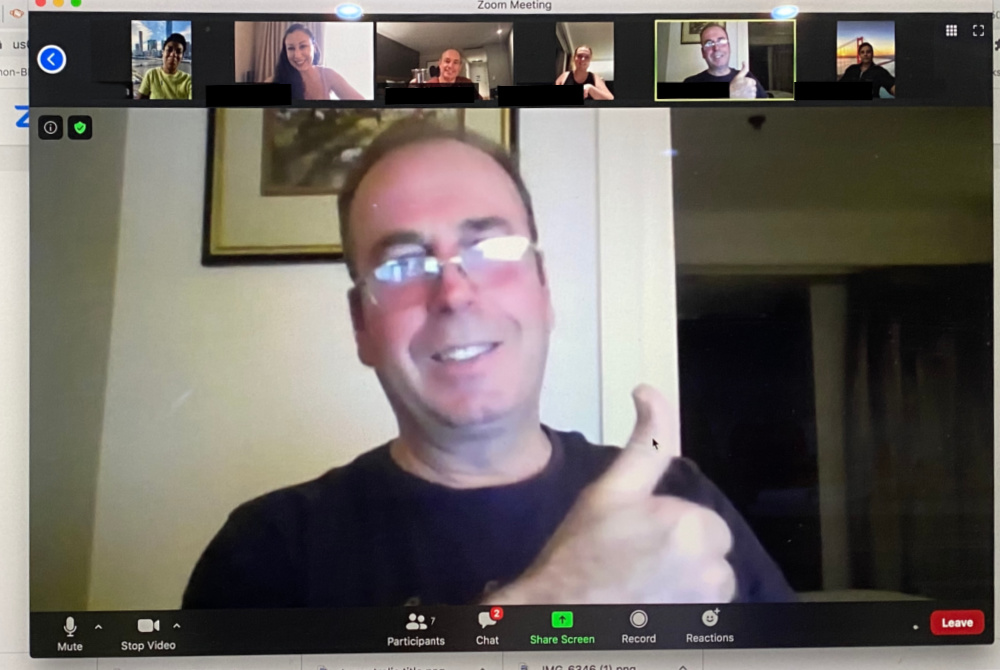 12. Be a Clean Machine
I'm not going to advocate that housework is fun but I'm a big believer that your environment reflects your state of mind so it's good to take some time each day to give the place a little clean and tidy. Remember, your room won't be serviced during your stay in quarantine so you'll have to service it yourself.
Your hotel may provide you with cleaning materials and basic equipment (I had a broom and brush and pan) but it's worth bringing your own basics including some anti bacterial wipes and maybe a tea towel or two.
If you're in a room with carpet, you may want to invest in an inexpensive stick vacuum which will go a long way to minimising dust and food crumbs.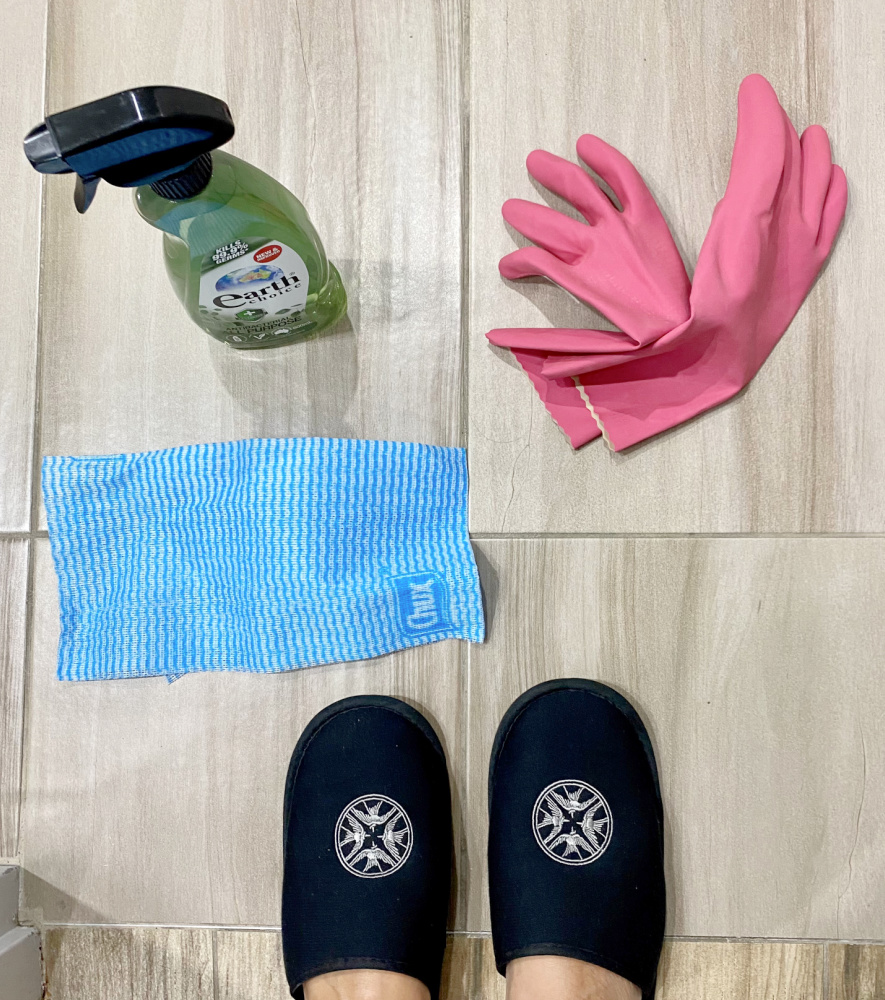 13. Indulge in Some Retail Therapy
The food that's served in hotel quarantine varies greatly from facility to facility and finding good grub is a little like winning the lottery.
Whether you need to self cater or just want some extra treats, online grocery shopping is your friend. Prepare an order with your essentials before you arrive and edit it when you find out where you end up and what you need. Put the order in as soon as possible so you have everything you want and need. Shopping can be delivered direct to your quarantine hotel.
And if after that you still have time for a Netflix binge, check out my favourite shows here and here for your viewing pleasure.
And in case you're wondering, of course I did watch some TV – 9 episodes of Lucifer, to be precise – I'm not a total barbarian!
If you had two weeks in hotel quarantine, how would you spend your time?
Linking up with Denyse for Life This Week