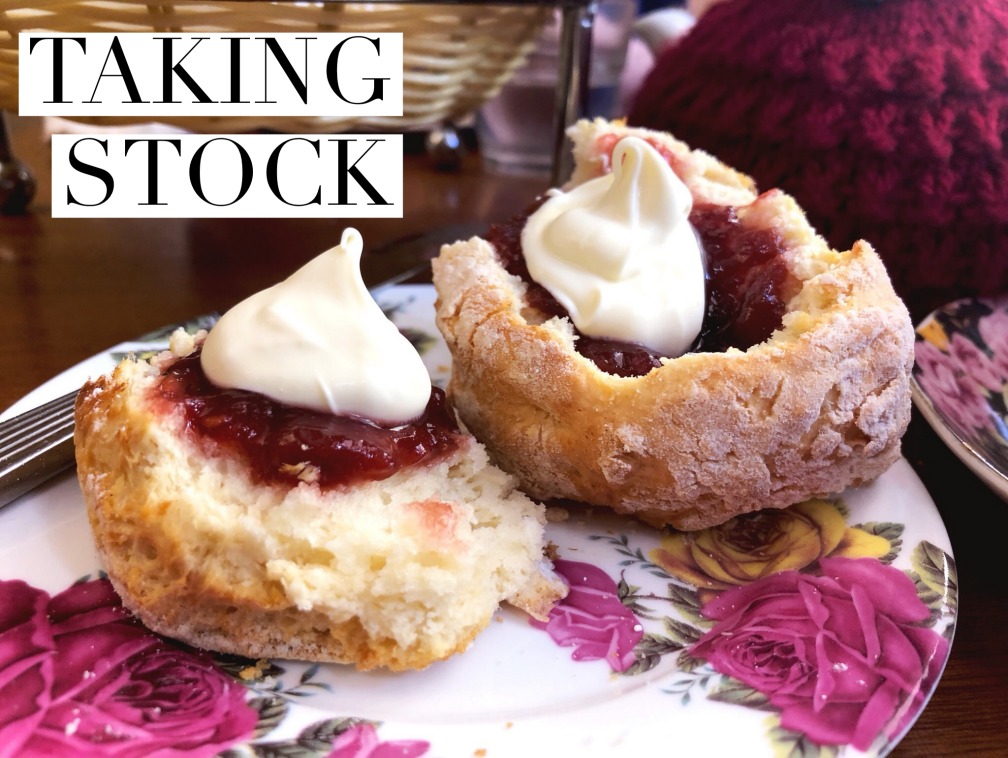 June was short, sweet and action packed. There was fun with family, fun with friends, wining, dining and celebrations a-plenty. All in all it was a most satisfying thirty days and before I jump into July, I'm going to take stock. I'd love it if you joined me!
Visiting: The Tea Cosy for some superior sconeage! See above!
Making: The AWW Bunny Cake for our god-daughter's 7th Birthday. It went down a treat!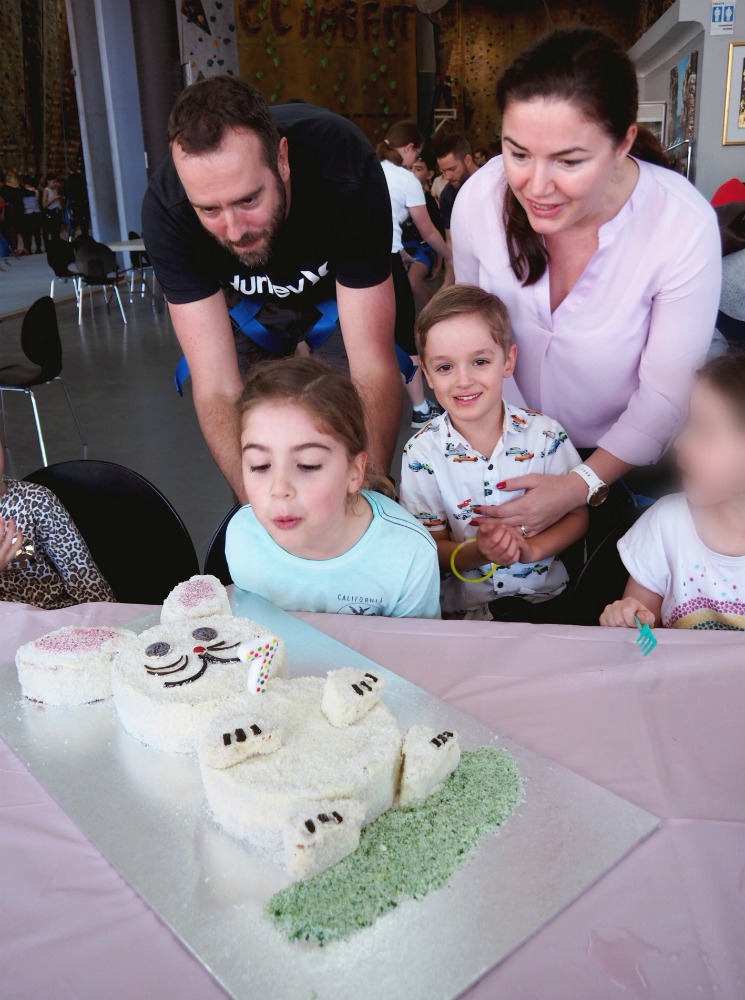 Whipping: Up batches of Lemon Butter. Can't stop, won't stop!
Baking: These Jammie White Chocolate Blondies. They're jamtastic!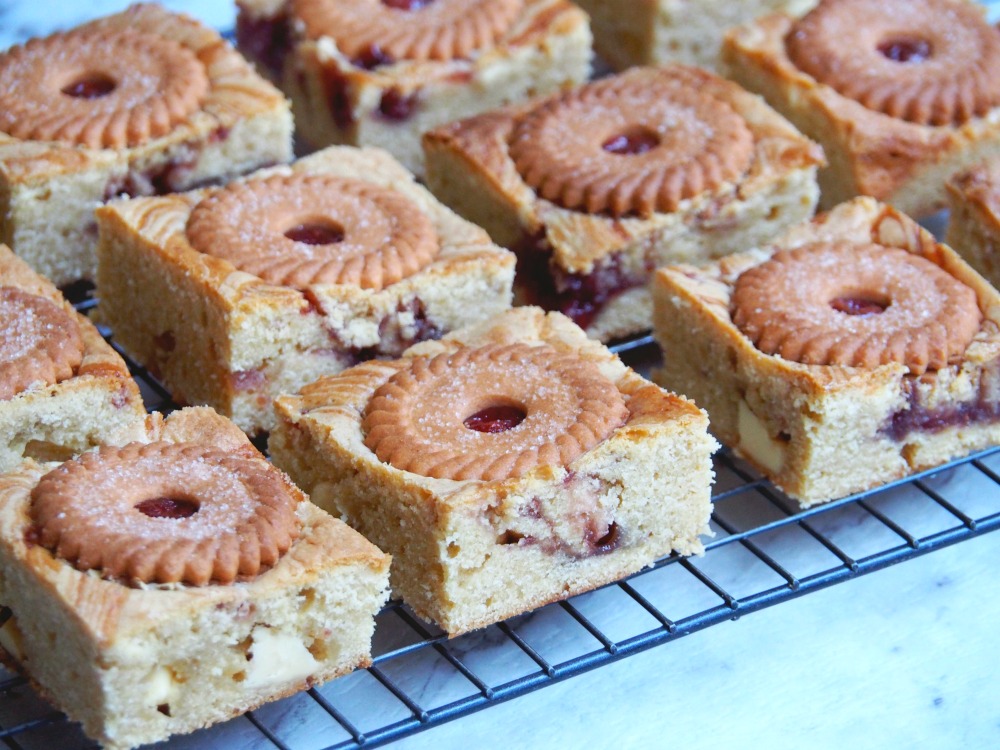 Cooking: Pies, pies and more pies!
Revamping: The recipe for these delicious Lemon and Blueberry Muffins.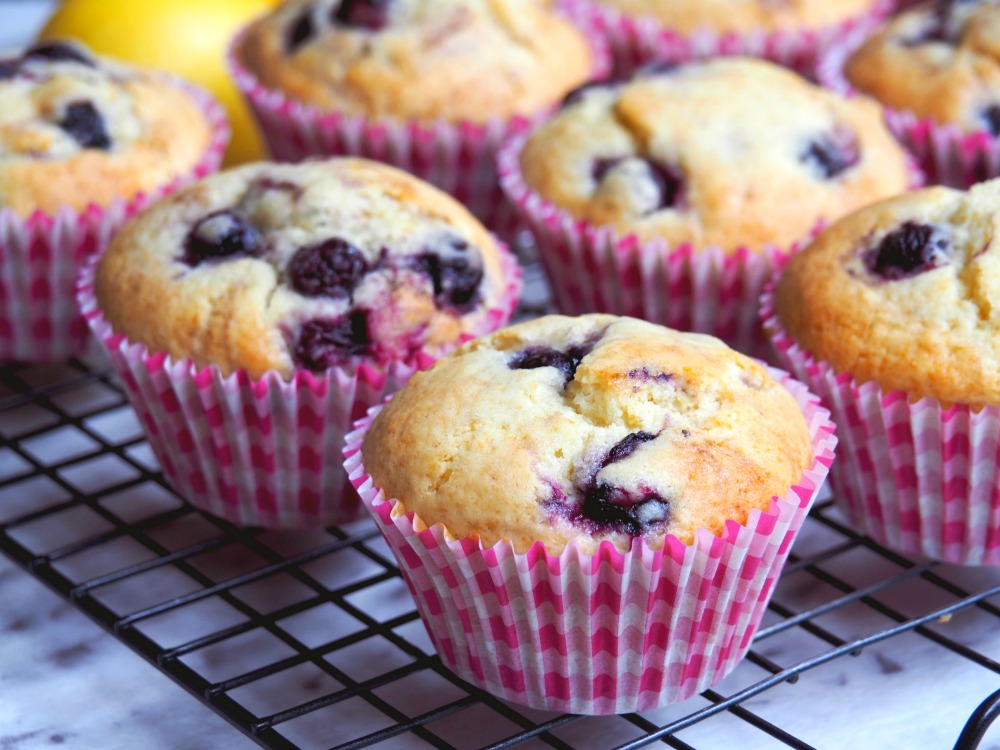 Eating: Out a lot more than usual.
Drinking: A glass of red wine with dinner. It's the perfect weather for it!
Tasting: The best Australian wines at the Good Food and Wine Show.
Smelling: These Caramel Apple Muffins baking – they smell so good!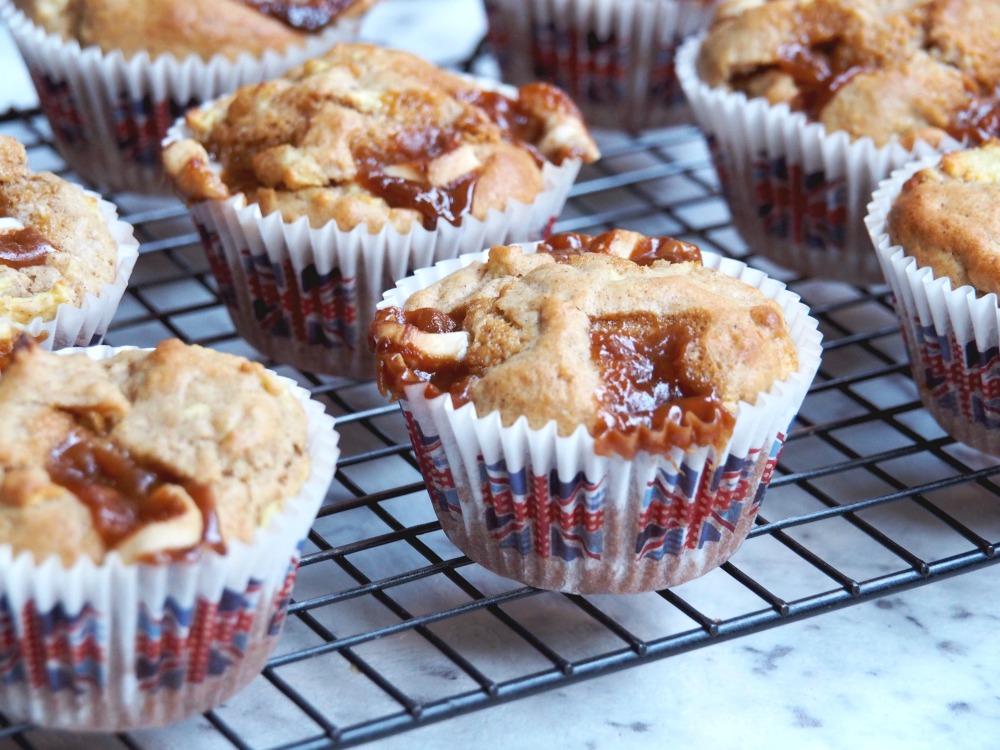 Trying: My first Curry Pan – it's like a curry donut – have you ever had one?!
Feeling: Happy.
Contemplating: Buying the new Thermomix and selling my old one.
Needing: Not much… But a few extra hours in the day would be nice!
Wearing: Winter clothes I forgot that I had!
Liking: Winter weather – it's perfect for beanies!
Disliking: Dark early evenings – it's almost impossible to get a good food photo.
Enjoying: This fresh bounty from my neighbour's family farm.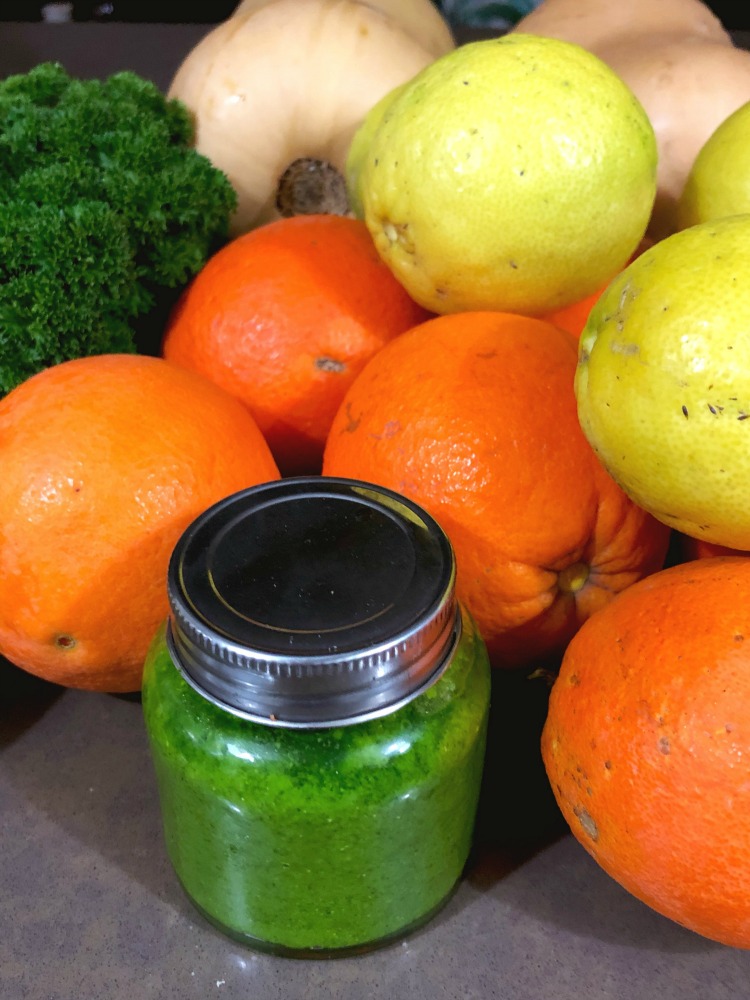 Volunteering: At the Asylum Seekers Centre – it's been way too long between visits!
Missing: Vivid for a variety of reasons – too tired, too cold, too busy and/or too wet.
Flying: Qantas to Brisbane and having a whole row to myself.
Facing: My fears and sitting by the window to get this photo.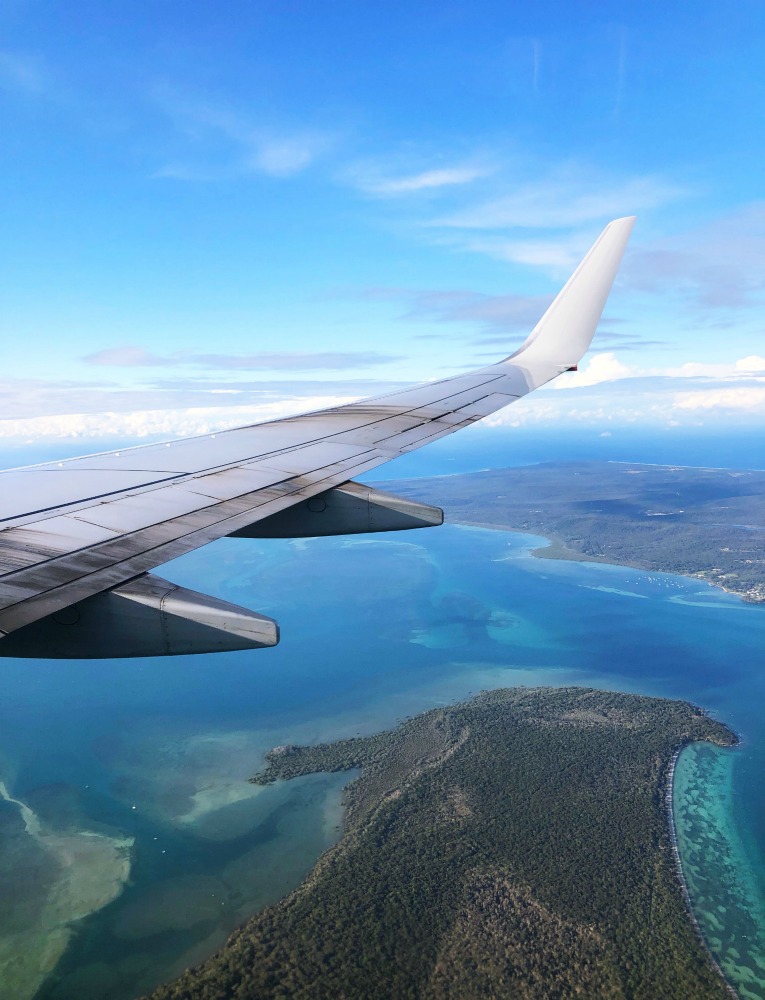 Travelling: For the first time with cabin baggage only and my Qantas Gold Frequent Flyer tags.
Staying: At the Ibis Styles Brisbane – a great budget option with amazing views!
Loving: The view from my hotel window… Especially with a ginormous rainbow! This photo doesn't do it justice.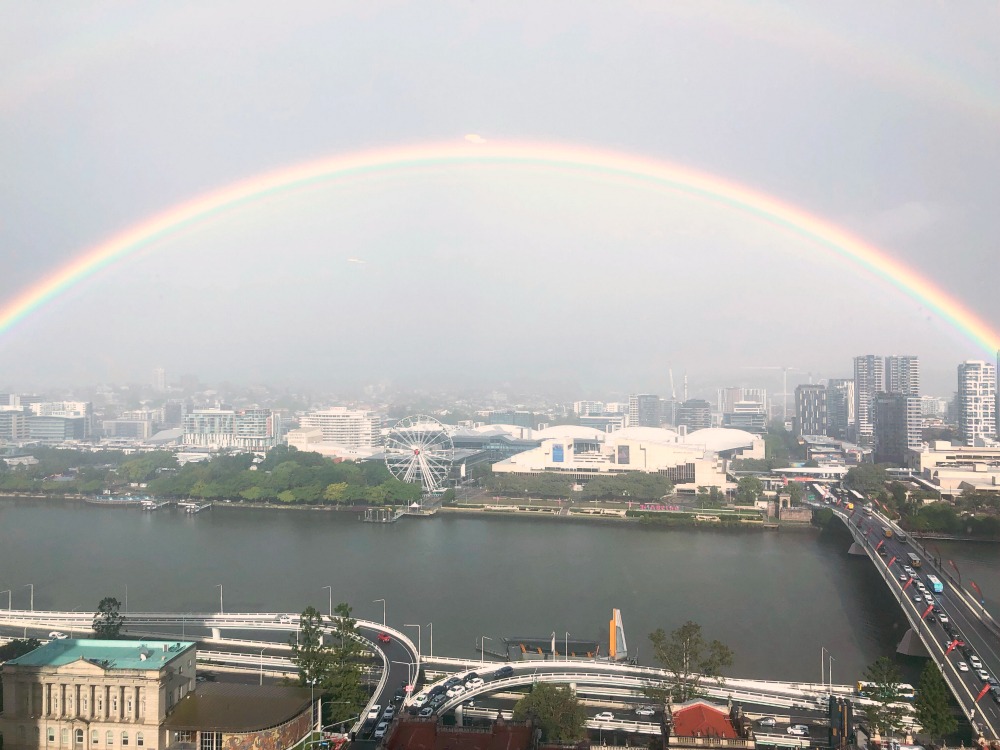 Trying: My hand at meditation with Alex.
Learning: Bloggy business at Bupa with the Bupa Blogger Alumnae.
Hanging: Out with bloggy buddies including Karin and Lauren.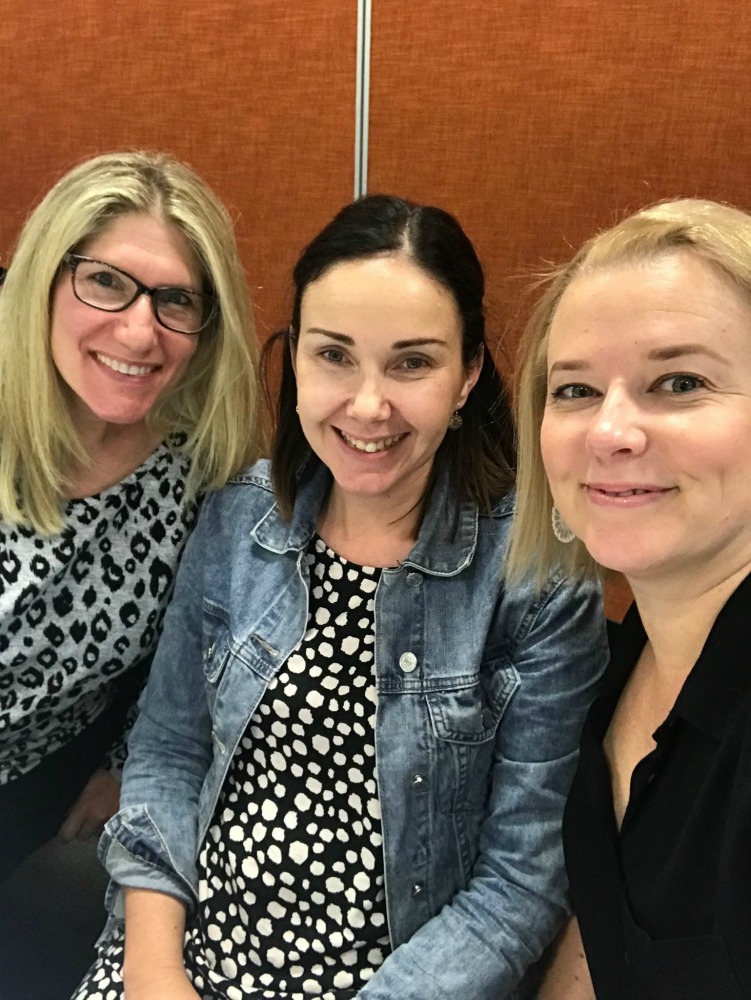 Discovering: Some of the best coffee spots in Brisvegas.
Choosing: Coffee shops like I choose my wine – the ones with the most fun names. Case in point – Frisky Goat Espresso for the win!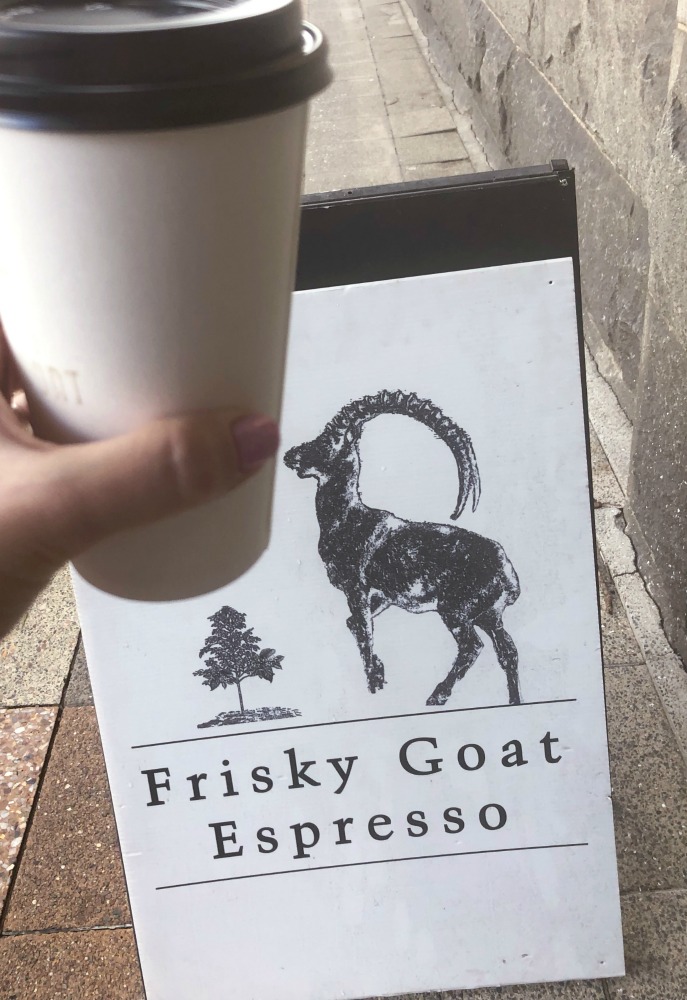 Borrowing: Some really good books from the library.
Reading: Lucy Bloom's Get the Girls Out was a yay, Liane Moriarty's Nine Perfect Strangers was a nay.
Watching: Dirty John. Unbelievable!
Listening: To the podcast of Dirty John.
Binging: On the podcast The Prodfather. It has to be heard to be believed!
Waiting: For the new series of Queer Eye in July. I know I shouldn't wish my life away but…
Improving: My French watching the new Netflix show Black Spot.
Crying: At the new Netflix documentary Life In the Doghouse.
Falling: In love with all the dogs.
Applying: To strata for permission to have a dog and getting permission. We are beyond excited.
Bookmarking: All the puppy related articles – there's just so much to learn!
Cuddling: My friend Chia the Bichoodle. She's adorable!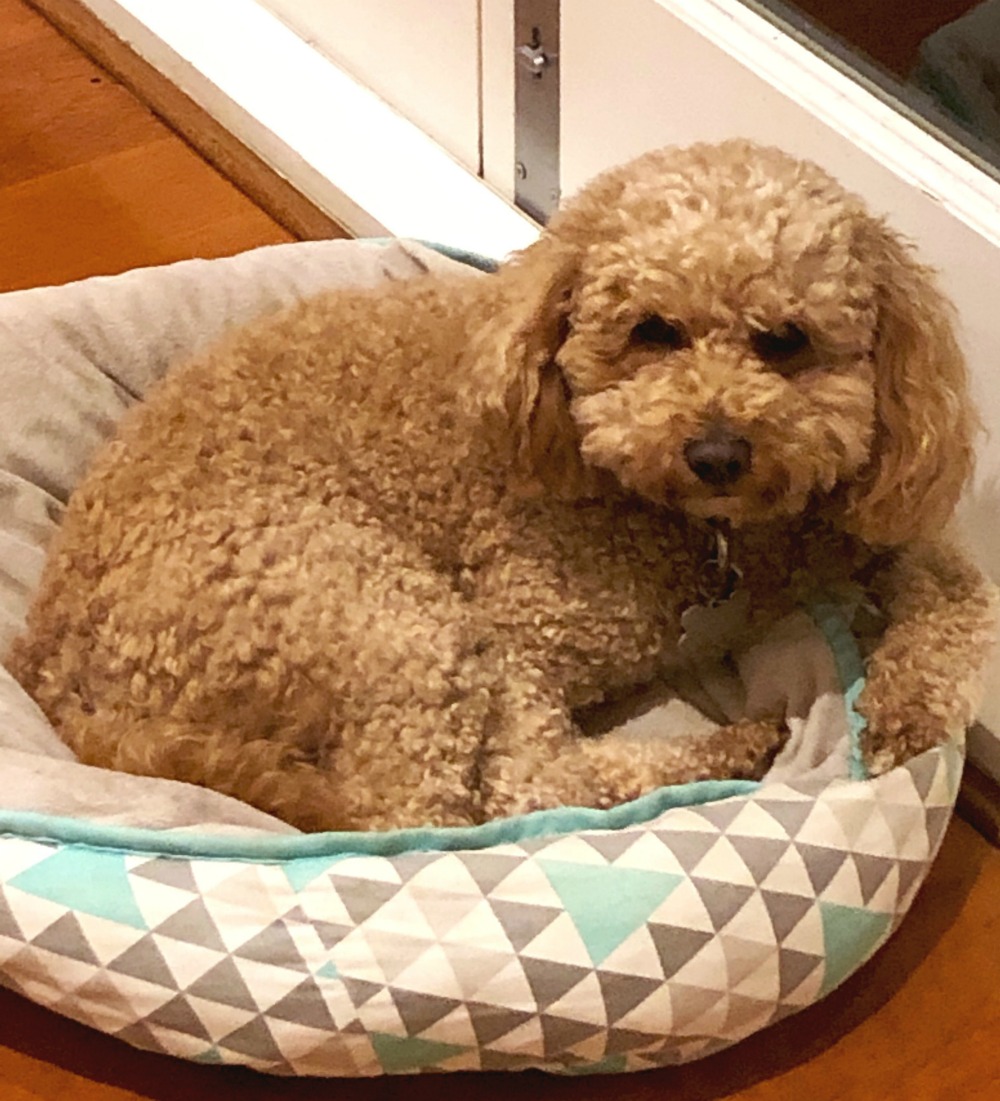 Organising: Our laundry room – it's only taken us 5 years!
Admiring: Roz – she's so inspiring!
Sharing: 10 More Shows to Watch on Netflix Right Now
Selling: All my clothes that I've "outgrown."
Buying: Wine and cheese at the Good Food and Wine Show. Is there such a thing as too much?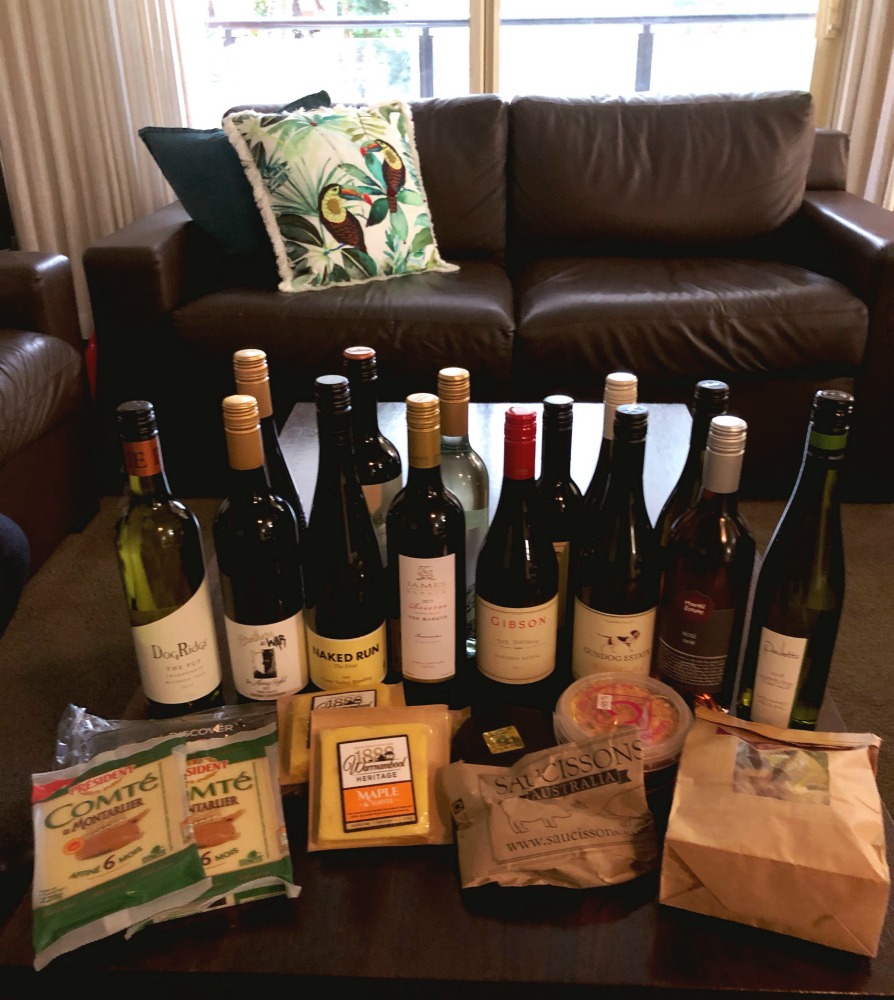 Coveting: All the Toy Story pyjamas at Peter Alexander.
Remembering: Afternoon tea with a view at Halekulani. Take me back!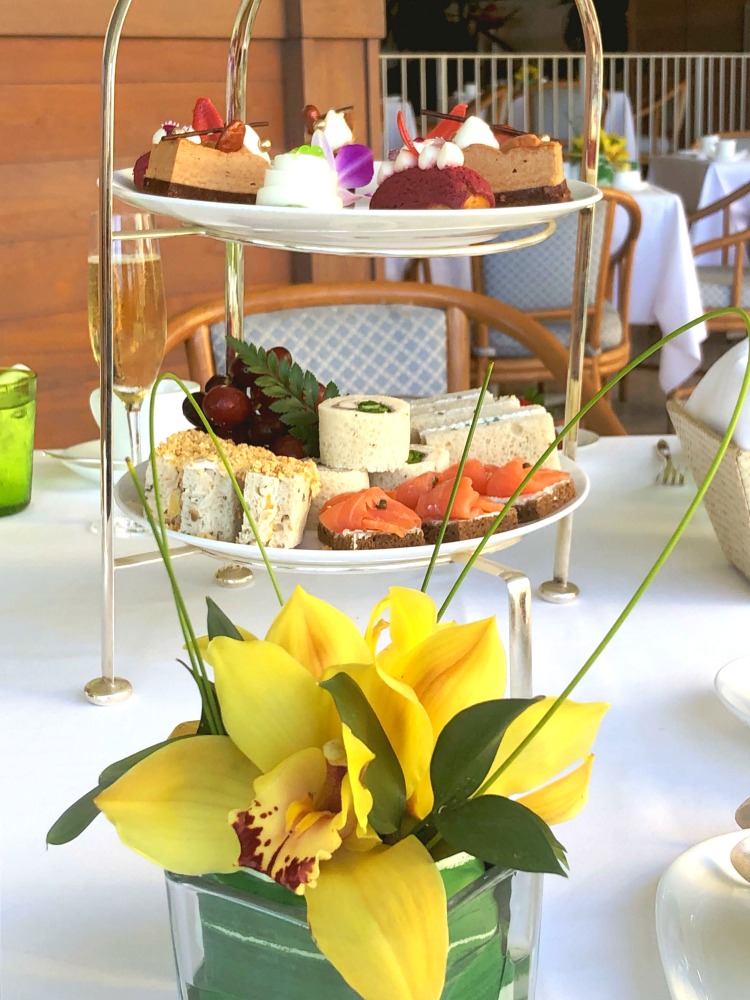 Catching: Up with interstate and overseas friends at home and away.
Celebrating: My niece's Bat-Mitzvah with friends and family.
Deciding: Not to enter the Sydney Harbour 10K this year. I'm just not run ready. My FOMO is real!
Training: With Kathy and working on the premise that if it's hurting it's working!
Planning: Another trip to Brisbane. Tell me all the things I should see, eat and do.
Looking: Forward to Christmas in July and the Birthday Festival.
Was your June jolly too? Are you ready to jump into July? Tell me all the things!
* Some of the links in this post are affiliate links. If you click to buy the item, I make a little commission but you don't pay any extra.