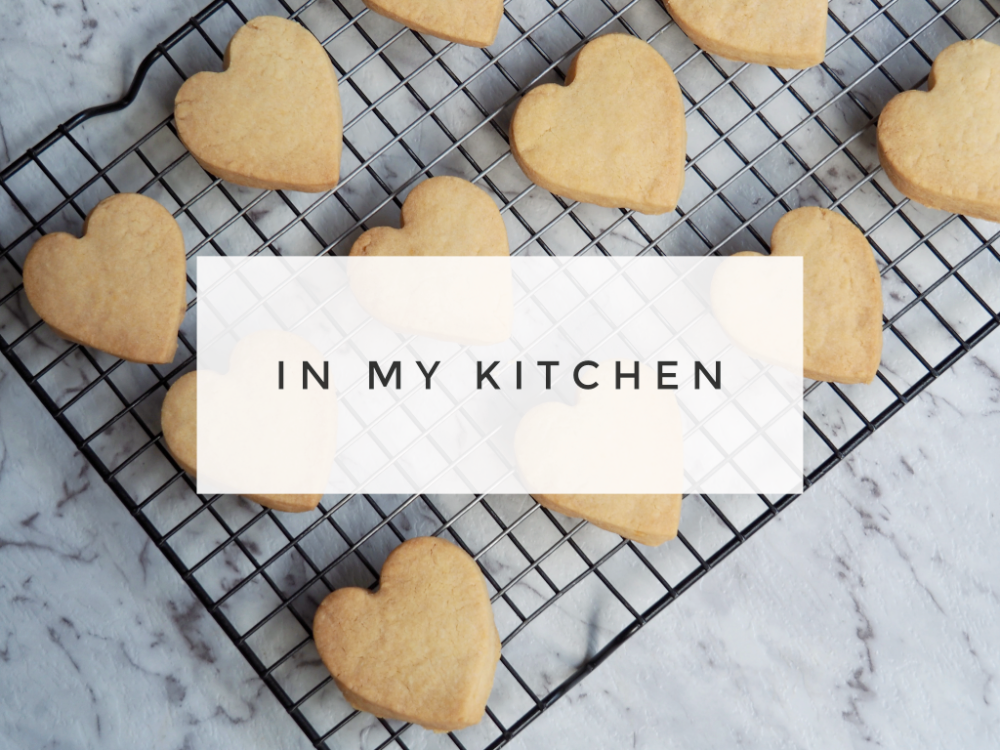 How can it be October already? September seemed to fly back in the blink of an eye. September marked one year in my UK kitchen/s. Can you believe?! Anyhoo, the first of the month can only mean one thing, time to link up with Sherry and friends for In My Kitchen.
At the start of the month, I used up the last of the zucchinis I'd been given and whipped up some of these Courgette Cupcakes and even got around to sharing the recipe. These make a great breakfast muffin as they're low in sugar and big on veggies! I shared with friends and have a few stashed in the freezer. Sssh!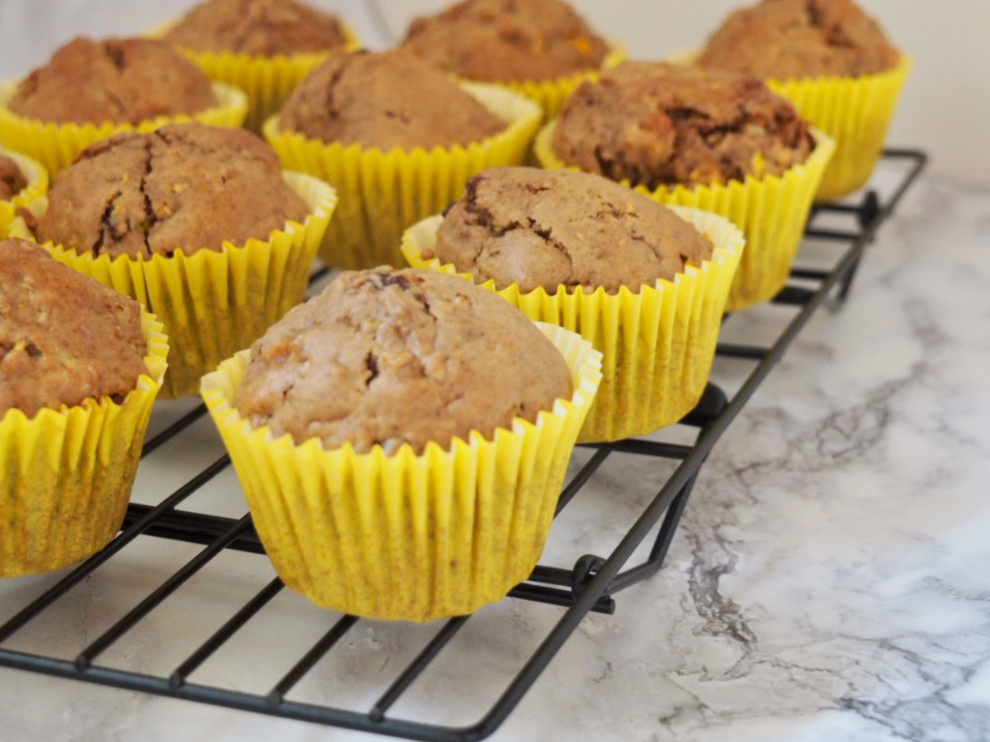 And that wasn't the only recipe I posted in September! I finally got around to sharing the long awaited recipe for my rhubarb crumble. It's the sneaky drop of port added to the rhubarb and the walnut, oat and flour combo in the crumble that really puts this pud in a league of it's own.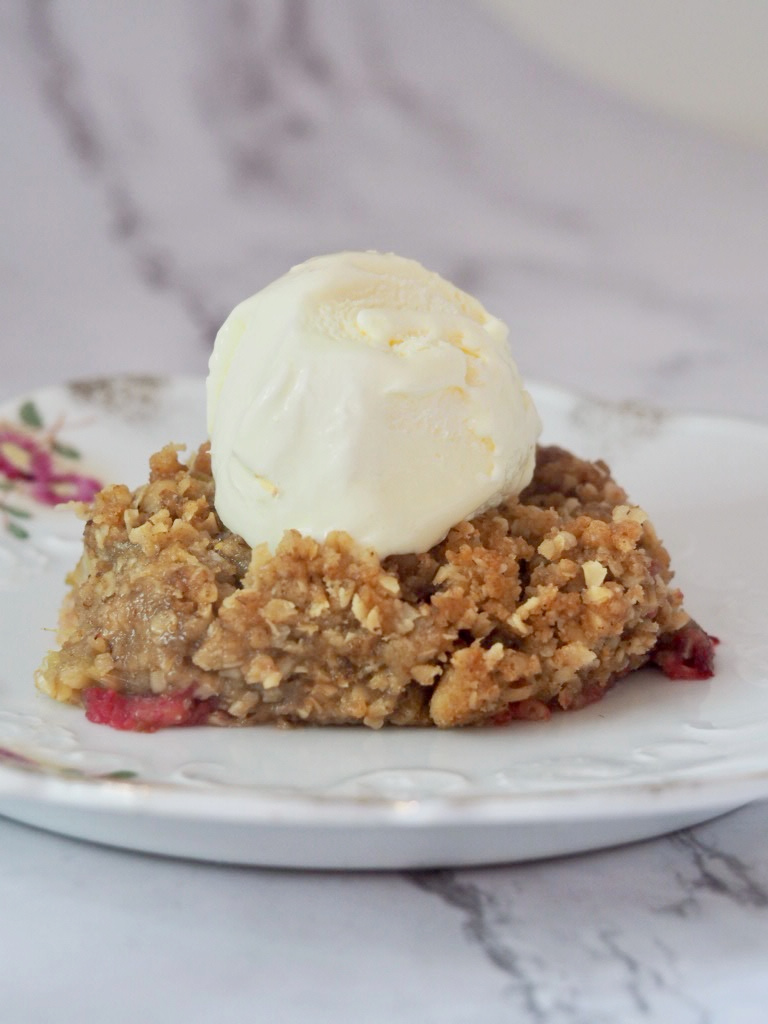 Out of the kitchen, our hunt for a new shed took us an hour away from home – this is my life now, shed hunting LOL – and to sweeten the deal we stopped off at the beautiful town of Woodhall Spa. It's famous for it's mineral springs, historic cinema and rich RAF history – the Dambusters operated from Woodhall Spa in the closing months of the second world war. Nature and history aside, I wanted David and Teddy to experience the beautiful Teahouse in the Woods.
After while walking off our lunch, we stumbled on the beautiful Woodhall Spa Bakery and Delicatessen. If budget and belly permitted I would have got one of everything but as it was I showed great restraint and just bought this caramel meringue home with me (and a slice of treacle tart, I'm not that restrained!) Rest assured, it tasted as beautiful as it looked!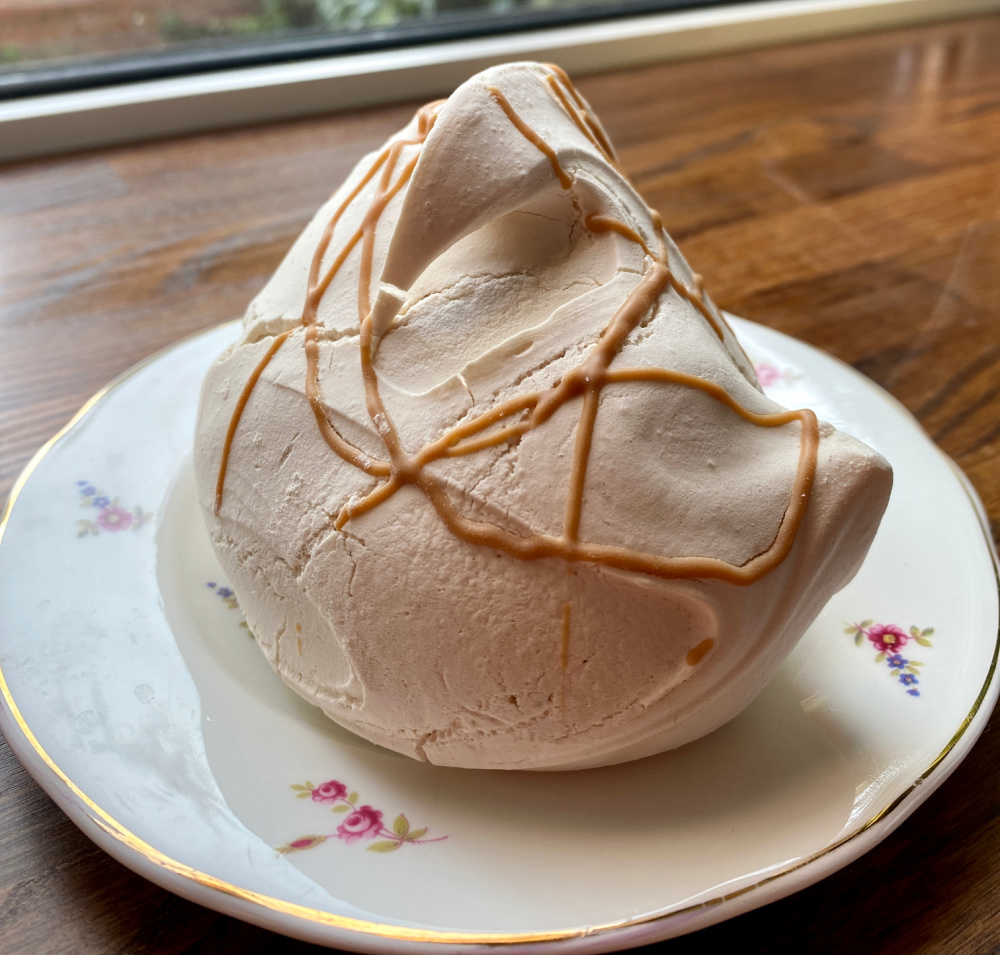 In the latest episode of fresh produce my friends give to me we have tomatoes, corn and chillis. These tomatoes were so sweet! I made some homemade tomato pasta sauce and this tomato, basil and red onion salad.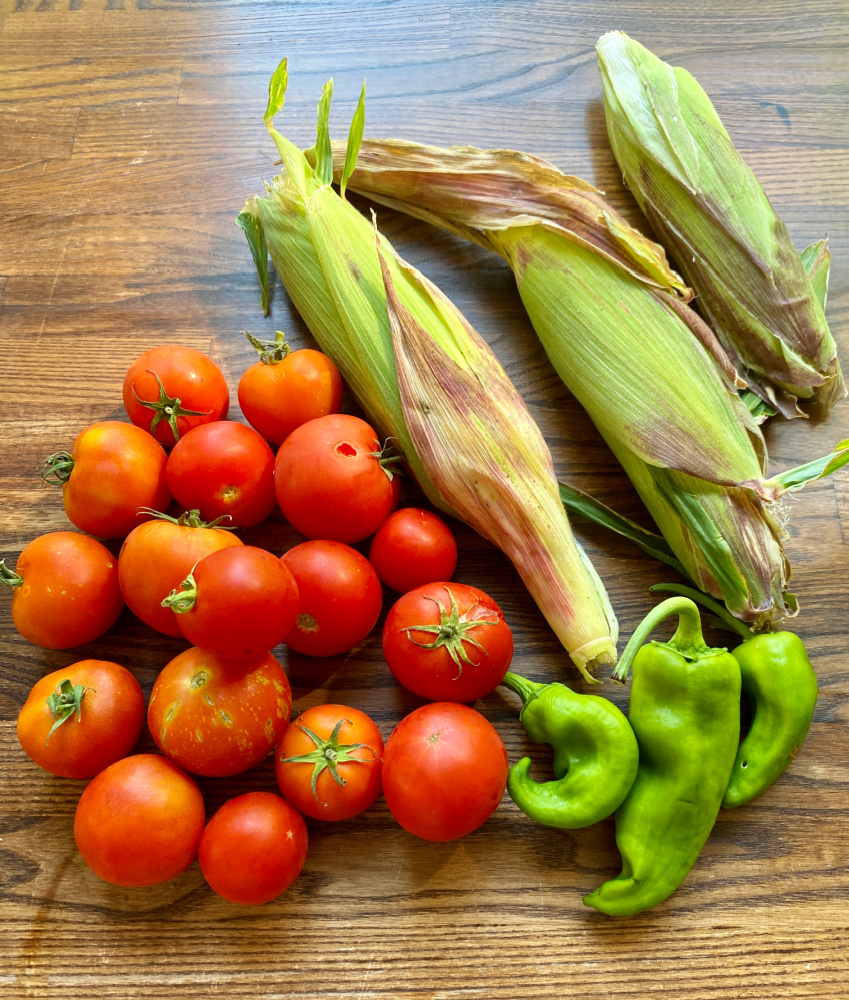 And would you look at the size of these chillis?! I used one in our favourite potato curry one Meatless Monday.
I might not have had any rhubarb this month but I've had a steady supply of cooking apples from my neighbours so I see a bit more crumble in my future!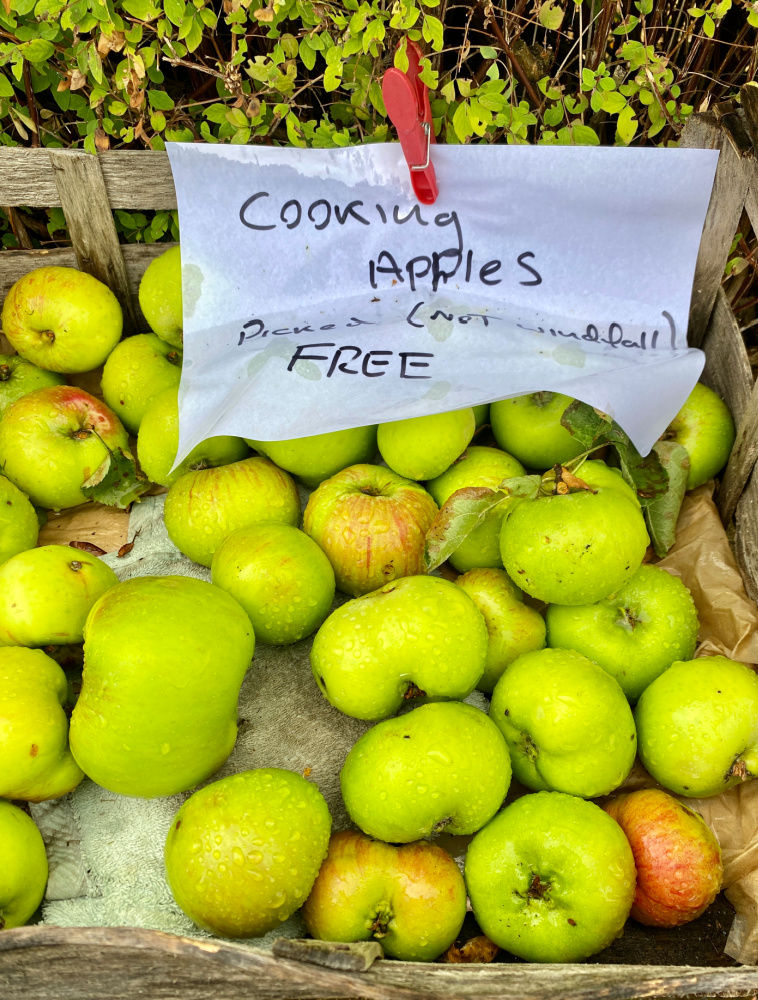 We had out of town friends visiting so we popped into one of my favourite shops, Country Traditionals. I was sure the out of towners would not leave empty handed but in the end it was I who made the purchase. This salt pig could not not come home with me!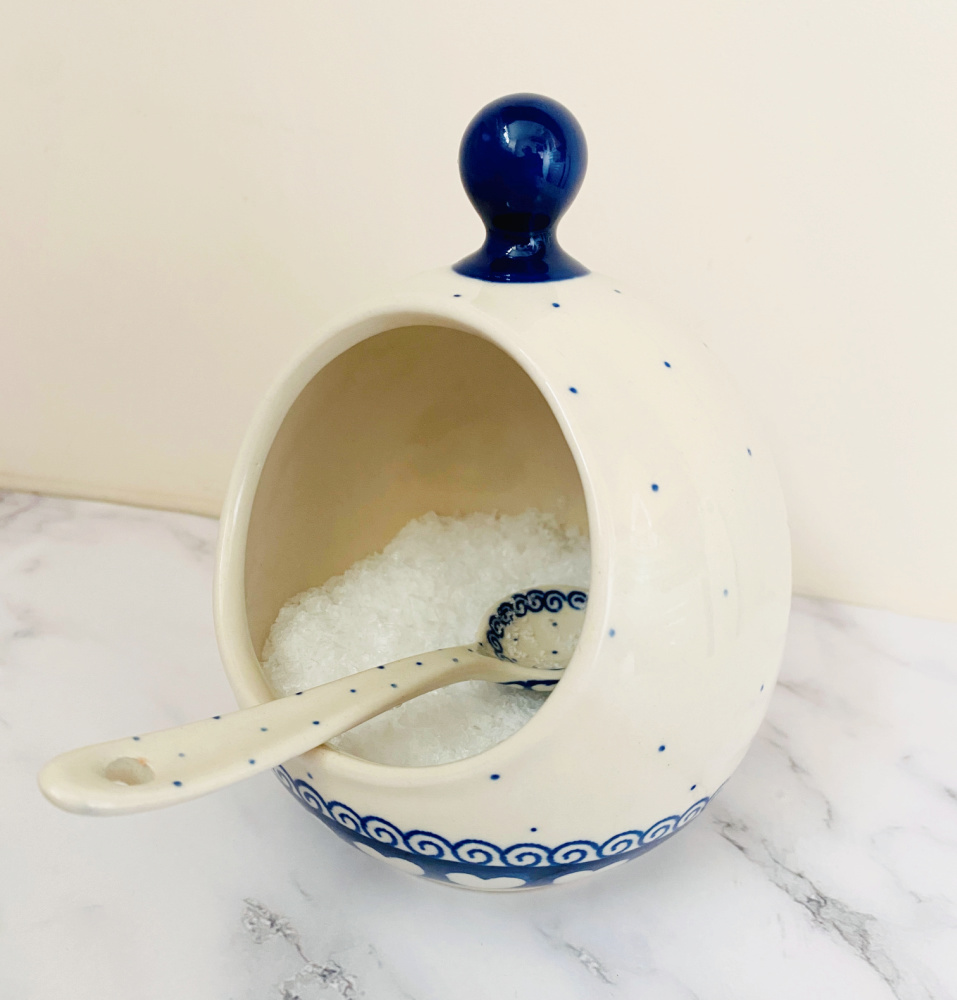 New to us is this super cute Koziol dog bowl which we got from Lidl (like Aldi) of all places! I think we love it more than Teddy does!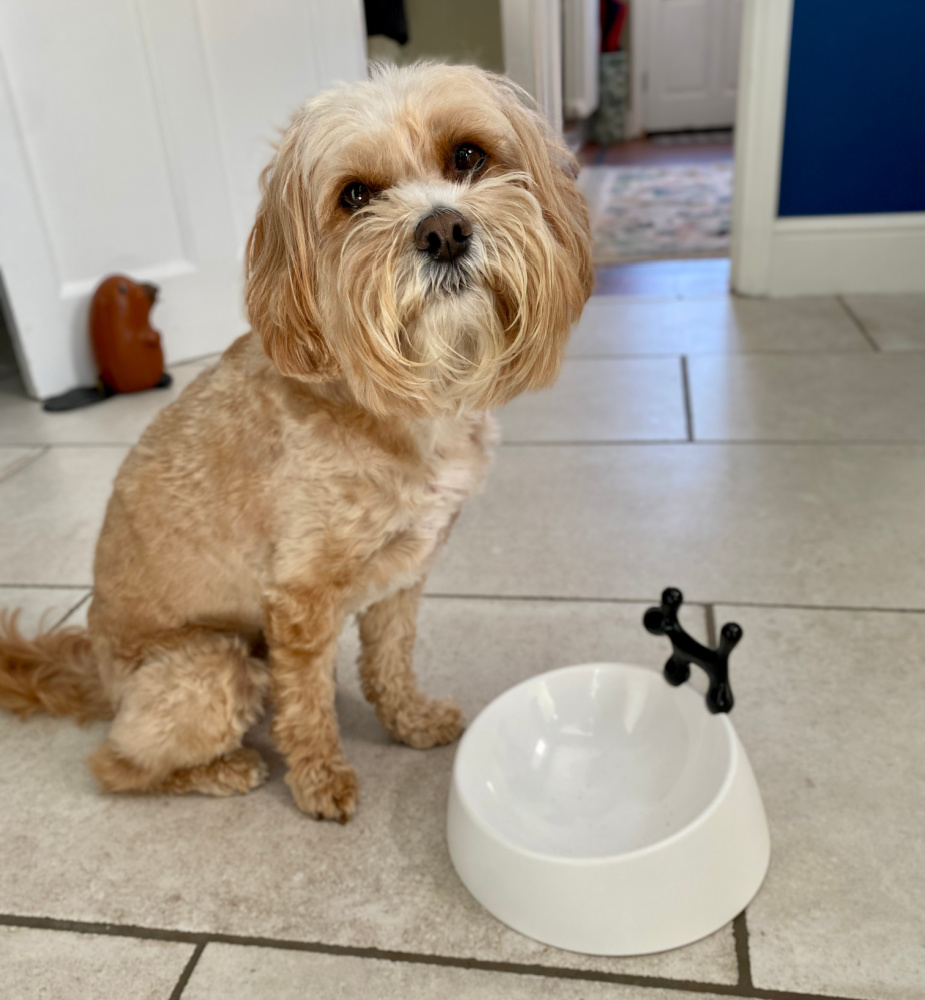 We went sunflower picking at our local vineyard – it was £10 (approximately 20 AUD) for as many sunflowers as you could carry and all the money went to a local charity – flowers always make me happy but especially when I've picked them myself! And in case you're wondering, we did enjoy some of the local wine and mighty fine it was too!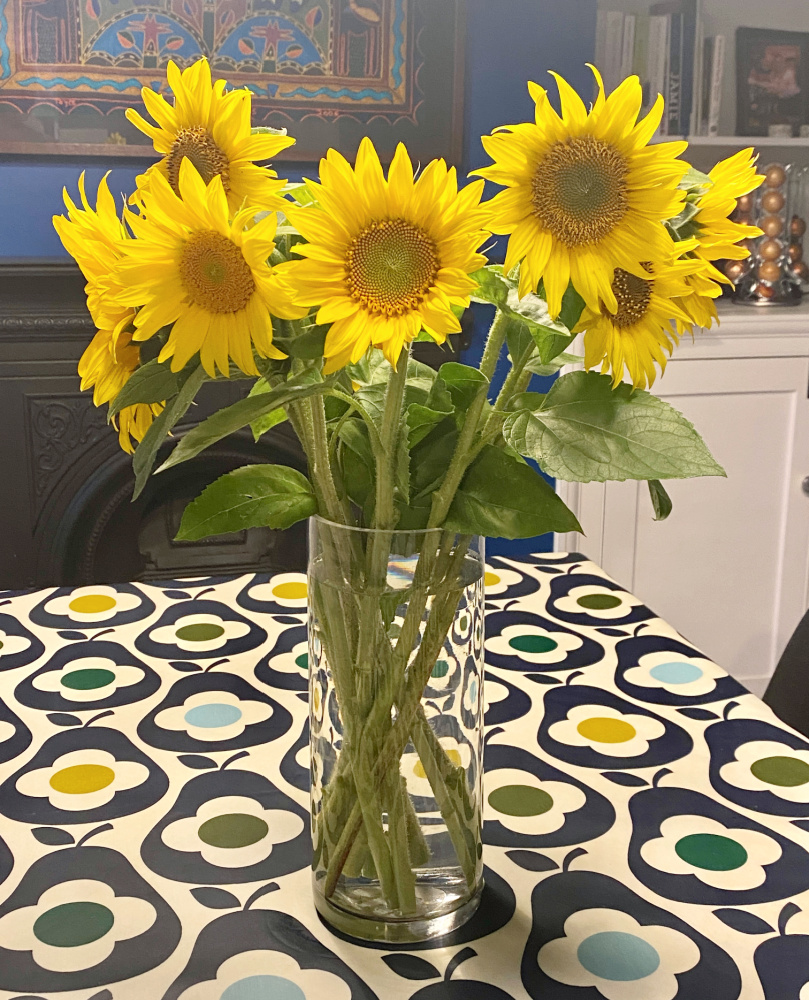 Remember Mr Fowler my nominated egg dealer? Well when I went a couple of weeks back, he was selling some of his "fancy" eggs, so called because they're from his pet hens who are unvaccinated, live in family groups and don't lay very often. When they do lay however, the eggs are more colourful and apparently more tasty than regular eggs.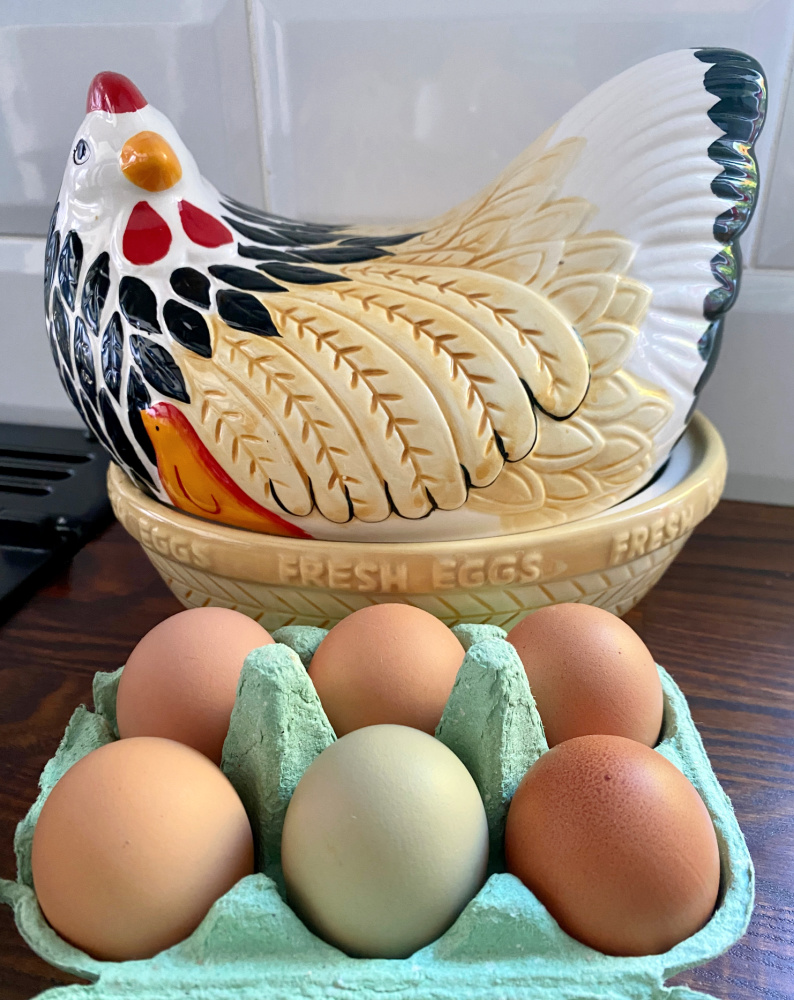 I was so taken with the fancy eggs, Mr Fowler gave me one to take home. It's probably from one of his Araucana or Cream Legbar (what a great name!) hens. I will report back with a taste test!
My obsession with Mason Cash continues and this month, I added this enormo-mixing bowl to my collection. I have always wanted a Mason Cash mixing bowl so when a neighbour offered it in the street WhatsApp group for free, I couldn't get across the road quick enough! I didn't realise how big it was until I got home and I had to do a bit of cupboard tetris before it could settle comfortably in it's forever home!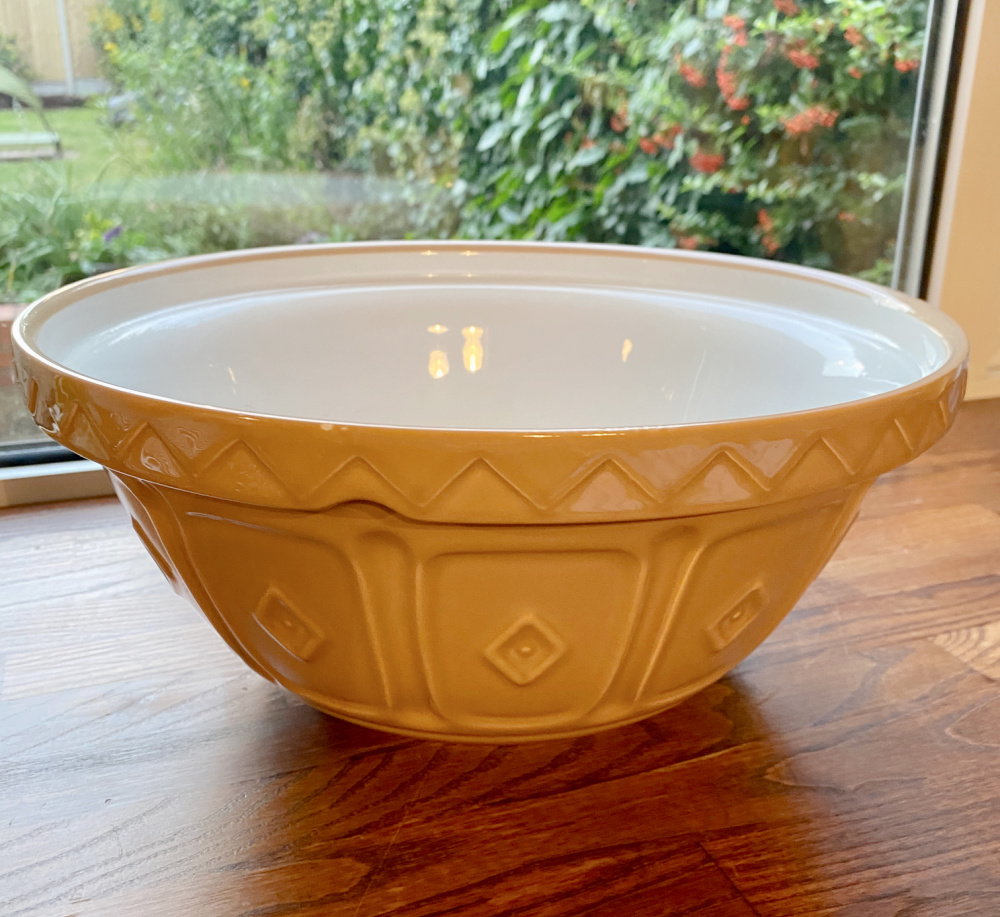 We had the pleasure of hosting "Grandma" who is actually not our Grandma at all but our neighbour from Sydney, her name is actually Luce. You might remember her from recipes such as easy cauliflower relish and her yummy pumpkin dip. She came for a few days and it was such a treat. We all miss her so, especially Teddy. Despite turning 80 in a few weeks, Grandma has irrepressible energy and is always on the go. She has way more energy than me and David put together!
She has been staying with her son and his family in Essex where they have a huge house with lots of land and a very bountiful veggie patch. Luce arrived with some of the biggest tomatoes I've ever seen (but forgot to take a pic) and a lorry load of kale – first up we made some kale chips in the Ninja Foodi which took just 5 minutes!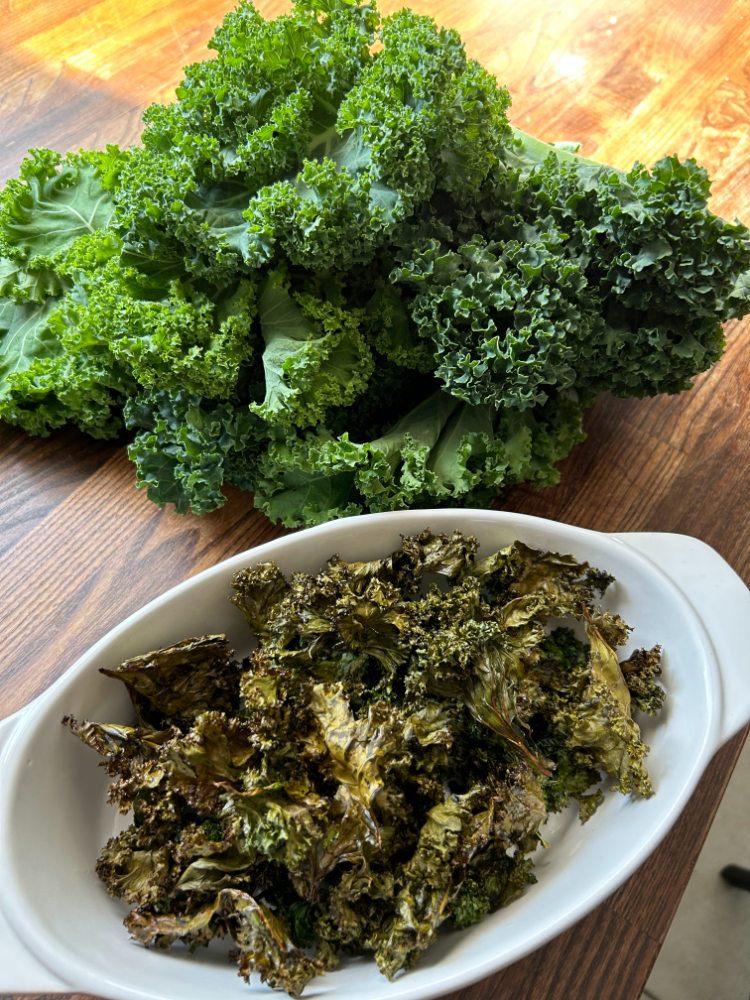 I couldn't have kale in the house and not make some of my favourite kale and basil pesto which I then used to make some 4 ingredient pesto twists. These were a great addition to the antipasto board I served before dinner when my Sydney neighbour met my Stamford neighbour, Pat!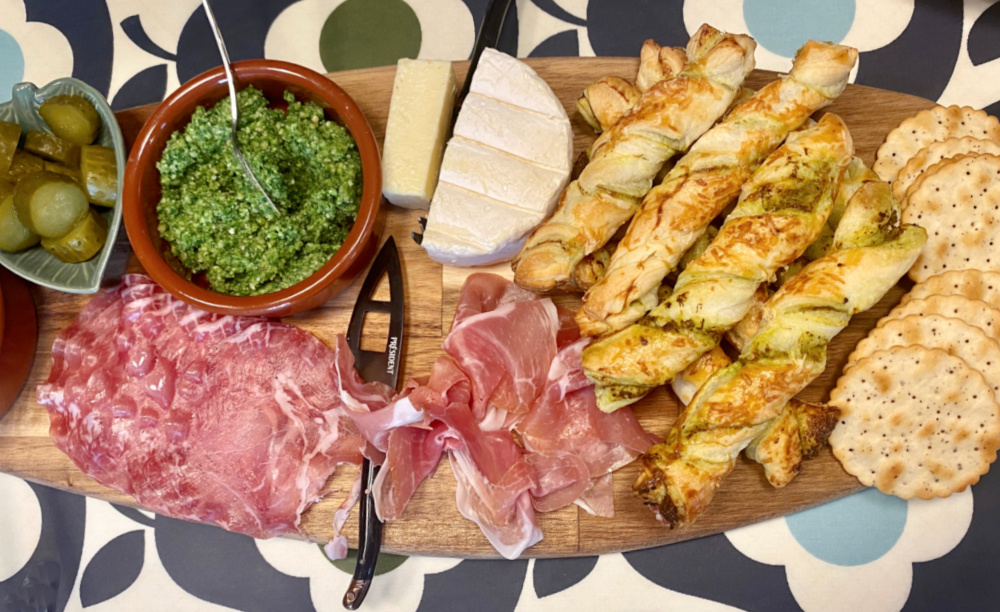 It was so lovely to see two of my all time favourite neighbours together. Pat actually invited Luce and I to her allotment where we acquired a huge bunch of rosemary and some yellow raspberries. I've never seen yellow raspberries before, have you?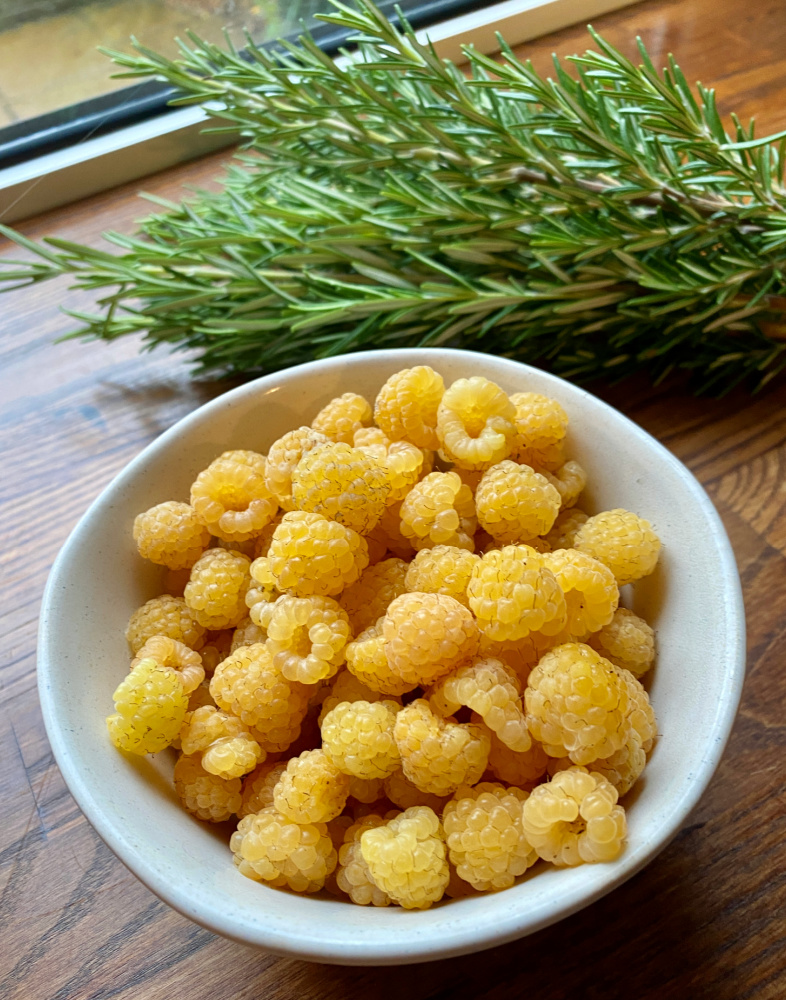 So as you can see it was a September to remember for all the right reasons! I hope you had a delicious month too. Tell me what's been going down in your kitchen in the comments.